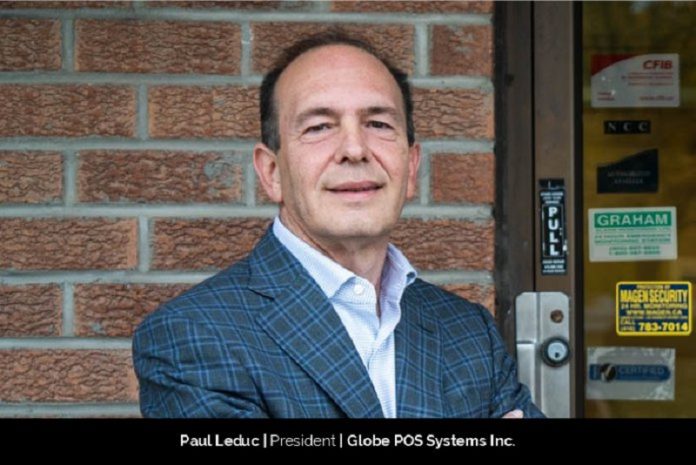 Although he explains getting into the grocery industry as an accident, growing his company to where it is today, was far from an accident. Paul Leduc, The President of Globe POS Systems, has an extensive history of working in retail and grocery, including working for companies that service the industry. Strategically, he has used his experience and passion to grow Globe POS Systems over the past 11 years, and he sees no signs of slowing down.
The Beginning of a Journey
Paul's journey started at a young age, when as a teenager he worked in retail and then as a store clerk while obtaining his bachelor's in business administration. In the 1990's Paul and a partner co-managed a grocery store, which sparked his desire to own a business. Although getting into grocery was not specifically what he set out to do, and something he describes as accidental, he has loved it from the start. After the grocery store, he went to work for a company called Logivision that made the POS (point of sale) technology used in the grocery store. The experience Paul received while working inside grocery stores helped tremendously when moving to the service-provider side and then eventually to Globe POS Systems, because he understood the challenges the stores have, allowing him to provide valuable input and adequately address and solve customer needs.
While at Logivision, Paul spent a lot of time traveling, with most of that time being outside of Canada, where he was, and is still, based. Eventually, he decided that he wanted to settle down and started looking for an opportunity that would allow him to spend more time at home. At that time, there was a reseller for sale in Canada that happened to sell the same technology as the company he was currently working for, so in 2009 he acquired the dealership. The company was comprised of only two people – the owner and one employee who stayed with the company after Paul took ownership. Since that time, Paul has thoughtfully grown the company, Globe POS Systems, to fifteen employees, which will increase to 18 by the end of 2020.
The Foundation of the Business
Globe POS Systems is a reseller of technology solutions. Their core product and focal point is the POS system, but their offerings extend beyond the POS system alone. All the other products and solutions the company offers integrates with the POS system. The company offers everything from phone systems, security, scales, to digital menu boards. When creating solutions, their goal is to make sure it integrates into the entire ecosystem to allow the customer be more efficient and eliminate mistakes. When the other products such as the digital menu boards or digital displays and scales interact with the POS, the establishment only needs to change the price in one location while having the price change take affect everywhere. This saves the stores time and eliminates errors.
Globe POS Systems takes pride in the hardware they sell. Although it is well known and well-recognized, they realize it is not the cheapest. However, when compared to cheaper options, they have found that the hardware they sell typically does not need to be replaced as often, saving the customer money and time in the long run.
Overcoming Challenges
While the company has managed to grow, the growth has not come without challenges. Paul explains that some of the challenges include ones typical of many small businesses, such as managing cash flow and managing customers. Additionally, the industry faces a unique challenge with ever-changing technology. With changes and upgrades to technology, Paul must ensure that his staff is able to learn it and support it so that they can adequately educate their customers. Video surveillance is one area that has and continues to change rapidly. Paul explains how he and his staff will learn the newest technology and changes associated with video surveillance and six months later, something new comes out. POS technology also continues to evolve. With technology rolling out quickly, Paul makes certain that his staff is trained and stays current with the latest technology offerings.
In addition to technology quickly changing, Globe POS Systems must be certain they are also aware of other trends and changes. For example, with the recent global pandemic, temperature checks have become essential. There is equipment which validates each employee and takes their temperature multiple times a day. To keep up and make sure their customers have what they need to stay ahead, Paul needs to make sure his company is always aware and ready to provide for their customers.
At times, the new technology creates challenges with installing new software or hardware. Paul has found that as they are learning new technology, his team may need to go to the manufacturer for the answers to questions that arise along the way. Paul ensures his team continues to provide exceptional customer service while continuing to learn new technology. The company typically spends 2-3 days per month receiving training on products they already sell to make sure they stay current with the technology and can provide their customers the most accurate information.
Besides rapidly changing technology, Globe POS Systems must stay on top of other changes occurring in the industry. Looking back at changes over the years, Paul recalls the many credit processing changes. From swiping a credit or debit card, to using the chip, and now tapping for payment, all these changes have created hurdles for the company. While interacting with a PIN pad may appear simple to customers, there is a lot that happens behind the scenes for the PIN pad to accurately interact with the POS system and payment terminal. In the last ten years, Paul recalls four iterations of payment terminals. Additionally, Paul puts an emphasis on being PCI (protection of card information) compliant and requires his staff to be certified and trained. It is important for Paul to have the company and the employees stay current to keep the end users safe. About five years ago, there was a big push by the card brands on protecting card information. In some cases, Paul and his team need to go back to the customers and recommend that they update their firewall to ensure their customer's security is satisfactory.
Standing Out from Competition
In addition to staying one step ahead of the technology changes and trends, Globe POS Systems strives to also stay ahead of, as well as differentiating themselves from competition. Paul defines their approach to sales as a boutique approach. Although the company is a full technology provider, if the customer only wants certain products, Paul's team will provide the customer only what they want and need. Paul explains how in some cases, a customer has only wanted one scale, but over time that customer may need more products. Rather than selling their entire suite of products to each customer, or forcing them to purchase bundle services, Paul believes in working with customers individually and providing a customized solution to each customers' needs.
On top of listening closely to the needs of the customer, the low company turnover has also benefited Globe POS Systems. Most of the staff has been with the company for at least 5 years, if not more. Over time, the technicians have built a relationship with the customers. When the technicians recommend replacing technology, customers will listen to what the technicians recommend because of the trust they have developed. By staying on top of trends and having a trusting relationship with customers, Globe POS Systems continues to work closely with customers to ensure their needs are being met and that their stores are operating efficiently.
Additionally, the software that Globe POS Systems sells is exclusive to them in their two territories and can be used in a variety of establishments all the way from quick service restaurants to grocery stores, making it a viable solution for many.
Continued Growth
As mentioned, when Paul took ownership of the company, the one employee stayed with the company and was just the two of them for the first few years. Eventually, Paul started to hire people at an average of 1 to 2 people per year. Initially, he hired technical support and installers, as Paul handled the sales himself. After about eight years, Paul started investing more in sales. Two years ago, he hired a Director of Operations to allow him to get out of the day-to-day support and to focus more on the sales and building the sales team. Paul's main concern with growth over the years has been growing too fast and not being able to properly install the technology solutions. This year, he hired a Director of Sales to oversee and start building a sales team. When COVID hit, they got a little nervous about how it would affect their business and their growth. However, since they service essential businesses, they saw a 30% growth. Furthermore, some competitors had to make the tough decision to shut down or downsize, allowing opportunities for Globe POS Systems to welcome new customers.
Although the growth thus far has been steady, Paul sees the potential for a lot more growth, and is on track to start growing more rapidly. Over the past 11 years, the growth has been organic, and a lot of time was focused on building cash flow, as well as putting in place the resources and infrastructure to have the proper CRM and ticketing applications. Now that he has built a solid foundation and has seen growth, he estimates that the revenue stream will double over the next two years. In addition to growing in their current territory, he sees unlimited potential for expanding geographically. Currently, the company focus is on The Maritimes and Ontario, but with Quebec sitting in between those two territories, he sees potential in that province soon. Eventually, he envisions expanding to the United States as they continue their upward growth.
Looking Ahead
Currently, Paul is still selling and guiding the Director of Sales, but he is aiming to removing himself from the sales even more. He would like to focus more on looking at the business as a whole and how they can improve, rather than spending time in the day-to-day operations of the business. Paul sees his role changing quite a bit over the next 6-12 months as he continues to hire more people.
Paul admits that it can be challenging to balance his work life and personal life, especially when he is so heavily involved in the day-to-day operations of the company. Fortunately, December tends to be a slower time for the business. Since the holiday season is busy for their customers, they typically do not want to make major changes to their systems or hardware during that time. This allows Paul to spend more time with his family during the holidays. Early on, Paul would stay at the office late, not leaving much time with his family once he got home. Over time, he has disciplined himself to put aside his work and leave the office at around 4:00 or 5:00pm so that he can go home and spend more time with his family. After time with his family, he typically puts in a couple hours of work from home, in the evening. Additionally, on a typical weekend he will work about 6-8 hours. When he does put work down, you will most likely find Paul with his family, including his 2-year-old and 4-year-old grandchildren. When he has a chance, he also enjoys cooking and riding his bike.
Anybody looking at the growth of Globe POS Systems over the past 11 years would be impressed with how far they have come and how they have managed to steadily grow, despite challenges along the way. Looking back, Paul says the only thing he may have done differently is jump in full blast to grow more aggressively. He believes the company had the ability to grow quicker and would be bigger than it is today if he had not been apprehensive. If he could provide advice to others interested in owning their own business, he would tell them to not let fear get in the way or stop you. Despite his conservative approach to growing the company, his philosophy on growth is that he is only halfway there – leaving plenty of time to continue growing.