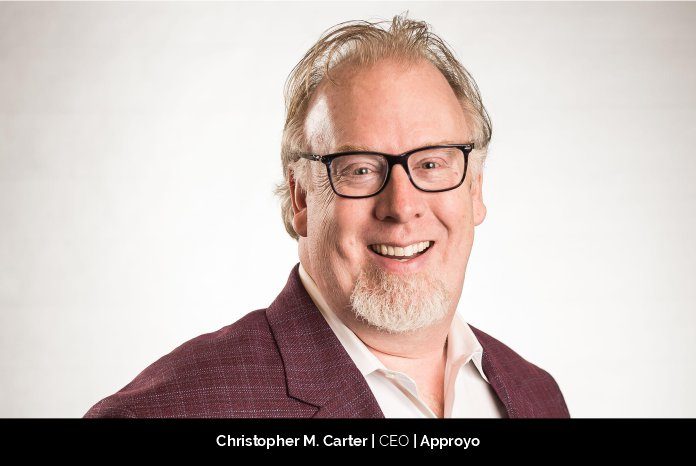 Approyo Inc. is a leading technology company that provides full SAP service technology with extensive capabilities in consulting, solutions architecture, hosting and managed services, to develop the right solution for their customers. The company has grown under the guidance of its Chairman and CEO, Christopher Carter who founded the company with a vision to create something different in the technological industry.
Interestingly, Chris' lightbulb moment was inspired by the famous book 'Alice in Wonderland'. "The leap you have to take from being an entrepreneur and the leap it takes to get customers to the new world of Big Data and SAP, it just fell into that world of Alice in Wonderland for me.", Chris shares. It is amazing to witness the success of a passionate technologist like Chris Carter who has redefined the industry by leveraging the power of technology. With over 30 years in the SAP industry, Chris has some inspiring insights to share about his journey. In this exclusive interview, Chris puts forth his ideas about the technological industry in his own unique way.
Were you always passionate about the technological industry? What led to the foundation of Approyo Inc.?
Ever since I can remember, I've always had a passion for technology. Which is why I decided to attend The Georgia Institute of Technology to pursue a degree in Computer Science. After graduating, I began working with SAP, and with my entrepreneurial mindset, I eventually went on to create a business for myself. I later sold that business and was in retirement for a short period of time when I heard about the release of SAP HANA. The opportunities surrounding SAP HANA were endless and given my past experience with it, I decided I wasn't ready to be done yet, and I dove back into the SAP world, opening Approyo in 2013.
As a part of the learning process, what were the initial challenges that you faced as a business leader that helped you in learning valuable business lessons?
The biggest challenge we faced was finding the right clientele. We noticed that it was difficult to build a client base while offering the cloud, when many people didn't even know what the cloud was yet. With trial and error, proper education of our staff and prospective clients, and improvements of our services, we were eventually able to help many companies in their journey to the cloud. It really is all about understanding your customer. You're not just selling a product, you're fixing a problem for your client.
Tell us in brief about the services of Approyo Inc.
Approyo is a global cloud-centric solutions provider, specializing in SAP solutions and services. As a managed service provider, Approyo provides its clients with deployments,migrations, and upgrades of SAP HANA, SAP S/4HANA, or any SAP core instance. Creating tailored roadmaps fit to the needs of our clients' goals, we bring companies to the next level through digital transformation. After projects are finalized, we offer ongoing basis support, monitoring, and hosting of SAP environments. Approyo's global team of experts is available 24 x 7 x 365, to take care of requests and questions, ensuring our clients are satisfied and their SAP environments are operating efficiently.
How do you define the growth of the company over the past few years? Share with us your contribution in making Approyo a successful company.
Over the years, we have grown in staff, customers, and partners. As of now, we have over 13 global partners, have done over 300 migrations, and have a broad client base across all industries. We define growth through all of these, and its only up from here. This year we were listed as no. 3923 on the Inc. 5000 list with 90% three-year growth. We also placed no. 231 in IT Management, no. 9 in Milwaukee, and no. 40 in Wisconsin. As the Founder, Chairman, and CEO of Approyo, it is my responsibility to lead my team in the right direction. I may have built this business, but my staff is what keeps it going. Being a guide for my staff is extremely important to me, which is why I offer any learning opportunities for them so they can not only progress their own professional careers but add even more value to Approyo. It is extremely important to me that our customers are taken care of and understand the process from beginning to end. Even though I am at the head of the company, I stay heavily involved in the day-to-day operations, communicating with all staff, clients, and partners, discussing plans, and closing sales.
What are your views on the changing technology landscape? Tell us about your contribution to this change.
The technology landscape is always evolving. With new discoveries and innovation in AI, blockchain, cloud, etc. we have more technology than ever before. The cloud computing market is growing like no other, projected to grow from $371.4 billion to reach $832.1 billion in 2025, according to global newswire. Approyo is just one of the companies that makes up this market. We contribute to the growth of the technology industry by providing services that use all of these technologies and more.
As a technology professional, what is your vision for the company?
My vision for Approyo is to become a leading large enterprise trusted MSP company. I see us taking on more and more clients, thus adding more staff and just growing in every way possible. At the end of the day, my vision is to help those wanting to digitally transform their business, and as long as we are able to do that for our customers, I am happy.
The SAP industry is a massive one with great competition. How do you stay abreast with the growing competition?
We stay ahead of our competitors by simply providing great service. Hiring the right staff with experience and every more potential for growth are what allow us to provide extraordinary service. We make sure that we stay up to date with any updates SAP releases and are constantly working to learn and grow in new ways. When we provide quick implementations, ease of communication, and simple roadmaps for our clients, they are more likely to recommend us to their own partner networks. Having great word of mouth is important in this day and age. We also are always on the lookout to expand our partner network. Partnering with other Solution providers allows us to give unique service offerings to clients.
Tell us about your roles and responsibilities as the CEO and Chairman of Approyo Inc and how does it make you feel? What are your greatest achievements?
As CEO and Chairman of Approyo, I oversee the day-to-day operations. It is my job to make sure that our clients are happy at all times. I communicate with all of my teams throughout all of our projects, ensuring that we are providing efficient service. As the CEO, it is an honor to be given any award, and Approyo has won many throughout the years. We have been named to the Inc 5000 list four times, the ACQ5 global awards three times, and have won multiple awards listing us as a top SAP solutions provider. I personally have won the Bravo! Entrepreneur & I.Q. Award from Milwaukee's BizTimes and have been recognized as an innovative CEO multiple times, which is a great achievement. But the biggest achievement of my career is building this company from the ground up and watching the growth we have experienced. I am excited for the future and what it will hold.
How do you manage to balance your personal and professional life? Describe yourself in one word and tell us what inspires you?
Work tends to be on my mind even when I go home at the end of every day, but I make sure to make time for my family. Traveling together as a family, whether it's to our lake house, to Florida, or somewhere else in the world, we are able to make those memories that stick. I could describe myself in one word it would be "guide". I try my best to guide my staff to be the best they can be, as well as guiding our clients to making better business decisions. Technology inspires me because the innovation is endless, and there are so many possibilities we have yet to even discover. I am always willing to help anyone with any questions or concerns they have when it comes to technology.
What keeps you and your employees motivated?
I can confidently say that my team is made up of motivated individuals who genuinely care about their jobs. All of those who have been hired on have proven that they are driven to provide amazing service and take responsibility for the success of our customers. I am blessed to have an amazing staff that care about the trajectory of this company as much as I do.
What does the future of Approyo Inc. look like, globally? How do you plan to widespread the company services?
We are already a global company, having staff throughout the U.S., Brazil, India, and the UK. We are also global in terms of our partner network and customers. In the future, I see us adding even more remote staff, adding more global partners and clients through countries we have never served before.
"Our customers are our number one priority. We don't succeed until our customers do, which is why we work as hard as possible to exceed their expectations and drive their success." With this motivating thought, Chris and his team at Approyo are committed to deliver excellent and innovation services to their clients.