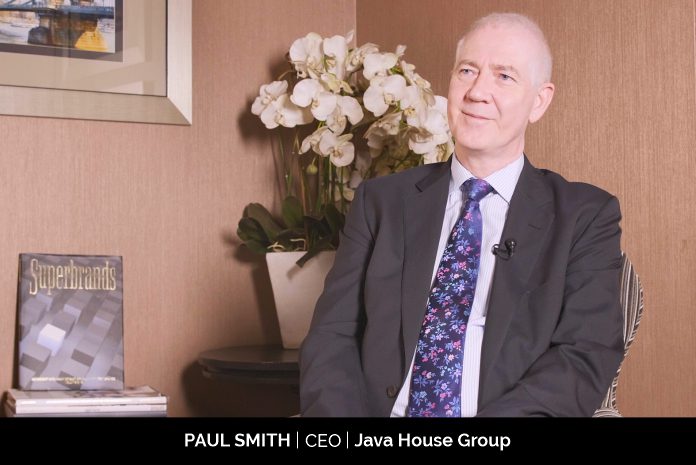 Leading a business to success is perhaps a conventional practice but leading a generation on the path of success is what differentiates a leader from a businessman. The CEO of Java House Group, Paul Smith, was led by a sole vision to help others grow and develop a self-motivated team of professionals who can undertake any challenge. Regarding this as his greatest achievement, Paul has positively impacted the lives of many professionals who have struggled to find a direction. His introspective attitude and analytic thinking have not only benefited his people but has catapulted a rapid growth in the company expanding it from 35 stores to 82 in just two and a half years.
Java House Group is one of the biggest Food & Beverage businesses in the East African market. It is now one of the leading coffee brands in Africa and has grown to have outlets in 14 cities across 3 countries in East Africa (Kenya, Uganda, and Rwanda). It has also birthed three sister brands – Planet Yoghurt, a healthy, tasty, and fun frozen yoghurt store, and 360 Degrees Pizza, an artisanal Italian casual dining restaurant and Kukito a fast-Casual traditional chicken based brand. Java House has also fully franchise ready and moving into this field. The company has grown under the profound guidance of Paul. His vision took a new shape when he entered the East African market and is leading him every day to transform the lives of his people that will eventually add huge value to the business development. A perfect cup of coffee is served with the perfect mixture of ingredients in right proportions, prepared with passion. Likewise, Paul has brought together a perfect compilation of his passion, expertise and leadership qualities that has nurtured an optimistic approach in the colossal teams and departments of Java House. Here is an excerpt of his journey that highlights the mainstream practices of business that Paul modified in his unique way.
The Foundation of a Promising Career
Paul started his career in retail with Marks and Spencer. Although it was a temporal job and he had planned just a two-year duration with Marks and Spencer, he ended up working with the company for 19 long years. He outperformed himself in the retail industry and excelled in his work. Paul also learned the techniques of franchising when he worked for a brief period in Cyprus, which originally gave him a new direction as well as a fond interest in International business. Since then he has set up businesses in 20 different countries in the last 18 years of his career including, Kuwait, Dubai, Russia, Bangkok, India, Abu Dhabi, China and now Africa with Java House; he has lived in 10 of those countries. During his travel, he worked with Costa Coffee Asia as a Managing Director. Within 5 years of his tenure, the company opened 200 stores across 30 cities in China with strength of 2000 employees. After working in Costa, Paul decided to do some interim work with RMA in Thailand. He then moved back to Abu Dhabi to work with a casual dining group that was based out of London and was negotiating a franchising deal in the Middle East. By then, Paul had gathered profound knowledge about coffee brands, selling and buying and its business operations. He then took up a consultant job with Abraaj Group who were considering purchasing Java House, in Kenya. Within 2 months of his tenure with Abraaj Group, Paul was asked to step into the position as CEO of The Java House Group. Paul kept growing with every new role he would undertake. He not only gained experience but learned the core values of business in terms of people management, differential impact of cultures,  consequential thinking and most importantly he got to know himself as a leader, a mentor and perhaps more importantly, as a person.
The Initial Challenges of a New Business
While approaching something new, it is essential to focus on what is available instead of numbering the resources that are unavailable. With this positive outlook, Paul entered the Kenyan market which was a relatively different sphere of business. He was excited to work with a new culture of people and readied himself for every challenge. The people of Kenya are rich in culture and are very tribal, which affects the way people work. "They are dynamic, interested, willing to work and are keen to learn but at the same time they are of a different culture, so how you approach them and motivate them is very critical; you can't tell them what to do, rather you have to work with them on understanding," says, Paul. He believes that people empower themselves, it is a leader's job to create an environment for them to be able to excel at this. While leading a Kenyan company, Paul had to give his people a vision and a compelling picture of where they are headed and at the same time, help them understand the only person stopping them was themselves. Paul would ensure a meeting with every new joiner of the company to encourage them on basic inspiring thoughts like, 'every morning the person you see in the mirror is the only person who can stop you from getting on in Java, nobody else will stop you.'
At a flourishing business-like Java House, it is challenging to manage 2500 people with 82 stores, but a bigger challenge that Paul faced initially was to create a home-like work culture where the people of Kenya can be who they want to be. The second roadblock that he faced was an over reliance on the core Java brand, satisfying a section of the consumer base. Although this was 20,000 customers a day, new brands and market channels had to be developed to diversify into new market segments. Java had all its eggs in one basket.  Java was originally a US diner setup that was brought into the Kenyan market and was imbued with an African culture, which perhaps would not work in the international market. The third challenge cropped up when Java House planned the expansion at a global level. Adapting to different cultures and varied business techniques was a hurdle but it also gave them the exposure and confidence to venture out into the international market and thrive. However. with careful nuancing and agility their international growth has been secured.
These challenges were a representation of motivating factors in the success of the business that have made Java House one of the leading companies in the African Food & Beverage industry today.
Being a Leader in a Competitive F&B Industry
Java House is a casual dining (not quick service) restaurant and is one of the biggest F&B businesses. Hence, in a volatile industry like F&B, competition is very high in terms of maintaining a good reputation in the market. For Java House, their customer reviews and feedback are very important and to receive good reviews; quality and service are the key factors. Java House values their customers and their prime responsibility is the satisfaction of the 20,000 customers they serve every day. They spend a lot of time in ensuring that their quality is up to the mark.
The main factor that distinguishes Java House from its competitors is the consistency of quality that they provide. They buy, grade, roast and grind the coffee beans, the water used goes through four filtration processes and the milk, utilized has the right fat and protein, if fact they worked with a milk supplier to develop Barista Milk!. This process is repeated every day to serve one perfect cup of coffee. It is imperative to maintain the same level of excellence in every cup of coffee. The same goes for chicken curry they serve is of 9 ingredients, so it is important to ensure that the ingredients are fresh, hygienic and need to be delivered in time and made to perfection.
So, the whole process from the preparation to serving is very important in terms of quality. The entire process from field to fork is very competitive and every person plays a vital role to make a happy customer. This is about putting everything we do through a customer heartbeat. "People have asked me to introduce a loyalty card or app, but I believe loyalty doesn't come from a card, rather it comes from great food, quality and service. So, when you have that right, it all falls into place, and then you launch a loyalty scheme. Initially we were just not in that place and a mindset change needed to occur. Hygiene and quality have to be prioritized, when dealing with food safety you can lose your reputation in a day and equally, it could hurt someone," Paul shares. Java House believes in satisfying every customer to the best of their ability.
Providing People with an Opportunity to Excel and Develop
We all go through stages of learning in life, if you are fortunate you move from experience, into wisdom and if you are even luckier you move into knowing. Paul too has learned many valuable lessons throughout his journey gaining vast knowledge that he leverages in his role as a leader. From a business perspective Paul focusses on understanding the way in which people see and analyze things, based on their own frameworks and experience. These may not contain all the information required, but if you have an awareness of who you are, then this coupled with the understanding of different cultures enables you to leverage the knowledge that you bring from all those businesses into the environment you are operating in.
His role as the CEO of Java House is to paint a compelling picture of the future for the company, that his people can truly engage with. In order to plan and execute a better future, Paul believes you need to be agile two years in advance because if you are starting that thinking process in the present you are already too late. He dedicates most of his time on futurology, researching the market and improving the services of the company. He finds creative ways to utilize his office more effectively with consequential thinking. Paul is currently developing the business to create real equal opportunity. There is already a 50:50 split in the management team for woman, 65% of the store managers are female, we have the first female on the board and his aim is to leave the business, with a female CEO. At the same time, Paul coaches and mentors his people in the right direction. The desire to develop others' lives motivates him to show up to work every day and excel in his duties. For the development of its people, Java invests heavily in the internal growth of its people, in terms of talent planning programs and skill development.
"My single biggest responsibility and accountability is towards my people. My job is to ensure that I give them opportunities to excel and develop, provide them with fulfilling jobs and equip them with the potential they need to face every challenge. This motivates my team to achieve their dreams," Paul, asserts. He strives to build a company driven by people, all of whom share a common purpose and passion. As a responsible leader, Paul also strives to maintain a balance between his personal and professional life. Paul loves and enjoys his work, which makes his everyday life fun. He has tried his hand at many experiences, can fly a helicopter, loves fishing, walking and sailing which he enjoys in his leisure time. "So, my personal and professional life blends in. I make sure I have my breaks and holidays. I have a lovely wife, and I care a lot about my family and friends and spend a much time in contact with them. That is how I find the balance," he adds.
When asked about his favorite inspirational quotes or poem, he said, "Two big inspirational things for me are actually two poems. One's called 'The Man in the Mirror', um, which is a poem about; if you look in that mirror and you see the person you see in there, are you still going to be friends with them at the end of your life? Because if you're not, that's not the place you need to be and you need to change what you're doing. And the other poem is a poem called 'The Cabbage White', which is about a butterfly, and his honest idiocy of flight will never now it is too late master the art of flying straight. So if you look at a butterfly, they flit everywhere. They go everywhere. But it's funny that they always manage to get to where they want to go to, isn't it? So really does it matter how people go about things, we are all different and bring different qualities. The poem ends by saying even the aerobatic swift has not his flying-crooked gift. Some people are going to fly like a swift, zoom around everywhere and get to where they want to get. And yet the vast majority of a lot of people are like butterflies and they flip around, they move here and there, and you know what, in my experience they eventually get to where they want to go. These are two very inspirational poems that always resonate with me. In fact, I've got those on my wall. And then the other one is a Chinese saying, which says "seek not to understand, seek to be understanding."
An Introspective Leader who is at Peace with Himself
Paul is a peoples' CEO. When people regard his contribution in their lives and see that influence in their success, Paul's vision as a leader is fulfilled. He is focused on developing lives of people first and growing the business second, because he fundamentally believes the business grows with the development of its people; if you grow the people the business will grow anyway. He is a visionary who understands multicultural business and applies that to Java House and has identified his potential as a leader. He says you cannot lead a team if you are unable to lead yourself. This self-developed thought process is Paul's motivating factor that keeps him going. To be involved in an international business as the CEO of a leading company needs a self-driven and self-motivated leader.
Java House has witnessed a massive growth in business under Paul's leadership. In a short span of two and a half years, he has developed the business from 35 stores to 82 successful stores in 30 cities and 3 countries, developing the value of company in the market. His ability to plan and scenario plan for the future way before they arrive at it, gives them the space to act before others.
Paul is a resilient leader and ensures that every problem is solved with an apt solution. The growth of his people is his greatest achievement and he encourages his team to always maintain a positive intent in everything they do, acting with integrity at all times. Throughout his successful journey, Paul has influenced many lives in an optimistic way making him an inspiring mentor, a revolutionary CEO and above all an introspective leader who is at peace with himself.