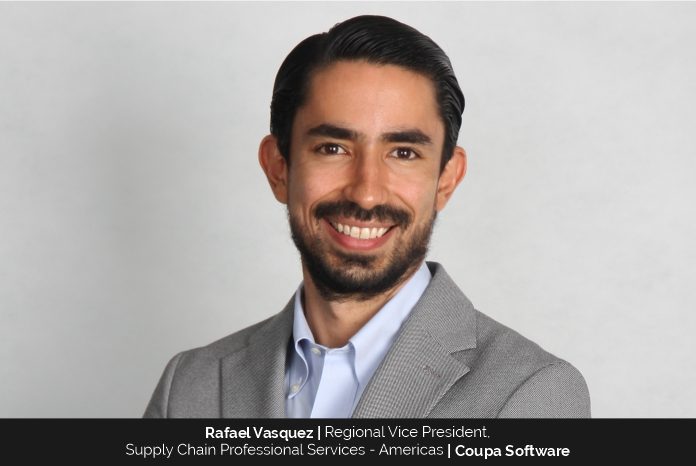 Rafael Vasquez, the Regional Vice President of Supply Chain Professional Services – Americas at Coupa Software, has a passion for entrepreneurship that has driven his success in the software industry for over 12 years and the Supply Chain sector for over 15 years. Rafael completed his bachelor's degree in industrial engineering at the prestigious Universidad Santa Maria La Antigua in Panama, and his master's degree in supply chain engineering at Georgia Tech. He also holds an MBA from the Universidad Latina de Panama. With such an impressive academic background, Rafael's career began with companies such as TetraPak and Logistics Services, where he honed his skills and learned the ins and outs of the industry.
Prior to joining Coupa through an acquisition about two and a half years ago, Rafael worked for companies such as TetraPak and Logistics Services. In 2012, he joined LLamasoft when the company had no presence in Latin America. He was the first consultant hired in the region and, along with the Managing Director, developed the market from scratch, growing it from 0 to approximately 60 local customers and 20 global companies with operations in the region in less than 8 years. He was also involved in creating the regional structure, including sales, marketing, pre-sales, and his own professional services and customer success team. The expansion covered the main countries in the region, such as Mexico, Colombia, and Brazil, as well as other countries in Central America and the Caribbean, including Panama, Costa Rica, Guatemala, and the Dominican Republic. Rafael enjoyed the entrepreneurial spirit, constant learning, and non-stop activity required to build something from the ground up during that period.
Seeing Customer Success as Personal Fulfillment
From a business perspective, Rafael takes pride in considering his customers' accomplishments and business outcomes as his own. He partners with them tirelessly, day and night, to design their supply chains for the future and transform their businesses. Rafael finds this work impactful not just for the individual organizations he interacts with but also for the world. By enabling resilient, agile, and sustainable supply chains, they are making a positive impact on the world, one step at a time. In addition, Rafael experiences a similar sense of fulfillment when he sees his team members' career growth and development into exceptional professionals.
Perspective on Personal and Professional Growth
Rafael strongly believes in the adage that challenges make you stronger, and he also subscribes to the idea that calm waters never made good sailors. He is grateful for all the opportunities he has had in his professional life, even if they presented themselves as challenges. These challenges have given him the chance to do things for the first time, and after a decade of experiencing new situations, he now feels like an experienced first-timer.
However, Rafael has faced a constant challenge throughout his journey, which is his own imposter syndrome. Since a young age, he has been entrusted with responsibilities that are typically assigned to more seasoned professionals. As he has grown both personally and professionally, these responsibilities have increased, and he often finds himself in situations where he may not be the most knowledgeable person in the room but is certainly the youngest.
It was only a few years ago that Rafael started to shift his doubts about himself to a positive and comfortable position of self-confidence. This change was prompted by one of his mentors, who told him that seasoned executives might be intrigued as to why someone so young had been chosen by the organization to lead a team or help solve problems. The mentor encouraged Rafael to be himself, share his ideas, and recognize that his colleagues and customers want to listen and learn from him. This advice transformed Rafael's perspective and approach to interacting with others.
Revolutionizing Spend Management through Innovation and Collaboration
Coupa is revolutionizing the way businesses manage their spending in partnership with the Business Spend Management (BSM) Community. Together, the team is creating new and innovative capabilities that empower its customers, partners, and suppliers with increased visibility, actionable insights, and solutions to manage their spending. In the past year alone, Coupa has collaborated on hundreds of new capabilities with its BSM Community, setting the standard for innovation in the industry and helping businesses achieve tangible results.
As part of these groundbreaking innovations, Coupa is focusing on Supply Chain Design and Planning. The aim is to provide its customers with insights and capabilities that enable their organizations to collaborate more efficiently in designing, building, and optimizing their supply chain networks. By doing so, businesses can reduce costs, increase service levels, and enhance agility and flexibility, while also considering ESG and other non-financial goals.
Role and Responsibilities
As the head of Professional Services for Coupa's Supply Chain Design & Planning business, Rafael oversees the implementation of all projects and provides coaching and advisory services. He leads a diverse team of 30+ professionals, including architects, consultants, industry experts, and team leaders.
Rafael and his team work closely with Coupa's internal Product and Strategy teams to ensure the technical adoption of their solutions and to provide insights and expertise to help prioritize and define new products and innovations based on market needs.
One of the aspects of Rafael's job that he enjoys the most is traveling. He frequently visits customer sites and Coupa offices within the region to follow up on projects, participate in Kick-Offs, Go Lives, and ongoing Steering Committee meetings. Rafael values personal connections and the opportunity to act as a trusted advisor in some of Coupa's most strategic projects. He describes himself as passionate about being in front of customers and discussing how to solve their supply chain challenges.
Establishing Boundaries and Routines
To maintain a balance in personal and professional life establishing clear boundaries and routines is crucial, especially while working remotely. Rafael has found success by exercising for five days a week before each workday, which enables him to start the day with a refreshed and energized mindset. Additionally, he makes a conscious effort to disconnect in the evenings and fully dedicate his weekends to spending quality time with his loved ones and pursuing personal interests.
Planning ahead by reviewing his schedule and to-do list the night before each workday also allows him to optimize his productivity during work hours, while also providing a sense of ease and freedom during his leisure time. By implementing these habits, individuals can fully immerse themselves in their personal lives without any lingering work-related guilt or obligations.
True Measure of Success
Rafael defines success as witnessing the prosperity and accomplishment of his team on both personal and professional fronts. While there are several measures available to evaluate an individual's or a business's success, such as financial metrics, operations, sales, revenue, customer satisfaction, and value generation, none of these can be achieved without a cohesive and committed team. He asserts, "If you want your customers to be taken care of, you need to treat and take care of your team first. Give them the time, coaching and guidance to reach their personal and professional objectives."
Growing Business with Innovation, Service and Support
Coupa's primary focus is to continue to grow its business by concentrating on their three core values. Ensure Customer Success, Focus on Results and Strive for Excellence. Their aim is to assist businesses in delivering genuine and measurable value by leveraging innovation and executing with exceptional service and support.
Rafael, as a business leader, has emphasized his personal goals in terms of developing his team members both professionally and personally, while also striving to provide real and significant value to customers. Rafael's advice to aspiring leaders is to first discover themselves as individuals and professionals, identifying their passions, which will make everything else more manageable.
"When you can do what you love all day every day, you will start directly and indirectly influencing and changing the world around you," says Rafael.