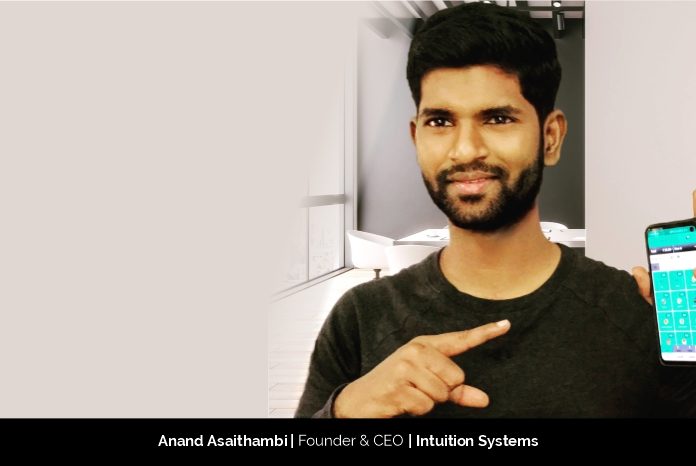 The traditional POS industry in India is comprised of legacy systems consisting of four major modules to run a restaurant or retail store: 1) a point of sale billing computer, 2) a payment module to accept cards or cash, 3) printer, 4) a back-office business management software. Currently, these traditional windows based legacy POS systems are being replaced by mobile and powerful android based all-in-one mPOS systems integrating all the four major modules. Although an emerging high-growth industry, there is a huge need for robust software that can power these new android mPOS devices at an affordable cost.
When Anand Asaithambi and Arun Asaithambi started their restaurant in Bangalore, they put together their own android based POS device as they had no other option outside of older legacy systems or manual billing machines and this led them to found Intuition Systems.
Intuition Systems's product IVEPOS software addresses this unmet need. IVEPOS is easy to use, powerful all-in-one Android-based POS and "ERP Lite" platform with more than 100+ features including billing, payments, and business management for restaurants and retail stores.
An Industry Expert 
Anand Asaithambi is a mechanical engineer and serial entrepreneur with a specialization in fin-tech and food-tech. He has more than 8 years' experience in building his company. He co-founded Intuition Systems along with Arun Asaithambi as he realized a need for mobile POS in India and built the IVEPOS prototype. He is skilled in software app development, robotics, design, UI/UX, product management, and marketing. Anand along with his co-founder and team put together the blueprint for IVEPOS App. He successfully oversaw the launch of the 3 apps in the play store. He was leading the initial growth of the start-up from scratch and had built the team, identified vendors, service partners, and channel partners. Along with his team brought the first 1000 customers within a short timeline.
Previously, Anand co-founded Dosai Asai (now exited) with Arun Asaithambi. A semi-robotic and automatic-driven food chain making dosai rolls. In DosaiAsai, he realized the need for a mobile and powerful POS System that eventually became Intuition Systems.
According to Anand, success is something that ties education, skills, passion, family, and finance. He asserts, "When I meant it ties together which signifies that if any one of the aspects is missing then you may not have satisfaction or happiness."
An Advanced POS System 
Intuition Systems has a disruptive, hi-tech, cloud-enabled POS and "ERP lite" platform with more than 100+ features that can be seamlessly integrated into a small 5.5″ mobile android POS or larger devices that can transform the POS hardware into a powerful all in one device and aggregator.
This can digitally empower all merchants including the micro-merchants to build and run a successful business, perform complex ops, boost revenues, communicate with vendors and customers, avail banking functionalities anywhere anytime at an affordable cost vs expensive management, and ERP software (SAP) available in the market. Previously, this is just not possible in India and was not available for smaller merchants until now.
Solving the Primary Industrial Challenges 
mPOS business is growing at a rapid rate in India, especially after the digital India Initiative. 65% of the mobile users use android users and growing. Intuition started as one of the early players in android mpos thus creating a huge market opportunity for its products compared to competitors as they started as windows-based users.
Intuition Systems's product IVEPOS software is easy to use, powerful all-in-one Android-based POS and "ERP Lite" platform with more than 100+ features including billing, payments, and business management for restaurants and retail stores.
IVEPOS was specifically targeted for restaurant industry QSRs, Dine. It has one of the most comprehensive solutions for the restaurant industry. This gives the company an edge in terms of market access in the F&B sector.
"We also easily integrate our device with all-in-one android devices. In fact, we have experience in working with all major android based POS hardware manufacturers including SUNMI, Star, EPSON, ESSAE, WISEPOS, A290. Most players are experienced in deploying the software in windows-based devices or sell as standalone software only or make their own devices," says Anand.
The company is known for making sophisticated easy to use, powerful, very comprehensive software that needs a low-barrier learning curve vs. complicated ones.
A Comprehensive Solution with Multiple Add-ons 
By building many licensing and distribution partners, and a robust e-commerce pipeline, Intuition is leading the sector where companies can combat some of the threats involving building a huge retail force. According to Anand, IVEPOS is one of the first Android-based POSs with a specific focus on restaurants and retail; 100+ features, 4 core Apps, and IVEPOS QSR, Dine, Retail, Dashboard. These all are comprised of one complete platform with billing, payments, and business management.
Leading the Sector by Combining Innovation and Advancement 
Previously, the Indian POS industry was comprised of legacy systems or manual billing machines as India POS players-built windows and web-based software for legacy systems. These systems were expensive, difficult to use, prone to system crashes, and have issues with data loss and security. Some of the primary windows and Web-App-based POS companies include Go Frugal, POSIST, etc. There was no all-in-one POS that can do more than billing and payments without a need to buy additional resources including accounting, ERP, CRM, and management resources. Intuition was one of the earliest android based mobile POS software companies that integrated basic POS functionalities with more comprehensive, easy to use, ERP lite features for business management and automation at a very affordable cost.
IVEPOS differentiator versus the competition is an easy-to-use and Intuitive POS system that requires very less training time for employees. Some of IVEPOS exclusive features that it specializes in include android based advanced ingredient manufacture, multi-store, and multi-device management, Counter wise KOT, merge, split tables, and many more.
There are very few android mPOS software players in India: Weavedin acquired by PayTM, EasyPOS/Zopper acquired by Phonepe.
Recognition for being Best 
Intuition Systems was named as a game-changer and made to the list of Top 20 POS and Data Analytics Management, and also to the list of Top 20 tech workplaces by leading business magazines, and is considered among the Top 5 AI companies in India.
The company is always getting many feedbacks from its clients, and this all helps to provide a better service to clients. The team states, "These good feedbacks that we received from our clients made us a proud leader in this industry." 
Heading to Extend Current Capabilities with More Team Members
Intuition Systems is currently has sold over 2000+ licenses to restaurants, retail, and enterprise customers. The vision is to become the leading all-in-one POS software company in Asia-pacific. The company is targeting to sell 2.5 Million licenses in the next 4 years. It is also planning to develop omnichannel, automation, and e-commerce tools. "We will explore expansion to the US and EU markets," says Anand.
The company is planning to expand its sales and OPS team for FY 21 and FY 22 while hiring salespeople. As per Anand, the management is planning to hire senior sales managers to lead the company's enterprise sales, bank sales, retail sales. The Company is also having ideas to expand its project team. While software engineers will continue to work on the company's flagship IVEPOS products, e-commerce, and data analytics modules new exclusive software professionals will work on innovative new verticals, R&D, B2B modules.
Anand asserts, "Our immediate goal is to expand our licensing and distribution partnerships in India and Asia-Pacific, increase our play store downloads and start deploying our e-commerce tools."  By building many licensing and distribution partners, and a robust e-commerce pipeline, Intuition Systems can combat some of the threats involving building a huge retail force. The long-term goals are to sell about 2.5 Million licenses in the next 4 years and emerge as a leading one-stop cloud-based restaurant and retail store management software and automation software.