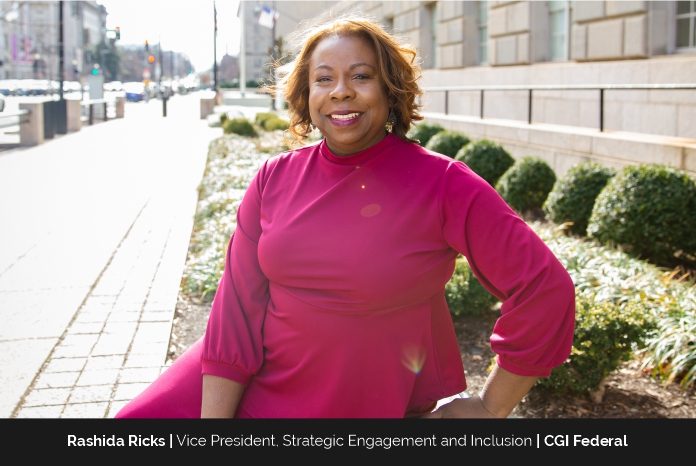 Executive leaders play a critical role as diversity, equity, inclusion and accessibility (DEIA) advocates in organizations. They often bring new perspectives and experiences that are important to developing, implementing and advancing effective DEIA strategies. When the makeup of leadership teams is diverse, they can also serve as role models and mentors within their organizations and communities, helping to create a more inclusive workplace environment.
Rashida Ricks is the Vice President of Strategic Engagement and Inclusion (SEI), a newly created role at CGI Federal, where she leads the organization's vision, planning, implementation and communication efforts for employee engagement and DEIA initiatives. With a career spanning over 20 years, Rashida leverages her personal lived experience as an IT executive and DEIA champion to create connections and increase collaboration by breaking down organizational silos through change management best practices.
Rashida approaches DEIA as a business imperative, recognizing that as the world becomes more digital and interconnected, incorporating inclusive practices will be a signature organizational capability of the 21st century. Under her leadership, Rashida's team reshaped the way the organization serves its 7,000 employees, which it calls "members," by elevating the member experience through data-informed decisions and new tools that enhance internal engagement through streamlined communications. She also works alongside federal agencies through organizations like the American Council for Technology-Industry Advisory Council and the Advanced Technology Academic Research Center to share best practices on re-imagining the future of the workforce for government and industry.
As an advocate and mentor within local communities for underrepresented groups interested in STEM careers, Rashida serves on the board of directors for Community Transformation Partners (CTP), a non-profit focusing on public health, holistic wellness and economic mobility in marginalized communities. She also serves on the Diverse by Design Advisory Board for Per Scholas, an organization committed to advancing economic equity for women and people of color through offering tuition-free IT training and connecting skilled talent to leading businesses, like CGI Federal.
Building Success as a DEIA Leader
Building on her success as an IT executive, Rashida's SEI practice is an initiative advancing workplace culture, DEIA and community engagement.
Understanding that establishing a data baseline is a critical first step to CGI Federal's DEIA journey, Rashida collaborated with CGI's Black Member Alliance member resource group and Human Resources to publish the organization's first annual DEI metrics report in 2021. This collaboration entailed partnering with a third-party firm to conduct equity and cultural assessments that analyzed organizational processes and practices as well as evaluated member experience across multiple dimensions of diversity.
Building on the digitization and connectivity of the member experience, the team launched a digital platform that engages members through training and resources, shares information on member resource groups, houses CGI Federal's DEI demographic reports and podcasts, and provides opportunities for community volunteering. As the emphasis on member experience evolves, Rashida's focus is on continuing to build a company members can be proud of while attracting and engaging the best talent to deliver on clients' technology objectives.
Rashida's SEI team supports CGI Federal in its efforts to remain competitive and offer benefits that contribute to a culture of belonging, such as supporting mental health and well-being through CGI's own Oxygen program; mentoring/sponsorship opportunities for members from diverse backgrounds; member resource groups that create safe and brave spaces for communities; and floating holidays to allow members to celebrate holidays with cultural or ethnic significance beyond those officially recognized by the federal government.
Rashida prioritizes mental health and believes that self-care is important for both herself and CGI Federal members. She practices self-care in the form of journaling and meditation, and, as a leader, she serves as one of the executive sponsors for the Mental Health Matters member resource groups and is a certified Mental Health First Aider.
Creating an Environment where People Can Thrive
As a wholly owned U.S. operating subsidiary of CGI Inc., one of the world's leading global IT and business consulting services firms, CGI Federal partners with federal agencies to provide solutions across the federal government. The company understands the demand for experience and specialized expertise in the federal contracting industry.
With an inclusivity approach in mind, Rashida's SEI team is actively expanding its connections with community partners to establish more inclusive environments for members and contribute to the overall advancement of the IT industry. One of the goals is to break down barriers that underrepresented groups face in pursuing STEM careers, increasing diversity in the pipeline and ensuring their success. This involves prioritizing initiatives, such as economic empowerment and supporting young entrepreneurs, including Briahna, a Black female college student at Christopher Newport University who runs her own photography business and is a double major in marketing and teaching. She had the opportunity to take Rashida's photos for this article. Rashida notes, "I want to make sure we are focused on future leaders like Briahna and that entrepreneurs like her are set up for success and facing less barriers than I have."
Rashida brings focus to community engagement, where she and her teamwork alongside CGI Federal clients to re-imagine the workforce of the future. In partnership with one of CGI Federal's clients, her team is creating an internship program to give students from Historically Black Colleges and Universities a perspective of the government and business consulting side of the affordable housing industry. Additionally, the SEI team is collaborating with CGI's Disability & Neurodiversity Advocates member resource groups and Melwood, a leader in disability inclusion, to create a new STEM program at Camp Accomplish, Melwood's inclusive summer camp.
These efforts help inform the company's strategic roadmap toward the goal of becoming a DEIA leader in the IT industry; more so, they create an increasingly interconnected space for the organization's members and for the next generation of the federal workforce.
Advancing with a 'YES AND' Attitude
Rashida's passion for computer programming began at an early age, which set the path for her future as a successful IT consultant. She is a self-taught coder and programmer, who taught herself on loaner computers her mother would bring from work. This led her to build her own programs by the time she was a teenager. She went on to study at Lehigh University, where she earned a degree in computer engineering, was an active member in the National Society of Black Engineers and lived in the Umoja House ("umoja" means "unity" in Swahili), a community for black students founded by Rashida's friend, Dr. Leon Caldwell, Founder and Board Chair of CTP. It was that connection, and that place of "belonging" on campus, that sparked Rashida's passion for continuing to have community impact today outside of her role today at CGI Federal.
Rashida has approached her career with an open mind and a willingness to take on new challenges. Her diverse experiences along with her ability to pivot and adapt to new roles have clearly been assets in her professional journey. Saying "yes and" to new opportunities and constantly seeking personal development and preparation are important principles to keep in mind for anyone looking to grow in their career.
This "can do" attitude led Rashida, prior to her current role as vice president at CGI Federal, to be selected as emcee during one of the organization's annual tour conferences, a global broadcast from the Canadian headquarters with over 1,000 members attending in-person at the Federal headquarters in northern VA. This was a huge honor as it demonstrated recognition from CGI Federal's President, who had confidence in Rashida's ability to successfully moderate the high-profile event. The opportunity provided her with exposure and visibility across the organization and showed her that senior leaders recognized her strength in engaging and connecting with people.
Inspiring Next-generation Women Leaders by Stepping Out of Own Comfort Zone
Rashida acknowledges the scarcity of women of color, especially Black women, in leadership positions in the IT industry, and she hopes to see a change due to inclusive practices taking place today. Being one of the few women of color in her career, she used to keep her personal and professional lives separate, but George Floyd's death motivated her to leverage her leadership platform for influencing change. During a company-led listening session in 2020, Rashida shared her experiences as a Black woman in IT, which opened the door for others to share their stories and allies to take action. This led to expanding the company's member resource groups, reporting DEI metrics and establishing the SEI practice.
Rashida looks at Steve Harvey's quote as a source of motivation: "If you don't jump, you will never know what is in your parachute."
The quote highlights Rashida's ongoing evolution throughout her career. While she is not always actively seeking out new opportunities, she often finds herself presented with them and must decide whether to take a leap of faith or stay within her comfort zone and continue on the same path as everyone else. She asserts, "If I hadn't taken the leaps, I would've missed out on opportunities for personal development and growth – and not discovered the knowledge and great resources that I'd accumulated along the way."
According to Rashida, adopting this mindset has allowed her to encourage other leaders to step out of their comfort zone, particularly in their DEIA journey where the path ahead may be uncertain. Although it can be uncomfortable and may involve missteps or difficult conversations, Rashida believes that growth is only possible through discomfort, and that without it, organizations cannot reach their full potential.