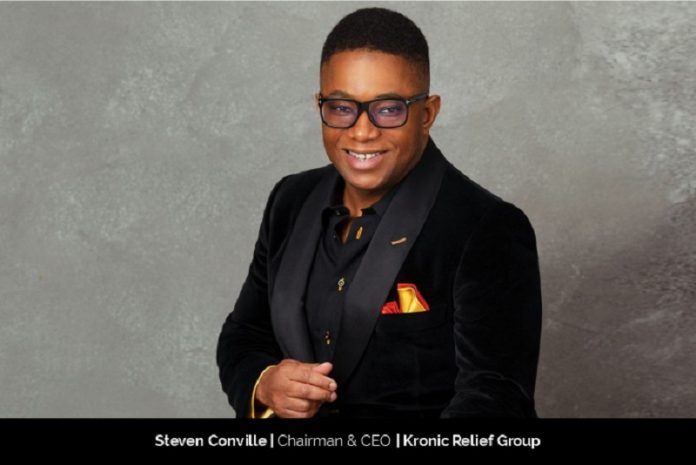 Cannabis is recognized as the 2nd most dominant cannabinoid on the entire earth. Steven Conville, CEO of Kronic Relief Holding Corp is revolutionizing the cannabis industry with unique genetics, quality products, a deep catalog of cannabis extracts, edibles, and topicals, and a diverse multicultural team. With a finance-background, he knows the ins and outs of making smart financial investments. After serving as a financial consultant for over 20 years, he wished to pursue a business in the booming cannabis industry.
Sharing his chief goal, Steven says, "I want to be recognized as one of the best to have ever done it, by the best who have ever done it. I am excited and passionate about anything to do with cannabis. For our medical patients, I want to provide a "Relief" that is synonymous with an end to the suffering that gives people their lives back. For our recreational clients, I want to be known as the possessor of the "Kronic"!"
Behind the Scenes
Steven completed his BA honors Arts, History/Science, Technology, Cultural, and Society as well as B. Ed in Education from York University in 1997. After that, he went to Concordia University to finish his Post Graduate Diploma in Investment Management in the field of Finance and Investments in 2006. Later, he attended Wilfrid Laurier University for an MBA in Finance in 2007. Prior to exiting the financial services industry in 2014, Steven was a Portfolio Manager licensed to sell securities on a discretionary basis in Canada and the United States.
He is still a Certified Financial Planner Licensee (CFP), a Fellow of the Canadian Securities Institute (FCSI), with a Canadian Investment Manager designation (CIM). He completed his 2 consecutive 2-year terms till 2006 serving on the Investment Advisory Committee for the Office of the Guardian of the Public trustee for the Ministry of the Attorney General of the province of Ontario. In 2009, he was selected as a member of the Macquarie Private Wealth Elite owing to his excellent performance in 2008. For over 15 years, he managed assets for clients, and 2012 became his 20th year in the financial services domain. In that time, he became the Vice President and Branch Manager for an Investment Firm where he supervised assets worth more than 750 million dollars while achieving Executive of the Year 2 years in a row. In addition to this, he specialized in celebrity wealth management where he still maintains a few clients to this day.
Along with this, he was an active volunteer for numerous organizations and had even joined the membership of the Urban Financial Services Coalition, Toronto from 2002 to 2012.
As a firm believer of Henry Wadsworth Longfellow's famous adage, he shares, "The heights by great men reached and kept were not attained by sudden flight, but they, while their companions slept, were toiling upward in the night." That's why he kept burning the midnight oil to get on top of his competitors and is on the verge of fulfilling his dream with flying colors.
As a recognized financial consultant, he kickstarted Kronic Relief Jamaica in 2014. Kronic Relief Holding Corp (KRH) its parent company and its sister company KRI is an amalgamation of cannabis growers with diverse backgrounds and experiences under one roof to create a unique philosophy, brand, and culture.
Conquering Impediments on the Way
As Kronic Relief began its operation, it has face a myriad of challenges at each step. However these roadblocks while disruptive have not prevented KR from achieving their goals. Even though many of their peers have fallen by the wayside, KR is still on track for success. Despite a myriad of issues in this pandemic that have affected every aspect of the economy including the amount of capital available for investment, it is very difficult to shake Steven's will. He is emblematic of Winston Churchill's popular quote that states, "If You're Going Through Hell, Keep Going." Thus, he feels with the dedicated efforts and support of his strong team; he is able to overcome any hardship.
He further adds, "To mitigate these issues, we have had to differentiate ourselves as knowledgeable cannabis professionals rather than business professionals trying to be cannabis specialists. This has allowed us to raise capital during these awkward and trying times while many are reporting huge financial losses and, in some cases, catastrophic cash flow problems."
Comprehensive services, values, and culture of Kronic Relief Holding Corp (KRH)
Kronic Relief Holding Corp (KRH) is the parent company of Kronic Relief Inc. (KR) and the future House of KR Dispensaries (KRD) in Toronto, Canada, and Kronic Relief Jamaica Ltd. (KRJ), which is located in Buff Bay, Jamaica.
While KR, as well as KRJ, mainly focus on cannabis production for recreational and medical distribution, KRD will soon launch a plethora of dispensary locations in the Greater Toronto Area.
Their company works by following a 3-way process:
Building
The teams integrate to cultivate cannabis in the State-of-the-art facilities so that maximum yields can be reaped.
Monitoring
The company tracks all the changes and favorable conditions to formulate robust growth methods that result in higher and good-quality yields.
Testing
Once the cannabis grows, they will test it and once approved we aim to deliver the best products possible.
Future products at KR and KRJ will possess high levels of both CBD as well as THC, to help you get the most out of cannabis products be it for the needs of medical patients or therapeutic clients looking for reliable and safely accessible options in no time.
Cannabis Flowers with Sativa, Indica, and Hybrid Strains
Cannabis Resins with Hashish & Kief
Cannabis Resins with Budder, Honeycomb, Rosin, Shatter, and Wax
Cannabis Resins with Phoenix Tears and Rick Simpson Oil (RSO)
CBD, THC, and Blended Oils
Cannabis Edibles with Infused Food and Beverages
Cannabis Topicals with Salves, Balms, and Ointments
Cannabis Vapes and Pens
Empowering the customers with different products derived from the best-quality cannabis concentrate, KRH is also utilizing substantial amounts of cannabis strains to help other growers by proffering genetics and starting materials to carve their success route in the cannabis domain.
KR has always been an inclusive and diverse company of people who believe in following industry regulations for the benefit of their consumers. The team at KR have a strong knowledge of growing cannabis and they try to learn something new everyday. And because the industry is still in its infancy they know this learning curve will continue for many years.
"Our business will not survive without implementing a strong culture of innovation. As we learn more about cannabis and the industry's knowledge expands, so does the consumer's knowledge. We see it's clear that people want safe products that are effective and satisfying," says Steven. The entire cannabis industry did not recognize this till now, but he has witness steady success and growth for the ones who acknowledge this fact and work on improving every day. He wants Kronic relief to follow the same footsteps, experience exceptional growth and increase market share far more than his competitors.
Steven's role in the creation of safe cannabis products
Steven realizes that growing cannabis is not as easy as any other plant. These products require a tremendous amount of attention and detail as each of the strain and batch could lead to incurring of new hardships along its development cycle. He shares, "We are confident that our products will appeal to cannabis consumers as we recognize safety shouldn't compromise quality as quality shouldn't compromise safety."
As legal cannabis expands in Canada, the focus on large production farms has been shifted to much smaller-scale facilities. As large companies continue to lose money at an alarming rate, there is an increase in the discussion of cannabis company mergers and acquisitions. This is because the pressure to turn a profit is mounting on the larger public companies.
Balancing between Personal and Professional fronts
As the CEO of KRH, he has to wear multiple hats at the same time. However, his untiring will and persistent efforts day in and out to succeed keeps him focus in the right directions. As his days go by, his cannabis knowledge increases as he connects with more like-minded people, and he continues to raise capital for future plans. He adds, "There is no specific pattern or trajectory to my daily routine – I'm just laser-focused on getting Kronic Relief to the next level, each day seems to bring new challenges or milestones to be reached, and I just adjust accordingly."
To accomplish his goals, he needs to forge a strong culture as well as attain corporate goals by supporting his employees in getting educated. This simple step is essential for everyone to understand all the processes and buy-in as it is when the magic actually happens. He is a firm believer of the old adage that says, "Success comes when we are all on the same page." Thus, he is using the medium of education to bridge the gap between employees and making them aware of his clear vision and future plan.
Being a father of five children and an avid sports fan, he is dedicated to spending quality time with his loved ones. In a previous life, He founded the Moncton Miracles of the NBL. Understanding the importance of keeping a good balance between office and home, he further shares, "I hope to begin to have a balanced life again once my business has achieved its first wave of real success. At that point, I will be able to hire people in key positions to take some of the load off myself, which will naturally translate to more free time." Right now, he is prioritizing his businesses growth so that he can make his company rank higher and lead the cannabis industry. In whatever spare time he has left, he focuses on many philanthropic endeavors.
The future roadmap of Kronic Relief Holding Corp (KRH)
Mainly, the company is striving towards licensing their Canadian facility that covers 16000 sq/ft. Further, they plan to vertically integrate it into their own brand of retail cannabis dispensaries.
He further shares his other goals, "We want to bring our cannabis edibles and topicals to market and expand our footprint to 100,000 sq/ft indoors and 10-acres outdoor facilities in Canada. I would also like to bring our 12-acre project in Jamaica online and vertically integrate it into a few local dispensaries with an eye to exporting internationally once permitted."