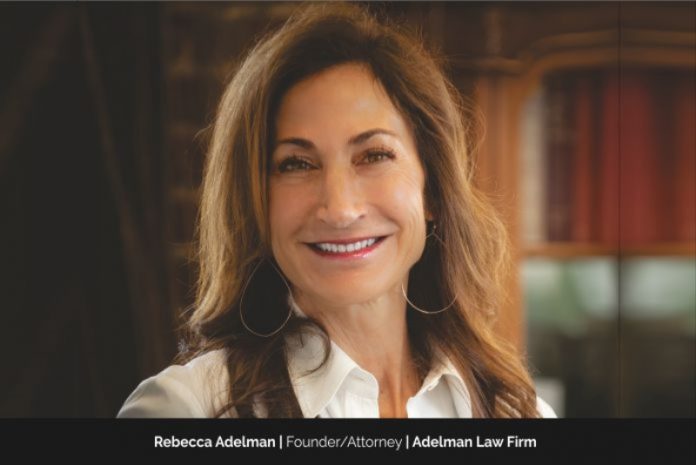 Introduction:
Rebecca Adelman combines expertise and innovation in her 30-year journey through healthcare, senior living, and risk management. Her career, which melds professional acumen with a deep commitment to societal change, has left a tangible impact across various sectors. This narrative explores her professional path, personal beliefs, and the influence she exercises in her fields of expertise.
Section 1: A Legacy of Practical Solutions in Legal Practice and Risk Management
Rebecca Adelman has built a career providing practical solutions in healthcare, insurance defense, and business litigation. In her role as an arbitrator for the American Health Lawyers Association, she focuses on facilitating equitable outcomes in health law cases.
Adelman Law Firm and Claims Management, founded in 2001, not only earned recognition as a WBENC and Tennessee Certified Women's Business Enterprise but also introduced the PRISM model, shifting the approach to claims and risk management in senior living.
Beyond her firm, Rebecca's consulting and education initiatives have enriched healthcare professionals and businesses, covering a range of liabilities. Her roles, including mediator and founder, have been guided by a consistent mission: to enhance organizational frameworks and advocate in all the ecosystems of senior living.
In 2022, Exhibit (A)delman, the firm's client newsletter, was highlighted at the Aspect Marketing & Advertising Awards. Additionally, 2021 saw the birth of the Adelman-Mettle Care Alliance, aimed at improving end-of-life care through advocacy and the development of resources like the National Institute of CNA Excellence curriculum.
Section 2: Innovation and Quality in Senior Living
Rebecca's work in senior living is defined by innovative strategies and a focus on resident and family engagement, staff empowerment, and quality of life. In 2023, she launched Guide Path, LLC, an evolutionary culture change certification program for senior living communities focused on risk and expectations management and quality of care and life. She has devoted much of her professional life to improving care standards in senior living, managing expectations, reducing risks, and improving care quality for residents, families, and providers alike.
Her leadership, grounded in "Work-Life Being" and "Unique Abilities," emphasizes stress reduction and aligns professional roles with intrinsic passion and skill. This philosophy is not theoretical but actively applied within her organizational cultures, fostering environments conducive to individual and team growth.
Rebecca, a national speaker, covers topics from women in business to cultural changes in senior living and risk management. Her written work as well as "The Senior Living Empower Hour" monthly educational series and contributions to various publications, extends her insights to a wider audience, facilitating knowledge sharing in business, leadership, and healthcare.
Section 3: Entrepreneurial Beginnings
Rebecca's entrepreneurial journey began early, under the supportive eye of her family, which valued business acumen, education, culture, and faith. At just six years old, she initiated a shoeshine business, leveraging her father's polished shoes to attract neighbors and promising next-day delivery of their newly shined pairs.
Later ventures included a rock painting business, where she personalized rocks with initials or designs for fifty cents each, and "Becka's Café," a basement restaurant that served tuna and egg salad sandwiches to the neighborhood. She retired to enter first grade. Even then, Rebecca demonstrated a knack for financial management, depositing her earnings into a bank account her father helped her open.
Section 4: A Different Perspective on Success
For Rebecca, success is not a linear path. It involves understanding oneself, identifying fears, sources of joy, and aligning thoughts, words, and actions with integrity. It means assessing gains and losses, offering and seeking forgiveness, and maintaining continuous self-awareness.
Rebecca diverges from conventional definitions of success that prioritize external markers like wealth and power. For her, success is an internal journey, motivated by the courage to live authentically and the cherishing of "home" – a space where one feels safe, understood, and encouraged to be their true self.
Section 5: Resilience Through Challenges
Rebecca embodies the principle of turning setbacks into comebacks. At the onset of her firm, her vision was clear: to cultivate a small team and hone her leadership skills while engaging with her community and becoming a thought leader through education and training. However, rapid expansion led to stress and quality control issues, prompting her to reassess and realign her priorities.
Encounters with crises, both professionally and personally, taught Rebecca the value of adaptability, resilience, and continuous learning. From dealing with biases as a female leader in a male-dominated field to navigating through the challenges posed by rapid organizational growth, she has consistently demonstrated a capacity to learn, adapt, and forge ahead, turning potential setbacks into opportunities for growth and development.
Section 6: Building a Lasting Impact
In 2001, Rebecca established the Adelman Law Firm and Claims Management, identifying a growing trend and need in senior living and leveraging her insights gained from defending senior living providers, building relationships with insurance companies, and leading a medical malpractice group. Her vision was to create a client-centric law firm model and to serve as a pioneering leader in healthcare and senior living.
The firm's success in risk management not only improved the quality of care for seniors but also provided a deeper understanding of transitions in care within the senior living ecosystem. Through the establishment of Guide Path, Rebecca aims to continue this work, managing resident and family expectations, delivering comprehensive healthcare education, and transforming cultures within the senior living industry.
Section 7: Celebrating Collective Achievements and Shared Humanity
Rebecca values her team and collective efforts, recognizing that her most notable accomplishments are often shared achievements. One such significant event was the birth of her son during her inaugural year as a firm founder. Balancing parenthood with professionalism, her son has been a constant source of learning and joy.
The establishment of a Montessori school in Colorado, where she once attended law school, and running the New York City Marathon as an Achilles International runner, tethered to a blind student, are other instances where collective efforts and shared humanity have been celebrated. For Rebecca, accomplishments are deeply interwoven with the threads of connection, community, and collective endeavor.
Section 8: Impacting Through Authentic Leadership and Mentorship
In various roles – as a lawyer, businessperson, and thought leader with a strong faith-based community – Rebecca is committed to effecting positive change. From her early career advocating for specially-abled students to her current endeavors providing resources and training for senior living healthcare providers, her commitment to social justice and advancement has remained firm. She has been awarded the Tennessee Supreme Court Attorney for Justice Pro Bono  Service Award for the past many years for her work in advancing important social justice and other causes for clients at no cost.
Rebecca also actively fosters an environment of motivation and growth within her team. Her approach to leadership is to serve as an example of possibility, allowing team members to view their work as self-fulfilling, with clear goals, adequate resources, and supportive leadership to nurture their professional and personal development.
Section 9: Guiding the Next Generation Through Partnership and Collaboration
In her varied roles, Rebecca ensures the cultivation of a conducive working environment, engagement with clients, and identification of growth opportunities. Her innovative approach, which she refers to as "Total Lawyering," emphasizes belief in oneself and others, akin to Ted Lasso's "Total Football" philosophy.
Rebecca envisions her legacy as teaching the next generation the importance of maintaining self-care, finding and filling gaps, and continuing the fight for gender equality. As a mentor, sponsor, and advisor, she emphasizes the power of collaboration and mentorship, encouraging young women to support each other, thereby fostering a sense of unity and collective progress.
Section 10: Achieving Balance Through Internal Exploration
For Rebecca, achieving balance doesn't involve a continuous upward trajectory but rather an inward exploration. She emphasizes the importance of being centered, discovering genuine desires and obstacles to contentment, and engaging in consistent self-reflection.
Her days typically begin before sunrise with a regimen of training, yoga, and meditation, and are meticulously planned to incorporate focused work periods. Regardless of the surprises each day might bring, she identities three key projects that take precedence for completion, and she ensures to get 7 to 8 hours of sleep each night. Her motivation is derived from a genuine appreciation for each new day, starting with blessings and sharing a gratitude list with her son.