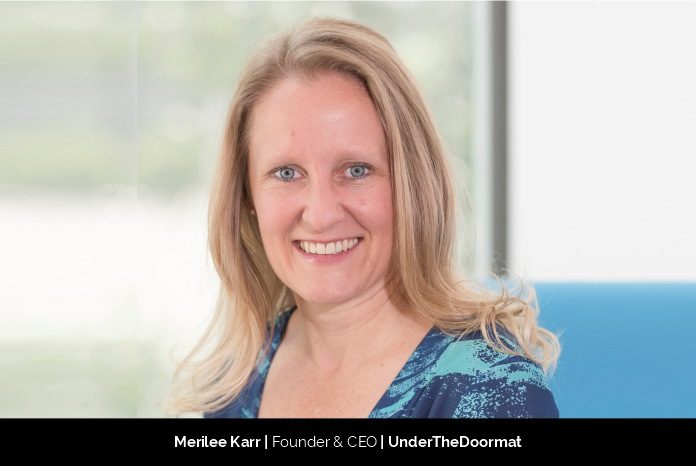 Success has a different definition for everyone. With the aim to disrupt the accommodation industry and astonish the customers with excellent short rentals, Merilee Karr, Founder, and CEO of UnderTheDoormat, founded a brand that is leading the transformation of the sector.
Climbing the ladder to success
Prior to UnderTheDoormat, Merilee spent 13 years in the global corporate world at Shell. She did everything from setting up the IT presence in India to globalising PR and looking at future strategies for the Retail business to property management, being responsible for the global maintenance of the petrol sites across 43 countries.
During her time in the corporate world, she was always given innovative or disruptive projects to transform the way something was done. This sparked the fire to do something unique in her career. When this fire combined with her passion for traveling around the world, and property, she came up with the idea of setting up UnderTheDoormat.
She adds, "People always think it's such a change, to go from one of the biggest corporates in the world to set up your own business from nothing but entrepreneurialism has always been in my DNA. I was a kid who set up a lemonade stand outside my home and had 10 glass sizes tried to upsell cookies to the firemen because that's part of who I am. It wasn't about wanting to take a leap of faith; it was just a question of having the right idea."
Hurdles along the way
The biggest challenge for Merilee was to understand the importance of patience while growing her business. She states, "The hardest thing is if you are a driven person, you want everything to happen quickly. The challenge is that's building a great business and reputation takes time. You must have patience which is something you are forced to learn. I always wanted to build a robust company as well as growing it quickly, and we have grown the company to a mature level despite its age, which is a testament to the strong structures we have in place. There's a delicate balance where on the one hand, you need to do things properly because your company's reputation depends on it, but on the other, you want things done fast so your company can grow quickly. You can't have sustainable growth without substance."
Revamping the retail industry with UnderTheDoormat
With the vision to be a global company that professionalizes the short-term rental sector, Merilee led her business to help other companies access new markets and to grow the sector overall.
They operate short-term rentals for those who want to earn an income but can't do it all themselves. UnderTheDoormat London has over 300 properties in its portfolio across the city, including the flagship aparthotel 3 Sloane Gardens operated on behalf of the Cadogan Estate.
She adds, "We distribute for providers who can provide quality hospitality, but not distribution. The tech landscape in the industry is hugely fragmented, and our B2B SaaS platform Hospiria integrates the technology stack so property companies and managers have a ready-made platform.  This allows them to focus on what they're good at – great relationships with their owners and hosting guests.
And finally, our TrustedStays platform is the world's first platform that connects professional home rentals with Government and Corporates.  Until now, short-term rentals haven't been able to enter this world at any scale, and we're building into it for the first time and connecting professional operators to this "walled garden". All three products enable owners to earn a higher income from short-term accommodation."
Merilee is motivated to build an atmosphere where a great team of people who are good at what they do feel empowered come with new and unique ideas, take the lead comfortably, and execute them.
She believes that the key to innovation is to let the team breathe and grow themselves. She focuses the point by saying, "Anyone in the company can talk to everyone without having to go through managers, etc. it allows the team to converse and come up with new and creative ideas they may not have if they hadn't been able to bounce ideas off of each other. In all roles, there is a lot of responsibility early on that is forces people to take risks and try new things. Being a small and growing company, there are always opportunities for people to innovate and grow, and I would say our biggest challenge is just having the time to implement all the great ideas that we have!"
She adds, "The thing that matters most is that the team can see we're making progress. When there are exciting things that they can get involved with and contribute to, that's more motivating than anything else."
Life as the Founder and CEO of the company
Wearing the hat of Founder and CEO, Merilee has a lot of things on her plate. She states, "I often have meetings with government ministers or people about the sector and regulations as a part of my role of Chair for the Short-Term Accommodation Association. I also meet with the team to discuss how we are driving forward our different products. As the CEO, there are always 100 different things to do in a day!"
From her past experience in the corporate world at Shell, she realized the importance of sustainable partnership in which both parties in the deal see the benefit. Being a passionate leader, she incorporates this culture into her business and the partnerships she has built with homeowners, property companies, suppliers and channel partners.  She believes in focusing on your core business and working with trusted partners so that everyone grows and succeeds together.
Achieving work-life balance
Merilee has a flexible point of view regarding attaining a personal and professional balance. Being an entrepreneur, she feels that switching-off work is impossible, but it can be managed with proper time and work management. Its all about prioritizing and sometimes a quick response over a weekend or on holiday saves so much time later.  As long as she can get out for her Saturday bike rides, and in a normal world to meet friends and travel, there are always good ways to disconnect.
Future plans for the company
Merilee aims to grow UnderTheDoormat into a global business whilst helping transform the sector through professionalizing it. The vision is to do for the short-term rental industry what the global hotel brands did to the hotel industry back in the 1950s.
She expresses, "Today, we are a very disaggregated sector, but my vision is to consolidate and keep the authenticity in the industry by supporting entrepreneurs to grow their companies through technology and access to new markets.  I don't want the industry to become a couple of companies taking over as that would lose the beauty and diversity of our industry. I want the sector to consolidate in a structurally different way, where all the entrepreneurs who have great businesses have full control, and we create that umbrella for them to make it easier and to help them grow faster".
Being a successful leader, her advice to new entrepreneurs is to take the leap as you can only build something amazing brick by brick and you have to lay the first brick for your dream to be possible!