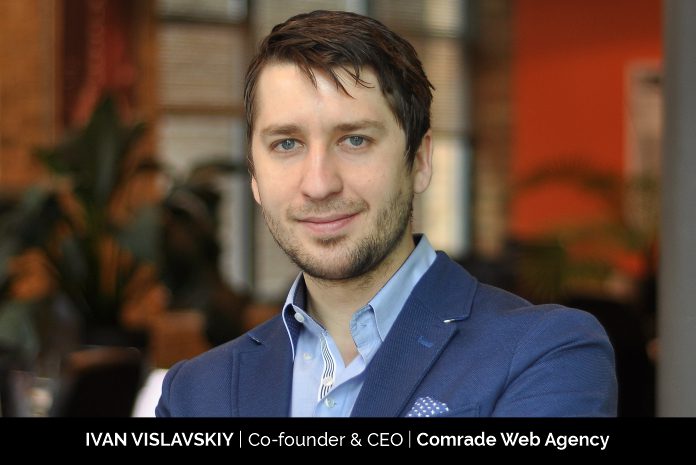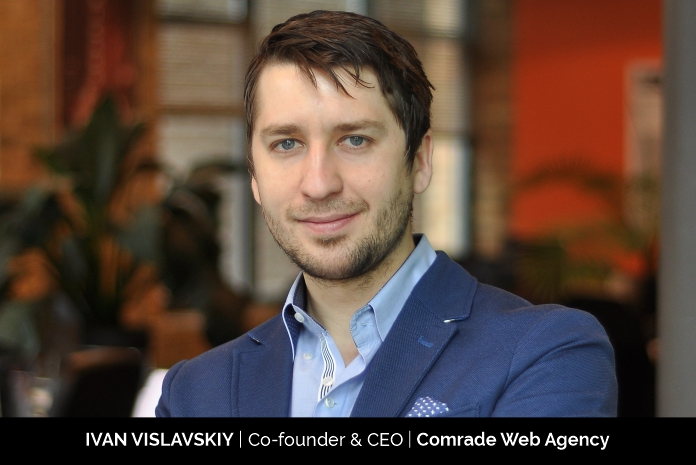 Innovation is the result of a strong desire to create something unique that influences a change in an industry. Ivan Vislavskiy had a similar perspective when he co-founded Comrade Web Agency. He was always driven by creativity and loved to find simple solutions to complex problems. Having spent a long time in the web-related service industry, Ivan gained years of industrial experience and developed the confidence to establish himself as a businessman; something that he always wanted to be. His passion and hard work reaped exceptional results making Comrade Web Agency a leading digital marketing, SEO and web designing agency. Despite the challenges he faced initially, Ivan was confident of the path he had chosen and was certain of success. In this exclusive article, Ivan shares with us some if his success mantras, that made Comrade Web Agency an award-winning company today.
Q. What were your dreams and aspirations while growing up? What led to the foundation of Comrade Web Agency?
I always dreamed of having my own business where I could engage my creativity, work on interesting projects and innovate solutions to complex problems. I suppose that comes from my background in robotics engineering! With the fast growth of web-related services (web design, digital marketing), I found my niche. I immersed myself in the industry and quickly taught myself how to design and develop websites. I then went on to work for a few agencies in roles ranging from web designer to project manager and it was a very eye-opening experience. While working at these agencies I soon realized that everyone is aiming to serve large organizations while overlooking small and midsize businesses. I saw a disparity in the industry and recognized that as an opportunity. Together with my co-founder, Stan, we opened up our own tiny agency focused on serving small and midsize businesses, helping them grow and compete with larger companies. We did this by providing them with white glove service and topline results previously reserved just for the big guys.
Q. What were the initial challenges and setbacks that you faced and how did you overcome it?
At that time, neither my partner nor I had the business skills needed to run a company. We didn't know how to hire people, establish proper processes, assess the finances, bring in new clients, and so on. How did we overcome these challenges? By taking initiative and learning all that we needed to, on our own. Again, we were self-taught. Through trial and error, reading every business book we could get our hands on and consulting with professionals who'd gone through similar growing pains, we succeeded.
Q. Tell us in brief about the services of Comrade Web Agency.
Comrade Web Agency is a full-service, award-winning digital marketing, SEO and web design agency based in Chicago. We love solving design, technology and marketing challenges to elevate our clients to realize their full potential. And I can really say that marketing and web design is as much a science as it is an art.
Q. What is the importance and scope of designing and marketing?
Design and marketing are extremely important aspects of business growth. Today there's such fierce competition online that in order to stand out, a company's website must have proper branding, information and user friendliness. That's where design comes in. In addition, hundreds of thousands of users search for information online every single day. If you market your company properly by helping those people find the answers they're looking for, you're likely to generate a stream of new, qualified prospects.
Q. How has technology impacted your business operations?
Technology has had and will continue to have a significant impact on our business. If you think about it, our company wouldn't exist if the Internet wasn't developed. Since the inception of web-services, opportunities are always presenting themselves, and always changing. There are so many tools that help automate various aspects of business: financial, reporting, HR-related and so on. Who knows what new technology will be developed soon to streamline our work even more and pass on the benefits to our customers?
Q. How do you define the growth of the company over the past few years? (Can be explained with statistical data too)
For us, the growth lies in two factors: increasing the number of clients that we serve and constantly striving for the best internal culture and processes. Over the years we've been excelling in both and our financial bottom line is growing by an average of 30% per year.
Q. What is your vision for the company?
To become the largest agency in the country that specializes in growing small and midsize businesses. At the same time, we never want to lose the tight-knit family vibe of our internal culture. We prioritize our team's happiness and want to consistently encourage their growth and excitement at work.
Q. Is the designing industry a competitive one? How do you deal with this competition?
Yes, there's a great deal of competition in the design industry. Not only do we compete with other agencies, there are freelancers, contractors and internal team members in the client's company itself that can be viewed as our competitors. How do we deal with this is pretty straight-forward. We don't focus on our competition because our focus is our clients and delivering the best possible solutions for them. We've found that when you do that effectively and have a track record of success, competition becomes almost irrelevant.
Q. Give us a brief of your life before Comrade Digital Marketing
It didn't exist! 😉 But seriously, I worked at other web agencies and tried to balance my professional life with personal hobbies, but something was missing. When we founded Comrade, my business partner and I developed a true sense of purpose, something that drove us (sometimes very hard) to never give up, to stay at the office and work through the night if necessary.
Q. Tell us about your roles and responsibilities as the CEO of Comrade Digital Marketing and how does it make you feel?
As CEO and Head of Production (the two roles I currently serve in), I'm responsible for ensuring that demand is matched with supply. While we increase the number of new clients our agency serves every month, I need to ensure that our processes and the team can manage it and produce outstanding results. I have many departments and individuals that report to me, from accounting to operations, client management folks and heads of creative, to development and marketing services. It often feels like you have to juggle many things at once, but I love the pace. It makes me feel alive and I never get bored, that's for sure! 😉
Q. What are your greatest achievements?
I saved a life (once) and I became a dad (once as well), those are the two greatest personal achievements thus far. Of course, I'm proud of what we have built at Comrade, all the clients who've become more successful as a result of our work, and the fact that around 30 people (our team) trust my leadership. That means a great deal to me and I don't take it lightly.
Q. How do you manage to balance your personal and professional life? Describe yourself in one word and tell us what inspires you?
First, my personal life is very important to me. We gain energy and inspiration from so many aspects of our daily life and I try to really nurture that. So, when I plan my week, I make sure to include my personal plans as well. I live by the philosophy: for you to work hard you must rest hard. Again, the word "energy" I'd say best describes me. And as for inspiration, I'm always moved by the desire to help our clients and my teammates achieve their goals and grow to the next level.
Q. What keeps you and your employees motivated?
A desire to grow. Grow as an organization, grow as individuals, and help our clients grow their businesses as well.
"To go fast, go alone. To go far, go together."
"Our business is as much a science as it is an art. Our passion and creativity spur us to solve problems in a unique way, but we're always guided by hard data and defined metrics."
Q. What does the future of Comrade Web Agency look like, globally? How do you plan to widespread the company services?
Due to the nature of our business, we can provide our services to any business, anywhere on the planet. We will continue expanding our two offices and, if necessary, open another production hub. The future looks bright.
Ivan dreamed of being a businessman and he achieved his dream with perseverance and intellect. His creativity paved the way and his innovative mind led him on. As the team of Comrade Web Agency steam ahead with their leader, we are certain that they will go far ahead together, leaving trails of success stories all along.