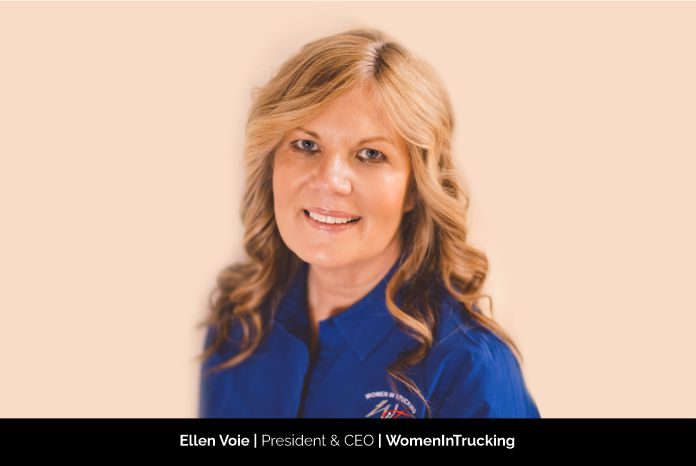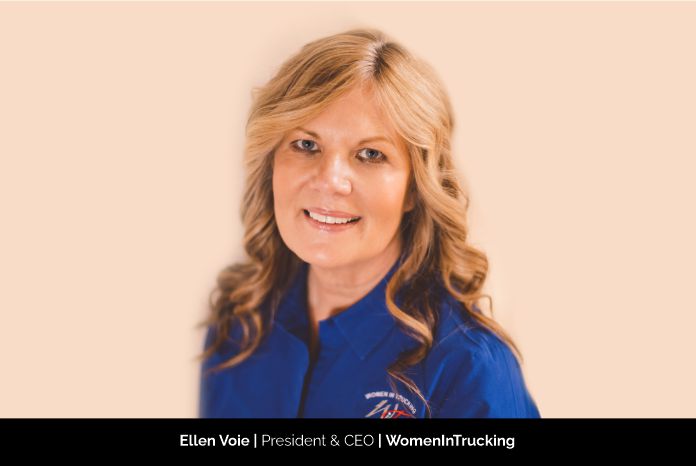 One man and a truck started every large trucking company on the road today.  Fortunately, the days of men leading every sector in the corporate industry are changing.  Today, women prove their leadership skills, tenacity, and success in achieving new heights in the industry.
Having the same spirit in her mind and heart, Ellen Voie brought awareness for greater gender diversity. She started Women In Trucking Association to increase the number of women employed in transportation careers and promote gender diversity.
The advent of Women In Trucking Association, Inc.
Ellen was blessed to have a mother who encouraged her to follow her passion. She took a shop class instead of home economics, where she learned woodworking, welding, drafting, and auto mechanics. In 1978 she was hired at a steel fabricating plant in central Wisconsin, where she worked in the drafting department, designing material handling equipment, such as steel pallets, bins, and racking.
In 1979, there was a sudden turn of events. Ellen's mom passed away, which left her devastated. She was ready to pursue new opportunities, but her bosses asked if she wanted to transfer into the Traffic Department instead of drafting. She didn't know what was involved in "traffic," but they doubled her salary and sent her to school for "Traffic and Transportation Management." Later, after Ellen had completed the course, her boss left the company, and she moved into the Traffic Manager position.
They had three plants creating steel products as varied as material handling, fireplaces, and jacks. She was responsible for bringing the raw materials into the plants and shipping the completed products to our customers. They also had three trucks of our own, and she was in charge of hiring, firing, and managing the three drivers. Her promotion occurred before deregulation, and tariffs regulated freight rates, so the carriers tried to sell the customer on service or sometimes bribes.  She went on to freelance as a Transportation Consultant for 18 years while she raised her family.
In 2000, Ellen was hired as the Executive Director of Trucker Buddy International, where she led the program for six years. Then, In 2006 Ellen was recruited by Schneider National to lead their retention efforts.  Her job was to initiate corporate-level programs designed to attract and retain non-traditional groups, such as women!
During this time, she gained her pilot's license and belonged to an organization for female pilots. Ellen wondered why there wasn't a similar group in the trucking industry to promote gender diversity and empower women.
So, she took matters into her hands and came up with Women In Trucking Association. She copied a lot from the female pilot's organization but tapped into the people who supported this mission. She had a great team who shared my passion, and they put together a fantastic staff, board, and support group.
Hurdles along the long journey
The biggest challenge she faced, in the beginning, was the prevailing attitude that the industry already provided a level playing field for women.  It wasn't easy to motivate companies to accommodate women, as they felt that women in a male-dominated environment should adapt to the industry instead of the other way around.
She further adds," It took a lot of time and a lot of data to create a culture of inclusion, and although we've come a long way, we still have a long way to go."
Reshaping trucking industry with Women In Trucking Association, Inc.
The Women In Trucking Association has brought awareness for the need for greater gender diversity.  We know that every large trucking company today started with one man and one truck.  More women are initiating trucking companies, and the goal is to see the day when women aren't a minority.
Ellen started with a small group of thoughtful and committed citizens focused on increasing the percentage of women employed in the trucking industry. In the fourteen years since its inception, the organization is successfully moving its mission forward.
They have made great strides in increasing the ranks of women through numerous initiatives. One of the most innovative things implemented by Ellen's team is to target the next generation.  Typically, parents don't teach their children about the trucking industry's importance and how every item they own was once on a truck.  They learned the Boy Scouts had a transportation patch and the Girl Scouts did not.  So, they worked with the Greater Chicago/Northern Indiana region and created a "Trucks are For Girls" transportation patch and the curriculum to earn the award. Over 1,500 girls have already achieved this patch.
The Salute to Women Behind the Wheel is held each year in conjunction with the Mid-America Trucking Show in Louisville, Kentucky. The Influential Woman in Trucking and the Distinguished Woman in Logistics are annual awards to honor women who are role models and pioneers in trucking and supply chains.
Ellen and her staff created Women In Trucking Image Team to showcase professional female drivers, safety managers, recruiters, and trainers to share their careers with those outside of the industry. To monitor the increase in women employed in trucking, the association created a WIT Index based on quarterly surveys with motor carriers in the U.S. in conjunction with the technology firm, FreightWaves.
Fourteen years ago, Ellen visualized the Women In Trucking Association's unique concept, and today it is revamping every sector in the industry with over 5,500 members in ten countries.
Peek into a day of Ellen Voie's life
Ellen Voie is a great leader and focuses on the importance of a balanced personal and working life. She maintains a proper schedule for the day and includes time for long walks to keep her body fit. She likes to push her limits in every aspect and keeps on challenging herself.
She further adds," I fly my Cessna Skyhawk as often as possible. Flying a single-engine airplane is not only a thrill; it's a way to keep learning and to push your limits in the air."
On the working front, she has spread Women In Trucking Association's mission to ten countries to include over 5,500 members (women and men) who support their mission.  Ellen's goal is to increase the number of women employed in transportation careers.  She maintains the group's leadership in the market by making smart strategies with its members' latest data and benchmarking.
She further adds," I would say that I was a trailblazer then, and now I am a disrupter.  My most rewarding achievement is founding an organization that is making a difference for hundreds or even thousands of women working in the trucking industry."
The next phase for Ellen Voie in her long successful venture
Since the dawn of the company, Ellen was the visionary and visible leader. In a few years, she will be stepping down from the president and CEO's role.  Ellen created a succession plan and has hired a Vice President to assume her duties eventually.  She is working to share her wisdom and carry out the transition smoothly.
Other than that, the Women In Trucking Association will focus on promoting its core mission. They are working on a driver ambassador program where a female driver will take a tractor-trailer to trade shows, schools, and events to provide a hands-on learning environment for people interested in better understanding the trucking industry and how women can enter and succeed.n can enter and succeed.