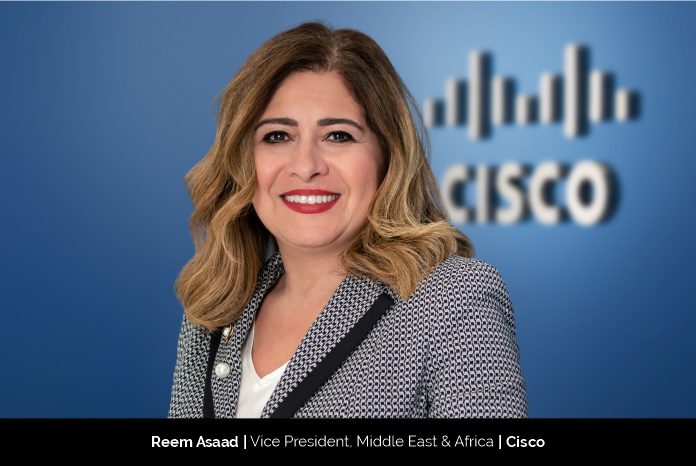 "My interest in technology started at an early age and is rooted in my DNA. I have always been amazed by learning how things work and how technology and innovations have the potential to change lives," says Reem Asaad.
Reem is Vice President for Middle East & Africa at Cisco and a highly successful business leader with over 20 years' experience across industries, including technology, financial services, and customer experience. Forbes named her one of the Middle East's most powerful women, and she has demonstrated the capacity to adjust her leadership style in complex working contexts, understanding when to lead from the front and when to assist and support the larger team.
Reem is responsible for strengthening Cisco's position as a leading technology provider and consultant to organisations in the Middle East and Africa, as digital transformation continues to change and evolve at a rapid pace. Her role primarily focuses on strengthening collaborations with governments, customers, and partners, underpinned by Cisco's portfolio of advanced solutions and help accelerate their digitization agendas.
Reem would define herself as "inquisitive". Even though she has worked in technology for years, she believes there is always more to learn in the sector and from other people – especially with the acceleration in digital transformation that the world has witnessed over the past two years.
A Tech Enthusiast
At the age of 16, Reem left Egypt for the United States, where she pursued an education in information technology. This sort of schooling was not accessible in Egypt at the time, which is why Reem moved. Her passion for computer technology began there, and it has followed her throughout her professional life.
According to Reem, it is disheartening to see negative stigma attached to women who demonstrate ambition and commitment across all industries. She observes that when a guy is domineering, he is often seen favourably by his colleagues, but a woman is frequently recognised and labelled as contentious. Only by calling out unfair treatment for what it is can this change. She suggests, "We must put checks and balances on each other and be vocal if we feel we have been mistreated—this goes for everyone, from every background." 
Reem believes that encouraging more girls to consider a future in technology requires a collective effort. She says, "From an early age, we need to instil in every child, boy or girl, that they can broaden their area of interest and succeed in whatever they choose. When it comes to technology, we need to ensure that our children are raised to be tech-savvy, so they know how to get the best out of devices and solutions. Girls should be encouraged to pursue their interests in science and technology. We must ensure that girls see role models in their likeness, so that they do not feel as though they are being differentiated against. They need to know that they belong. "
Working at Cisco
The majority of the clients Reem speaks with are considering how they might reinvent the way they design, create, and deploy apps, both internally and externally, in order to provide digital consumer experiences. Cisco develops solutions that link any user to any application and any cloud and provide unique insights and observability from the infrastructure to the application. She says, "Our visibility capabilities allow us to understand better than any other vendor how a user connects to an application." This gives companies and institutions an end-to-end view into the digital delivery of applications and services over the internet.
Cisco helps businesses secure data as cyber security becomes one of the most pressing issues today. Machine learning is used in its solutions to gather and analyse data while investigating, identifying, and containing bad actors.
Cisco also assists clients in transforming their infrastructures through intelligent networks, which open up new opportunities for a more sustainable, inclusive future and power hybrid work.
Celebrating women's empowerment
Women's empowerment is critical for the health and development of families, communities, and nations. Women may realise their greatest potential when they are secure, fulfilled, and productive. Reem sees men as allies who can help in attaining gender equality and campaigning for women's empowerment. They may serve as role models in encouraging women's employment, appropriate working conditions, and full involvement in decision-making.
Cisco's management is dedicated to ensuring that its diversity and inclusion programmes have true impact. Above all, diversity and inclusion are about providing people with the right opportunity. Reem states, "We must see women in positions of power and be treated on an equal footing as their male counterparts—judged for their actions and output alone."  She's been with Cisco for nearly two years, and she's gotten a lot of positive feedback. She can confidently state that Cisco values women — not merely to check a box, but to ensure balanced representation and recognition of accomplishments. The management of the organisation seeks to have a diverse leadership team. People should be able to look up to top management and feel a sense of belonging, knowing that they, too, may rise through the ranks based only on merit. Reem explains, "Our purpose as a company is to 'power an inclusive future for all'—this really gives you a sense of how we seek to embody inclusivity in every aspect of our operations."
Creating Positive Work Environment
"Maintaining a positive working environment is as much of a business priority, as it is our ethical duty," says Reem. She feels that it is critical for decision-makers to evaluate how to best maximise and sustain a positive culture from wherever their employees may be. What sticks out to her is how she manages to achieve a balance between efficiency and flexibility while still ensuring employee wellbeing. Reem listens to what people desire at Cisco and actively seeks a middle ground.
Reem manages the work of 2,500 workers and contractors throughout 74 markets in the area. This implies she must prioritize the well-being and motivation of the company's employees, and in order to do so, she must anticipate needs and be open to input.
Honored for Being an Inspiring Female Leader
Reem considers herself fortunate to be Cisco Middle East and Africa's first female Vice President and first local leader. "Giving back to my home country is crucial for me," she adds. Dr. Amr Talaat, Egypt's Minister of Communications and Information Technology, named Reem to the Board of Directors of the country's Information Technology Industry Development Agency (ITIDA), which she considers to be one of the highest honours she has received. Serving in this role allows her to be a driver of digital transformation and competitiveness while also contributing to economic growth.
An Open Letter to All Aspiring Businesswomen
Without a doubt, technology is a male-dominated world, and there are still certain barriers for women to overcome and progress to be made. However, the Middle East and Africa region is witnessing more of an intentional effort to increase the presence and impact of women in technology. What's amazing is that more young women and girls are interested in obtaining a degree or a job in the sector, and this trend is expected to continue.
Reem's advice to aspiring businesswomen is to be true to themselves. She adds, "If they're not sure about a particular topic, they shouldn't be afraid to ask questions and to educate themselves, so that they can form a point of view. They deserve to be a part of the conversation as much as everyone else."
More from Cisco in Future
The team at Cisco believes in the potential of technology and what it can accomplish. During the pandemic, we have seen how technology has helped people reimagine lives, become a critical lifeline for businesses, and connect the world while ensuring that children continue to learn, people have access to healthcare, businesses can operate, and loved ones can stay close even if they are physically separated.
Throughout the last year, Cisco has assisted organisations of all sizes in ensuring continuity and, when necessary, regaining their footing. Reem says, "In this new, digital world, we see it as our duty to be that guiding light and counsel as businesses navigate new challenges and identify opportunities for growth. This remains not only my personal focus, but also the shared vision of our teams."