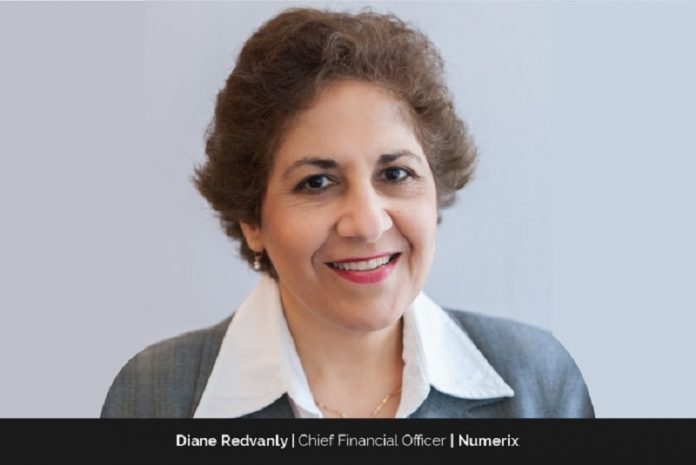 For Diane Redvanly, Chief Financial Officer at Numerix, success is all about dedication, loyalty, and hard work. "I think those are the key attributes to any version of a person's individual success. I live my life by those attributes and hope to continue to do that for the rest of my tenure here at Numerix," she states.
Diane is an accomplished Accounting and Finance professional with the ability to deliver quality results in a fast-paced environment while improving and transforming processes. She is a dynamic and effective team builder who fosters an atmosphere of collaboration and is skilled in staff development.
From humble beginnings to leadership positions
Diane grew up in a "pretty poor, blue-collar household". Her father worked from job to job, and she learned the lesson that money is important, and that working hard is even more important.
"I always tell people that the lesson I learned is that hard work and dedication, and really having a vision that you want to pursue, is what gets you out of the current situation that you're in. I always believed that I owned my destiny — it was up to me to move in the direction that I wanted to see in my lifetime. Working hard is so important. That's basically how I chose to advance my career," she reflects.
Diane notes that it wasn't easy, as she had to pay her way through college, and bear all the expenses because her parents just couldn't afford it. "What marked the beginning of my career was that I needed to do something to pay for my college fees. I also felt I needed to do something for the common good. When I worked for Beckton Dickinson, I ran the United Way campaign, and we raised over $200,000. That was very rewarding," she declares.
Diane recalls that the moment she interviewed with Steve O'Hanlon, the CEO & President of Numerix, was when she knew that this was where she wanted to be. The way he described the company, its culture, its energy, and the excitement surrounding the company's growth made it an easy decision for her when he offered her the position.
"I immediately said, 'yes'. Particularly, I think the way he explained the company's culture is what did it for me, because my experience was mostly with big companies where the culture is different. The opportunity to be part of a smaller, innovative company impressed me very much," Diane remarks.
The rewards of helping people who need it most
Diane tapped an impressive list of skill sets for the tasks that were all part of the jobs she did before and after joining Numerix.
They included accounting closes on a monthly, quarterly, and annual basis; consolidations, financial audits, management and financial reporting, operational accounting, account reconciliations, trend reporting, variance analysis forecasts, budgets, system implementation, SEC / 10Q/K filings, SOX compliance, and other services, facilities management, key performance indicators, debt restructuring, payroll / benefits state and federal taxes, cash management, continuous process improvement, and change management.
As a subject matter expert in Unclaimed Property, one of the most rewarding recognitions that Diane feels she has ever received was when she was the unclaimed property officer at Morgan Stanley.
"That job entailed identifying abandoned properties and returning them to the original owners, and most of it was money or certificates, stocks, etc. And when you return property to people who really need that money, it is such a rewarding event, because they didn't know they lost the money and they were in dire need of money, and you're returning it to them. So, I think that was probably the most rewarding aspect of any job that I've ever had, which is the ability to return money and property to people who needed it most," Diane remarks.
Diane points out that, at Numerix, the finance organization is responsible for paying all vendor bills, billing and receiving collections from their customers; closing the financial books and records; filing tax returns; VAT filing sales tax; and regulatory reporting.
"We audit about five of our current entities. So, it's just a day-to-day financial accounting operation with a lot of reporting. I would say my individual contribution is the automation of our accounting processes; getting cohesion among the accounting team; making sure that we're all working off the same playbook and doing the same processes; and completing the requirements on a timely basis. I think those are all contributing factors," Diane notes.
As a visionary leader, Diane sees continued success in Numerix's customer enhancements and in getting a greater number of customers. "I think that our recent acquisition will gain us significant funds to help us acquire companies that are a good blend for Numerix. And I just think that Steve O'Hanlon's leadership will always drive us toward a much better path, as he has in the past," she declares.
Aligning with the leadership's vision for Numerix
Before Numerix, Diane worked for a lot of companies, including JP Morgan, Morgan Stanley, Sony, and Becton Dickinson. These were relatively large companies, and she enjoyed the time she spent there because it taught her about the infrastructure of the corporate environment.
"When I joined Numerix, I was so struck by the entrepreneurial nature of the company and Mr. O'Hanlon's vision for the company. That's what led me here and I've been very happy since," states Diane.
Numerix was founded in 1996 and now has 19 offices, 700 clients, and 90 partners in over 26 countries. The company is well-known in the industry for its numerous quantitative research breakthroughs, and it is proud of its reputation for being able to price and risk manage any derivative instrument, from vanillas to the most sophisticated exotic products.
Numerix is used in a variety of ways by banks, government/development banks, broker dealers, and a variety of buy-side institutions such as insurance firms, hedge funds, pension funds, and asset managers.
Numerix technology is synonymous with fast, robust, and scalable real-time results. It is designed for the next evolution of capital markets. Its next generation risk technology platform, Numerix Oneview, is the only true real-time, cross-asset pricing, risk, analysis, and trade management platform in the industry, allowing Numerix to emerge as a strong enterprise technology company.
Numerix enables clients to rethink complex business challenges in more transparent and profitable ways. The company's goal is to push the envelope in order to develop game-changing technology that digitalizes business processes and assists clients in reimagining risk.
Diane has great confidence in the growth of the company, and as per her prediction, "With Mr. O'Hanlon, I see great opportunities for growth through acquisition, growth through organic growth of our own products, and through our customer enhancements. I don't see it ending at all. I see his vision as the right vision for the company and certainly for myself."
A resilient, hardworking, and visionary leader
Having worked for 40-plus years through life's ups and downs, Diane defines herself as resilient, and notes that the most important characteristic of having resilience is making it extremely important to succeed.
Hard work is another important element that defines her life, and most of her days are what she describes as "good, hard-working days" when she usually gets into the office before 6:00 a.m. and mostly does the operational work first. This includes making sure they have cash in the bank, making sure they pay their bills, and making sure their customers pay them.
Once the teams arrive, it's a typical finance day where they usually gather and go through the day's activities: what filing needs to be done; who needs to be paid; are their payrolls processed; and have they billed their customers. Diane feels that she has been very blessed with the team that she has.
"Everybody is so loyal and dedicated. I don't really need to encourage them to do better. They want to do better themselves, but we're not perfect. We look for process improvements, and everybody works as a wonderfully cohesive group. I'm very thankful for that," she declares.
On the issue of empowering women, Diane observes that, being a woman, it's very important to her that equality be at the forefront of everybody's thoughts and minds.
"I consider myself an individual who is there to help other women who move into the organization," she says. "When I started working way back in the day, women were coming into the workforce in great numbers. And, you know, we started at the bottom rungs, and each of us individually had to work our way up the ladder. And I see that progression continuing."
Diane notes that while it's a little bit easier today than it was when she first started, she thinks there's still room for equality and fostering an environment where everyone is welcomed and has equal opportunity to move up in an organization.
As far as work-life balance goes, it's one aspect that Diane admits she hasn't quite yet conquered. "I try to enhance my charity events and help people, especially animals. I love animals. So, yeah, that's where my head is at right now, but I can't get there just yet," she remarks.
As a leader, Diane hopes to retire soon so she can focus on her charity work, especially with animals. "I love to do charity work and I'm hoping to move to the Virginia area, so that I can really do a lot of charity work with homeless people and animals. Whatever I can do in those areas," she states.
Diane's parting advice to aspiring businesswomen is simple, yet meaningful: To have fortitude and encouragement; to work a hard day; and to enjoy family life.