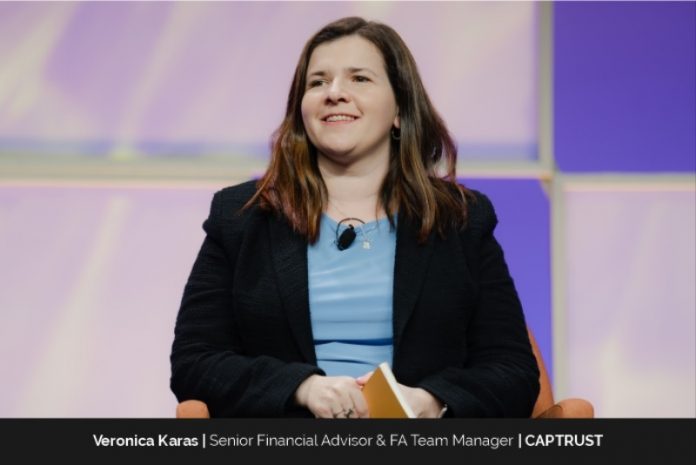 In the dynamic world of finance, having a reliable partner to guide you through the intricacies of financial planning is invaluable. Enter Veronica Karas, a seasoned CERTIFIED FINANCIAL PLANNER™ Professional and esteemed senior financial advisor at CAPTRUST, a premier independent investment research and fee-based advisory firm. Boasting over ten years of hands-on experience, Veronica is renowned for her comprehensive approach to financial planning, encompassing everything from investment management and retirement planning to estate planning, tax strategies, and risk management.
Veronica's approach is refreshingly personalized, tailoring her financial planning services to the individual goals, risk preferences, and financial circumstances of each client. Her commitment to helping clients attain their financial aspirations and establish a legacy that withstands time is unwavering. Beyond her wealth of practical knowledge, Veronica is the mastermind behind the enlightening 'Money Matters' book series, and a sought-after speaker on a variety of financial planning subjects.
Her expertise has garnered widespread recognition, with features in prestigious outlets such as Forbes, CNBC, and Bloomberg. Moreover, she stands proudly as one of the leading financial planners in the United States. Join us as we delve into Veronica Karas's remarkable journey and learn how her insights can pave the way for your financial success.
"Knowledge brings clarity, clarity brings confidence, and confidence brings control."
Path from Internship to Partnership
Veronica's journey began at Penn Mutual Life Insurance Company. She got her start as an intern thanks to the support of a remarkable marketing director named Sheerah Singer. This was in 2008, a time when the world of insurance was quite intriguing.
After learning the ropes of marketing and sales in the insurance domain, Veronica found her way to a Registered Investment Advisor (RIA) that had a loose connection with Penn Mutual. This RIA was led by Thomas B. Martin and known as Circle Advisers, Inc. Even though Circle was a small outfit, Tom showed Veronica what it truly meant to prioritize clients and their families. He became an amazing mentor for Veronica, guiding her for almost five years.
Next came a brief phase where Veronica had a rather unpleasant experience while working for a large broker-dealer. But as fate would have it, she crossed paths with three incredible individuals: David H. Schwartz, Alan Kleinberg, and Fred Sloan. These three partners were the owners of FCE Group. The moment Veronica met them, she knew she wanted to collaborate with them. These individuals stood out as some of the finest, most authentic, and skilled individuals she had ever encountered.
Now, Veronica feels truly fortunate each day to be working alongside them, and she's proud to call them not just colleagues but partners. Their wisdom and guidance continue to shape her professional journey, and she cherishes the valuable lessons she learns from them.
"The only impossible journey is the one you never begin." – Tony Robbins
CAPTRUST
CAPTRUST offers investment advisory services to retirement plan fiduciaries, endowments, foundations, and provides wealth planning services to executives, families, and business owners. Since its inception in 1997, CAPTRUST has expanded significantly, with over 80 locations across the U.S. and a team of 1,300 dedicated employees.
In her position at CAPTRUST, Veronica's main responsibilities revolve around ensuring her clients are happy, bringing in new business opportunities, and overseeing the Financial Advisor Relationship Manager (FA-RM) team at the Lake Success office. Her workdays are wonderfully varied, as she gets to interact with remarkable individuals, understanding their life stories and assisting them to the best of her abilities. She also dedicates substantial time to training and developing the FA-RMs in her office, making certain they are progressing towards their objectives. Veronica truly appreciates the diversity in her daily activities.
In 2018, Veronica's company, FCE Group, became a part of CAPTRUST. This move was a significant step that brought about positive changes. Joining forces with CAPTRUST opened a world of additional resources and expanded possibilities for growth.
Journey from Challenge to Ethical Triumph
Facing challenges can either make you stronger or break you down. Think of a diamond compared to a lump of coal—diamonds form under immense pressure. Veronica understands that challenges, while not always enjoyable, are essential for growth. She's had her fair share of obstacles, especially considering her background as a refugee immigrant woman in the finance world, where there are not many like her.
In one chapter of her career, when Veronica worked for a big broker-dealer, and the advisor team she was a part of lacked strong moral and ethical principles. She recalls feeling physically unwell, shedding tears at her desk, and overall experiencing misery. The team leader even suggested that caring too much about clients could hinder success. This perspective was interesting, considering Veronica's passion for genuinely looking out for clients' well-being, even if it meant caring "too much." This commitment is what has driven her to build her successful practice.
Her journey has posed serious challenges and put pressure on her moral compass. However, the crucial lesson she has learned is that the right company and work environment should align with our own ethical principles. Veronica firmly believes in providing sound, unbiased advice where clients' best interests always come first. This, to her, is the proper way to approach financial services.
Fueling Knowledge and Collaboration
What Veronica really loves about her job is that she can constantly discover fresh things. She is all about lifelong learning and becoming a real pro in various financial aspects to better assist her clients. This dedication to continuous growth isn't just for herself—it also benefits the advisors she collaborates with. They are always trading new thoughts, facts, and methods—anything that can truly make a difference for their clients.
Integrity and Growth
The CAPTRUST team, including Veronica, strongly believes in integrity. She has a lovely, framed print in her office that reads, "In matters of style, move with the current. In matters of principle, stand like a rock." This saying perfectly captures her view on integrity. Their team is always striving to become better and expand their knowledge. The remarkable aspect of being a part of CAPTRUST is that there are almost 80 offices and around 1,300 colleagues. This means there is something new to learn from each of them every single day. It is like being part of an incredible think tank where ideas flow and knowledge grows.
"In matters of style, move with the current. In matters of principle, stand like a rock."
Journey of Triumphs and Trials
Veronica's journey to becoming a leader in finance has been quite a ride. It is like taking one step forward and then sometimes feeling like you have taken three steps back. Even though studies consistently show that women excel as financial advisors and despite the many awards and honors she has received for her work, there are still doubters out there. Sadly, that is just the way the industry is at the moment.
However, amidst these challenges, there have been bright spots. One time, a nearby elementary school recognized her with a little award for being the "Most Interesting Finance Wiz." And then there was the incredible honor of being named an Investopedia Top 100 Financial Advisor. Seeing her name alongside the best and brightest CEOs and leaders in the industry was a truly amazing experience. These moments of recognition are like little sparks that remind her why she keeps pushing forward in the finance world.
Nurturing Tomorrow's Leaders
Veronica is deeply dedicated to helping and uplifting those around her, especially the upcoming generation of leaders. She has gone the extra mile by developing a unique program to train junior financial advisors. This program is gaining attention not only within her own office at CAPTRUST but also beyond. Her goal is to ensure that everyone is progressing and growing, whether it's in their business skills, technical abilities, or their approach to providing excellent service.
Veronica believes that growth, or the absence of it, is a key factor in predicting how long employees will stay and how content they will be in their roles. By fostering growth in various aspects, she's contributing not just to the professional development of her colleagues, but also to their overall happiness.
Role in CAPTRUST's Evolution
CAPTRUST's growth story is multifaceted, happening both through acquisitions and natural expansion. In the year 2023 alone, CAPTRUST has welcomed five new firms into its fold, resulting in over 150 new colleagues becoming part of the team.
Veronica plays a role in this trajectory. Her commitment to mentoring and building her own clientele is a direct contribution to the overall health and growth of the firm. Her efforts are not just focused on the present, but also on nurturing the next generations of talent, often referred to as "Gen 2" and "Gen 3." Her aim is to ensure that the well-being of clients, colleagues, and communities remains a priority for years to come, securing the firm's legacy and impact in the long run.
Harmonizing Life and Work
Veronica firmly believes that balance isn't a separate thing; it is about integrating work and life seamlessly. When she is at the office, thoughts about her family are present, and the same happens when she is at home, thinking about her clients. She knows that brilliant ideas can strike anywhere and anytime, not just confined to an office space.
To maintain motivation for herself and her team, Veronica has an interesting strategy. She keeps a "vault" of client gratitude and appreciation—a digital record of positive moments and feedback from clients. This is a constant reminder of the real impact they are making on clients' lives and their families. It is truly heartwarming to see how their work directly contributes to their clients' well-being.
"The most difficult thing is the decision to act; the rest is merely tenacity." – Amelia Earhart
Defining Success
For Veronica, success is defined by the positive impact she leaves on people after any interaction. Her ultimate satisfaction comes from making a meaningful contribution to others. This could mean helping someone leave with an enhanced financial plan, imparting new knowledge about financial literacy, or simply bringing a smile to their face. No matter the form, if she leaves people better off than when they started, Veronica considers that a true success in life.
Veronica describes herself as "determined" in a single word. This trait underscores her dedication and drive, which she brings to her role at CAPTRUST every day.
On Quest to Transform Lives
Veronica has a grand ambition as she aims to put an end to financial struggles worldwide. She knows this is a colossal goal and acknowledges that achieving it on her own is unlikely. Nevertheless, she is determined to use every resource at her disposal to promote financial knowledge and education to as many people as possible.
One of her strategies is to develop systematic methods for offering exceptional financial planning. This way, she can help reshape the financial future of countless individuals. While the broader impact might take time to fully realize, Veronica's focus is on taking these concrete steps to make a significant and lasting difference in people's lives.