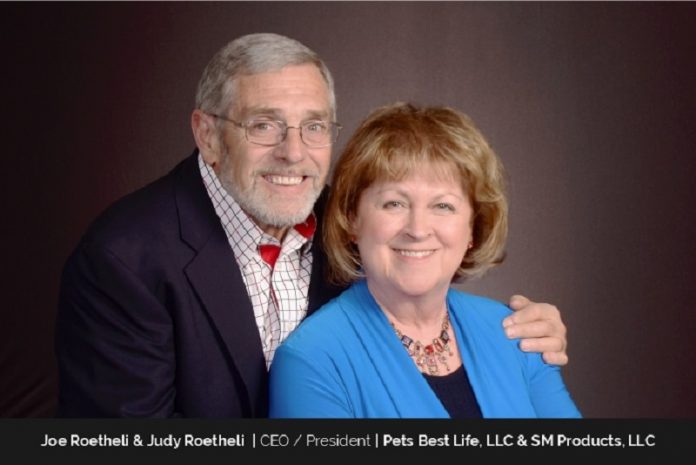 For over 25 years Judy (President) & Dr. Joe (CEO) Roetheli, owners of Pets Best Life, LLC & SM Products, LLC, have been pursuing their entrepreneurial dreams together.
Despite having no real business experience, they achieved two major entrepreneurial successes in the form of S&M NuTec/GREENIES® and SM Products/Spyder®, and are in the process of creating their next success story, Pets Best Life/Yummy Combs®.  The names with an S and an M honor their two sons, Steffan and Michael.
The husband & wife entrepreneurial dream team
Joe and Judy grew up in lower middle class families with few resources. Their parents never attended high school, but they taught their children about faith and other strong values, including the power of education.
Joe grew up on a farm on the edge of the Ozarks, and inherited the entrepreneurial 'bug' from his dad. After serving in the Army during the Vietnam era, he earned a Ph.D. in Agriculture Economics and worked creatively in academia and as a Federal government employee with the Tennessee Valley Authority and USDA for 18 years.
Joe was honored by his peers as one of the most knowledgeable experts in the world on new crops and industrial uses of agricultural and forestry materials, and had the honor of drafting language for this concept for the USDA, which made its way through Congress, and was signed into law by President George H. W. Bush.
A Gallup Business survey on Business Skills showed that Joe's five top business skills are: Achiever, Futurist, Learning, Ideation, and Strong Beliefs & Values. Reported as a one in 33 million likelihood, Judy says that probability is why she sometimes has trouble understanding Joe's logic in thinking.
Joe also rates as a Synergistic Thinker, and his personality profile at work is Driver and Sanguine backup. Away from the office, he is more of an Amiable. Judy is more of an Analytical, so their styles complement each other, in terms of balance.
When this husband and wife entrepreneurial team launched their first venture, Judy was a homemaker, teacher, and mother to their two sons. As a couple raised in a lower-middle class environment, they launched S&M NuTec and the Greenies® brand that became the #1 dog treat in America!
Stinky dog breath & the story of GREENIES®
The story of S&M NuTec/GREENIES® began as innovation often does – with a need, a persistent wife and an inventive husband who desires to keep the peace. In the case of the Roethelis, the need was Judy's desire to treat their family dogs' stinky breath in 1996.
Being life-long dog lovers, Joe often said, "I can exist without a dog; but I can't live without a dog." Each of their sons had a beautiful Samoyed, and both dogs, Ivan and Katy, had horrid bad breath that could clear people off the deck.
The Roethelis did not plan to be entrepreneurs, but having had little success with other retail and veterinary products, Judy insisted that Joe could and should fix the problem.
After many unsuccessful but persuasive attempts, Judy chased Joe down with a rolling pin, convincing him to finally concede that perhaps applying his talents to fix the halitosis problem was no longer a bad idea; the chasing being much more in his head than real!
With library research and help from his dentist, Dr. Woolsey, Joe conjured up a concoction in the kitchen to freshen up Ivan and Katy's foul breath. The dogs loved the formula, and Joe kept feeding it to them. 10 days later, to their amazement, the halitosis had reduced by about 75%!
Thus, Greenies® dog treats were born and, in less than ten years, had become the #1 dog treat in America, giving hope to all dog lovers fretful about their furry friends' social acceptability.
Building the American dream side-by-side
Joe and Judy have worked side-by-side in their entrepreneurial business for over  a quarter of a century, built two houses, have two sons, and six grandchildren, and through all of that and more, neither has 'killed' the other . . . . . .  YET!
Their togetherness keeps the businesses and 'visuals' to employees, customers, bankers, suppliers, quite focused that the leadership is on the same page… though perhaps not always on the same line at the same time.
When the Roethelis started Greenies®, they had no business acumen, no manufacturing experience, limited marketing skills, no quality control experience, and virtually no financial resources. Despite this, they built a number of successful companies, and some that were 'learning experiences'.
They encountered and overcame formidable roadblocks, with the help of mentors, a reliance on ethical and moral values, being CHARACTERED© individuals, clearly identifying and seeking creative solutions.
The Roethelis used practical lessons from their parents, previous positions, and past life lessons, portrayed a great attitude, asked many questions, and relied on their minds and education to be innovative.
Thanks to a very supportive supplier, Judy's skills as the 'all-time queen of rolling credit cards,' a few small investors, their passion, persistence, enthusiasm, and never-give-up attitude, they managed to overcome the impossible.
Given their lack of business experience and collateral, securing bank financing was a major hurdle. Their initial bank financing became a reality the month following sales of $1 million of Greenies!
One of the many hurdles was how to injection-mold the product – which dozens of seasoned molders said was impossible. They were told that dog owners would never buy a green product that looked like it was moldy.
Defying all the naysayers, Greenies® became the #1 selling dog treat in America, and has continued to be for nearly two decades. Buyers at veterinary clinics, who chuckled at their initial sales efforts, became significant contributors to their sales success.
In 2000, they attended a major trade show with a small booth hoping to get $50,000 in orders, but returned with over $150,000 in orders – over six months of their production capacity at the time.
The Roethelis set a goal early to someday sell a million dollars of Greenies® a year to support their family, and far exceeded that goal! They curried favor from three types of mentors to help them overcome their hurdles.
Business mentors for their business experience; technical mentors to help create a healthy product; and a mental mentor for the rough days when they just needed someone to offer a helping hand to mentally persist to get over that 'hump' and not give up.
The most impactful of these was Joe's distant cousin, Serge Roetheli, likely the greatest endurance athlete ever, who was running the distance of the circumference of the world with his wife on a small motor cycle at his side. His persistence inspired Judy and Joe to persevere when they were ready to give up.
As CEO, Joe is the visionary thinker, dreamer, innovator, and over-comer, sharing the gene of persistence with Serge who said: "Anything is possible if one is willing to pay the price." Also like Serge, Joe is a bit of a prankster and loves to tease and have fun while working.
Judy serves as President, and is responsible for setting policies and strategies, overseeing financial matters, and signing all checks and wire transfers to ensure the appropriate use of funds.
"We focused on thinking and hard work to assess market needs, locate innovation that would work, bring in product differentiation, build brand, and execute to pull ourselves up by our bootstraps and achieve the great American Dream – not just once, but again, and hopefully yet again!" says Joe.
Creating the 8th largest pet food/treat company in the world
The Roethelis felt that using Greenies® to clean teeth could help dogs live longer, fuller lives. Their idea came at the right time – when dog owners were seeking products to clean teeth and prevent halitosis.
Greenies® treats were the first dental treat to earn the prestigious Veterinary Oral Health Council (VOHC) seal of approval. They also were the force behind pet specialty stores introducing the dental treat category nationwide.
The iconic shape of a toothbrush on one end and a bone knuckle on the other end was conceived by Judy. She also thought it was time for a new learning venture for her – time to learn about business and be part of something bigger than herself.
Judy's entrepreneurial experience and success helped cement the lessons of hard work and made the launch of the new company a success. It also offered an opportunity to support the family and guide their sons during the formative years, plus achieve a new level of satisfaction in life.
"Giving up too soon just allows someone else to 'hijack' one's idea and run with it," says Judy. "We have met so many great people in our journey, and they have unselfishly taught us lessons to help us succeed. It is such a joy to work with those types of people. And, now we attempt to return that favor to others."
Before it was 10 years old, S&M NuTec was recognized as the 8th largest pet food/treat company in the world at retail, and honored by the Greater Kansas City Chamber of Commerce with its Mr. K Award, as the best small business in the Kansas City metro area.
S&M NuTec was twice honored as Petco's Vendor of the Year, received a Stevie Award as the Best Small Business in America with fewer than 100 employees, and was recognized for Best Packaging by a Small Company.
The National District Export Council honored S&M NuTec/Greenies® with their Small Business Exporter of the Year Award, and Joe and Judy were inducted into the Ernst & Young Entrepreneur Hall of Fame.
Ten years after the conception of Greenies®, Mars, the large candy company and the largest pet food/treat company in the world, acquired Greenies® and Pill Pockets® – another pet product that the Roethelis had bought – which went on to become the #1 selling pilling device for pets in America.
"We acquired Pill Pockets® at commercial launch and built it into the #1 pilling treat in America," recalls Joe. Over a five year period, the company experienced simple sales growth of 70% per quarter. With the sale of S&M NuTec and these two highly successful products, the Roethelis agreed not to re-enter the pet treat market for 5 years.
Pets Best Life/Yummy Combs® for happier, healthier dogs
Eight years later, Joe once again began to think about ways to help dogs live a happier, healthier, extended life, with more time for enjoyment by pet owners.
He envisioned three key improvements based on previous experience:  major improvements in oral care, nutrition, and safety. One day, while mowing grass in their 80-tree orchard with bees flying about, he was struck by a 'lightning bolt' idea from the blue sky and sunshine above.
Joe somehow realized that a revolutionary, bee-hive shape was the foundation to address all three of his goals. The unique hexagonal shape would serve as the foundation of making the difference in all three key areas Joe wanted improvement.
Some have said that Yummy Combs® are somewhat like a Swiss Army Knife — a multifunctional tool that is nearly indispensable. Was it maturation of an idea?  Was it luck? Or, might it have been Divine Intervention?
When dogs chew on this revolutionary treat, that's perhaps a hybrid cross between a bee hive and a hockey puck, the revolutionary design flosses and scrubs 360ᵒ  to the gum lines.
With up to 256 cleaning surfaces to clean both upper and lower teeth simultaneously, it decreases and removes the buildup of dental calculus, a precursor to gum disease – the #1 disease of dogs. Yummy Combs® neither treat nor cure gum disease, but interrupt the pathway.
The size and shape of Yummy Combs® dog treats were designed with the assistance of Dr. Jan Bellows, a Board-Certified Veterinary Dentist, who measured the diameter of the oropharynx (throat opening) of dogs in 5 weight categories.
Dr. Bellows and Joe designed Yummy Combs® to be larger than the throat openings of dogs in each weight category, thereby drastically reducing the risk of dogs gulping and causing blockages of the esophagus and bowels — the #1 concern of pet owners with treats.
With assistance from Dr. Jan Bellows, one of only 200 Board-Certified Veterinary Dentists in the world, they built Yummy Combs® with a patented first-of-its kind thin-wall construction, so they dissolve more rapidly; then Ted McVay, their biochemist, added a second layer of safety by identifying an ingredient that also speeds dissolving.
With the help of Dr. Lon Lewis, a Ph.D. Board-Certified Veterinary Nutritionist (one of roughly 100 in the world vs. about 100,000 veterinarians in the USA), they also addressed improvement in nutrition Yummy Combs® versus existing treats.
They packed the revolutionary shape with superior nutrition, including special wellness ingredients. Yummy Combs® helps build muscle and vital organs with 44% superior protein; the resultant low starch reduces empty calories, thereby deterring obesity — the #1 nutritional issue of dogs.
The revolutionary thin-wall shape allows this treat to be baked at low temperature for short times to preserve volatile ingredients and hasten dissolving, digesting, and absorbing nutrients, rather than cooking off valuable ingredients.
Yummy Combs® wellness is fortified with 12 special ingredients such as for improved joint health, immune system and cognitive function, a shinier coat and subtle skin, plus reducing odors at both ends of dogs. Despite having launched in late 2019, just prior to the shutdown of businesses from COVID, Yummy Combs® received three awards and six patents, with three more pending. It also has patents/patents pending in Canada, EU/UK, Japan, China, and Australia/New Zealand. Patents serve as a proxy in measuring innovation.
While some have called them 'The Best ONES', Joe refers to Yummy Combs® as 'The  Revolutionary ONES' – where ONES is an acronym for:
Oral Care that is state-of-the art with 360ᵒ flossing and scrubbing to the gum lines with up to 256 cleaning surfaces to clean and freshen your dog's teeth and breath. Studies have confirmed that Yummy Combs® do, in fact, reduce dental calculus buildup and also remove existing hardened calculus.
Nutrition that is superior with 44% protein to build your dog's muscle and vital organs and with low starch to deter obesity – all formulated by a Board-Certified Veterinary Nutritionist.
Enjoyment that emanates from an owner seeing their dog happy and dancing for Yummy Combs. Together these benefits and great taste have resulted in over 1,100 five-star testimonials despite very low awareness of the treat and its revolutionary benefits.
Safety benefits from pioneering advances to deter gulping and avoid the trauma of blockages of the throat and bowels.
The Pet's Best Life team compared Yummy Combs® with other dog treats and identified over 50 benefits, compared to about 20 for the leading treats, and 15 as indicative of the industry average.
Joe is always seeking improvements; good is never good enough; he is always pursuing ways to make products great. To him, good is definitely the enemy of great!
Making SM Products/Spyder® a household name
Not content to rest on their laurels, the Roethelis also launched SM Products and the Spyder® brand of power tool accessories, widely known for innovation and significantly improved performance.
The past five years sales growth has exceeded 50% annually, with Spyder® receiving rave reviews from professional craftsmen, becoming a household name among professionals in construction, and competing with very large industry giants  like Stanley Black Decker, Bosch, Milwaukee, etc.
Lowe's is a major customer and awarded Spyder a prestigious Lowe's Innovation Partner of the Year Award in 2019 and again in 2021.  Lowe's called out Spyder in 8 of its last 10 quarterly reports to stockholders on Wall Street for its innovation and for driving business.
SM Products and the Spyder brand also overcame hurdles like a fire in 2018 that completely destroyed the Roethelis' headquarters building and the contents. In 2019, Spyder got caught in the devastating Chinese tariffs dilemma, adding 25 to 30% to the cost of goods.
COVID in 2020, and the 2021 supply chain fiasco sparked by the blockage of the Suez Canal, inflicted major delays in delivery, and up to 10 times higher cost to ship SM Products from China to the USA.
Joe and Judy and their Spyder team are working on ways to move the manufacturing of Spyder products from China. They currently have manufacturers in the Czech Republic and Malaysia and now more also is produced in the USA and Germany.
2022 brought the Russia-Ukraine war and rapidly rising inflation. Despite all of this, the Roethelis' dedicated employees and suppliers worked hard and SM Products sales averaged nearly 70% annual growth over those 5 years.
Hiring & motivating employees in thoughtful ways
The Roethelis believe their unique work culture is their most valuable resource, and because their employees are a crucial asset of the culture, they interview candidates themselves for all positions.
"Not every person who comes for an interview is right for our culture, and one 'bad apple' can spoil the entire culture very quickly," says Judy.
The Roethelis interview questions are not ordinary, but at a higher level, seeking the right attitude and work ethic in addition to skills. They encourage candidates to express their feelings and thoughts, to decipher what type of employee an individual would be.
They also assess the candidate's reactions, note how they react under pressure when they don't know the answer, and look for problem-solving skills. They believe that interviewees should be prepared to ask as many questions as the hiring company.
The Roethelis also offer a mandatory day-and-a-half new employee orientation class, combining inspiration and motivation, stories and examples of their culture, winning, personality styles, attitudes, ethics, work habits, expectations, how they operate, stories of success and failure, how they built their companies, and what does not work.
E.E. Cummings summed up their philosophy on the work environment when he stated: "The most wasted of all days is the one without laughter." The Roethelis often use stories with a humorous or innovative twist to make points.
"We enjoy laughing and having fun while we work, for we work long hours and that cuts down on having fun in non-work, non-sleep time," says Joe.
The Roethelis believe that respect, recognition, and rewards go a long way in motivating and inspiring employees, and try to catch them doing something where they can acknowledge these qualities. To them, motivation is a short-term phenomenon, while inspiration is a more heart-felt long-term dream or goal.
Judy brings her caring personality to employee engagement, with the belief that each employee is valuable, and hopes to guide them to become who they came there to be.
The Roethelis work hard to reward their employees and keep them motivated with pay-for-performance and celebration of 'wins'.   In evaluation performance, the Roethelis concur with a quote from unknown source who said: "When someone gets something for nothing, someone else gets nothing for something."
A unique approach to overcoming roadblocks
Joe has generated two philosophical acronyms, likely a lingering relic from his days in government, over the years that were helpful in understanding and overcoming roadblocks.
DETERS addresses what factors help overcome failure and mediocrity.
D – DREAM or goal that is vivid, concise, and can be visualized in one's mind-eye in color
E – ENTHUSIASM underscored with preparedness, passion, persistence, and performance
T- THINKING of the 4-C style that includes critical, creative, cardiacal, and cosmic.
E- EXECUTION on visual observation, specificity, measurement, actions, & specific time
R – RISK-TAKING that is calculated & not betting the farm but staying within one's resources
S – SERVICE to the needy and to employees, customers, suppliers, and investors.
THROWS is what helps one to a new higher plateau in life.
T – THINKING 4-C style
H – HEARING/listening more than talking
R – READING about your area of expertise, trends in society, and great books
O – OBSERVING what is going on and how your company is doing relative to goals
W – WRITING that clarifies thinking and expression to improve communications
S – SERVICE to others
Another lesson is: don't believe everything you hear. Joe's experience led him to a line he uses frequently: "Everybody can do it, until the person must actually do it; then usually there are only a few who can and will do it."
Joe's 4-C Thinking involves not only creative and critical thinking, but also cosmic and cardiacal thinking. Cosmic thinking involves thinking of things in the universe that can help 'pull' one's ideas forward in the marketplace.
Cardiacal thinking has to do with what one's heart is conveying; a person who does not have substantial cardiacal thinking is highly likely to give up and not persist.
Joe contrasts the difference that speed can make in entrepreneurial success: "On highways, speed kills; in the market place, lack of speed often kills." The Roethelis also believe that good is indeed the enemy of great, as Jim Collins said in his book,  Good to Great.
Giving back through the Roetheli Lil' Red Foundation
By far, the Roethelis' most gratifying work has been the philanthropy they have been blessed to support through the Roetheli Lil' Red Foundation, with five major categories of effort to help people become the best they can be:
Third World Assistance – Financing and building homes, schools, community/worship centers, deep clean water wells and more in conjunction with Food for the Poor in South and Central America and Africa.
Pet Therapy – Pet's for Life in Kansas City, with funding from the Foundation, has a host of pet owners and pets who visit hospitals and long-term care facilities to create therapeutic impact for patients.
Entrepreneurship – Joe worked with the University of Missouri Kansas City conceiving and providing charter funding for an Entrepreneur Hall of Fame from which students and visitors can learn from successful entrepreneurs.
Inspirational Stories – Producing books, documentary films, and stories of high inspirational value to help others become the best they can be.
Special Projects – A few examples include: providing a home for a family that lost everything in the Joplin, Missouri tornado of 2011, support for the troops particularly the injured, women's causes, and a chapel in India.
The Foundation now has supported projects on six continents.  The Roethelis believe in a quote, attributed to Sir Winston Churchill that says, "We make a living by what we get, but we make a life by what we give."
Success is about setting a life goal
The Roethelis don't define success only from a financial perspective, but in terms of living a life of joy, how well one applies her or his natural talents to gain satisfaction, and how they treat and serve others. It's about setting a life goal and striving to march toward it day-by-day, having defined stepping stones that make decision-making easier.
Joe believes in the acronym – O'SMART goals – that are observable, specific, measurable, achievable, realistic, and time-specific. He also appreciates a quote from James Russell Lowell that says: "Not failure, but low aim, is a crime."
Staying abreast of industry developments
In a fast-moving world, Joe reads virtually every day about the industries, competition, new products, dog owners, and the work of professional craftsman.
He believes that to LEARN is to listen twice as much as one speaks, explore possibilities, ask many questions, read and listen attentively, and nurture ideas by writing to gain clarity.
The Roethelis also encourage their employees to listen, read, write, and observe what's going on in the industry and share what they have learned. They also shop pet and tool stores and the internet for new products and assessment of their claims.
"Our teams compare Yummy Combs® and Spyder products with competitive products in their market to document our differentiated and superior products," says Joe. "We ask customers for feedback to improve Yummy Combs®, and Pet's Best Life quickly collected well over a 1,200 five-star ratings instead." And, Spyder gained 55,000 supporters from one social media event.
In love with the family business and life
The Roethelis spend many hours together and meals are a time for discussions about work, politics, children and grandchildren, relatives and friends, religion, helping those in need, and humorous stories.
With the Roethelis in their mid-70s, they're training older son, Steffan, who retired from police work after 21 years, and has the unique title of Deputy CEO Roetheli, to take over leadership of the companies.
The Roethelis have signed up to go on a cruise to Antarctica, the only continent on which Judy and Joe have not yet left footprints. Joe hopes to visit many more places, including additional visits to his ancestral homeland, Switzerland.
He has spent 30 years tracking down his genealogy, is working on his memoirs, and with his sister, Agnes, has completed a documentary film on their genealogy — one of four doc films that he has helped produce. He has penned many books and articles over his career.
Joe enjoys teaching entrepreneurship, public speaking, fishing, and other outdoor activities. He also maintains a small orchard of about 80 fruit trees and loves to mow grass as a respite from office work.
Joe tells people that, God willing, he has now lived roughly half his life, and his goal is to beat 150 years, given great longevity genes, a desire to live and have fun, advances in medical research and care, and Judy's great cooking and emphasis on wellness.
His desired epitaph reads: "He loved God and family and was a fun-loving and 4-C thinking entrepreneur who helped many." Judy's desired epitaph is:  "She was a loving wife, mother, and grandmother who loved to serve God and others."
Having worked side-by-side for over 25 years and approaching 50 years of marriage, Judy is still the love of Joe's life. Judy confirms that Joe is an optimist, persistent, despises just being good, and an innovator, and that she wouldn't want to be without him!