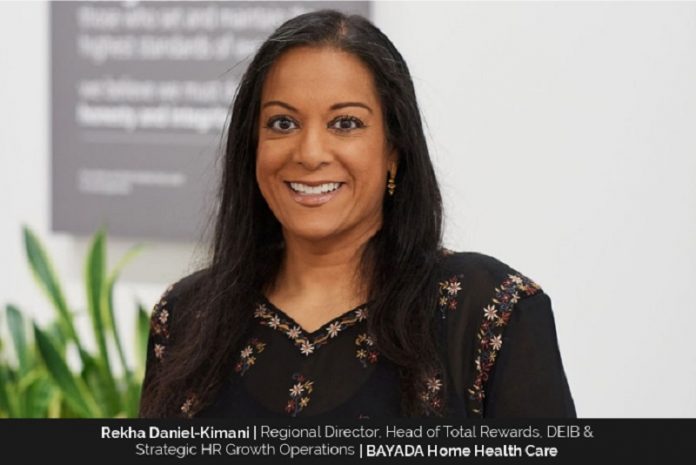 Rekha Daniel-Kimani is a seasoned HR professional, with over 20 years of experience. She has also built a strong reputation in the diversity, equity, and inclusion (DE&I) space. She is the head of Diversity, Equity, Inclusion, and Belonging, as well as Total Rewards and Strategic HR Growth Operations at BAYADA Home Health Care, an international non-profit home health care provider based in New Jersey. In these roles, she considers herself a conscientious risk taker and influences various aspects of HR and DE&I in the organization.
Rekha is passionate about people and believes in doing work that is purpose driven. And, like other inspirational leaders, she also thinks that success does not have one unique definition. Everyone will have a different definition of success, and each leader's success story will be unique to them, which will resonate with a certain group of people. For Rekha, it is quite a humbling experience when someone comes up to her and says, "Rekha, you're successful." It gives her immense joy to know that her story resonates with people.
Rekha's perception of success has evolved over the years. Today, it means making intentional progress in what one desires from a personal perspective and what that means in one's career over a period of time. Rekha now wants to share her knowledge and experience with others in the hope that it might help others improve and succeed.
Learning More About DE&I
Rekha has been inspired by many different people in her professional life, most notably from her father's experience in Canada. "My interest in diversity, equity, inclusion and belonging stems from what I learned at home while growing up," she says.
Rekha grew up in Canada as a child of first-generation immigrant parents. Her father, originally from Kerala, India, came to earn his Ph.D. in Mathematics in Montreal, Canada. He first arrived in the country alone, and a year and a half later, was joined by her mother, and then by her brother.
Rekha's father spoke English but not French, which proved to be an issue in the French-speaking province. "He wanted to build bridges with the community and break down language barriers," Rekha says. "And, to build his career, he had to learn a new language. The journey of his career and the obstacles he overcame had a profound impact on me."
She also recalls that when she was in 6th grade, her family moved to a new home 12 blocks away. Her parents did not realize that moving to a new house meant changing her school as well, a school that utilized French as the main medium of instruction. "Over the summer, I not only moved to another community but also had to learn a whole new language," Rekha says. "French was my second language and learning 12 topics in that language was different from learning them in English."
Growing up in Montreal, Rekha was able to benefit from the many different cultural diversities the city offers. Her parents were involved in the community, and they worked toward bringing different people together, in addition to seeing the intersectionality. Her parents tried to understand what communities and organizations – whether faith-based or cultural – had in common. "That was a beautiful thing for me. But there were also challenges we faced while trying to understand it all." All of this fueled her initial interest in DE&I.
A new journey started for Rekha when she moved to the U.S. from Canada. It was a new beginning both in her personal life and in her career. She remembers that there were differences that she saw and experienced as an employee and as a community member. "Some of them were great. Some of them were disappointing," she says.
She, however, did not let the unfortunate moments keep her down; instead, she decided to use them as steppingstones to build herself up. And, when she had her own children, she made sure to use her voice for positivity and to bring people together, and not become siloed.
At BAYADA, Rekha continues to voice her insightful thoughts and opinions. Despite her achievements, she humbly says that she does not have a solution for everything. She has ideas for how to encourage others along the way and create something really big and innovative. "And that is what we have done here at BAYADA," Rekha says.
Iron Sharpens Iron
Rekha joined the company over six years ago, after being drawn to BAYADA's mission, vision, and the way they focus on their values. These values are grounded in The BAYADA Way – a set of principles at the heart of everything BAYADA does, aligned with her own personal values. According to Rekha, it is rare to see an organization with consistent culture and values in everyone's everyday actions. "I first saw it with the individuals I met during my interview process, and I continue to see it every day for the past 6 years. I think that is pretty special and unique," Rekha says. "Now, a lot of organizations are trying to replicate that same culture."
When she started working at BAYADA, Rekha was at a point in her career where she wanted to provide her talents to organizations that were doing purposeful and meaningful work. Also, she wanted the organization to spark her ability to continue to grow and improve.
"As the saying goes, 'iron sharpens iron,' and BAYADA, too, has sharpened me and continues to help me develop as a leader in what I can do, and in my capability to continue to give more to the organization," Rekha says.
Launch of DE&I Initiatives
BAYADA's DE&I journey did not start post-pandemic when a wave of DE&I initiatives was announced by companies. A few years earlier, BAYADA began conversations on why DE&I was important and what it meant from a business perspective, and they launched their initiatives in early 2020 before the pandemic hit the world. "From there, it just became ignited, and our efforts came to life," Rekha says.
Most companies began to take steps only after news and stories on the web and television highlighted what was happening in the U.S. during the pandemic, which included voices of people and employees who were speaking up for change.
"We took a moment and absorbed the landscape," Rekha says. "We decided to do it organically by listening to our employees, learning from the best of the best, and gaining insight from individuals and organizations that had failed at it miserably." She feels that there is no need to rinse and repeat a mistake. Rekha and her team also tried to understand where they were collectively as an organization, and then made sure to be authentic about it.
Rekha reveals that BAYADA's CEO, David Baiada, took an exemplary step. He posted a letter on their website, expressing his disappointment and regret at not getting it right yet. He also talked about what steps he intended to take. "That is who we are, and when I say, 'who we are,' I mean, that is what the organization has been well before a DE&I initiative was launched," Rekha says. "We say DE&I is a manifestation of The BAYADA Way in action."
Rekha and her DE&I team continue to focus on how they can continue to hear the voices of all their employees, including those from the past and employees in the future, about how to bring diverse perspectives into each initiative, and how to address where they are based on diversity statistics. "You cannot understand where you want to go if you don't understand the baseline of where you are," Rekha points out.
The other focus areas include ensuring representation of each community, where they live, at all levels of the organization, and ensuring they advocate for the right equity in every segment of the business. Finding how to leverage advocacies through their partnerships is key. According to Rekha, the partnerships don't rely only on DE&I.  It also includes collaborations with the government affairs office and the constituents they represent, to showcase what BAYADA does as a driving force for change in healthcare.
BAYADA supports the people who would not have been recognized if there hadn't been a pandemic. Rekha points out, "We probably wouldn't have known what it means to be home-bound if we all didn't experience COVID." Many of BAYADA's clients never leave their homes. BAYADA delivers specialized care for all kinds of individuals, including adults with ALS, MS, or other catastrophic diagnoses such as spinal cord and traumatic brain injuries.
"Our clients don't have the ability to go out all the time. They don't have that choice," Rekha says. "DE&I is making sure that their voices are included in our day-to-day actions." They want to make their clients feel that they belong, and as Rekha highlights, "Isn't that what we as human beings want – to belong to a group, society, and community, with universal faith, hope, and love?"
The organization also provides its services with compassion, excellence, and reliability, which are the core elements of The BAYADA Way. Those may seem like easy words to say, but according to Rekha, "it is really a hard job to consistently demonstrate them day in and day out."
Challenges and Valuable Lessons
For Rekha, some opportunities came as let-downs in her career. She felt like she had flat-out failed, even though trying her best. But those were the moments when people would come to her side and say, "It was going to be okay, pick yourself back up, and try again – you can do this!"
"It is similar to what we experienced in school when we get a bad grade: go back and study harder," Rekha says. "It is something you can do in your career too, by finding the right environment, the right cultural talents in the organization, and the right role."
She believes that no one wants to spend 40 hours a week being disappointed with themselves or wake up and say, "I'm going to fail today in this job." Everyone wants to do their best. "So, it is important to find the right opportunity and right skillsets and learn how to use one's talent in their career in a meaningful way," Rekha says.
She also learned some valuable lessons while trying to figure out where she wanted to be within this scope. She knew HR was a natural fit for her because of her passion for people. But, as much as she loved people, she also loved empirical data and numbers. "I loved numbers so much that I decided not to go into actuarial science or finance but decided to stay within HR," Rekha points out. "In the world of HR, I went into an area that is more analytical where you use numbers, and the element of people also came into place."
And, whenever she encountered a challenge Rekha sought out the lessons with intention. She found it challenging because, according to her, usually society does not naturally support those kinds of efforts. When she is hearing a lot of proverbial noise, she has come to filter it and be one with herself and say, "Okay, what am I going to learn from this, how can I solve and improve myself, and how am I going to be a better version of myself in the next opportunity that comes on the horizon?"
Finding Passion and Driving Factors
Rekha believes that passion can evolve over time through actions and experience. The passion she had when she started her first job was of a different type; today, there are two desires that propel her.
One of them is to continue doing the right work for an organization that is mission-driven and cares about people. It is the type of organization that once it forges the right path, it won't give up. The other desire is to be at an organization that recognizes the importance of collaboration. It understands that success is not achieved because of an individual's efforts; it is the result of the collective efforts of many people. Rekha feels that BAYADA is such an organization. But, as she evolves as a leader, her passion also evolves. She believes that her answers to questions on motivation will be different if asked two years from now. It is because she will have grown as a person.
Rekha's children also drive her passion. She reveals, "I not only see myself as a mother, but also an adult who is trying to support and shape other adults in the making." She wants to instill in her children something that is better than she, which they can showcase and manifest in communities – in everything they care deeply about.
Rekha emphasizes that people are also her passion. "I endeavor to make sure my team and the four adults in the making in my household make everything great for their own legacy," she adds. Rekha is also dedicated to ensuring that all her teams bring their best selves to work every day and are doing something that makes them happy.
About Future Plans from a DE&I Perspective
From a DE&I perspective, Rekha intends to continue her shared journey and move the needle in terms of diversity, equity, and inclusion, and ingrain each area of focus into their business operations. "We will always continue to encourage this," she says.
They also want to continue to innovate and think about DE&I in different ways across their landscape of talent in HR and management, and across the landscape of their business operations. Additionally, a continued focus will be on understanding clients and how DE&I impacts every community. Rekha says that BAYADA has a holistic approach to everything they do. "We can have a very positive influence in the community from a DE&I perspective," she adds. "You can either be on the sidelines or you can step up and make an organic effort. I hope that our organization continues to allow me the opportunity to make a meaningful contribution to the home health care industry and in all the lives that we touch."
"You might not know who we are today and what we do," Rekha says. "But I'm sure at some point in time, you or your loved ones could benefit from our services."
A Message to Aspiring DE&I Leaders
Rekha tells aspiring DE&I leaders to challenge themselves on what DE&I means, where it is going, and to think about it in a much broader sense. "Also, do not be afraid to take chances and do not be afraid to move the needle across the board," she adds.
She also has a message for those DE&I leaders who have been in this space for a much longer time than she has been. Rekha wants them to really make a noticeable difference and portray the business opportunities with a DE&I focus. "It is hard to do, but there is always a way," Rekha says. "Perseverance will open the door to enhance the DE&I experience.
Rekha also points out that leaders may not possess all the necessary skillsets just yet. She advises them to find the knowledge needed within their teams and harness it. "It's okay you are not an expert, because someone else is going to work with you, and together you can apply those efforts to the organization," she says.