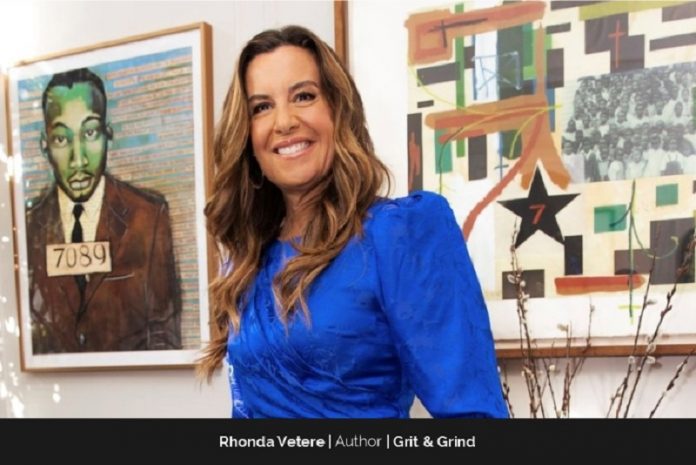 In a market full of self-motivation literary works, only a few can do what they are meant to do, i.e., inspire. What is that secret ingredient which makes the real difference? A slight scratching beneath the surface, diving deeper than shallow depth and reading between the lines will take one closer to the answer. If one still feels puzzled, the cues lie in Grit and Grind. This book isn't a mere jot down of random narratives. But a mirror of what Rhonda Vetere, the author, has experienced in her life. The title resonates with anyone who has gone through the grind yet withstood every bit of it with grit. We are all stories, and there are layers to them. What nudged Rhonda Vetere to tell her story? Are there pages yet to be explored? To answer them and more, Rhonda gets candid and holds our hands to take us through those unexplored corners called life.
Preface
Rhonda is a perfect example of humble beginnings. She doesn't come from any fancy background. Her journey to where she has reached today has been no less than a roller-coaster ride. Would she trade it for anything better? She replies to a firm 'No'.
"That bears what has made me so passionate to help others and not watch others struggle. One can draw from countless experiences and valuable lessons throughout the professional walk. That is why I wrote Grit and Grind, which is totally different from the Dummies book on Enterprise Service Management."
The reason behind this book, as Rhonda explains, is to facilitate an opportunity for people to learn from all facets of cultures, diversity of thought and different situations. Likewise, it also gives them insight into how to handle situations with first-hand experience.
Life's lessons
There is no better teacher than life; it can impart the most valuable learnings in both brutal and subtle ways. Rhonda has been a sincere student of it. What are her most significant takeaways? She sums up them as three valuable enlightenments.
There is a reason behind her being so focused on empowering the next generation. She believes that people trying to transition out of a phase of life, whether a veteran, first responders, athletes, or top executives, need help. But sadly, not everyone has a support system.
"If I can be that light and help connect the dots, I will do it. Be it through sports like the marathon or racing across America on a bike for 3,070 miles. I always do things on purpose and for a reason. I am not out there swimming, biking or running without a cause."
The second learning she explains is there is no particular order to follow. One must continue taking challenging assignments and push beyond the comfort zone. The third lesson she has picked is to be porous like a sponge and keep absorbing knowledge. One should always continue learning; the best way to nail it is by surrounding yourself with people who are better than you. Likewise, always keep that curious inner child alive and ask many questions.
Writer's block and overcoming them
Without any qualms about it, Rhonda shares that writing a book isn't easy. If someone tells it otherwise, then something is wrong. She feels authoring a technology book was easier because that was a step-by-step process in her mind.
"The book titled Grit and Grind took years in the making. I didn't tell anyone I was writing it. Because I didn't want that added pressure of answering what's the deadline. Nor was I ready to take my mental state to a different zone."
She kept detail about this book under the wrap. Without any discrimination, everyone from her professional and personal nucleus received the invite at the same time for the book launch.
Rhonda found that storytelling in the book was the toughest among its various facets of conceptualizing, thinking of the chapters, drafting, revising, and so on. It took the most time to put pen to paper for each moment across 20-plus years of her career up to this point.
"This helped me to grow. Recalling all of these events and being able to reflect and express lessons learned was an inward journey."
Reach of Grit & Grind 
Like any other seasoned author would do, Rhonda, too, had certain parameters set for Grit & Grind. She had chalked out plans for it to reach the target audience and get the recognition it deserves.
"The book did reach the Chicago Tribune and CEO Top 10 Reads. I would love to see it have a longer shelf life. Seeing people post the book worldwide and quote what they learned is a great feeling."
Rhonda cites an example and says that a few days back, a gentleman named Suraj from London took it to his LinkedIn and shared a post saying he pulled the book out and reflected on what he learned. That made her day to witness this book's impact around the world and on individuals. In her words: "It is intentionally written for any age group. It's my baby and a labor of love."
There was a book signing at Barnes & Noble in her hometown in CT. She has been busy working and didn't have time for a formal book tour. Thus, the reach of Grit & Grind is all organic and authentic growth. She appreciates it when someone picks it up, reads it and gives direct feedback.
Competition and innovation 
Competition is a loaded word, says Rhonda. She perceives it as a healthy trait. Of course, she likes to win. But for her being a part of any such race is purely out of joy and championing a greater cause.
"I am not out there to win every race. Being a global STEM advocate through sports doesn't mean you have to podium every race. You learn, pivot and innovate in each race, and you get to know yourself. "
She advises embracing the competition in the business world and striving to measure by data and metrics so there is no grey area. Likewise, one must be prudent for keeping track of the bottom line and advancement in the industry.
As a change agent for digital transformation
In her glorious career, Rhonda has played several key roles. One of them was to lead the way for growth with more than 23 mergers and acquisitions at companies. How does she feel about it? Does it equate to success? The inspiring woman replies: "I love the diversity of the companies I have worked for in the past.
Intentionally moved around so that my background in my career was eclectic and wasn't siloed."
Intentionally, she took on challenging assignments and decided early on in her career to lead large technology teams across all business sectors and not be pigeon holders into just knowing telecommunications or finance. She always has an appetite for learning and enjoys bringing people together to merge different companies and personalities and building high-performance teams. According to her, such extensive experience made her and others evolve.
As a leading woman in the technology domain 
Rhonda recalls her initial years of making a career in technology and opines that times have changed. She had been through phases when there wasn't talk about women in business at all. But it never made her perceive things otherwise.
"Frankly, I didn't think about being the only woman in a male-dominated field. All my business colleagues were outstanding, and we all are friends even now. I can't thank them enough for their support. We all advanced in the technology business together and continued to evolve."
She further adds that if any of her men colleagues are reading this, she wants them to know how much she appreciates them. She feels fortunate to receive their enduring support. It was all performance-based, business outcomes-based, and everyone could thrive with the same shared goal, including her. She counts being recognized as an honor and a humbling experience. The cumulative effect of all such attributes has evoked passion in her to continue to speak up and lead. Rhonda hopes her life example can be emulated by those with similar aspirations. In her words: "The generations these days need role models that have come from nothing, not instant gratification and truly have done hard assignments. I want to continue to inspire everyone around me and bring out the best in everyone."
This October, she was recognized as the Global Ambassador and provided the gold scroll in India by the USTM Chancellor and the Prime Minister. Her feats also include a Biodiversity Park named after her on 500 acres of land for technology, sustainability and all of the global STEM efforts.
"This has come full circle, and I take this responsibility as STEM Ambassador with utmost fidelity. I am dedicated to leading and want to provide that light to others that you can do anything, even if you come from nothing. I am a live example of that."
Challenges of women and the true essence of women empowerment 
Though society has advanced, there are many challenges for women, especially in a leadership role in the business sector. On a positive note, Rhonda says she can see the silver lining. The world is changing daily, the pace of movement is fast and leading through change is an important quality. Leadership is being of service and inspiring others.
"I don't think people fully understand that leading others is about servant leadership and putting others' needs before yours. It isn't about telling people what it's leading to or taking them on a journey while keeping the end goal in mind. Yes, there are ups and downs, and a leader is the one who takes it for the team and buffers from detours."
Rhonda has been a vocal advocate for women empowerment, and she primarily chose sports as her means. She has run in the Cape Town marathon for 3 years in a row supporting the cause of girls' empowerment. She loves spending time with young girls in South Africa and cherishes it. The celebrated author swears by a quote from Nelson Mandela, which reads: "Sports have the power to change the world. It has the power to inspire and unite in a way that little else does. It speaks to youth in a language they understand. Sports can create hope where there was once despair."
STEM through sports has been focused on whether it is running 55 miles through Serengeti with armed guards for women empowerment or Cape Town marathon. (Both done each 3 years)
Driving factors, dreams' reality check and road map
For Rhonda, the source of her motivation to keep going comes from bringing joy to others and making a difference in people's lives professionally and personally. Through her journey, she has observed how helping people have life-changing moments. 
It is no secret that a highly ambitious business leader like her has many dreams and aspirations. Has she achieved them all? Rhonda being Rhonda, who calls a spade a spade, articulates: "I don't think anyone in life should say they are done with all of their goals. We are forever evolving. I am still working on transforming a Company. I am not putting racing on hold for great causes to give back."
She has extensive plans for next year to empower others. She feels fortunate that things are transpiring and the team is growing to help intentional causes.
As an author, does she have some other goals? Rhonda elaborates that she wishes to keep writing.
"Who knows when the next book will drop? Grit and Grind isn't done yet, nor would I want to drop one deliberately right now. Nevertheless, the ideas for another book have started bubbling. It's all about timing, and this one will be totally different than past ones," hinting, so she signs off.