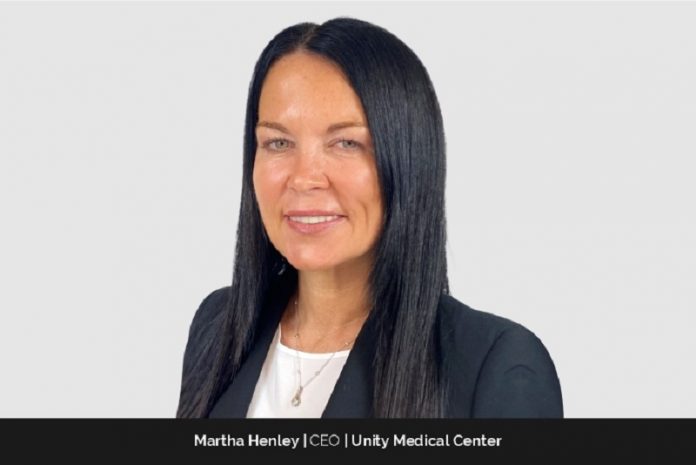 In the ever-evolving healthcare landscape, few individuals possess the expertise, drive, and compassion to effect transformative change. Martha E. Henley stands out among these exceptional leaders, emerging as one of the "Top 10 CEOs of Transforming Healthcare in 2023." With an illustrious career spanning three decades, Martha's unwavering commitment to delivering quality medical care in rural communities has left an indelible mark on the industry.
Currently serving as the Chief Operating Officer of Java Medical Group, headquartered in Brentwood, Tennessee, Martha E. Henley is also the esteemed Chief Executive Officer of Unity Medical Center, located in Manchester, Tennessee. Armed with an undergraduate degree in business from the University of Phoenix and a master's in healthcare administration from Vanderbilt University, Martha's expertise is complemented by her CHC certification from the Health Care Compliance Association.
Under her visionary leadership, Unity Medical Center has garnered numerous accolades and recognitions, solidifying its position as a beacon of excellence in healthcare. The prestigious Chartis Center for Rural Health honored it as a Top 100 Rural and community hospital in February 2023. Unity Medical Center, recognized by Becker's Healthcare as one of the best-ranking hospitals for patient experience in the South, maintains a rare 5-star rating based on CMS scores. Additionally, it earned accreditation from DNV in 2022, joining only a handful of Tennessee healthcare facilities with such distinctions.
Martha shares, "You cannot lead without surrounding yourself with great people, and I have been blessed to do that. We have a strong team here and it has taken many years to build that. When the facility receives these accolades and recognitions, I look at it as the staff are the ones who have earned these honors, because the facility will rise or fall based on the people who take care of our patients daily."
Martha's diligent dedication extends beyond her professional role. As a lifelong resident of Coffee County, Tennessee, she has dedicated herself to improving the accessibility and quality of healthcare in rural communities. Serving on the Manchester Economic Development Board and the Coffee Cares Board, a nonprofit charity organization, Martha continues to be a driving force in fostering community well-being. With her visionary mindset and compassionate approach, she has charted a path to a brighter future for healthcare in rural communities and beyond.
A Vision of Success in Healthcare
In Martha's perspective, success is defined by the profound influence on patient well-being and the healthcare system as a whole. It encompasses enhanced patient outcomes, greater accessibility to quality care, efficient cost control, medical and technological innovation, and the cultivation of a supportive and inclusive work environment for healthcare providers. This definition holds significance as the healthcare field carries high stakes, involving the lives and well-being of individuals.
Passion Ignited: Journey to Healthcare Leadership
"I realized healthcare was my desire when I joined the health occupation class at Coffee County High School in Manchester, Tennessee, in 1988," articulates Martha E. Henley, reflecting on her early introduction to the industry. Starting as a scrub technician in the operating room of the local county-owned hospital, she witnessed the facility's financial struggles and the need for cross-training to address staffing shortages. This experience provided her with invaluable insights into the inner workings of healthcare.
Driven by a steadfast determination to creating a positive impact and fascinated by the complexities of the industry, she pursued a career in healthcare administration. Now, as the Chief Operating Officer at Java Medical Group, her passion for enhancing rural-based healthcare is evident, as the group oversees hospitals across Alabama, Mississippi, Tennessee, and Georgia.
Navigating the Healthcare Maze: Challenges and Opportunities
Healthcare presents a dynamic landscape filled with challenges, as acknowledged by Martha. From regulatory changes to financial constraints, emerging healthcare needs to patient safety, and fostering collaboration among stakeholders, it demands innovative solutions and adaptability. Embracing these challenges fosters personal growth and resilience while honing problem-solving skills.
Advancing Healthcare Excellence: Unity Medical Center's Comprehensive Services
Unity Medical Center, born from the merger of two local hospitals in 2015, has established itself as a leading healthcare provider. With a strategic relocation to 481 Interstate Drive, Unity Medical Center has undergone significant transformations, including its conversion to a nonprofit organization in 2018.
Committed to delivering exceptional care, Unity Medical Center has invested over $3 million in state-of-the-art diagnostic equipment, enabling cutting-edge diagnostic testing. Notably, amidst the challenges of the 2020 pandemic, the hospital opened a 4-bed advanced Intensive Care Unit, ensuring that community members can receive high-quality care close to home.
A shining example of Unity's dedication to comprehensive care is the Rapha Center, a department focused on addressing opioid addiction, behavioral health, and mental health. With a team of over 20 providers and therapists, the Rapha Center has transformed lives within the community, showcasing its invaluable contribution.
Building on its commitment to innovation, Unity Medical Center partnered with HCA, TriStar Division, in 2020 to pioneer the first Cardiac Telemedicine Program in a rural hospital. This groundbreaking initiative has expanded to include telemedicine services in neurology, pulmonology, and critical care. As a result, patients at Unity Medical Center can receive consultations with TriStar providers without leaving the facility.
Further expanding its capacity, Unity Medical Center opened a newly renovated and expanded 16,000 square feet pavilion in the fall of 2022, accommodating over 14 healthcare providers. This addition amplifies their ability to meet the diverse healthcare needs of the community.
Building a Culture of Integrity and Innovation
Creating a work environment that values integrity and encourages innovation is crucial for CEOs in the healthcare industry. Martha echoes her thoughts, "As a CEO, I try to lead by example. Act with transparency, honesty, and fairness in all aspects of your leadership."  In fostering a positive workplace, clear communication plays a pivotal role. By effectively communicating the organization's values and expectations regarding integrity and innovation, leaders can reinforce these principles and promote ethical standards while nurturing innovative thinking.
Strategies to Stay Competitive in the Healthcare Industry
Organizations must adopt a proactive and improvement-focused approach to stay ahead in the competitive healthcare industry. Here are key strategies Martha shares that have helped their organization to stay in the race. Firstly, it is about 'Market Research and Analysis', which involves gathering insights into industry trends, competitor activities, and evolving patient needs. Next is 'Differentiation and Value Proposition', which entails clearly communicating the unique value that sets one's organization apart from competitors. Martha also underlines the importance of prioritizing quality and patient experience and says it is possible through continuously improve care quality and patient satisfaction and incorporate feedback for enhancement.
Likewise, they have embraced technological advancements, which demand staying updated with relevant technologies to enhance operations, patient care, and data-driven decision-making. One can't ignore the significance of fostering collaboration and partnerships. And to perfect it, one must form strategic alliances with healthcare organizations, technology providers, and industry stakeholders. Martha also has two more strategies. She advocates that investing in 'Continuous Learning and Development' goes a long way.
This supports employee growth, ensuring they stay updated with industry developments and best practices. Her strategies also encompass the culture of cultivating Agility and Adaptability, which she explains is achieved by embracing change, staying responsive to emerging trends, and proactively addressing competitive challenges.
Responsibilities as CEO at Unity Medical Center
As the CEO of Unity Medical Center, Martha E. Henley has a range of responsibilities within the healthcare sector. She is in charge of strategic planning, for which she formulates and executes the organization's strategic vision, setting priorities, and ensuring they align with its mission and values.
Helming a top management role, Martha provides strong leadership to the executive team and the organization, making crucial decisions, setting direction, and inspiring employees to achieve their goals. Her host of responsibilities also include Stakeholder Management. Under this realm, she builds relationships with important stakeholders, including board members, investors, employees, healthcare professionals, patients, regulatory bodies, and community partners.
Martha oversees the financial well-being of the organization, which involves budgeting, financial planning, and closely monitoring financial performance. She also needs to take care of Operational Oversight. For this, she monitors and guides day-to-day operations to ensure the organization functions effectively and efficiently. It involves collaborating with department heads and teams to drive operational excellence.
Lastly, a major chunk of her role revolves around External Engagement. In this spectrum of responsibilities, Martha represents the organization externally by participating in industry events, conferences, and forums.
A typical day for Martha as a healthcare CEO can be dynamic and demanding, involving various activities such as meeting with executive team members and department heads to discuss progress, challenges, and tactical initiatives. A few other responsibilities include participating in board meetings and providing updates to the board of directors, collaborating with human resources on talent acquisition, leadership development, and organizational culture and addressing any urgent matters or crises that may arise.
Martha E. Henley, in a word!
In response to defining herself in one word, Martha emphasizes that capturing a CEO's multifaceted nature is subjective. Nevertheless, several words come to her mind when describing her role as a CEO in healthcare, including visionary, resilient, strategic, and influential.
Mantra for Striking a Perfect Work-life Balance!
"Maintaining a balance between personal and professional life as a CEO in healthcare can be challenging but crucial for overall well-being," acknowledges this seasoned professional.
To achieve this, she prioritizes tasks and delegates responsibilities to her capable team members, empowering them to contribute effectively. Martha establishes work and personal life boundaries, allocating dedicated time for personal activities and loved ones. She practices effective time management by setting realistic goals and mapping out tasks. Additionally, she builds a strong network of mentors, colleagues, and friends who provide guidance and emotional support.
Approaches for Motivating Employees as a Healthcare CEO
As healthcare CEO, Martha consistently strives to foster employee motivation and excellence. She firmly embraces the profound advice, "Never Stop Inspiring: Be an inspirational leader who motivates and empowers others. Lead by example, communicate your vision, and inspire your team to achieve greatness."
She effectively employs various tactics to bolster her staff's enthusiasm and increase their productivity. Martha emphasizes the purpose and meaning behind their work, highlighting how their contributions make a difference in the lives of patients and the broader healthcare community. She believes in the power of recognition and rewards, regularly acknowledging employees' efforts and achievements, providing feedback, and offering incentives or rewards to keep them motivated. She also spotlights their professional development, offering training programs, skill-building opportunities, and clear career advancement paths while showing a genuine interest in their goals.
Martha fosters a culture of trust and empowerment, encouraging innovation and creativity, and maintains open and transparent communication channels, involving employees in decision-making processes whenever possible. She places great importance on employee well-being, providing a supportive work environment, promoting work-life balance, and offering resources for physical and mental health.
The Unity Medical Center's CEO routinely evaluates the efficacy of these motivational techniques, solicits employee feedback, and adjusts her approaches to meet growing requirements and expectations.
Future Plans for Unity Medical: Expanding, Modernizing, and Innovating
Martha's future plans for Unity Medical involve assessing the facility's capacity and infrastructure to accommodate growing patient needs, expanding physical space, updating medical equipment, and adopting innovative technologies to enhance patient care and operational efficiency. She also aims to develop specialized centers or programs to address specific medical specialties or conditions, expand community outreach efforts, and promote preventive care. This also includes investing in research and development to advance treatments, therapies, and medical technology, positioning Unity Medical as a leader in healthcare innovation.
Personal Goals of Martha E Henley for Healthcare
Martha E Henley has a clear vision for healthcare, encompassing various personal goals that merge to create a comprehensive approach. Her plans include making a positive impact, and for this, she aims to improve access to quality care, advance medical knowledge, and promote health and well-being for patients and the healthcare community. She highlights the weightage of promoting a healthy work culture, as this creates a supportive, inclusive work environment that values employee well-being, collaboration, and professional growth. Her pursuits also revolve around stakeholder engagement. Martha means building solid relationships with patients, employees, board members, investors, and community partners. Likewise, she vouches for ethical and transparent leadership. She advocates that building stakeholder trust, leading with integrity, ethical behavior, and transparent decision-making processes goes a long way. Last yet not least, Henley advocates embracing a continuous improvement mindset and innovation, seeking opportunities to enhance operational efficiency, patient care, and organizational performance.
Advice for Future Healthcare Leaders
A driven leader, Martha E. Henley, shares inspiring words, "Remember, leadership is a journey that requires continuous growth and self-reflection. Embrace the challenges, stay true to your values, and make a positive impact in your chosen field." She advises future healthcare leaders to pursue a career in this sector fueled by a genuine passion for positively impacting people's lives and contributing to their well-being. She emphasizes the importance of lifelong learning and staying updated with industry trends, technological advancements, and best practices to navigate the constantly evolving healthcare and business landscapes. Martha encourages them to build strong relationships with colleagues, mentors, and industry professionals who inspire and challenge them. Ethical leadership is crucial, and she emphasizes the significance of integrity, transparency, and honesty. She believes adapting to dynamic environments, adopting change, and cultivating resilience, are essential for success. Future leaders should foster a culture of collaboration, valuing diverse perspectives, promoting communication, and empowering team members to reach their full potential. In the end, Martha reminds leaders, saying, "Leading in healthcare or business can be demanding, so take time for self-reflection, rest, and rejuvenation."