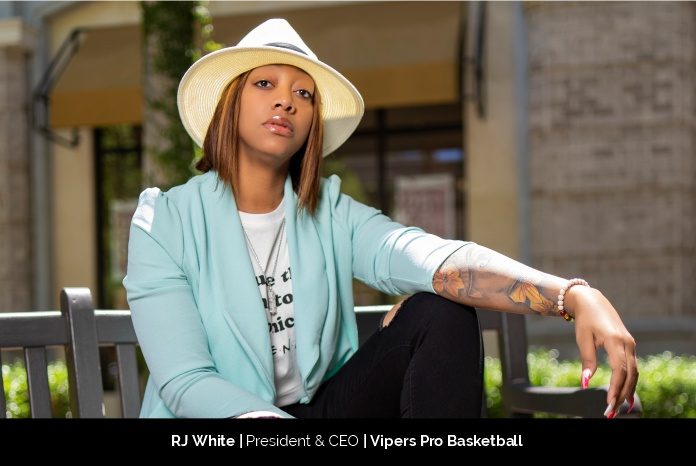 Networking, corporate partnering, structuring and negotiating domestic and international strategies, collaborating on profitable concepts and giving back to the community are the passions of RJ White, President/ CEO of Vipers Pro Men's basketball team. Vipers' basketball team competes on the pro level and is affiliated with the American Basketball Association.
About the Young Entrepreneur
At the age of six, Rj was monitoring trends and planning the road with aspirations to be in the sports industry. RJ earned her Associate of Science degree in Computer Science from Baker College. Recently received her Negotiation mastery certificate from Harvard University and was accepted to Harvard for her Masters. She started her first company at the age of 17 and currently owns several successful businesses. This humble millennial was voted the Youngest Entrepreneur and she has been in the world of business for quite some time. Her career began when she started traveling and expanding internationally. Rj has been voted as one of the top ten most influential black women and she is also nominated for Leaders Under 40 Award by Leaders Sports Awards (2021).
Before the Vipers, she was a full-time mom in the financial industry. While shouldering her maternal duties, she planned for the future. Currently, she is one of the youngest female team owners in the league.
She loves debating, music, fashion, sports, marketing, networking and finalizing business expansion ideas, concepts, experience and integration.
Vipers Pro Men's Basketball Team
Established in 2014, the Vipers are creating quite a mark in Lake County, IL. Vipers aims to cultivate players with the necessary skills to be better athletes, men, and community leaders. Vipers players use the benefits of the program to help expand their game, mind and leadership. They receive the utmost exposure and have several opportunities to go to the next level to play.
Their mission is 
to create a fun and friendly environment for children and adults through the entertainment of basketball
to be committed to player development, 100%
to build the confidence and self-esteem of each player through practice and competition
to instill hard work and dedication in players to play the game the 'right way'
to teach sportsmanship and values such as loyalty and integrity
to educate players on the importance of giving back to the community
to encourage the players to demonstrate professional conduct and show the children of the community that it is okay to exhibit greatness, to maximize education, to never engage in bullying and to always be drug-free.
Vipers have been successful in creating a family fun environment that is affordable and entertaining.
Leadership in Sports
In any field, achieving goals requires proper leadership, more so in the field of sports. RJ has always known that she would be a great leader and this knowledge inspired her to venture into sports leadership. She believes that seeing things come to fruition gives you the confidence that your hard work and dedication is paying off.
Dealing with Competition – Zone defense
The American Basketball Association is a men's professional basketball league. It is the largest and most diversified professional sports league in the world. There is no sport without competition. One major roadblock that RJ has faced in her career in sports is competition. Nevertheless, it has made her stronger. She advises anyone in this industry or any industry, "My valuable lesson is to be careful with whom you do business and to be sure you are networking with the right people."
Redefining Sports Ownership
By becoming the youngest female owner of a Pro Men's basketball team, RJ has demonstrated that women can be placed into high roles. They have the ability to elevate their surroundings, clubs or organizations and expand their horizons. RJ makes sure that Vipers stick to their mission statement. The team travels the world ensuring that innovation is ignited through different ideas and cultures.
Prepared for Championship
RJ is aware that as a CEO she influences everything that happens to Vipers. She sets leadership in the right places to assure that their vision is being pushed forward and that they are constantly up to date with the trends of the industry.
Her responsibilities include ensuring a smooth running of the season, conference calls, appearances, games and employee education and strengthening the brand. She is constantly making sure that Vipers have a good season and that they are prepared for a championship.
She provides a unique environment to the team. Vipers' players and staff consist of an eclectic group who have played streetball, recreational ball, organized ball or played on a D1, D2, D3, NAIA, or juco level. They have completed their BS Degree and are successful members of the workforce. Most of the players strive to make it overseas to support their families and community doing what they love.
Staying Motivated
Along with dedication and hard work, preparing for a championship also requires unwinding and proper balance between professional and personal life. RJ makes it a point to take time out for her family and some me time to rest, refresh and meditate. This helps her to stay motivated. She realizes that motivation is key to success in the sports industry and strives to keep her team motivated. She offers incentives to Vipers' players, like traveling and bringing their families into the experience. This has been the best way to keep them motivated and to make sure that they all still have fun in the process.
Vision for The Future
RJ wishes to establish Vipers internationally permanently and envisions taking ownership of a National Basketball Association team. Her vision for the future is to take ownership of a Professional Men's team overseas and start a legacy. Her message to aspiring businesswomen is, "Create your own trail, blaze that trail, always stay motivated along the way, and remember you are the company that you keep."