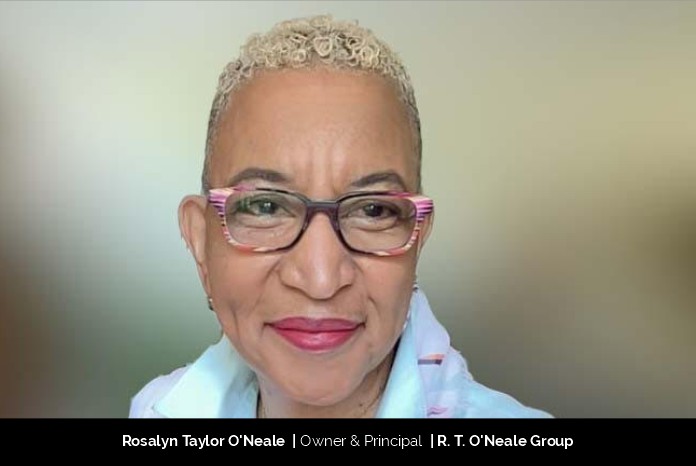 Women of color have been instrumental in shaping the diversity, equity, and inclusion (DEI) space. Despite facing systemic barriers and discrimination, they have made significant contributions to advocating for equity and inclusion in the workplace and society at large. They have brought their lived experiences and perspectives to the table, which has helped to create more inclusive cultures, policies, and practices. Women of color have also been leaders in establishing employee resource groups, mentorship programs, and training and development initiatives that support the advancement of diverse communities in the workplace. The contributions of women of color in the DEI space continue to be important and relevant, and their voices and leadership must be uplifted and valued.
With decades of experience in the DEI space, Rosalyn Taylor O'Neale is an accomplished speaker, author, and consultant. She has developed and delivered diversity and inclusion trainings for a variety of organizations and is skilled in engaging audiences with a mix of storytelling, humor, and practical tools. With her deep understanding of the complexities of DEI, Rosalyn is able to create programs that help organizations achieve their diversity and inclusion goals, while also fostering a more inclusive and respectful workplace culture.
Rosalyn's unique combination of experience, expertise, and engaging personality make her a sought-after speaker and consultant in the DEI space. Whether she's leading a workshop or delivering a keynote, Rosalyn's goal is always to leave her audiences with practical strategies and a renewed commitment to advancing diversity, equity, and inclusion in their personal and professional lives.
The Story Behind Becoming a D&I Leader
Rosalyn grew up in the 1950s, a time when racial segregation was enforced by Jim Crow laws in the American South. She witnessed the Ku Klux Klan march through the streets of Louisville, Kentucky, wearing their white hooded robes. She has pictures of herself as a 10-year-old standing under signs that marked "colored" restrooms, water fountains, and waiting rooms.
Rosalyn recalls, "I remember driving through Mississippi on our way to Louisiana, knowing we would be stopped at least once during the trip to visit my brother. My mother was legally white and "high yella" (an in-group term meaning very light-skinned); my father was a dark-skinned African American. At the onset of the journey, I knew that my father would have to traverse miles of Jim Crow racism carefully. We would be stopped, examined, questioned, and told to "go on, but be careful." Racism was as predictable as snow in Colorado; we might not know precisely when it would happen, but we knew it would. I learned a valuable skill; to recognize, plan for, and navigate the choppy waters of them and us."
Rosalyn's life experiences have shaped her perspective and her work in the fields of inclusion, diversity, and equity. She has seen both the best and worst aspects of inclusion and exclusion and has heard powerful women and men from 50 countries across five continents discuss their experiences with these issues.
"There's no such thing as a diversity emergency. That's stuff you shouldn't have said or done, but it's not an emergency."
Despite the current state of the diversity, equity, and inclusion arena, which she compares to a landscape damaged by a hurricane, Rosalyn remains hopeful. She knows that the minority of loud voices does not represent the majority, and she shares her stories and experiences to help new practitioners find their way. Her stories about the challenges and triumphs she has faced over the past 40+ years make the difficult lessons easier and the joyful moments sweeter.
In the realm of diversity, equity, and inclusion, Rosalyn avoids simply defining "success" as it often leads to a limited perspective centered solely on hiring and promotions. Instead, she prioritizes progress and the creation of a workplace that is truly diverse, inclusive, and equitable, where all individuals are treated with dignity and have a sense of belonging regardless of their appearance, background, or abilities.
T. O'Neale Group
With a touch of humor, Rosalyn comments that when the world no longer needs the services of the R. T. O'Neale Group, she will happily transition to becoming a barista at her favorite coffee shop. Until then, she views her work as a collaboration with other diversity, equity, and inclusion organizations and is committed to creating a world where all children, regardless of their skin color, orientation, or beliefs, can flourish and feel secure and loved.
With a career spanning 40 years in the field of diversity, equity, and inclusion, Rosalyn has made significant contributions to the development of D&I leadership competencies and programs. She has helped establish employee and business resource groups and conducted numerous workshops and discussions in over 40 countries worldwide. Her extensive experience and expertise have helped to shape the DEI landscape and advance the cause of creating more diverse and inclusive workplace environments.
Growing as Leader and as a Person Everyday
Rosalyn's daily routine is always changing and dynamic. Her days are filled with a mix of activities, including reading, contemplation, and caring for her seven pets. She is known for her fearless approach to life and her work, although she doesn't necessarily encourage others to follow in her footsteps. Instead, she encourages them to find what works best for them.
In addition to her consulting work, Rosalyn is also a writer, currently working on a historical fiction book and a memoir about her 40 years in the DEI field. She is looking forward to continuing her work as a speaker, sharing her insights and experiences with audiences around the world, and also being a loving spouse, pet parent, and friend.
"You can drive fast off the cliff or slow down and notice the "curve ahead."
sign – I'd opt for slowing down.
Guidance for Success
Rosalyn's innovative spirit is demonstrated in her creation of a 20-month executive leadership development program for eight executives during her time at MTV Networks. Two decades later, the participants in this program recall their experiences with fondness, remembering the challenges they faced, the questions they asked, and the courage and care they demonstrated as some of the most valuable lessons of their careers. These leaders attribute their growth and success to the learning opportunities provided by the program, which was developed and facilitated by Rosalyn.
As the leader of her third consulting firm, the R. T. O'Neale Group, Rosalyn imparts wisdom to aspiring female business leaders, reminding them that success is a long-term pursuit and not a short sprint. She encourages them to pace themselves, taking breaks and recharging when necessary, and to work hard when they are able. She emphasizes the importance of building a supportive network of individuals who can encourage and motivate each other along the way. With this advice, she hopes to inspire women to persevere and achieve their goals in business.