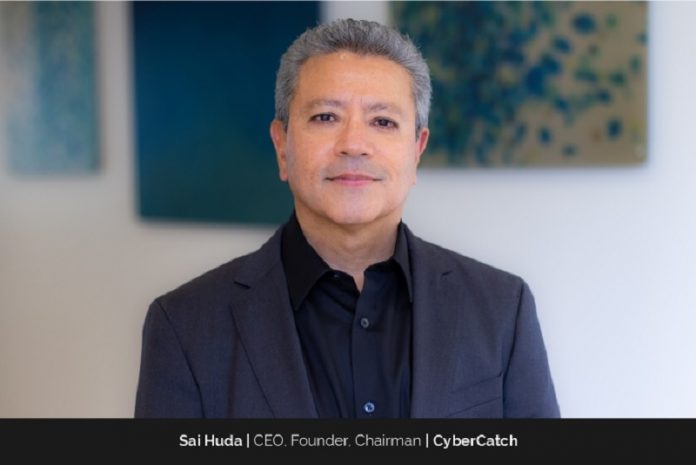 CIO Views had the pleasure of interviewing Sai Huda, Founder, Chairman and CEO, CyberCatch, an innovative Cybersecurity Software-as-a-Service (SaaS) company focused on serving the supply chain, comprised primarily of small and medium organizations.
Sai is a globally recognized cybersecurity expert and author of the best-selling book, Next Level Cybersecurity. We believe readers will find the answers to the questions we posed and Sai's insights highly informative, timely and inspiring.
Every leader has a unique definition of success. Tell us about your thoughts about success and why do you feel that?
Success for me and our company is a daily goal to meet and exceed. This makes each day a fun adventure and creates a journey. So, small successes each day leading to big successes over time. This habit leads to a fulfilling journey each day and extraordinary results over time.
A simple method we use is to break down a big success we want to attain into several priorities to attain each week, at the beginning of the week, and then meeting and exceeding each during the week, all leading to significant results over time and professional fulfillment during the journey.
Leading a company to success is not an easy road to take. What inspired you to take the step of faith? What led you to the cybersecurity industry?
Previously, I founded one of the first cloud-native Software-as-a-Service (SaaS) companies, Compliance Coach, focused on serving the financial services sector to manage compliance risk efficiently and effectively. It was acquired by FIS, a NYSE traded, FORTUNE 500 company and the world's largest FinTech company. I stayed on to grow the business further to attain number one ranking in RiskTech 100.
All of a sudden, I got a notice from one of our large U.S. government agency customers that my security clearance information, including my fingerprints, was breached by threat actors. This was shocking to me. How could this happen? This motivated me to research all of the significant data breaches and write the book, Next Level Cybersecurity.
The book became a best-seller and I had the privilege to be contacted by and meet many distinguished luminaries, including Tom Ridge, former Secretary of the U.S. Department of Homeland Security (DHS). Tom reported to the President of the United States and created DHS, an agency with more than 240,000 employees protecting the United States on land, sea, air, and cyber.
Tom inspired me to start CyberCatch, as he pointed out that current cybersecurity solutions were ineffective because they were not solving the root cause of data thefts and ransomware. So I decided it was time to create a solution that would transform cybersecurity forever, make the world safe from cyber threats, and leave a legacy we can all be proud of.
Tom Ridge is on CyberCatch's advisory board and is a mentor to me personally, so I'm honored to have his wisdom on our history-making journey at CyberCatch.
Challenges make you stronger. What is your take on this? What were the roadblocks that taught you valuable lessons in your professional journey?
While growing up, the women in my life inspired me to understand early on, that life is about facing and overcoming challenges. My mother was most inspiring, so were my aunts. They were all brilliant minds, but faced barriers, and yet they always kept a positive attitude and the view that barriers were only challenges and simply needed to be faced and overcome with hard work and smarts.
For example, one of my aunts attained a PhD in nuclear physics while studying in England and was the first woman to be awarded a gold medal from Queen Elizabeth for her ground-breaking research. My aunt decided to focus on an area that no one dared to research, and with hard work broke the glass ceiling and created an innovation.
This was most inspiring to me growing up, and instilled in me early on to have the thinking that there will always be challenges in life and in business, but the key is to always face them and overcome them with hard work and smarts. Never give up, keep going and overcome the challenges, then celebrate the successes. If something does not work out, learn from it and apply the learning quickly to improve and grow and keep moving forward. This is the key.
What laid the foundation of CyberCatch? Tell us more about CyberCatch and its services.
Over $100 billion is spent on cybersecurity each year, and yet the threat actors keep breaking in and stealing valuable data or intellectual property and/or installing ransomware, and walking away with a hefty bounty without getting caught, while inflicting significant harm equating to over $600 billion.
The root cause of this massive problem is security holes from ineffective controls that the target is unaware of, but the attacker finds and exploits. CyberCatch eliminates the root cause. Our patented cloud-native platform SaaS solution first helps implement all necessary prevention, detection, and response controls in compliance with a cybersecurity mandate.
Then it automatically and continuously tests the controls from three dimensions (outside-in, inside-out and social engineering) to detect security holes and non-compliance, alerts specifically where the security hole is and how to fix, and guides the organization to fix promptly, so an attacker cannot exploit a security hole and break in and steal data or install ransomware.
So, continuous cyber risk mitigation via automated compliance and security. This is the unique CyberCatch invention and innovation. Additionally, threat actors are increasingly attacking small and medium-sized businesses (SMBs) because they have discovered that SMBs are the majority of the supply chain, will have the greatest pain from an attack, and are the weakest link in the chain.
8 out of 10 SMBs have vulnerabilities on their websites that they're unaware that attackers can easily exploit, based on CyberCatch's Small and Medium-Sized Businesses Vulnerabilities Report (SMBVR), which involved scan of 19,375 SMB websites in North America.
The average cost of a data breach is nearly $3M for an SMB, based on IBM's Cost of a Data Breach Study, a significant financial impact to an SMB, and this cost may be so high that the SMB may not survive.
Attacking an SMB provides a double bounty for attackers. They can not only steal the SMBs data and sell it in the dark web, while also demanding a ransomware bounty, but also use the data to next break into a larger organization that the SMB is a supplier to.
SMBs have limited knowledge about cybersecurity and resources, so they are the most vulnerable. This is why CyberCatch is focused on serving SMBs. This is another differentiator for CyberCatch. Not only to solve the root cause of data thefts and ransomware, but also to focus on the most vulnerable, the supply chain and SMBs.
Tell us about your contribution in redefining the cybersecurity industry.
CyberCatch is solving the root cause of data theft or ransomware: security holes from ineffective cybersecurity controls that the threat actor finds and exploits. Our innovative SaaS solution detects security holes and helps eliminate them so an attacker cannot find and exploit them. Our invention solves the root cause, and it's why we have received patents from the United States Patent and Trademark Office (USPTO).
So we're not bringing another cybersecurity point solution to the market. Instead we're completely transforming cybersecurity with a unique solution that solves the root cause of the problem and ensures continuous compliance and cyber risk mitigation, and one that is dedicated to serving the most vulnerable, the supply chain and SMBs. There are over 30 million SMBs in North America alone, and millions more around the world for CyberCatch to serve and make a difference forever.
Share with us your views on the changing landscape of cybersecurity.
We can expect to see cybersecurity mandates starting in North America, then rippling into other parts of the world. For too long, there has been the misunderstanding that cybersecurity is not one size fits all, so every organization can figure out what they should have in place. This has led to the problem: security holes from ineffective controls that attackers find and exploit, because there are no mandates on what controls one must have in place minimally across the board.
This is changing, and change is coming fast. In Canada, a national standard, CAN/CIOSC 104, prescribing 55 cybersecurity controls for small and medium organizations (SMOs) was issued by the CIO Strategy Council, the body authorized to issue national standards for the 1.2 million SMOs to adopt.  I had the honor and privilege to help author this new cybersecurity standard.
The CIO Strategy Council has selected CyberCatch's solution, and we are partnering to bring CyberCatch's innovative solution to the 1.2 million SMOs in Canada to attain compliance and safety from cyber threats.
In the United States, Zero Trust has been endorsed by the U.S. government and the U.S. President issued Executive Order 14028 to mandate all federal agencies and federal contractors to adopt Zero Trust within next two years.
The DHS's Cybersecurity and Infrastructure Security Agency (CISA) will be issuing the finalized Zero Trust Maturity Model soon for federal agencies, federal contractors, and the supply chain to comply with. CyberCatch's solution enables continuous compliance with Zero Trust, and we see this becoming the law of the land in the near future in the U.S.
What are your responsibilities as the Chairman and CEO of CyberCatch? Walk us through your regular day at work. Also, define yourself in one word.
My role is to serve the CyberCatch team, customers, partners, and investors. Every day I wake up and ask how can I serve each today and make a difference? What can I do to serve them so they will be better off today than yesterday?
For the team, I focus on helping them attain success by providing guidance, coaching and necessary resources to be successful and attain results for our customers.
For our customers and partners, I focus on helping them maximize the use of CyberCatch to mitigate cyber risk effectively, by making sure they're benefiting from our solution and making sure our solution remains the best and continues to deliver maximum value.
For our investors, I focus on keeping them informed, and above all, continuing to make CyberCatch successful so we continue to grow shareholder value.
It is challenging to define oneself with one word, but if there is one word to define me, I would say it is service. I strive to always serve others, because it is joyous to see successes of others, because something I contributed to someone else made a difference, but also because I recognize that one cannot in life accomplish anything significant alone. One needs to have others help in different ways, and if they are successful, then we will be successful.
How do you maintain a balance in your personal and professional life? How do you keep your team and yourself, motivated?
We have several guiding principles in the company that we all strive to apply every day and each month at our company meetings, we recognize team members for applying them.
For example, the guiding principles include positive attitude, hard work, excellence, and results among others. One of them is fun. So we make sure the team is having fun while working hard to attain results.
What are your plans for the future of CyberCatch? Also tell us about your personal goals as a business leader. What is your message to aspiring business leaders?
We need to continue to innovate, so CyberCatch continues to transform cybersecurity forever, and make a lasting difference and a legacy we can all be proud of.  We need to lead the continued growth of CyberCatch, not only in North America, but around the world, so we can make the most vulnerable, the supply chain, the SMBs, safe from cyber threats, so they can continue to be successful.
My main message to an aspiring business leader is to focus on solving a significant problem, then get a great team together and build a great solution, then stay focused on serving the team and customers, and great things will happen. Know there will be challenges, but never give up, whatever challenges come your way. Work hard and with smarts, solve and keep on moving forward. And have fun along the way.