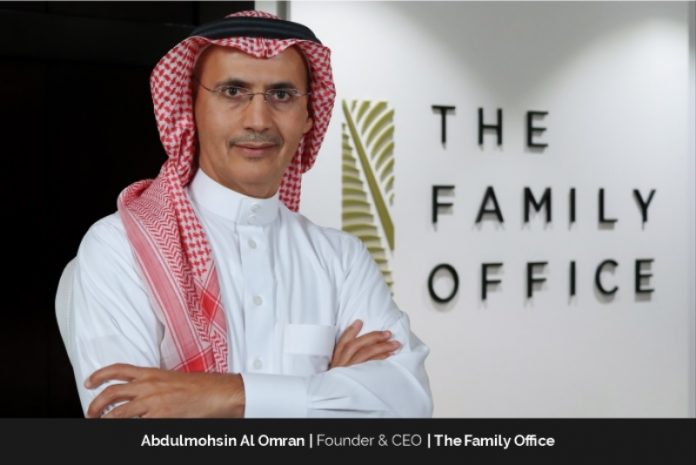 Abdulmohsin Al Omran, Founder and Chief Executive Officer of The Family Office, is today one of the most prominent wealth management leaders in the GCC. He previously worked at Goldman Sachs in London as part of the private wealth management division and was a member of Investcorp's senior management team.
Mr. Al Omran also held management roles at Gulf International Bank, Saudi International Bank, and Riyad Bank. He holds a Master of Business Administration from City University in London and a Bachelor of Science degree in Industrial Management and Finance from King Fahad University of Petroleum and Minerals.
Creating an Impact That Exceeds Immediate Financial Gains
As a leader in the wealth management industry, Mr. Al Omran has a refreshing take on success in the financial industry. To him, success in wealth management goes beyond financial gains.
"While it's crucial to achieve favourable investment outcomes, true success lies in the enduring value we bring to our clients' lives. It's about fostering financial security and peace of mind that transcends generations. Success, to us, means that our clients can confidently pursue their passions, fulfil their aspirations, and make a positive impact on the world — all while knowing that their financial well-being is expertly safeguarded," he stated.
With this broader understanding of success, Mr. Al Omran notes that leading his team and serving their clients with this perspective reinforces their commitment to excellence. It encourages them to remain proactive, innovative, and dedicated to delivering outcomes that transcend traditional measures of success.
"It's about instilling a sense of purpose in everything we do and reminding ourselves that our impact goes beyond immediate financial gains. This understanding empowers our team to consistently exceed expectations, ensuring that every client's journey with The Family Office is marked by meaningful and lasting achievements," says Mr. Al Omran.
A Deep Commitment to Exclusivity and Personalization
The Family Office is an independent wealth management firm that serves affluent families, individuals, and investors in the GCC region. With a unique approach to wealth management, the company is dedicated to address every aspect of investors' financial lives and help them achieve their long-term aspirations.
Mr. Al Omran notes that, unlike traditional models that focus solely on managing wealth, The Family Office distinguishes itself through its comprehensive approach. Recognizing that investing in high-quality assets is a reliable strategy for wealth preservation and growth, the company's expert advisors strive to protect investors' capital while generating sustainable growth.
The Family Office's top-tier investment team provides investors with a hassle-free, 360-degree service. They create custom financial strategies tailored to their needs, considering factors like preferences and lifestyle. This personalized approach minimizes the risk of investment blind spots and aligns with the investors' financial objectives.
"One of our distinctive features is our commitment to exclusivity and personalization. We don't simply offer off-the-shelf products. Instead, we deeply engage with each investor to understand their specific goals, risk tolerance, and time horizons. This information guides us in creating bespoke investment strategies that are aligned with their unique financial journeys. Our focus is on preserving and growing wealth outside the confines of traditional banking, providing access to alternative assets and investment opportunities," Mr. Al Omran explained.
Opening Doors to New Investment Horizons by Democratizing Alternative Markets
The Family Office is committed to breaking down traditional barriers and opening doors to new investment horizons for investors. This approach to democratizing alternative markets has brought significant advantages to their investors with the introduction of a digital investment platform that transforms how clients and prospects access alternative investment opportunities.
Mr. Al Omran elaborated on the innovative methods they have employed to provide investors access to investment opportunities that were once limited to certain segments of the market. "One of the ways we've achieved this is through the introduction of a cutting-edge digital investment platform that plays a pivotal role in democratizing alternative markets, offering our clients unprecedented access to opportunities that were historically reserved for institutional investors and ultra-high-net-worth individuals," he clarified.
Through this platform, The Family Office enables investors to invest alongside top managers in pre-vetted deals, which democratizes opportunities, and help them achieve a balanced and resilient investment strategy by allowing investors to diversify their portfolios across a range of alternative assets.
Committed to Partnering with Top-tier Asset Managers
Mr. Al Omran highlighted the importance of evaluating and selecting top asset managers for collaboration. The Family Office employs a rigorous due diligence process for selecting top asset managers, assessing their track record, investment philosophy, risk management strategies, and alignment with their clients' values.
Moreover, they evaluate their ability to deliver consistent returns across various market conditions. "Our commitment to partnering with top-tier managers ensures that our clients benefit from seasoned expertise and a proven track record in achieving long-term financial objectives," said Mr. Al Omran.
Educating Investors for Long-Term Success
Mr. Al Omran emphasized the pivotal role of investor education for long-term success. At The Family Office, education is a cornerstone of the company's approach to ensure that investors make well-informed investment decisions.
The Family Office provides practical tools to help investors better understand their investment needs: the Portfolio Planner Tool for tailored portfolios and the Risk Profiler Tool for personalized risk assessments. The Diversification Calculator helps investors determine whether their investments are sufficiently diversified to avoid risk and the secure Retirement Calculator helps them estimate their retirement income.
In addition to these tools, The Family Office provides regular market updates, research, insights, workshops, and webinars, fostering a culture of continuous learning. By empowering investors with knowledge, the company enables them to actively shape their financial futures.
Diversify Your Portfolio and Focus on the Long-Term Horizon
To help investors make intelligent decisions in the ever-changing investment landscape, Mr. Al Omran concluded: "Diversification is paramount in a volatile environment, in addition to the focus on the long-term horizon—5, 10, or 20 years — rather than short-term market fluctuations. Investing with top managers and embracing disciplined diversification reduces volatility. The right managers and asset classes, combined with a continuous investment approach, are critical to success in challenging moments."
Learn more about The Family Office and its investment solutions here.
About The Family Office
The Family Office in Bahrain, Dubai and its Riyadh-based wealth manager, The Family Office International Investment Company, are regulated by the Central Bank of Bahrain, The Dubai Financial Services Authority and the Capital Market Authority of Saudi Arabia, serving hundreds of families, individuals and investors. The firm helps clients achieve their wealth goals through custom-made investment strategies that cater to their unique needs.
Disclaimer:
The Family Office Co. BSC (c) is a Category 1 Investment Firm regulated by the Central Bank of Bahrain C.R. No. 53871 dated 21/6/2004. Paid Up Capital: US$10,000,000. The Family Office Co. BSC (c) only offers products and services to 'accredited investors' as defined by the Central Bank of Bahrain.
The Family Office International Investment is a joint stock closed company owned by one person. Paid-up capital SR20 million. CR No. 7007701696.  Licensed by the Capital Market Authority (no. 17-182-30) to carry out arranging, advisory, and managing investments and operating funds, with respect to securities.
The Family Office Company B.S.C. (c), DIFC Branch is a recognized company in the Dubai International Financial Centre (DIFC) under registration number 6567 and regulated by the Dubai Financial Services Authority (DFSA). The Family Office Company B.S.C. (c), DIFC Branch is not permitted to deal with Retail Clients (as defined in DFSA's Conduct of Business Module).