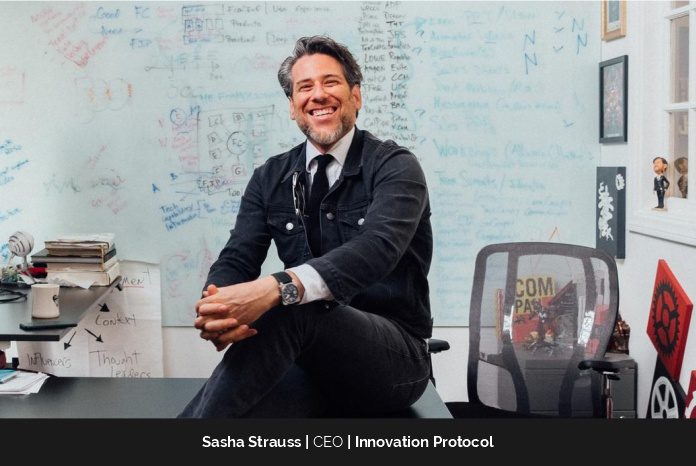 Sasha Strauss is the Founder and CEO of Innovation Protocol, an award-winning brand strategy consultancy headquartered out of Los Angeles. He is a brand strategy professor, preacher (speaker), and brand firm principal with a penchant for non-profit work. He teaches as a graduate school professor and is concurrently faculty at the top three business schools in Southern California. As an acclaimed international keynoter, Sasha travels weekly to deliver original speeches to over 500 professional organizations and companies, from 30 industries, in 20 countries.
Drivers of Success for Sasha Strauss
Sasha grew up watching his parents love their work. They'd get calls on their home phone at midnight for his Dad to come into the hospital to handle an emergency patient, or for his Mom to fill medications at the community pharmacy. They'd then pack up and go with them without skipping a beat. "We'd tuck under a desk and do our homework and get what sleep we could while our parents worked away. And no matter how many times we got those calls, my parents never grunted or growled —they leaped (and still do) at the chance to do the work they love," he says.
His parents have been the benchmark for his belief in work and success. His Dad did and does the low-paying surgeries because other doctors won't, and he's thrilled by the problem-solving required to save a person's limb riddled with problematic wounds. On the other hand, his Mom filled medicine bottles for community patients because she was proud of her profession and was intellectually stimulated by the individual pharmaceutical concoctions prescribed per each unique patient's condition.
"Never seeing your parents resent a day of work, and pride themselves on that very work teaches you a unique definition of success that can't be measured monetarily. I feel successful because I too love my work. I'm proud of what I have built because I created my career from scratch without any leg up or handout. To both originate your  career and enjoy your profession feels like a prideworthy achievement," he states.
Roadblocks are Stepping Stones to Success
For his TEDx talk "From Branding, with Love" Sasha was coerced by the producers to share his childhood developmental disabilities and how they plagued his education until he was 19 years old. "Being constantly thrown out of classes for Attention Deficit Disorder issues to the degree that you become an expert at building art with the trash outside the classroom (instead of getting good at math inside of it) meant graduating wasn't easy," he says.
Having all of his applications for both college and graduate school declined multiple times before getting probationally accepted taught him the most about persistence. "Considering that I'm now a professor at all three of the universities that denied my admittance, and have been teaching graduate school for 16 straight years, the lesson is clear: measure yourself on your own terms, persistently pursue opportunity, and teach what you learn along the way" explains Sasha. Despite sour grades, he volunteered relentlessly, carried himself as an Eagle Scout, and showed up to every single job like a champion. When he finally got into graduate school, it was because seven individual CEOs wrote personal letters to the administration celebrating his abilities and contributions. "Now I'm the CEO writing those letters of recommendation," he proudly exclaims.
Innovation Protocol Redefining the Brand Strategy Space
Brand Strategy was virtually unknown 25 years ago when Sasha got into the category. Today, you can't watch a pop culture true story drama without brand being the underlying topic. From 'WeCrash'  to 'Inventing Anna' to 'The Dropout', the conversation today is all about brand building. From employer branding to shareholder engagement, leaders know branding is the key to organizational durability and appeal. The status quo was very different back when Innovation Protocol started in 2006. Then, each prospective client pitch had to start with "brand 101" just to level set what they were there to potentially do. They sold via teaching, and it worked.
Now Innovation Protocol is a renowned brand consultancy that serves the market-leading public and private corporations, outstanding universities, religious movements large and small, and local and international non-profits. They've grown from an entrepreneurial start-up to a world-class firm through a commitment to the careers of their coworkers and clients. Although their "customers" are the organizations that hire them, Sasha says that they know that the individuals stewarding the brands are their responsibility to empower and propel. By making sure their work stimulates and elevates them every day, they champion their answers and in turn drive Innovation Protocol's growth.
Forging His Own Career Path
"I'm a sensitive soul that sympathizes to a dangerous level – often taking on the suffering of others as my own," claims Sasha. This "issue" made for a fairly uncomfortable youth as it also made him very susceptible to the influence of well played marketing messages. At 18 years old, while on probation as an undergraduate in a basic writing course, he was assigned a writing assignment – "describe your ideal career." While perusing career books, he came upon a job he didn't know existed: "Public Relations Consultant." "I was baffled. I saw why I was so convinced by so many organizations to care. I had been professionally swayed!" he exclaims.
The "brands" he was hearing from, and being influenced by, knew exactly what they were doing. They intentionally handpicked their words, tone, packaging, images, identity, etc. to impact the choices of people just like Sasha. He was simultaneously deeply offended and existentially compelled. He thought, 'Could there be a job where you do help people make choices that are relevant and authentic instead of manipulative and misleading?' He then wrote a handwritten note to his grandparents stating his intentions to pursue this elusive career and see what he could make of it.
That was 1994, and this January will mark his 28th year in the field. "I've enjoyed my work and am proud of what I've created. I'm probably most delighted by the recognition I've received though as a professor teaching my profession. Although there's no "award" to reference, I'm constantly humbled by the number of students packing my class waiting list to the hilt, ultimately capping out the spaces and creating a competition for the 77 spots. That's a prize I never imagined I'd win," he states.
Being a Founder of Innovation Protocol
Sasha describes himself as a curious, considerate, contemplative, collaborative, and communicative person. He states that professionally, he is a brand strategy consultant at Innovation Protocol, and it remains the bulk of his day-to-day work – consulting with key clients and advising them on their organizational identities for the long term. For 15 of their 16 years, he only ever called himself "Managing Director" to imply that he is first and foremost a client partner, not a business operator. He hired their COO and President 10 years ago to play that key role, so he could remain focused on the clients and their coworkers. Only this year did they change his title to CEO, as they truly have achieved a scale and form where his modesty was misrepresenting the role he plays in driving their company.
Before Innovation Protocol, he worked for some of the most well-known names in brand communications, from Rogers & Cowen in public relations, and Chiat/Day in advertising, to Siegel+Gale in brand strategy. "Although I also did a five-year stint in promotional brand marketing in the late 90s, where my team represented brands like Pepsi and Microsoft at some of the biggest consumer events of the time (like the ESPN X-Games or the Vans Warped Tour), I was always focused on the strategic definition of a brand and its long-term relationship with its customers. Even my charitable work focused on being the brand thought partner to the more than 50 non profits I have served," states Sasha.
What's on the Horizon for Innovation Protocol
Innovation Protocol has many opportunities, from strategic M&A to holding its growth trajectory steady through economically uncertain times. "We'll continue to expand our Brand Activation services (web and video solutions) as we keep deepening our bench of top brand strategists with kind hearts and strong minds. European expansion is likely on the horizon, as well as returning to Central and South America to service the requests we just haven't had the time to pursue due to our North American client demands," says Sasha.
After having keynoted some of the largest business summits in the world, he states that it's about time they take those opportunities seriously. Most of their competitors pay heavily simply to attend and host a booth at such conferences, whereas Sasha is often the main speaker featured – humbly accepting the pay and opportunity without thinking too much about it. Now it's time to see those venues and those audiences as high-value assets that warrant nurturing.
Maintaining Work-Life Harmony
Loving your work is a gift and a curse, but one thing that has kept Sasha's professional and personal life nicely in harmony is that everyone in his personal life is super intrigued by his professional work. "What's also interesting about being a brand strategist is that eventually everyone in your personal life has a brand question  in time … whether it's related to their personal brand or an entrepreneurial adventure, time and time again you get that text, call or email asking for that "quick" brand counsel," he explains.
He says that staying motivated at work means focusing squarely on handling the digital distance brought on by covid-catalyzed transformations to the way the world now works. Before COVID, Innovation Protocol would constantly rally their coworkers via coffee runs, bowling nights, birthday festivities, and jet-setter adventures to client meetings anywhere in the world they were asked to go. Now that clients prefer the efficiencies of Zoom, and after two years of recruiting remote talent, they have full-time employees in eight U.S. states that all work together via Microsoft Teams. "Today, we keep our coworkers motivated in entirely new ways. From shipping surprise care packages that we open simultaneously on-screen together, to teaming talent up in purely social "Squads" to share non-work topics in small groups, we've pulled out all the stops to set the standard for keeping our workforce motivated despite the distance," says Sasha.
Because of his troubled academic childhood, "career dreams" were limited to keeping a job. Running a successful company for 16 years with a highly engaged workforce of 25+ that Sasha knows personally, and is committed to inspiring professionally, far exceeds any dreams of accomplishment he had as a youth. Impacting hundreds of brands across categories and the world also bests anything he ever imagined he would achieve. The cherry on top is teaching incessantly at top graduate schools in Los Angeles and internationally.
Sasha's message to aspiring leaders is: Seek truth & wisdom and maintain against the grain – all else will fall into place.