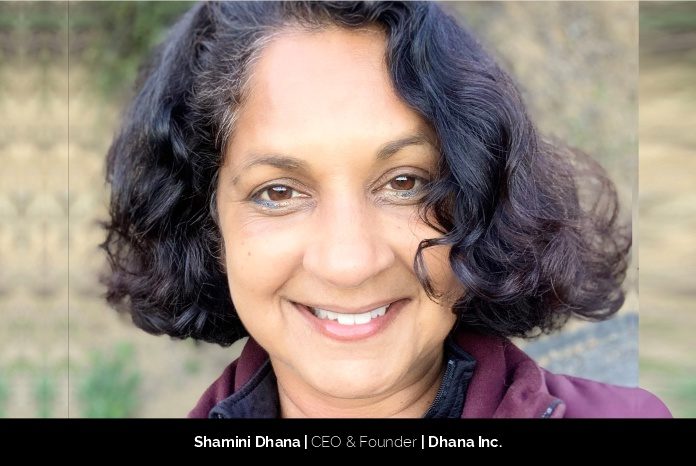 Shamini Dhana is the founder and CEO of Dhana Inc., a California-based Certified B Corp. In 2008, Shamini launched the firm as an award-winning young sustainable fashion brand that specialized in organic cotton and denim clothes for infants, toddlers, and teenagers (0-16 years).
Dhana Inc. was a pioneer in the area of children's and youth sustainable fashion, selling both online and in shops all over the world. Dhana Inc. was privileged to have had the opportunity and dedication of parents and adolescents to promote the world of organic and fair-trade practices that resulted in great outcomes for all stakeholders during this period. It was invited to a number of fashion shows and was the recipient of several awards for its best practices as well as its vision to invest in its next generation of leaders.
Early Life Learning and Education
After graduating from college, Shamini moved from academia, working on a World Bank project as a research analyst at the Department of Economics in Singapore, to consulting, government, banking, and entrepreneurship.
Shamini joined Silicon Valley Bank in 1999 as a senior vice president, where she oversaw India operations, private equity and investor partnerships, and expanded cross-border technology clients over the course of seven years. She is credited with spearheading the historic Silicon Valley VC trip to India in 2002, which laid the path for most of the current foreign VC investment in India, including the establishment of new funds, partnerships, and teams to assist the rapidly increasing emergent technologies in India. All these lead with a common thread that includes business responsibility for the environment and honoring the contribution of every person along the way. Shamini has always felt compelled to use supply and demand economics' collective stakeholders to work together to overcome the numerous difficulties she and others face today as a human species.
Dhana Inc.
Dhana Inc; a pioneer in circular fashion, is a member of industry associations like Textile Exchange, Common Objective, American Sustainable Business Network, aimed at advancing the circularity and sustainability movement into mainstream thought, practice and business. Dhana is committed to collaborative initiative to solve the fashion industry's expanding demands to manage the global textile waste today.
The company's campaign "Our children are an inspiration and a promise for a sustainable future" was seen as empowering and brought the voices of the young to the forefront. The company states, "We always and still believe that our youth are our global ambassadors of tomorrow and should have the opportunity and right to speak their truth and impact the way business is done."
The Inner Voice
"My calling has been very strong since I was a child and I have always listened to my inner voice or "intuition" – it does not fail me," says Shamini.  And so, Shamini's inner voice and heart gravitated strongly to being the change she wanted to see in the world when the time came after she had taken three years off for maternity leave to decide whether to take on a new position in the financial world or to start her entrepreneurial journey. When she was working as a senior vice president at a famous technological bank in the United States, she experienced firsthand the abuse of children and the environment in India. She goes on to explain that the problems of the poor and disadvantaged were shocking and that it was clear that fashion corporations and brands were mostly concerned with making profils at the expense of people and the planet. She asserts, "It was a defining moment in my life, and I vowed to change the plight of these children and work towards social justice and environmental integrity."
Every Challenge is an Opportunity for Improvement 
Challenges are a new way of looking at possibilities, as well as one's own capacity and potential to overcome anything that stands in the way of achieving one's life goal. At the same time, it is during these trying situations that we exhibit our finest or worst qualities. "I lean towards passion, courage, standing in our power and being aware of our personal sovereignty," says Shamini.
According to Shamini, understanding the complexities of the fashion and apparel industry was one of the biggest challenges in her professional life, not having come from or owning a fashion degree. It took her three years, including hands-on experience, to understand the mechanics underlying global supply chains, ethical and sustainable sourcing, working directly with garment workers, and elevating end-customer awareness of the insights and expertise.
Shamini witnessed the influence of fashion on employees, as well as a lack of openness on their health and safety, well-being, marginalized voices, and the right to a livable wage. Shamini recognized she could make a difference by conducting due diligence on factory sourcing and adhering to global standards such as fair trade certification.
Visiting the factories and speaking with the employees, Shamini says, ingrained in her the significance of everyone's participation and role in bringing a piece of clothing to life. She goes on to say that there was no need for double standards in the treatment of employees, and that instead, recognizing their lives brought significance to each step.
Working as a Female Executive
Shamini considers that women have the power to see holistically, the interconnectivity between their actions and the impact they have on people and the planet. She opines, "We have the ability to stand up and speak out on issues we are passionate about, call out the inequalities and indifference in the lives of garment workers, seek access to information in the making of a piece of garment including transparency before the point of sale and finally establish accountability on the disposal and waste created in the connection with a piece of garment and its impact on the environment."
Shamini believes, "Every day we place a piece of clothing on ourselves that has the power to connect us to people and the planet." Through her company and ethos, Shamini hopes to influence the next digital fashion generation to be a lot more cognizant of the value of a piece of clothing. She opines, "After all, what you value, you protect – you invest your attention, time, money, and energy in keeping the value of that memory or item."
The 'Creative Visionary' of Dhana Inc.
Vision, strategy, capital raising, innovation, and collaborative relationships are among Shamini's major duties at Dhana Inc. as a brand, platform, and product firm.
Shamini Dhana's typical day consists of gaining a grasp of the moving factors within the firm that are driving change in every aspect and functionality of the company's core product, as well as encouraging teams to collaborate toward a common goal of impact. Her day also includes meetings with stakeholders to receive feedback, insights and explore avenues of joint partnerships on projects and talking to investors, media and industry professionals on the state of the fashion industry.
The reaction from consumers and stakeholders expressing their support for Dhana's work in moving the fashion and clothing sector towards circularity and sustainability for future generations is the highest appreciation for Shamini.
Finding Nature within Herself  
Shamini finds her grounding in nature and it brings her both immense joy and centeredness. Nature has been Shamini's default path to connecting with the creator in all of us.  She opines, "There are just endless moments to simply reflect on the magnificence of color, texture, taste, beauty and role each plant, animal, insect, marine life embodies.  Nature has a silent intelligence about her that gives you permission to just lose yourself in her grace and gifts to the world. It moves me in depths that words cannot describe and is also part of my self-rejuvenation, healing and inspiration in life."
According to Shamini, all the activities she so treasures have a deep connection with nature (cycling, hiking, golf, gardening, and cooking), and it's how she has kept herself in good health, a positive mindset, and inspired by the overwhelming gifts of the natural world.
She asserts, "I fundamentally believe that each of us has special gifts that we are born with into this world and that our mission is to share them to transform human consciousness as we progress in life and enjoy our existence."
Success for Shamini
Shamini considers the current moment to be the pinnacle of accomplishment. It's all that counts, and it's the absolute focus of one's entire self at the current moment.
An Inspiration for today's Youth
Shamini aspires to encourage kids and young people to contribute their thoughts and solutions for a new Earth based on values of honesty, trust, respect, value, and collaboration for all living forms as a pioneer in the circular and digital fashion industry. As an entrepreneur, she hopes to share her own experiences and help pave the way for others to follow in her footsteps so that she and her team can create more impactful entrepreneurs and purpose-driven leaders.
 "To the women of the world, never underestimate the power of our minds, hearts and presence to work in tandem, to make change happen for the betterment of the world," Shamini says.  She goes on to say that you ought to focus on the present moment and be completely immersed in the activity at hand in order to reap the full rewards of the opportunity, and that you ought to do so with an open mind and an open heart, free of interpretation, comparison, or judgment. She also says that for the evolution of human consciousness, observe the present as it is and come from a position of love, service, and surrender. Shamini believes that leadership is not about having control over others or having access to knowledge. She sees leadership as a method of envisioning what is possible, having the passion, perseverance, and patience to see it through, and bringing all stakeholders together to achieve and actualize the vision.
The Future of Dhana Inc.
Dhana Inc., according to Shamini, will continue to progress and provide creative solutions that leverage technology to guarantee that people and the world are linked via the medium of fashion. The team will launch D/Sphere, a new creative fashion platform, in November 2021, to allow individuals to make new apparel and share fashion tales using second-hand resources (worn clothing and materials), all while reducing social and environmental effects. It's a new circular business model that fashion firms, brands, and organizations can embrace, integrate, and push to produce individualized clothes and connect their tales of people, travel, and experiences via the medium of fashion, according to Shamini. In D/Sphere, D stands for Digital Fashion in the Digital Economy while Sphere symbolizes equity, equality and inclusion for all humankind.
Shamini asserts, "We like to say D/Sphere is Fashion ReCreated and it is the new medium of storytelling. We get people reimagining and recreating fashion by asking people 'What is your fashion story?'."
According to Shamini, D/Sphere will give birth to a whole new generation of climate and social activists through digital fashion as well as new brands and career paths.  It is Shamini's hope that D/Sphere will spark a digital fashion revolution and present opportunities to people in the bottom of the pyramid to be their own advocates and showcase their creativity.