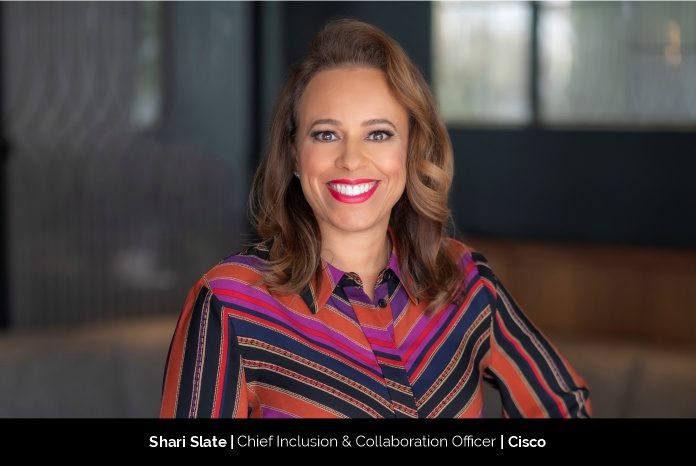 True leadership has many voices.  Now, more than ever, some of the most influential voices are also the most inspirational.  Extraordinary leaders inspire us to reimagine the ways we invest in people, bring value to our customers, and contribute to the world.
Meet Shari Slate, a trailblazing visionary who sees what possible when we focus on creating an inclusive future. She is the Chief Inclusion and Collaboration Officer and VP Inclusive Future and Strategy at Cisco.
When asked about her unique perspective on success, Shari says "success is a way of being not a list of achievements.  Success is showing up authentically and bringing your gifts and imperfections. It's staying curious and committing to lifelong learning.  Success is asking yourself "what makes me come alive?" and having the courage to go do that. It's pushing beyond the predictable to get to your extraordinary."
First Steps as an Inclusive Leader
Shari graduated college with a degree in political, legal, and economic analysis and originally planned on attending law school. Instead, she ventured into a variety of opportunities in technology sales and marketing.  "It was an incredible springboard for me as a leader.  Every day I could see how much value my diverse perspectives and skills were bringing to my organization and my clients.  I could also see how much value was left on the table when diversity and inclusion were lacking.  I began to understand the essential relationship between inclusion and collaboration and see that I had the passion to lead in that realm."
Journey with Cisco
Shari's journey with Cisco started 11 years ago.  For the past six years, she has been Cisco's Chief Inclusion and Collaboration Officer and her role has recently expanded to include serving as VP of Inclusive Future and Strategy. "My organization is focused on creating recurring impact for Cisco, our employees, partners, and suppliers. We set the People Strategy for the company and lead inclusion and collaboration to ensure that people across the full spectrum of diversity have opportunity and possibility to thrive inside and outside of Cisco."
Shari's organization leads Next Horizon Impact, which leverages inspiration as the new currency to encourage people to take positive action for people, planet, and society.  Her organization is also the force behind Cisco's Inclusive Future Action Office which houses the company's multi-year actions to fulfill its mission to power an inclusive future for all. Current priorities are our social justice beliefs and actions.
Challenges as a Catalyst for Transformation
When asked whether she believes challenges make you stronger, Shari remarks "It's who we become to face our challenges that is the real source of transformation.  In the realm of diversity, equity, and inclusion, some challenges can be longstanding".
Shari believes that transformation is possible when we start to move beyond our traditional ways of thinking about these challenges and see a future that has yet to be created.  She calls this "seeing around corners."
She finds the best solutions come by connecting with people who see the possibilities but bring a completely different perspective to the table. "Seeing around corners allows us to see the value that we can create at the intersection of diversity, inclusion, collaboration, and technology.  From there, we can create a new vision to push beyond the predictable.  It becomes clear that what has served us in the past is insufficient for creating value inside of a new vision."
According to Shari, the business world is experiencing a seismic shift in terms of the influence that companies can have in forwarding social change and reinventing the way they work. "I'm proud to be part of a company that is taking a leading role on so many fronts.  For the past several years, we've focused on creating what we call our Conscious Culture – an inclusive, people-centered workplace designed to optimize the ways we experience Cisco every day."  
Cisco's mission is to power an Inclusive Future for All.  Shari feels this has never been more relevant or more important. "At Cisco, we know have an immense opportunity and responsibility to bridge the widening gap of inequality, intolerance and injustice we have in the world today.  We're fundamentally shifting the way people get to work, to contribute to the world, and to create lasting impact beyond the walls of the company."
"We do this through the technology we build, our scale and extended ecosystem, our commitment to corporate social responsibility and social justice, our teams, and the support we bring to our communities. We also do this by speaking up and taking a stand on issues that matter to our company and our people."
Every Day an Opportunity to Drive Equity and Fairness
As Chief Inclusion and Collaboration Officer and VP Inclusive Future and Strategy for Cisco, there are no "regular days" for Shari.  Her days can range from responding to events unfolding in the communities the company serves – such as social justice and human rights events and natural disasters – to working with the executive leadership team to ensure Cisco fosters a diverse workforce and inclusive environment.
Her team's role in creating strategies for an inclusive future includes mobilizing employees to volunteer and give back to the communities. She also regularly engages and collaborates with her peers and with customers on "thinking forward" on the implications of emerging technologies and how they will affect fairness and equity in the workplace.
Achieving Balance
Shari believes achieving balance is an act of ongoing creation. She learned that she could nurture both a family and her own dreams and aspirations early in life.  Her mother inspired her to blaze her own trails and to do important work in the world, modelling both as a devoted mother and surgeon who brought her baby – Shari – with her to medical school.
A Wider Perspective
Cisco has spent the last 35 years building trust with its customers and partners and focused on transparency, authenticity, and empathy. The company is now building upon that foundation with a renewed focus on delivering the industry's most simple, innovative, and trusted experiences to its customers, partners, and employees.
Shari feels proud to be a part of the organization and its mission to build an inclusive future for all and to develop the strategies that will bring together the best people to achieve it.
Shari's vision for future is to create recurring impact for generations to come. "We have the ability to make impact a habit and to leverage the power of inspiration to drive meaningful change. I wake up every day looking to create opportunity and possibility for people, staying true to a vision and being flexible in the details."  Shari adds "I ask my team for excellence vs. perfection and to view both challenges and possibilities from a wider perspective. Every day I strive to connect more, push beyond the predictable, and catch others in the act of being extraordinary."