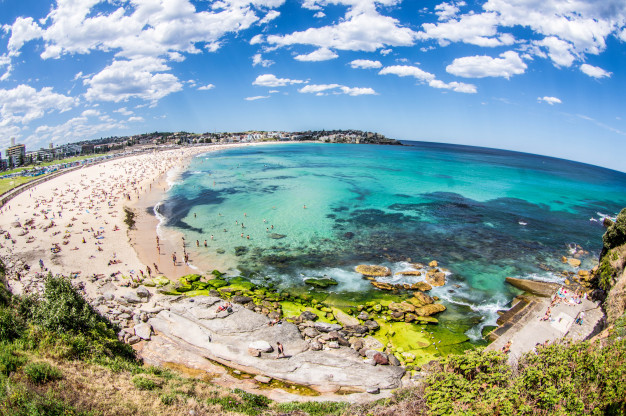 White sandy, Bondi Beach is one of the most popular beaches in Australia. The crescent sand beach is only 7 kilometers or 4 miles east of the Sydney Central Business District, which is why a lot of residents, as well as visitors all over the world, flock there in the summer. It is one of the most popular destinations across the world and is well known for its classy restaurants and great conditions for swimming.
Where has its name come from?
"'Bondi' or 'Boondi' is an Aboriginal word meaning water breaking over rocks or noise of water breaking over rocks. The Australian Museum records that Bondi means 'place where a flight of nullas took place'."
Dangers to be aware of at the Bondi Beach?
Blue bottle jelly fish and strong currents are the only natural threats.
How dangerous are blue bottles at the beach?
Blue bottles are painful and can be dangerous if you have an allergy. They are not usually dangerous but if you are stung go to the lifeguard towers as they have all the neccesary first aid.
Can you camp over night at the Bondi Beach?
Not allowed.
Is parking car free?
No, you have to pay for it. parking is in front of the Bondi Beach itself.
Instead, go by the red bus.  you'll enjoy the views and would be tension free.
Wheelchair access at the Bondi Beach?
You can ask Waverly Council to rent their wheelchairs by calling them or emailing them. You'll be able to go on all their beaches, at Bondi, Bronte and Tamarama.
Unfortunately there is no wheelchair mats on the sand so if you are in a wheelchair you will not be able to traverse the soft sand as it will become stuck in your wheelchair and it will become stuck. But there is handicap parking and ramps to the beach. there are also beach wheelchairs that you need to call the council to borrow that may be able to traverse the sand there is also a shower for wheelchairs as well.
Best time to visit during the year?
December to April would be the hottest and busiest time, not necessarily the best time to come all depends if you like crowd of not.
Accommodation availability at Bondi Beach?
Visitors at the Bondi Beach have a bunch of choices ranging from backpackers and hostels, to bed and breakfasts, to hotels, motels, and serviced apartments. During the summer months it is advised to book well in advance to secure the best options at the best prices as tourists from across Australia and around the world come during thos time.
Are there any other dangerous animals?
No. Other than sharks but there are nets to stop them and people watching the whole time so an alarm goes off if there's a shark anywhere near the swimmers.
Temperature?
On average during June to August temperatures drop down between 8.8 – 17°C. The warmest months to visit the Beach are from January to March when temperatures typically range from 24-28 degrees and often hotter into the 30's. Either way, the rest of the months are a great time to visit, with the average temperature not going below 20 degrees Celsius in general and it's still beautiful on a sunny winter day.
Commutation
Bondi Beach is the simplest beach to get to from the Sydney city CBD. You can take a bus directly from the CBD or, if it's a busy weekend with a lot of traffic, it is quicker to take a train to Bondi Junction before catching a short bus trip to the beach.
Conclusion
If you are a beach lover and fond of clean, serene waves, and look forward to getting tanned in white sand, Bondi Beach is the place to go. If you are a travel freak and visit a new destination every few months, make sure to add this wonderful beach on your must visit list.