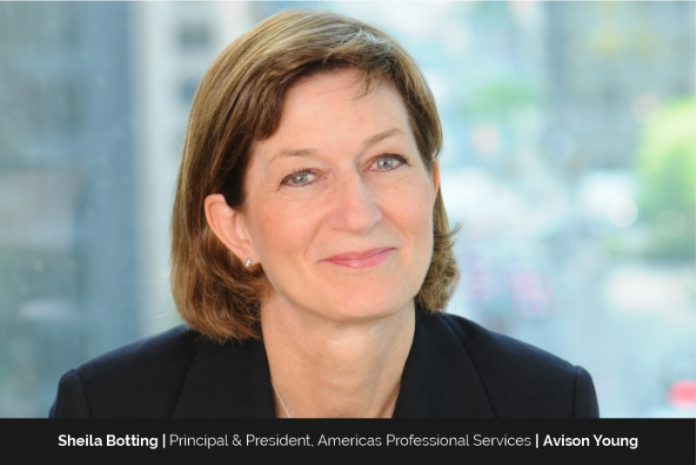 "Empathetic. Passionate. Motivating. Deliberate. Inclusive. Collaborative." This is how Sheila Botting, Principal & President of Americas, Professional Services at Avison Young, is described by those with whom she works.
Sheila is responsible for bringing together professional fee-for-services offerings for occupier and investor clients. This includes Consulting, Studio, Project & Construction Management, Land Development and Valuation, Advisory & Property Tax Services, along with any new acquisitions and opportunities they plan to pursue – an overall team of approximately 300 professionals. Since joining, Sheila has doubled the business through acquisitions and raised the bar for holistic, integrated offerings by the firm – exactly what she was brought on to do.
When Mark Rose, Chair and CEO of Avison Young, hired Sheila to lead the expansion of the firm's holistic Professional Services offering in the Americas, he described her as "a dynamic leader with tremendous experience in growing teams who will enable us to deploy deeper insight into real estate decision making to serve clients."
This expansion of services, particularly by global leaders, is squarely in line with Avison Young's client-centric approach and rich roots of building diverse skills and technical capabilities into its marketplace offering. Avison Young has grown from a Canadian based firm to become a global force with 120 offices across 17 countries. Its 5000+ professionals are united in the firm's purpose — to create real economic, social and environmental value, powered by people.
Real estate leader, driven by vision and the Art of the Possible
Sheila is a strong leader who is filled with the vision, compassion, and empathy needed to deliver exceptional services and advance the platform. As Sheila puts it, "The Art of the Possible is a mindset that is all about focusing on what can be versus what can't. So often, organizations jump to 'no, because' instead of 'yes, and.' True leadership involves having a vision for the future and figuring out what is possible with existing or future talent, resources and opportunities."
As a self-declared champion and developer of top talent, Sheila has fostered, inspired and built a team that is challenging industry standards, and showcasing the potential of an integrated real estate service firm. With increasing challenges facing clients within the digital post-pandemic world, never before has the importance of an integrated service offering been so important in the decision-making process within the increasingly complex marketplace.
Optimizing value
Sheila's strength is to walk into complex situations, unpack the issues and then advance a plan for success. Over the years, she has learned that projects are most successful when teams of people from all levels, with diverse perspectives and skills, across multiple departments or organizations, are brought together to achieve incredible outcomes that transform a situation.
"It is beyond invigorating to help our clients build new mixed-use projects, reposition an asset to create value, re-imagine their workplaces, transform their organization, recalibrate the supply chain and assets – all with our diverse top talent."
For example, on behalf of a large North American city, Sheila led the team to identify opportunities for a large surplus property to create a mixed-use community with some 5,000 residential units, commercial and recreational spaces. Through this project, additional housing and affordability was added to the local marketplace, and the city received tremendous economic impact through the transaction structure with the developer.
Another innovative example involves transforming a company's workplace and overall corporate culture. For one large financial service global client, Sheila led a portfolio transformation that envisioned some 10,000 employees would move to a hot desking or "activity-based work (ABW)" environment. This leading strategy enabled the firm to attract and retain the industry's top talent – long before the pandemic made this a reality for many companies.
The path to becoming a leader in the real estate industry.
Sheila's path into the real estate industry was far from direct, and started with degrees in biology, geography and the environment. Upon graduation, she entered the management consulting industry with the Big 4, ultimately landing at a Brookfield entity.
There, Sheila focused on learning the commercial real estate and consulting business, starting with development feasibility and property valuation, then transitioning to office leasing and occupier requirements, before securing an executive role responsible for Professional Services. Ultimately, the company was acquired by Cushman & Wakefield, and she worked extensively with the global executive in driving growth and opportunity.
Through this journey, Sheila has also learned that leadership is earned through actions and results, impacts that empower others to win, and ultimately one's ability to develop and engage people along with the business.
"I observed from many leaders that those who supported, encouraged, and fostered growth and opportunity for their teams, could make the most substantive impact on the business, and change people's lives," Sheila recalls. "I've enjoyed working alongside our industry's leading professionals from around the world, and sharing tremendous successes and challenges, including many marketplace 'firsts'," says Sheila.
Working with the world's largest clients in the real estate industry
Sheila joined Deloitte to become a Senior Partner and Real Estate Leader, where she held multiple roles for both client service delivery and the internal workplace transformation program. Specifically, Sheila led the workplace transformation program of two million square feet across more than 50 markets, resulting in one of the world's leading workplace solutions and service delivery models.
"One of those assignments was to work with a major international pension fund on their investment into Avison Young," says Sheila. "And the rest is history!"
Offering a holistic approach with Professional Services
Throughout its growth, Avison Young has remained committed to maintaining its unique culture, which is principal-led and powered by people. The secret ingredient to the firm's success is the depth of talent and skill, which appealed most to Sheila. "The Avison Young culture is incredible, founded on true passion for people and achieving outstanding results – so joining Avison Young was perhaps one of my easiest professional decisions to date," Sheila remarks.
At Avison Young, the Professional Services team generates thought-provoking discussion through multidisciplinary subject matter experts and offers practical suggestions on how to use real estate as a tool to accomplish business objectives.
As the challenger across the traditional industry, the firm's goal is to differentiate offering, and deliver data-based insights and analysis through multidisciplinary teams, combined with successful implementation and company growth.
In 2022, Sheila led multiple acquisitions across the project and construction management service offering, including Studio Eagle in New Jersey, and Dowling Houey in Boston, and welcomed several new executive leaders and teams across Canada, the United States and Mexico.
"Building this platform and creating opportunities for people across Avison Young has been incredibly rewarding," she observes. "We've learned that the dynamic of interconnected teams, talent, and skills fosters a diversity of thinking and approaches that ultimately benefits our clients and business."
Clients require a range of solutions across the entire real estate lifecycle – whether they are investors, occupiers or market participants in the private or public sector. "We focus on delivering strategy with rigorous analysis, and then follow up with implementation – driving results and outcomes alongside talented teams. Essentially, we believe in offering a holistic approach, starting from strategy through to implementation."
Solving the world's challenges through incredible real estate solutions
Sheila maintains that, as an industry, there is a substantial opportunity and mandate to be strategic, valued partners for clients, showcasing the "art of the possible" to demonstrate how real estate can help deliver on cultural, community, sustainability and organizational transformation.
Through innovation, design thinking, and rigorous data analytics (which the firm calls AVANT by Avison Young), the real estate process can deliver solutions rather than purely address theoretical requirements.
Sheila believes that it is a distinct opportunity to strategically design communities, workplaces and business areas that embrace holistic, inclusive design with sustainable ESG considerations. "We can indeed solve the world's challenges, such as affordable housing, sustainable buildings, and food production, by delivering innovative and creative real estate solutions," she says.
Success is measured through the lives that you touch.
"Success is measured through the lives that you touch, the accomplishments that you help others achieve, and ultimately the impact that you make," says Sheila.
Sheila says that nothing in life comes easy, and many outstanding leaders have a range of experiences. "The more I speak with colleagues and friends, the more I learn about their personal journeys that foster grit and resilience, and the ability to adapt and navigate tricky situations and personalities," she affirms.
Sheila notes that, with the pandemic, the world experienced tremendous disruption, provoking many people to ask themselves; "Can I find purpose and happiness in this new world? What does success look like for me?" "How can I help others and make the world a better place?" She believes that it's all about resilience and purpose, tapping into one's inner strength and truth, and then advancing your own strategy toward purpose, opportunity, and growth.
She observes that talented leaders learn how to tap into their teams and focus on the organizational purpose. Leaders address obstacles head on, and focus on goals and outcomes, and don't become distracted by frivolous matters. Challenges encourage leaders to remain laser-focused on the goal, the impact they wish to make, and the key results they want to achieve – for themselves and their teams. For women in particular, it's often easy to feel compelled to solve others' problems or to take an approach where you will "be nice and be liked" when, in fact, the situation requires hard decisions and swift action.
Passionate about empowering all leaders to accomplish their dreams.
Sheila is passionate about professional development and education, so that people can learn from the best, and receive academic training to become the best. She believes that it is all about "bringing your whole self to work" and tries to create an environment where everyone has a voice, feels included, and knows they belong. Diversity of culture, gender and technical skills are now considered table stakes in business, and the commercial real estate industry is working to respond.
"People and culture are very important when it comes to demonstrating our success," she insists. "Our journey at Avison Young is just beginning. We have created a culture-based company comprised of talented brokers and professionals, who are passionate about their communities, clients and company."
Through her many roles, Sheila has worked to advance diversity and inclusion, and provide a role model for women and diverse candidates. She has earned awards and recognitions, including Canada's Most Powerful Women and Commercial Real Estate Network's (CREW) Global Most Distinguished Leader.
Sheila's next adventure is to grow the platform, services, and people – in a distinct way for their clients. She notes that Avison Young is deeply integrated, empowering teams across the board with consultative solutions and data analytics to solve clients' challenges, while also emphasizing ESG and a focus on diversity and inclusion.
Always remain focused on your impact and the end goal
For aspiring leaders, Sheila's advice is to remain focused on your impact and the end goal. Don't be distracted, and instead know your value and contribution toward that goal. After all, the hours in a day are limited. Hence, it's crucial to remain focused toward impact and results. And take time for yourself to balance work with life.
"It is about embracing your entire life and ecosystem of family, friends and colleagues, and seizing upon opportunities to make an impact on the world in ways that matter."