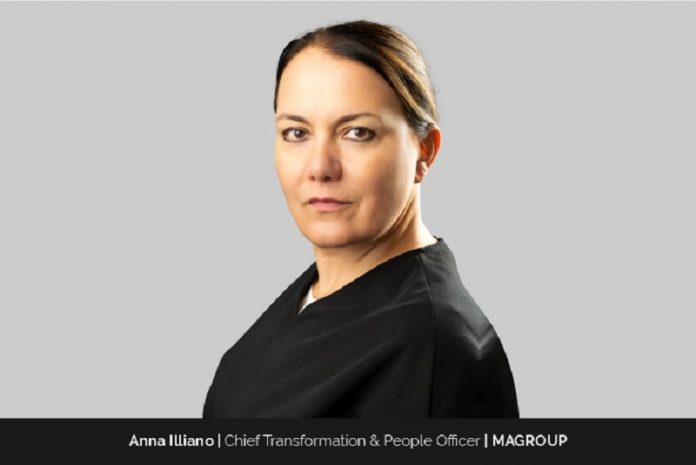 As the Chief Transformation and People Officer of MAGROUP, Anna Illiano makes it a priority to personally help her team meet individualized milestones, because she wants them to feel capable of achieving their goals, as well as the company's objectives.
As an HR leader, Anna has dedicated her entire professional life to the world of HR business with the same enthusiasm as when she started. She observes that it has been a long professional journey, where she has experienced numerous changes required of the role, all of them momentous in hindsight.
A career spanning 30 years in the world of HR management
Anna considers one of her greatest accomplishments to date as being able to look back and see that from now on, she can say that she has had "30 years in the world of HR management."
Her most significant successes were always a result of several milestones of hard work, and among those milestones, a significant achievement in her career was being the youngest person ever to be given a general manager position in her first company.
She remembers how, for seven years, she worked very hard and her dedication paid off. Going back even further in memory, another significant accomplishment was graduating with honors while working full time.
"Some days, I would commit 18 hours between work and school to ensure my success. I am very proud of this achievement, and this experience taught me a lot about responsibility, time, and commitment planning," she recalls.
Anna considers her greatest achievement at the professional level as winning the International Top Italian Managers in the World award – an award that encapsulates all the commitment, dedication, and perseverance she put into all these years of work.
"However, if I had to choose the greatest achievement of all, I would undoubtedly talk about my daughter. No international award can compare to what being a mom means to me," she declares.
Seeking out new work challenges as a leader
Anna defines success as meeting a combination of company and personal goals and helping her team do the same. She believes that effective goals motivate us to push ourselves and grow, and as a result of meeting such goals, we not only help the company by meeting its objectives, but also become more effective employees that can contribute to even greater growth in the future.
"I can count myself lucky, because I do what I love, and I love what I do," she says. "I realized very early that working for business growth was a gift: you have the opportunity to fulfill people's ambitions, their professional aspirations, help them to grow their talents, and make them available to their business community, a true win-win."
In addition, Anna's passion has always been nurtured by her curiosity and perseverance: this allowed her, rather early on, to be able to hold roles where she could develop her own vision and have the levers to be able to make it concrete and real. Positive feedback with people, time after time, was what motivated her and indicated that she was on the right track.
Throughout her 30 years of experience, Anna greatly appreciated the connection that she has built with the people and places she has worked with. She especially likes the fact that international organizations try very hard to build a connection with their local community.
The reason that prompted her to seek a new work challenge though, was the fact that she cannot express her full potential if she doesn't have a real challenge in front of her. Anna notes that overcoming roadblocks in your career is an inevitable part of the journey, and some challenges will even make you question your abilities.
But whether you're dealing with an excessive workload, conflicts with colleagues, lack of motivation, or facing any other obstacle in your job, it is part of the path to growth and success. There are valuable lessons to be learned, and if you got them, you'll certainly be a better version of yourself.
"Through my experience, I have learned a lot about different management styles and strategies to maintain cooperation in projects in a large group, and today, in MAGROUP, I feel that I have the opportunity to be a leader by bringing with me all that I have learned in my previous experiences," she affirms.
Bringing extensive experience in end-to-end HR responsibilities to the role
MAGROUP is an Italian company with over a thousand people globally. It represents Italian excellence in the industry of aerospace, specifically in business areas such as landing gear and braking systems, aero structures, and aftermarket.
Anna explains that the organization has production sites in Italy, Brazil, the USA, the UK, and a joint venture in Turkey. "Our purpose is to have a place where our clients are. It is a company that grows by acquisition, and this requires intense change and people management work," she notes.
As the Chief Transformation and People Officer of MAGROUP, Anna brings her extensive experience in end-to-end HR responsibilities, in multicultural environments across the globe, acquired while managing multi-functional teams inside extremely complex global matrix companies.
She also brings a positive attitude and a constructive professional environment to her work, as well as her ability to deliver value-added HR services to achieve business objectives through people-focused strategies, despite being challenged by intensive change management processes.
Anna also has great organisational skills, a firm and effective managerial style, and is a worldwide strategic thinker. Her ability to be persuasive and diplomatic in all executive-level talks and meetings has helped her achieve excellent outcomes in bringing about favorable change for all parties.
Anna has been in charge of all HR initiatives at MAGROUP, to develop and carry out plans for corporate transformation, reorganization and restructuring, strategy, and cultural change. She has a natural tendency to increase productivity and inspire imaginative direction, with the goal of promoting organisational longevity.
The critical success factors for effective M&A integration
Based on Anna's direct experiences from having always worked in companies that have lived a transformation phase, after an M&A action or in a growth path, she believes there are some critical success factors for effective M&A integration.
To set the strategic context for tactical execution means first stating why they were acquiring this company, and what their integration objectives were. As she notes, successful M&As focus first on articulating the acquisition rationale and objectives, and then managing the tactical and functional activities to achieve them.
Anna also maintains that the most important factor for creating value and determining the ultimate success or failure of an M&A is Leadership. This means alignment and commitment, by the senior management team of both organizations, to the strategy and objectives of the deal.
She insists that, without top-down leadership, there will be huge challenges and barriers to the successful planning and execution of an M&A transaction. These intense transformation phases need a firm focus on discipline and rigor, a sense of urgency on accomplishing tasks, quick decision making, and empowerment of teams.
And last, but not least, is People and Culture. Anna observes that it is the key to deal, as much with the emotional and political issues of an M&A (i.e., the people issues), as with the rational issues (e.g., what functions are we going to consolidate and integrate, etc.).
To generate innovation, it is necessary to embrace diversity
Anna points out that technological innovation and digital transformation are advancing at an unprecedented speed, dictating the direction of human resource management, and replacing systems that companies used to rely on.
However, she maintains that the more effective management of basic tasks by artificial intelligence systems will enable the HR function to devote more time and resources toward strategic planning, in which people can become key players in change.
Anna observes that, in an increasingly digital age, a culture of human connection becomes critical. With this in mind, HR is called upon to redefine the positioning between the company and stakeholders, facilitate connections within the organization, and not reduce itself to just managing positions.
Ultimately, she insists, the HR role is to enhance people's ability, thus, knowing how to be – "integrity and passion" – and knowing how to do, with constant actions of long-life learning, of primary importance the issue of employability.
Anna suggests that, in a hyper-dynamic environment, HR must become the guarantor of "unstable stability," of continuous and harmonious dynamics between organizational entities and people.
The winning challenge is to change, but not destroy; to ensure change while preserving balance in organizational development. She maintains that it is not necessary to be disruptive to generate innovation; rather it is necessary to embrace diversity.
Find a way to make work fun
Anna notes that, in an increasingly connected world, finding a work-life balance is primarily a matter of health, both physical and mental.
"The key to everything, I believe, is in organizational skills. For example, I try to plan my free time and not turn it into stress – that is, chasing after all the activities that I cannot do during the work week. In my free time, I mainly try to regain my energy in preparation for a new week of commitments," she remarks.
For Anna, pursuing success also means looking at life with positivity, as positive thoughts lead to positive actions, and having control of one's mind helps make the choices that will lead to success. She believes that, to stay motivated, one must also find a way to make work fun.
"Fun is not an enemy, but a great motivator. But you must also be patient with yourself," Anna advises. "There are hard days when staying positive seems impossible, and when work does not seem very fun. Especially on these days, you have to give yourself time, even to make mistakes, to start over, try again, and find new confidence to rely on."
Driven by a passion for growth and change as an HR leader
Anna remarks that being a successful human resources leader is not easy. It requires years of dedication to people and their needs, an unlimited passion for change, and a relentless drive for growth.
"It is precisely growth and change that are the two main challenges for those of us who work at MAGROUP: growing our company and changing our identity without losing our values and history, to build a stronger and more innovative global Group entity," she says.
Anna explains that the Chief Transformation Officer role is focused on implementing change and growing an organization's revenues and profits, including digital transformation efforts. The key qualities of an effective CTO include inspiring employees and serving as a role model for the behavior needed to achieve organizational change.
While the responsibility for day-to-day decisions rests with line managers, Anna oversees the making and execution of these decisions to ensure that the work is done efficiently. She also takes the lead in creating synergies between people, data, and infrastructure.
Anna notes that, in addition to helping teams and business leaders understand what they need to do to achieve transformational change, CTOs must keep senior executives and the CEO apprised of the changes needed, and what they require.
As part of their C-suite role, the most effective CTOs also educate senior leadership, such as the CEO and board, on the importance of digital transformation.
"Over the course of my experience, I have learned that the very element of innovation, which is change, will give us an enormous advantage if we include it in our structured knowledge and skills set," Anna declares.
After all, it is not possible to change the game by always playing the same way, with the same rules, and she believes that this is the only solution and the real challenge to emerge in a seemingly predetermined track.
As her parting advice to aspiring HR leaders, Anna observes that, "As HR leaders we are called to be, not managers of change, but those who make change its new daily dimension, every time."