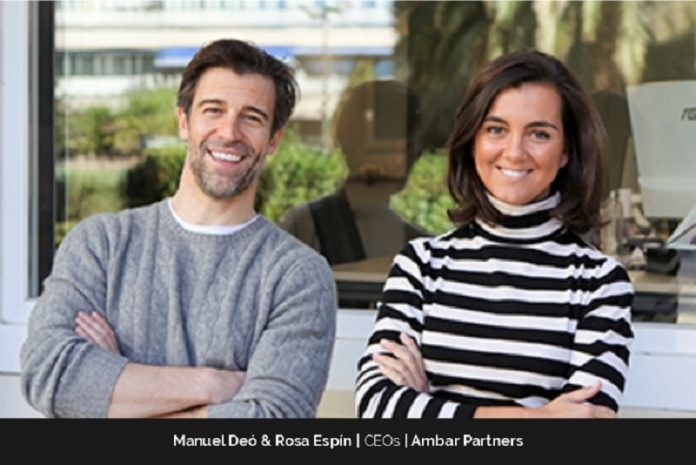 Manuel Deó and Rosa Espín are the CEOs of Ambar Partners, an ALSP that entered the Iberian market more than two years ago, in exclusive alliance with the global giant, Axiom, category creator and pioneer in a model of flexible law firms with high-caliber legal talent.
Since its inception, AMBAR has received numerous recognitions, such as being recognized as the only non-Anglo-Saxon ALSP in the global guide of the directory Chambers & Partners, or the Transformational Project of the year in 2021.
The journey to entrepreneurship
Manuel and Rosa spent their entire career in 'traditional' law firms. Manuel started his career as an M&A lawyer at magic circle law firm, Freshfields Bruckhaus Deringer, and was the youngest Spanish lawyer to join the Partnership of one of the largest law firms in the world: Latham & Watkins.
Manuel joined the firm in 2007, where he spent his career within the Madrid and New York offices and was appointed Partner and Head of the Corporate and M&A department in 2015.
Rosa Espín joined Latham & Watkins in 2008 and practiced law in the Madrid and London office of the firm. She was promoted to Counsel of the Litigation and Regulatory Department at the age of 33.
Rosa stood out as a member of the Recruiting Committee and was a Global member of the Women Enriching Business Initiative, being the representative for Spain. She holds a Ph.D. in Public Global Law, and has received numerous recognitions as an inspiring female leader.
Moved by their entrepreneurial spirit, both Rosa and Manuel studied an Executive MBA at IESE Business School. They consider founding AMBAR as their greatest recognition, without a doubt.
Introducing an innovative model with AMBAR
One of the keys of AMBAR success was precisely that the founders had spent more than 15 years working together at one of the biggest international law firms worldwide.
Learning from international legal services firms about how things were done differently in other countries led them to the next question, "What if we were the one leading this model in Spain?"
Leading a company to success is indeed, not an easy road to take, and the foundations of AMBAR were laid over many years of professional experience in the legal sector working together, and hundreds of hours of conversation asking themselves if things could be done in a smarter way.
Their experience granted them the vision of offering a responsible alternative to the practice of the elite legal profession in Spain, with the aim of inspiring and generating a change in the way of doing things in business law, and raising awareness in the legal community.
Manuel and Rosa believe that it is not only necessary to ask the reason behind something, it is equally important to ask "how". This is something that requires a lot of courage and creativity.
Innovation that creates satisfied clients and Partners
For both the Partners, changing old ways of doing things, making a real impact on people's lives, and contributing to making the world a little better, were the determining factors that gave them the strength they needed to embark on the exciting adventure that AMBAR has become.
Innovation is in their DNA, and at AMBAR they have created a new model to render legal services to address the dissatisfaction of clients, and to improve the lives of the lawyers that work in Partnership with them.
They provide a different way of practicing law, following several key ideas: flexibility, project-based work, dematerialization of the office, intensive use of technology, and sustainability.
They have opted for a horizontal, non-hierarchical, quadrangular model in which they collaborate in a Partnership with their certified lawyers in each project, and in which the project management, operations, and technology teams are as essential as the legal part of the team. This is something totally new in the legal sector in Spain.
The impact of the coronavirus crisis on the legal community
Another reason for AMBAR´s growth is their culture: a culture based on transparency, establishing clear and meritocratic structures, with fair incentives that evaluate results and promote the good health of the organization and its Partners.
Since its foundation two and a half years ago, the firm has grown not only in size, but also in terms of the number of clients, mandates, and countries in which it operates. The legal sector also has changed and demands new solutions.
The coronavirus crisis has had a multiplying and accelerating effect on many trends that Manuel and Rosa were already advocating before they started, such as remote work, the dematerialization of offices, and the importance of adopting new technologies.
Another important aspect is the weight now given to work-life balance and new ways of working. The Partners point out that the coronavirus crisis has had a big impact on many lawyers, who are looking for different ways of organizing themselves.
AMBAR has contributed to this change, for both clients and lawyers, in the following ways:
For clients:
Nowadays clients demand "more with less," and often General Counsels suffer intense pressure to reduce their legal spend.
AMBAR´s flexible model represents an appealing alternative by externalizing their most niche matters to specialized lawyers, along with legal-centric technology solutions, for half the price of traditional firms.
AMBAR stays close to clients, showing an understanding of their evolving needs, and aiming to serve them in the right way at the right time.
For lawyers:
The hours that lawyers dedicate to work often take up most of their days, where it seems impossible to escape the traditional inertia imposed for decades by the legal profession's Cravath model.
AMBAR offers an alternative for lawyers to manage their professional life without having to give up excellence and quality, continuing to work with great clients, and with the support of the best team.
The firm enables lawyers to continue to grow professionally at the highest level in an independent way, while at the same time offering flexibility, and the real possibility of choosing their own path – a path that allows them to fulfill their professional aspirations without giving up the way of life that each one chooses.
Overcoming challenges with resilience and empathy
For Manuel and Rosa, success means several things. First, it means doing what you love, and being authentic while doing it. In addition, they measure success in terms of the positive impact that they have had in other people's lives, which they consider as very important.
It's all about making a difference for people and having a real impact in their everyday life. The Partners consider themselves very fortunate for all that they have learned and know that challenges remind you that you're stronger and more capable than you give yourself credit for.
The key for the Partners is resilience, the ability to bounce back from adversity and grow from the challenge. They credit the tough times with helping them discover what really matters to them and what doesn't.
Thanks to their difficulties, they have even more clarity about what they really want and have learned how to get into the habit of seeing the big picture.
They believe that their challenges have also allowed them to be more empathetic, to understand more deeply what is going on with other people, and therefore to be able to help them better.
Manuel and Rosa have also learned how to build self-efficacy, and they are more confident about themselves, and in their ability to overcome obstacles and challenges, and succeed.
The leadership journey is about self-discovery
The Partners' leadership journey is mainly about self-discovery. For them it was very important, even before they ventured into leading others; to seek answers within; to gain clarity about what they wanted to do; to define their values, and ideas, and articulate their leadership philosophy and mission.
They believe that leadership goes beyond having a title or a position and that you become a leader by doing and helping others along the way. For Rosa and Manuel, one of the most important things at AMBAR is their people.
With the knowledge that great leaders never walk alone, they have spent a significant amount of time working on seeking the people that they wanted to have with them along the way. They needed people who shared their principles, with an innate personality, and who could add and create value.
As Co-CEOs of AMBAR, Rosa and Manuel's main responsibilities are the definition and implementation of the strategy of each of their departments (Business Development, Project Management, Tech & Innovation, Partnerships and Legal Ops) in alignment with their corporate mission.
They are also very involved in their clients' needs, an approach that is very unique, but which they believe is the key to assist them and ensure the best results.
They describe themselves as "passionate" – passionate about what they do, passionate to keep pushing themselves to do their best, and to continue to be as motivated as they were on the first day.
Aligning passion with purpose to succeed in all areas of life
For Manuel and Rosa, the key is doing what they love. But, they believe that it is also very important to set goals and priorities, and stick to them, by implementing time-management strategies and cutting out tasks that have little value.
They know that it is fundamental to make time for themselves and their loved ones, and to prioritize their physical, emotional, and mental health. They consider these aspects to be critical to be happy and productive, and just as important to the well-being of those around them.
Both Partners maintain their professionals' motivation by reframing success as achieving success in all aspects of life, and this axiom is embedded in AMBAR's culture and their professionals' lives.
Although they believe that they are, without a doubt, on the right track, they know that there is still a lot to do, and that is what keeps them motivated to keep working and improving day by day.
Rosa and Manuel's advice for business leaders is to align their passion with their purpose, and to stay focused every day on bringing the best they have to offer to other people.