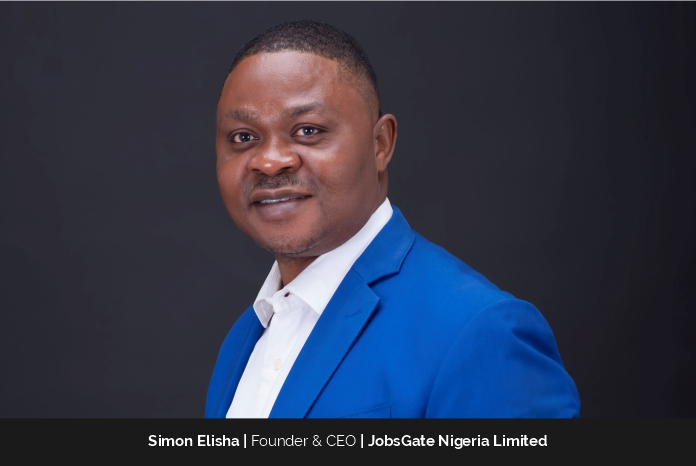 Successful businesses and companies need solid leadership to help them thrive, and successful leaders are defined by the behaviours they exhibit as they lead. "Success is an infinite part of a man's life, and you only achieve success when you have contributed to the society at large. It is infinite because it is never stopped," says Simon Elisha, Founder & CEO of JobsGate Nigeria Limited.
Simon is a serial entrepreneur who builds scalable SAAS solutions for the African Continent. He provides HR consulting service for companies and is passionate about process improvement, organizational efficiency, and productivity. He believes success is something that inspires you to keep doing what is good and helping the people and the society. "A man is successful when he has impacted positively on people and the society and thrives to continue on the journey," he states.
Challenges are hard to recognize and overcoming them builds resilience
Simon remembers the time when he started JobsGate, and how he was faced with numerous challenges. He strongly believes that challenges make you stronger. "Challenges are pretty good provided you are able to identify them early and agree that they are challenges," he says. Few months after starting his own company, he had thought he was ready and understood all he needed to be a successful consultant. Few weeks later, he claims he realized it was a different ball game and was faced with glaring challenges.
One of the very first challenges he faced was poor planning. He realised he had not planned enough. He had not made plans for where his clients would be coming from. So, he did not have a single client for months. There was no finance to run the business, and this almost made him to close the company.
Another challenge was having the right team. Because there was no money, Simon could not engage with skilled and experienced business development specialists. "I had to double as the CEO as well as the business development specialist for a while and when we started getting clients, it was very difficult for me to cope in both roles," he says.
JobsGate's growth under Simon's successful leadership
Simon says that the growth of his company has been full of good and bad experiences. It was pretty difficult in the beginning. But states that he is thankful to his gut feeling and desire to excel in everything he does.
JobsGate is 5 years now and they have achieved lots of success within this period. From a very one-man consulting firm with just Simon as the employee in the year 2017 to more than 20 direct and full-time employees, they certainly have done very well. They started as just a recruitment consulting firm and grew to include a full fledge of HR services. "We have served several clients in various industries including Oil and Gas, Manufacturing, Financial Services, Real estates and many more. Our clients are very pleased with us as we keep getting referrals from them," he exclaims.
Recognitions received as a passionate consulting leader
"I am one of the few people that have been very happy and fortunate with their career. Doing what you love to me is more important than any award. Awards are very good as they signify the acceptance of one's contribution," says Simon.
After his graduation and the compulsory one-year service to his country, Simon states that he was fortunate to commence his career with a consulting firm. He claims that it was the best choice he made and that is what prepared him for his current role. "Having studied Human Resources Management has contributed immensely to putting me in the right direction of my career. I have only changed jobs but not roles in my entire career. So, working as an HR professional for about 10 years before deciding to setup my own firm helped a lot," he explains. He received huge experience from his managers and supervisors. He had the skills required to be a good consultant and had taken several certification courses home and abroad in preparation for his consulting project.
Simon has received much recognition. One that is most particular to him was given to him by a former supervisor from India. He was Simon's HR director at the time. Prior to his exit, he had planned to award everyone in the best way possible and that day he awarded Simon as the most outstanding HR Professional he had ever supervised. "To me, it was the best award I ever received," he states.
Responsibilities as Founder & CEO
At JobsGate, Simon occupies the Management Consultant position. He provides strategic direction, leadership, and guidance towards achieving the vision of the company. Before founding JobsGate, he had worked for several companies. He grew so rapidly in his career and at the age of 32, he was already in the HR Director position. He says that working with great leaders inspired him and built confidence in him. "I am just a simple individual who believes in achieving greatness through hard work and dedication," he further states.
Simon also says that he has not achieved all that he dreamed of yet. "It is still a journey. We want to be recognized among the top HR Consulting firms globally and this is a huge task for me," he explains.
Simon's future plans for himself and JobsGate
Simon's plans for JobsGate are these:
Expand our business operations globally.
Create a work structure where we do not need any employee to resume at any physical building. This means putting in place a remote work structure.
Be recognized for providing best HR and Recruitment services.
Build and launch our Recruitment Platform that competes with the top ATS in the world.
His personal goal is to ensure the achievement of the above four points.
Staying motivated and maintaining a work-life balance
"I have come to realise that the two must be separated. As much as I put in quality time in my work, I also do not trade my personal and family life with it," says Simon. While at work it must be seen as work time. When it is closing time, he recognises that he also requires rest and provides that family time to his family.
Simon's proudly states that his employees are the greatest assets he has. At JobsGate they provide an enabling environment for their employees to perform at their best. Whether someone is a newbie or a very experienced employee, everyone is guaranteed quality learning and development initiatives to enhance their skills. They also provide a coaching and mentorship access to all employees. Apart from that, they celebrate success together and organise events where they engage in various forms of recreational activities. Above all, at JobsGate they always listen to their employees.
Simon states that aspiring entrepreneurs need dedication, hard work and patience. He strongly advises them against cutting corners. Aspiring entrepreneurs must ensure they put in place a quality plan before rolling out to avoid mistakes. They must equip themselves with the skills needed to run their businesses effectively. "Having a mentor goes a long way. Look for someone from your business domain that is successful in similar businesses and learn from him," he further advises.