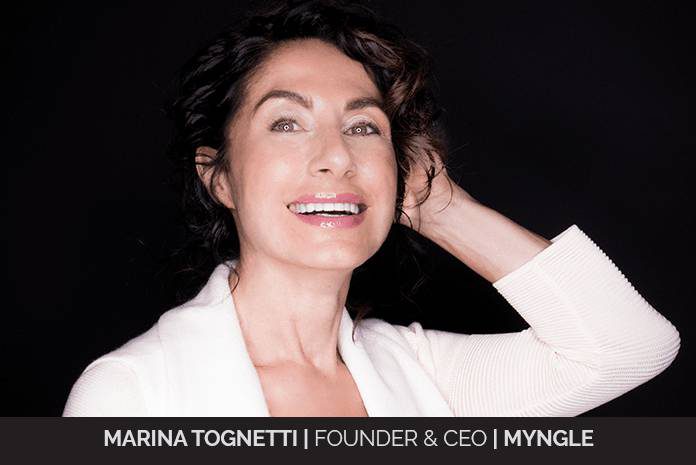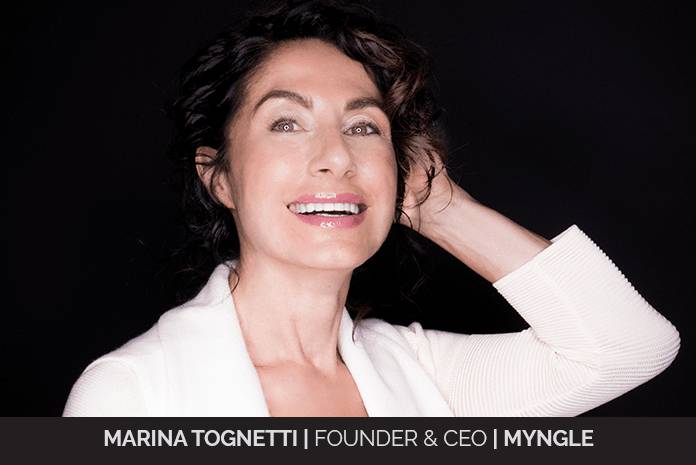 An adventurous person at heart, Marina loved challenges in everything that she did. Her desire to experience new things in life and make a difference in others' lives urged her to leave her hometown, Italy and embark upon a new journey of life full of challenging but great life lessons. Her fearless spirit and courageous attitude led her to take some bold leaps of faith as an entrepreneur founding one of the pioneer companies in EdTech today. Marina Tognetti is the Founder and CEO of mYngle, a face to face language lessons provider for business professionals. She has come a long way in her innovative entrepreneurial journey and has a plethora of experiences to share as s source of motivation for every individual especially women of passion.
The Foundation of Myngle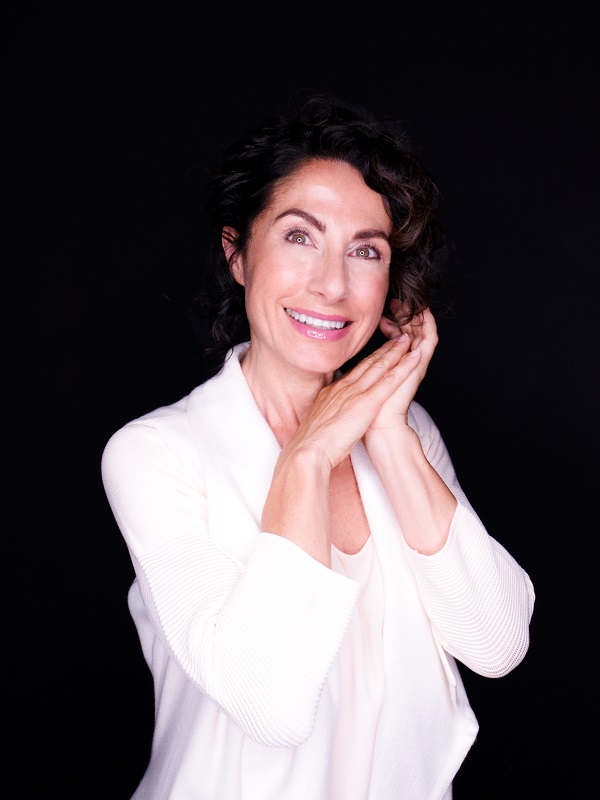 It was her never ending desire of wanderlust that incited Marina to be an entrepreneur. After she left Italy, she travelled through different countries. As she worked in different countries she learned and studied the culture that added up to her experience as an aspiring entrepreneur. As Marina looks back on her journey, she is convinced that the step towards innovative entrepreneurship was a logical one, even if it came after many years of a corporate career. She believes that entrepreneurship, especially in tech, allows you to look far ahead, innovate, change traditional business models and disrupt industries and that is challenging as well as very rewarding.
Like many people back then, Marina was looking at China for opportunities. The first step was learning Chinese, however that was not easy for her as a busy manager. Marina tried everything: an evening school, CDs/ DVDs, a Dutch teacher, a Chinese student, and that was when she got the inspiration. The ''tipping point'' came when the right idea hit her. There are thousands of teachers all over the world, she thought. All she needed to do was to use the internet to connect teachers with students. That amazing thought led to the founding of mYngle. It was the right idea at the right moment!
Marina was prepared to face every challenge that would befall her. The real challenges were not at the beginning, but when they had to 'pivot' from the initial business model to a completely different one, which is the mYngle they are now. They had launched mYngle as a marketplace, something that Marina was very familiar with from her previous eBay experience. They were confident that they had all that it takes: funding, lots of Awards and PR, a very motivated team, however something in the business model was not functioning as they expected. That's when their customers' opinion helped them see a new direction. They listened to their customers which led them from an open marketplace to a quality global online school, from B2C to B2B.
That was the key to the success of mYngle. Today they have prestigious global presence with business clients and learners all over the word and tens of thousands of lessons given each month.
The Products and Services of mYngle
mYngle offers personalized, face-to-face corporate language training with highly qualified native trainers in 45 languages.  Their programs focus on the specific needs of each professional, ensuring language goals are met in the shortest amount of time possible.  Their virtual classroom enables learners to conveniently take classes 24/7 and from any location.
mYngle is the solution for busy professionals who need language training to be successful in their international business, and for Companies that want great learning results and a transparent and controllable learning process to make their investment a success.
mYngle has been supporting the disruption of one of the most traditional industries- that of education- bringing it from offline to online, making it available to a broader public and changing the relationship of teachers/learners in the education process.
The Resilient Leader with a Passionate Spirit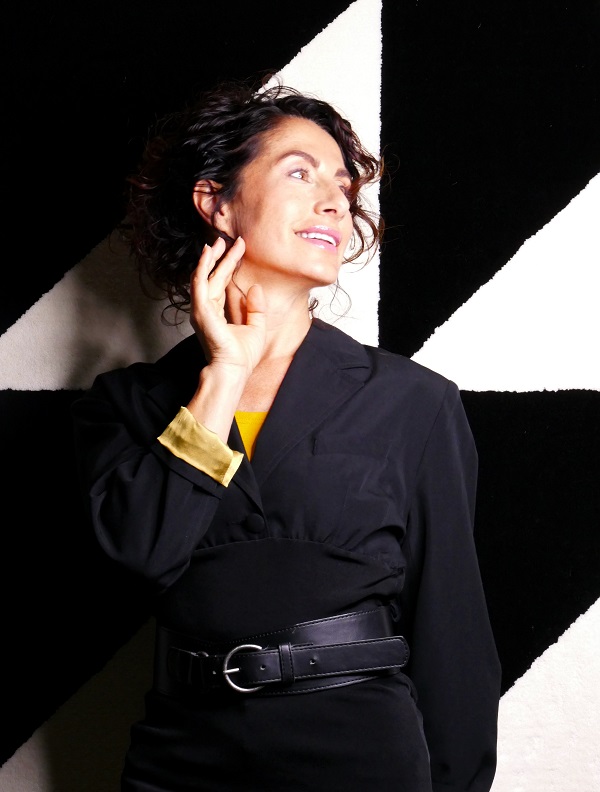 When Marina graduated from University it was an era when entrepreneurship was not very common for academics. Hence, she first focused on gaining huge industrial experience by working with large multinationals, Procter & Gamble, Philips, Sara Lee, The Boston Consulting Group and eBay; and got an MBA from INSEAD. It was when Marina was working as consultant on a project on internet strategy that she observed the potential of internet to disrupt entire industries and change forever the way of selling/buying/interacting. Marina knew that she had to be part of that, which drove her to start an innovative company as mYngle. She knew she could make a real difference, if she would put in practice all that she learned in her career till then. Indeed, her experience and knowledge added value to the success of mYngle causing the company to soar great heights.
As the CEO of mYngle, Marina's role is primarily to develop the long-term vision and drive the company towards it, foster the company culture and values, guide and align the team, represent mYngle with the outside world, their investors and all stakeholders, and with the education industry in general.
"As a founder, I needed to have a strong vision to set the initial direction of a completely new business. I also need it now, as CEO of a growing company, to anticipate and navigate challenges we meet along the way. I must be willing to take (calculated) risks and be able to adapt and change to keep the business successful. Last, but not least, I need to build an organization that is also agile.", Marina affirms.
Marina realizes that the 80 hours' week cannot hold forever. "That is what many entrepreneurs do, especially at the beginning or when they go through difficult periods. But I learned that it is especially in periods of challenges that you have to find the energy and motivation to keep on pushing forward.". Hence to balance her work and personal life she mixes time for mYngle with lots of sports (being a sports lover) and time for herself. Marina knows that being happy and in balance gives her company the right leader able to drive it in the most difficult situations.
Her Greatest Achievements as a Businesswoman
Building a business from scratch is always challenging, building a tech start-up disrupting an industry as traditional as that of education, is exponentially more challenging (especially more than 10 years ago, when Marina started). There were all sorts of resistances – those of a still immature market- that Marina and her team had to bypass, especially those from the stereotypes that consumers had in their minds about education. Now online language education is setting the standards in terms of quality and flexibility. And mYngle has been part of that. This has been the greatest professional achievement for Marina to date.
For these reasons, mYngle has also won numerous awards as recognition for its contribution to online education. Immediately at start (2008): Accenture Innovation Award, European Ventures Summit Award, Benelux Venture Summit Award, and more later. Marina also received numerous awards as founder and CEO of Myngle, such as 50 most inspiring women tech leaders in Europe, 50 most inspiring women in Dutch technology sector, Iconic Women Creating a Better World for All and many others.
Her Vision and Motivation
Every company is driven by a mission that leads them on the path of success. Similarly, mYngle's mission is to bring high quality language education to learners in any part of the world. Our mission is to bring high quality language education to learners in any part of the world. mYngle is paranoid about customer satisfaction, which is also one of their key strengths. They never compromise on quality- of teachers, content, tools- which brought them to be recognized in the industry as a provider of high value services with very satisfied customers. They look to continuously improve by constantly listening to users' feedback. "This is particularly important when you are in an industry that, like that of online education, is in a transition or evolution phase, where the main challenge is not competition but the unawareness or inexperience of customers.", Marina says.
Education was (and in large part still is) operating in the old traditional way, offering learners what is available, not what they need. But "One size does not fit all." By understanding the customer and diversifying their offer in terms of teacher- content- frequency, they match each specific need.
In mYngle they stimulate a culture of experimentation and allowing mistakes. Innovation cannot exist in a culture of fear of consequences. We try to develop people who think and not only do ''jobs''. They look in their staff for entrepreneurs, people who do not keep the status quo, but push themselves beyond their comfort zone. "If you try ten new things, some will fail, some will be OK, and one will make a difference. We are looking for that ''special one''.", Marina adds.
The Growth and Future of mYngle
Success in business for Marina is closely related with achieving the highest customer satisfaction, which is what ultimately drives business growth and long terms success. In mYngle they nurture an obsession for customer satisfaction. This is also reflected in their internal evaluation systems and how they assess their job. mYngle constantly monitors their users' reactions and try to adjust accordingly, using adapted versions of NPS (Net Promoter Score), which defines that only excellence counts. Their average lessons' scores are 4.9/5.0. Results speak for themselves!

Continuous improvement is a core part of Marina's nature and an entrepreneur always seek new opportunities or areas of development. The future of mYngle will surely hold new challenges, as they keep on innovating and being ahead of the market. Innovation comes in all shapes, not only in the products they offer, but also in processes and service. Marina's looks at the many technology developments that are happening all around as an opportunity. Data Analysis and Machine Learning are making great improvements. Algorithms are getting better, products are becoming more accessible, knowledge about best practices are being shared and collaborated at a very fast pace. Data analysis and machine learning helps triage new products better, understand clients and try to anticipate possible issues, it also helps forecasting, funnel analysis, staff coaching, and the list goes on and on. Bearing all these important aspects in mind, mYngle is steaming ahead to think and innovate with confidence to learn from their mistakes and get better.
The best word to describe Marina, an incredible businesswoman, is adventurous – in all aspects of life. "People that dare to push the limits. And live life to their fullest potential, whatever that might be. Like athletes of extreme sports, as their passion for sports has similar principles to entrepreneurship: taking (calculated) risks, going beyond what others are willing to do, having the drive to be the best one can be.", Marina, shares. Indeed, Marina exemplifies the true qualities of a leader and a passionate woman who dared to follow her dreams even when the odds were against her. She is a true mark of excellence.