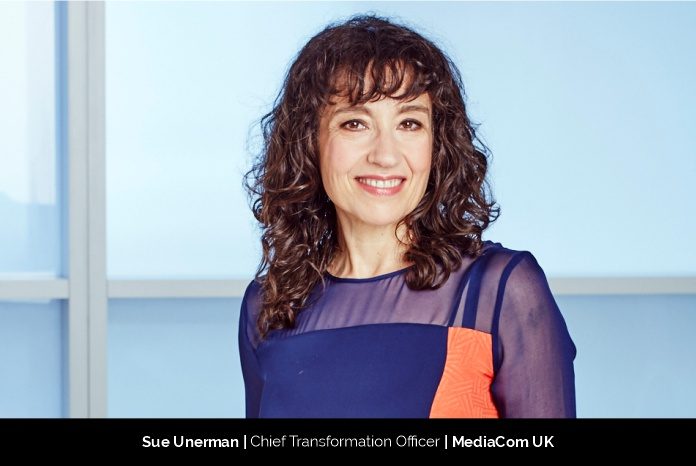 "The definition of a great leader, to me, is someone who brings out the best in everyone in the business," says Sue Unerman. She is the Chief Transformation Officer at MediaCom UK, a Marketing & Advertising company that helps clients' look beyond the boundaries of traditional media to uncover new ideas and unlock growth.
As a Chief Transformation Officer at MediaCom, Sue drives transformation for MediaCom, and its clients in the UK. As Darwin said, it's not the strongest or the most intelligent that survive, but those most responsive to change. There is just so much change going on around that it's tough to do a day job and keep up to date with every new development. Forget FOMO (Fear of Missing Out). Today it's about COMO (CERTAINTY of Missing Out).
Sue says, "It's our job at MediaCom to make sure that we track, engage with and assess all new developments and filter out the irrelevant ones and bring our clients up to speed with those that matter."
From a Sales Assistant to a Successful Team Leader
Sue's very first job was as a sales assistant in a shoe shop in Brent Cross at 14 years old.  Sue fell into the media industry, originally as a TV time buyer in the 1980s.  Since leaving Oxford University, she has worked in advertising and the media. Her role evolved into a planner buyer and then she joined MediaCom (when it was still called TMB), to set up strategy.  She says, "I don't think I have ever had an ambition to be a leader.  All I have ever tried to do is to be the best that I can at my job today, and a little bit (or even a big bit) better tomorrow." 
At MediaCom, Sue's role is to help everyone fulfil their potential. The team grows brands by designing and delivering creative and data-driven communication strategies. It analyzes data at scale to drive effectiveness and measure return on investment. So two products to mention that make a difference are inclusive planning, which ensures that the work it does truly reflects the UK's diverse population, and the carbon calculator, a tool used to offset carbon emissions from plans.
Sue is a part of a team at MediaCom that has consistently moved MediaCom forward, a crucial factor in its rise to become the number one company in its sector, and proud recipient of Campaign Mag's Agency of the Decade for the second time in a row. She is leading its agile transformation, (a certified scrum master) and spearheading the creation of the first on-going diversity measurement tool for advertising across the industry in front of and behind the camera.
Sue's View on Challenges
Sue describes, "Challenges change you.  As someone with a low boredom threshold, I always have an appetite for change. The key thing, with blocks to your career, is not to rest until you have understood why this has happened and what you could learn from it.  For instance, I was once thrown out of a meeting by an irascible retail boss. What did I learn from this?  Actually, the casting of a meeting is one of the most important things to get right. Don't just have the "best experts" in the room, have the best people to sell the ideas.  It's just like a Hollywood movie: Don't cast Meg Ryan if what you need is Susan Sarandon. Don't cast Keanu Reeves if what you need is Eddie Redmayne, and vice versa. " 
The Chief Transformation Officer
Endless curiosity about new developments and an intense desire to create new answers to new and old problems is how Sue is keeping the company ahead. The company's vision is seeing 'The Bigger Picture'.  Sue opines, "We have long had as our company mantra: People First, Better Results.  We have so much talent across MediaCom that if we can help everyone fulfil their potential and feel that they belong, then I know that we will succeed. "
Sue is part of a senior management team led by Kate Rowlinson, CEO of MediaCom UK. She is also proud to be part of the Global Belonging Council set up by Nick Lawson, the company's global CEO.
Sue's days are a mix of leading the delivery of the business objectives, talking to clients, coaching and sponsoring the teams.  She regularly podcasts with her colleague Sacha Owusu where she interviews industry leaders to learn how they do what they do (the MediaCom Connected Podcast is on Sound cloud and all good podcast outlets). She gives regular talks on 'Belonging' with her co-authors, Kathryn Jacob OBE (CEO of Pearl and Dean) and Mark Edwards.
A Progressive Work Place
Sue has been working at MediaCom UK since 1990.  She did work at ad agencies before this, and before that at Georgina's cake shop in Oxford, where her signature dish was a Victoria Sponge. The reason that she has stayed at MediaCom for so long is that it has been very empowering to work here as a woman.  The reason for writing The Glass Wall, and Belonging is that she is very aware that it is hugely difficult for women and other groups who are underrepresented in senior management to achieve their goals and ambitions.
Helping others is the Motto
Sue loves what she does, and her ambition is the same today as it always was: be the best in the world at what you do.  She hopes that she can help others around her do the same. Her new book, Belonging, the key to transforming and maintaining diversity, inclusion, and equality at work, is a call to action to create real change in diversity and inclusion. Mark Thompson, (former president of the NY Times) calls it "essential reading". Jan Gooding (former president of Stonewall) says it is an "important book". Sue's previous book is The Glass Wall, called the year's most significant addition to the debate on gender diversity at work, is a collection of success strategies for women at work, and an invaluable guide for businesses that want to successfully develop the women who work for them. Her first book on marketing, "Tell the Truth, Honesty is your most powerful marketing tool," was published in summer 2012.
For Sue, the best recognition was to be awarded with her colleagues, Campaign's Agency of the Decade for the second time uniquely in a row.  She is also delighted to have been acknowledged on the following lists: Fellow of the IPA; IPA ilist; Campaign A listCEO Today's 2019 Business Women of the Year;Drum 25 of 25 Women Who Shaped the Digital Industry; Most Influential D and I Leaders;Outstanding Heroes in Business; LinkedIn Top Voices; Female Lead 20 in data and tech; FT HEROES- Champions of women in business; International Agency Innovator
Plans for the Future
The management's plans for MediaCom UK are to continue to put people first for better results and to help clients to see the bigger picture to unleash growth.  The company believes that the best way to lead is to serve.  Sue says, "I hope that I can continue to be of service to our business and my colleagues and clients."