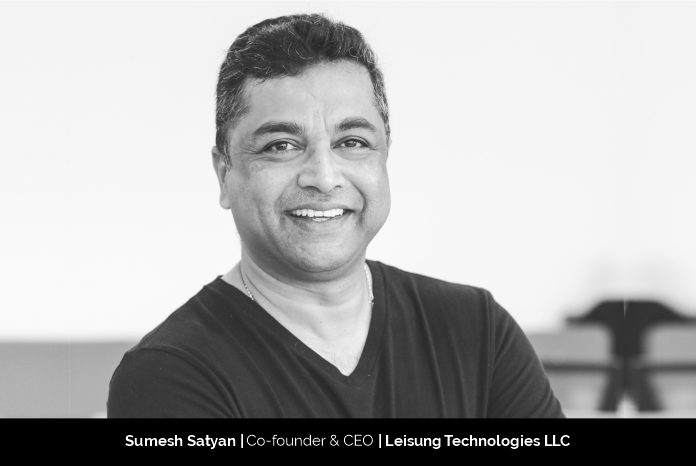 In every business, strategy & culture is an attitude mirror of the persons leading the business. Sumesh Satyan, Co-founder and CEO of Leisung Technologies LLC, learned this thing from his father and used it in his professional career to progress. He spent a lot of time at his father's restaurant. Being a part of a larger family other than the biological one instilled a lot of human values in his mind and soul. He states, "My definition and measure of success will always remain, the number of individuals we are able to support and what values we instill in them as a company."
Journey to success
At the age of 18, with a Diploma of Engineering, a sales job comes in handy as it offers the freedom of riding around and earning money for it. In 1992, Sumesh started his sales career and, progressing through it, learned a lot about different human personalities and behavior. He honed his skills to adapt to them.
He had the necessary skills to shine in the domain and achieved sales excellence. However, having worked for smaller organizations, he understood the mindset of stakeholders, which kept the organization small and allowed minimal or no growth for the employees in them.
He adds, "I am not speaking this in general but for very specific organizations. I was not a very adored figure with these stakeholders and have been repeatedly castigated for having supported employees to empower them."
Once, he was also shown the door by an organization where he worked with the in-house team in every trough and crest. This hammered the last nail in the coffin.
Being clear about his retirement plans with his wife, which were to follow passion after the age of 45, he co-founded Leisung Technologies with her.
He states, "Suchi & I then put our idea in place to build an organization where financial achievements were only the result of a team that is inspired internally to support people and organization to achieve their wants and needs in the AV Segment. Today we are proud of having built this company where people come first."
Hurdles along the way
Sumesh believes, "Challenges do not make you stronger, but the result of your response to that challenge will leave you with a life lesson or two."
Cashflow was a major roadblock in the road to success. However, the team tackled the situation together and tunned through it.
With pandemic disrupting all the aspects globally, the team focuses on learning and ameliorating the services as they move ahead. He adds,  "The most valuable lesson that this has taught me is to not take anything for granted. Every customer, every PO, every employee, every inch of your office, your home, and every breath you take is a gift. Celebrate, love, and live it."
Leading upfront with Leisung Technologies
Leisung Technologies LLC is a Dubai-based Audio Visual System Design & Integration company. Their core expertise is audio, visual & Digital Signage systems for meeting spaces like meeting rooms, conference rooms, auditoriums, retail spaces, innovation centers, BGM systems, control centers, and off-late home theaters.
Sumesh adds, "We have a highly skilled and qualified team which ensures implementation of the latest proven technological advancements to provide a scalable and dependable system to the client."
Leisung has been an Infocomm member since its inception, and it represents more than 40 top vendor brands in the UAE and has been supporting AV Integration and Digital Signage projects in UAE, KSA, Oman, Qatar, Egypt, Lebanon, Jordan & Kuwait.
He states, "Our aim is to work closely with suppliers and clients to build brand equity and ensure long-term success. This quest for success has led us to forge close partnerships with AV Majors like Crestron, Extron, NEC, Bose, Harman, Samsung, LG, QStech, and any others."
For him, Leisung is a movement, not an organization. The team understands that they deal with humans, and at the core of it, they are delighted when the customer is provided what he wants and not what they sell.
He expresses, "When every employee questions himself "Does my activity make Leisung an easy company to work with for myself and the customer?",  it  forms the very basis of a culture where integrity and innovation is an everyday thing rather than something discussed only in high-level meetings or customer interactions."
Life as Co-founder and CEO of the company
Wearing the hat of the CEO, Sumesh leads the organization upfront. He states, "The core responsibility I have is to sustain the culture and ensure that everyone works toward the same goal of being the easiest company to work with."
He starts his day by thrashing the juggernauts out of the way and then keeps the second half of the day for site visits and meetings with customers and vendors.
He expresses, "I have some precious moments where any of my team members would want to discuss some personal or professional challenge, and we try to solve them together." Having a perseverant attitude helps him to tunnel through the upcoming challenges.
Achieving work-life balance
Sumesh feels blessed to have a family that plays a crucial role in his professional endeavors. He states, "My wife for 24 years, Suchi is an integral part of the organization as the Vertical Head in Sales, and my motivation for all those human endeavors that I undertake and my daughter Samyukta is handling the marketing function."
Creating balance at his personal and professional front comes naturally. Being a team player, he trusts his employees and aims at creating a workspace where everyone can grow individually and take the team together with them to new heights.
He adds, "We have built the organization that has  0% policing and  an environment which only inspires them to learn, prosper and support others to achieve the same."
Future aspects of the company
Sumesh states, "Our vision of being the "Easiest company to work with for employees, vendors, and customers" is born from the very need to ensure that everyone we interact with is touched by our human spirit of oneness and helpfulness in every single task we undertake."
The team aims to ensure a business that can support at least 1000 families in the next five years. On the personal front, he wants to complete his book on sales and wants to adopt a village to ensure they are self-sufficient when it comes to the basics of which education is a big part.