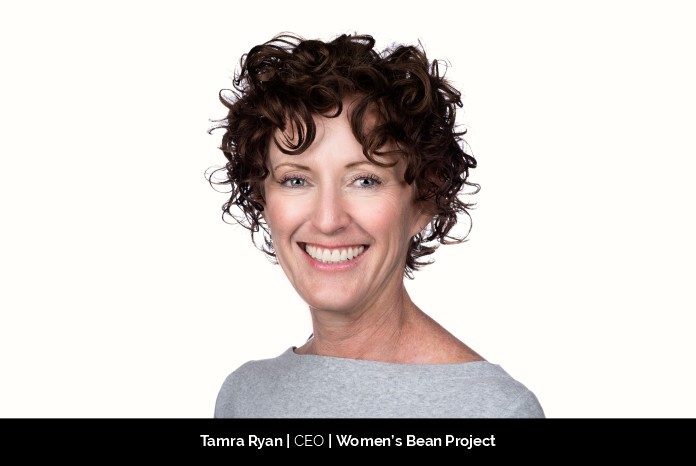 Social change can be brought only by the strong desire to bring transformation in the community surrounding us. Although many leaders are born to work for the service of others, some are just fascinated and pushed by fate. Driven by this urge to bring change in the home state of Colorado, Tamra Ryan is the CEO of the Women's Bean Project, who left the technology sector to follow her passion of serving her own community.
Her journey from being a volunteer to becoming the CEO of the Women's Bean project showcases her dedication to witness a huge change in her community. She says, "My interest in being engaged in my community became more keen when I decided to make my home state of Colorado 'my adult home.' I believe when you decide to make a community your home, you take on a responsibility to make that community better."
Foundation of Women's Bean Project
Founded in 1989, the Women's Bean Project was started by Jossy Eyre, who used to volunteer at a daytime homeless shelter for women and kids. As a daytime shelter, women needed the services because they didn't have employment. Thus, they would use the shelter's services to get a job, but eventually, they would come back time and again. Jossy learned that it was all because they had the skills to get a job; however, they didn't have the skills to keep it.
To curb this issue, she thought of teaching women those skills to get and keep employment and eliminate their vicious cycle of poverty. So, she invested $500 from her savings to buy beans and put two women to work making Ten Bean Soup which commenced the operations of this social enterprise.
Overcoming all stumbling blocks to re-establish Women's Bean Project
Women's Bean Project was already in a critical state before Tamra joined as a volunteer. From facing a critical financial crisis to helping the organization become comfortable with its identity as both a business and a human services organization, establishing Women's Bean project as a renowned entity required huge effort.
Tamra states, "Understanding that the business creates the revenue and the jobs through which the human services can be delivered, and balancing the competing interests of these two functions was the key to long-term success."
Currently, she is leading the focus of the organization to change a women's life completely. This is done in 3 ways after bringing women from chronic poverty situations:
70% of their paid time is spent working in the business.
30% of their paid time is focused on building soft skills and Job-ready and financial skills.
After 6-9 months of employment, women shift to entry-level career jobs.
How Tamra reshaped the women's life with Women's Bean Project
The women hired by the Bean Project make efforts to overcome felony backgrounds and incarceration, histories of addiction and abuse, low education levels, and spotty work histories. Further she adds, "Personally, I've worked hard to confront biases and prejudices I didn't even know I had. The most humbling experiences I've had have been to realize, as I sit with the women we serve, that often the only difference between us is the accident of birth." This motivates her to be responsible enough to help others gain privilege over others.
As a company, she states, "We focus our efforts on helping the women we employ and serve overcome their barriers to employment. We value collaboration with others in the community for other services, such as housing, that it doesn't make sense for the Bean Project to provide."
Forthe customers, the Bean Project aims to provide them enough information on the packaging to make them curious and hopefully influence their future buying decisions to purchase products with a mission behind them. She adds, "We also work to ensure that our products are consistent with how consumers are interested in eating today, with natural ingredients, no preservatives, and contemporary flavors and product offerings."
Tamra's Work and Vision for Women's Bean Project
Tamra's job is to listen, learn and help shape the future vision for the organization's growth and then manage change and lead the team – staff, volunteers, community donors, and supporters – toward this vision. She states, "I envision a day when Women's Bean Project provides services so effective and far-reaching that each woman hired is the last in her family to need us."
Holding two science degrees and an enriching experience of working in startups, she says, "I'd say my greatest achievement was writing a book about my experiences and learning at the Women's Bean Project. The title of the book is The Third Law, which refers to Newton's Third Law of motion; for every action, there is an equal and opposite reaction."
As a visionary leader of the organization, she has high hopes for all women they serve. Thus, they keep a track of program graduates' growth after leaving the organization to ensure their motive is fulfilled. She really wants to add value to their life and thus, says, "I recognize that the time our employees work at the Women's Bean Project is just a part of the arc of their lives and careers, so I want to ensure that we are thoughtful about how and where they want to learn and grow."
Managing roles of home and CEO
Tamra has a schedule to help her work efficiently for the future of Women's Bean Project better. She begins her day with exercise and getting her kids ready for school and then, shifts herself to office work completely. She adds, "Every day I try to have a little bit of focus time, but often my calendar is chockablock full. I end the workday with preparation for the next day, logging my list of things to do the next day, and prepping notes for the following day's meetings."
As a CEO, she often says, "the Bean Project has 31 years of mistakes we could help others avoid. We have spent decades developing a model that incorporates a social mission within a business, and we have some perspective on what works well and what is challenging." Further, she has many plans to keep an eye on. From raising money to planning to a move to a larger building in early 2022.