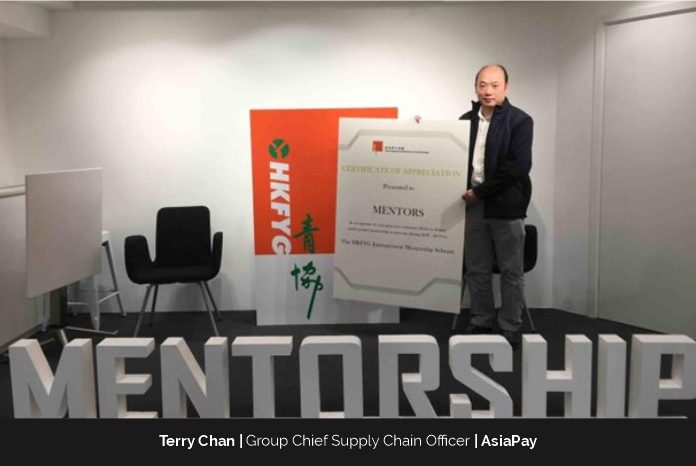 With over 25 years of solid experience in driving eCommerce, retail, supply chain, and AI businesses in a profitable and sustainable way, Terry Chan has empowered the technology-driven eCommerce supply chain ecosystem and propelled business growth. His exceptional business acumen and leadership qualities have earned him numerous accolades, including being awarded the title of "Most Promising Business Leader of Asia 2019" by Economic Times in Singapore, being featured by Forbes in 2018 in Vietnam, and being invited to speak by the World Bank in 2018 in Vietnam. He was also recognized as one of the "50 Fabulous Innovative Leaders" at the World Innovation Congress 2020 in India.
Prior to joining AsiaPay, Terry was a serial entrepreneur, establishing ventures such as JUSTT GROUP (an eCommerce enabler that supports brands in emerging eCommerce markets, particularly in China and South-East Asia), JUSTT BEAUTY (a healthtech company), EC-Post (a supply chain accelerator), and the Hong Kong eCommerce Supply Chain Association HKeCSC (the first and only one in Hong Kong). Terry Chan has held leadership roles in multinational organizations such as former GM Supply Chain Management at Alibaba Group/Lazada, supply chain management, and general management experience at FedEx, DHL eCommerce, S.F. Express, Swedish & Danish Post, KMB, and Cathay Pacific.
In addition to his impressive professional achievements, Terry is also an esteemed educator and mentor, serving as an adjunct lecturer at the University of Hong Kong. He is an independent advisor, mentor, and trainer for esteemed organizations such as the Hong Kong Sciences & Technology Park Corporation (HKSTP), Hong Kong Trade & Development Council (HKTDC), HK Tech 300 of City University of Hong Kong, and the Hong Kong Federation of Youths Group (HKFYG), among others.
As an independent consultant, Terry has provided his expertise to top companies such as Estee Lauder, UBM, GLG, Atheneum, Coleman Research, KPMG, EY, McKinsey, Deloitte, Accenture, HKTVmall, and over 300 startups. He is also a prominent figure in the international conference circuit, serving on steering committees, advisory committees, and as a keynote speaker and moderator for over 120 conferences for organizations such as the World Bank, HKTDC, KPMG, GS1, Union Postal Union (UPU), Asian Pacific Postal Union (APPU), Triangle, Chamber of Commerce, ASEAN Embassy, Singapore & Vietnam Governments, Global Sources, Forbes, Economic Times, WBR, HSBC, Informa Markets, and UBM, among others. Terry Chan has been featured by Forbes, Transport Logistic Manager, HKET, Vietnam TV, and various other media outlets.
'The key to success of supply chain are reliable transit-time, competitive cost, good customer experience and end-to-end data visibility.'
Leading the Way in Digital Payment Services
AsiaPay has been at the forefront of digital payment services and technologies in Asia since 2000 and aspires to maintain its position as a leader in the Asia-Pacific region and beyond. The company's primary objective is to assist its business partners in expanding their businesses by delivering cutting-edge and cost-efficient digital payment solutions and services that will enable them to remain competitive in the ever-changing commerce environment.
Furthermore, AsiaPay is a recipient of numerous awards for its one-stop payment management system, which allows for the processing and settlement of multiple cards, currencies, and acquirers on a single platform. The company's core principles include:
Comprehensive Payment Coverage
Widest range of credit/debit card, and alternative payment options, covering 150+ banks and payment brands.
Multiple Payment Channel Capability
Support Web Browser, Mobile App, POS, AppPay, Payment Link/QR Code, Mini-Program, FB/IG/WhatsApp Commerce, eCommerce Platform, Chatbot/Conversation Platform, eMOTO, IoT, IVRS, etc.
Comprehensive Risk and Anti-Fraud controls
With built-in anti-fraud and risk management system
Robust and Certified Technology
Certified 3-D Secure vendor for Visa, Mastercard, American Express, JCB, Discover Global Network, and UnionPay
Reliable and High Availability
High service level and availability of over 99.9%
Flexible and Highly Customizable
Customizable online and mobile payment interfaces and value-added modules
Extendable and Expandable
Diverse value-added services such as Promotion Payment, Tokenization, Recurring Payment, etc.
Proven Track Record and Solid Industry Expertise
20 year+ in digital Payment industries serving thousands of MNCs & SMEs
Broadest World-class Enterprise Services in 16 operation offices in Asia-Pacific
Professional technical support and quality local merchant service across 16 operation offices in the Asia-Pacific regions
Prioritizing Innovation and Collaboration
Terry is particularly interested in the critical and distinctive role that logistics, or the broader term supply chain, plays in supporting the development of the e-Commerce supply chain ecosystem. The increasing trend of e-Commerce globalization is compelling companies to prioritize innovation and collaboration in order to optimize their omni-channel business strategies. Logistics plays a vital role in actively supporting the growth of e-Commerce globalization by providing a unique platform and channel where knowledge, technology, and data can be shared across different parties in the supply chain ecosystem.
Moreover, the e-Commerce world is evolving at a breakneck pace, making it essential to remain focused on it and stay up-to-date with the latest market intelligence and experiences. As a result, it is critical to stay abreast of the latest industry insights and trends in order to adapt to the changing environment.
In order to deliver the best services, the logic is: 'First do it, do it right, do it better.'
Role as CSCO
Terry is the Chief Supply Chain Officer (CSCO) at AsiaPay, with primary responsibility for developing supply chain solutions for the AsiaPay group. He and his team are dedicated to assisting corporations, brands, and product owners in expanding their e-commerce businesses and selling their products globally through an omnichannel supply chain solution within the ecosystem. Terry's strengths lie in three critical factors that are key to the successful development of the cross-border e-commerce supply chain industry: identifying consumer-oriented supply chain requirements, optimizing consumer supply chain experiences, and expediting internal and external stakeholder relationships along the supply chain.
When asked to describe himself in one word, Terry chose "innovation." He believes that in today's business world, relying on traditional methods is no longer sufficient. Instead, it is necessary to embrace innovative technologies and apply them appropriately to business rules to achieve success.
Tackling Challenges Effectively
Terry understands that challenges are an inevitable part of the journey, and when he faces them, he categorizes them into two groups: controllable and uncontrollable. If the challenges are beyond his control, he acknowledges them but chooses not to dwell on them. However, if the challenges are within his control, he breaks them down into smaller, manageable tasks and approaches them one step at a time. This strategy has proven to be effective in dealing with challenges. Although there is no perfect solution, Terry believes in taking action quickly, reviewing the results, and making improvements to enhance the outcome.
Measuring Success in the Rapidly Evolving Supply Chain Environment
Terry believes that success is not measured solely by the end result but by how one overcomes the challenges and difficulties encountered while pursuing their goals. In today's rapidly evolving and volatile supply chain environment, agility, flexibility, and resilience are essential when it comes to supply chain planning, digitalization, and risk management. When faced with uncertainties or urgent issues, the key to success lies in how one responds to them. Adaptability to change is crucial in this regard.
The market is moving very fast and volatiles; therefore, the supply chain solutions need to be more agile, flexible and resilience.
Advice for Aspiring Leaders in the Industry
Terry's vision is to enhance AsiaPay's capabilities in payment and supply chain management to tackle client challenges through cooperation. Simultaneously, he aims to revolutionize the e-commerce supply chain industry by breaking the existing norms to foster a conducive environment for business expansion.
Terry advises aspiring leaders that the e-commerce supply chain field is vast, and each leader must specialize in their area of expertise. It's rare to find a leader who is proficient in all aspects of the industry. Hence, it's crucial to be receptive to learning from others.