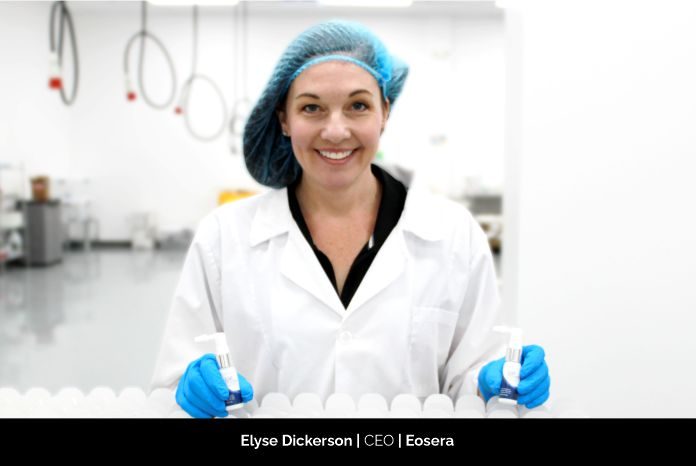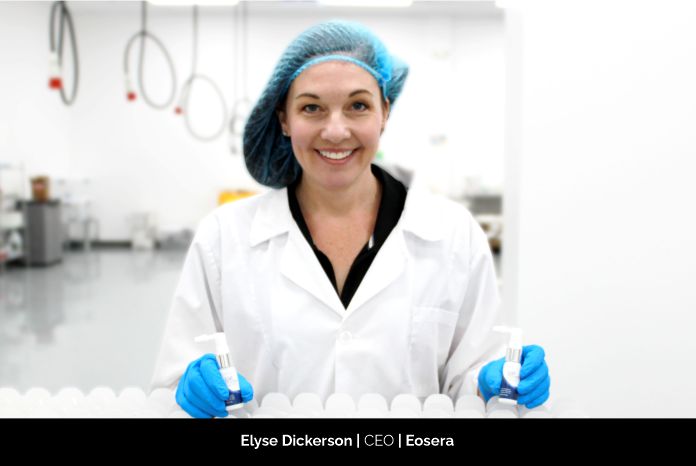 Elyse Stoltz Dickerson, CEO of Eosera®, Inc., a biotech company focused on ear care, first broke into the pharmaceutical business after receiving her MBA, though she started her career in fashion—truly an unconventional leap. "I applied the same marketing and selling techniques from my first job in fashion to my first job in big pharma, where I worked in the marketing and commercialization side of the pharmaceutical industry. My method was a success, and I worked my way up the corporate ladder to global director, and in all, spent 13 years at the company," says Dickerson.
The Journey
After leaving big pharma, Dickerson knew she could get another job at another big company, but she wanted to start her own business and leave the corporate world behind. "I felt they were too focused on profits and not as focused on taking care of the people involved in their business, such as employees, customers, investors, and external stakeholders. I wanted to start a company and foster an environment where people were the priority of the business. I found this to be very successful," Dickerson mentions. She started Eosera, Inc. in 2015, with business partner, Joe Griffin. "Eosera is a female-led, biotech company focused on ear care. Eosera has a full line of ear care products that address unmet medical needs in the market, such as earwax impaction, ear itch, weekly ear hygiene, and ear irrigation. We put people before profits, always and stick to our core values as a company."
Dickerson believes that practicing conscious capitalism helps promote a healing and healthy work culture. "I instill into my employees the idea that if you focus on the people, the profits will follow." Eosera's multi-million-dollar brand is evidence of the idea.
The Products
Dickerson's start began with a vision. "Our mission when starting this company was to find unmet medical needs in the market and solve those problems for suffering consumers. We spoke to as many doctors in as many fields as we could to get a scope of what problems were out there without easy, over-the-counter solutions. Through our research, we found that earwax impaction was one of the main reasons why people visit the doctor. There was no innovation in the over-the-counter earwax removal space in decades, and, in our opinion, nothing on the market was doing the job quickly enough. So, after going through hundreds of formulations in the lab for the better part of a year, we finally found the winning formula for EARWAX MD®. We did a clinical trial on the most severe patients we could find and found that 100% of people were satisfied with the treatment and 86% of ears were cleared with 1 to 2 applications of EARWAX MD. After such fabulous results, we went to market, selling our flagship product at CVS, Rite Aid, Amazon, and our website. Soon, we built a whole portfolio of ear care products and expanded our line to include WAX BLASTER MD®, EARWAX MD for Kids, EAR ITCH MD® NIGHTTIME, EAR CLEAN MD®, EARBUD CLEANING KIT™, and refill packs. In this way, we have disrupted the ear care industry with innovation and clinically proven products. We grew the ear care category in retail stores by up to 35%."
The Road to Success
Dickerson's biotech business is a thriving success, but it's not without its roadblocks. "There are always going to be problems, issues, and complications that deter a project. I found it helpful to expect hurdles and foresee as many challenges as possible so it's that much easier to overcome them," advises Dickerson.
Company values are key components of staying on course when challenges present themselves. "We have 7 core values that we live by as a company: Bravery, People, Passion, Growth, Empowerment, Collaboration, and Positivity. We keep these values in mind as we make decisions big and small. Each value shapes who we are and what we stand for. When hiring, we make sure applicants are compatible with our values. Our values are quite different than other companies' values because we pride ourselves on our unique work environment and our rare position of placing people before profits," Dickerson explains. Eosera stays ahead of the competition by continually evaluating the market, conducting research, and innovating and pivoting as quickly as the market pivots. "Being agile is very important to staying abreast with the growing competition," says Dickerson.
Dickerson notes her greatest achievements include being a working mother and breaking multiple glass ceilings for women in STEM and biotech. "There were not many female role models for me to look to when climbing the corporate ladder, so I found myself paving the way for others and becoming a role model myself," Dickerson states. As a working mother, Dickerson mentions her work-life balance is interconnected. "I'm of the opinion that work is a part of life and life is a part of work. Meaning, I don't draw hard lines between my life and work; in that way, it balances my personal and professional life because they are intertwined, and I don't pretend they aren't. For instance, if I need to pick up my kids early, I don't harbor guilt about leaving work," Dickerson states.
The Future of Eosera
Dickerson has big plans for Eosera's future, stating, "our goals for the next few years are to expand into more retailers and grow our product line. We are well on our way to doing both by developing lines of product outside of ear care and pitching and building relationships with more retailers." Eosera plans to add to their team as the company grows and expand globally through various channels and markets. "This is just the beginning for Eosera, and I have no doubt we will have product in various countries around the world as well as multiple teams cocreating and developing products, devices, formulations, and more. Above all else, I am sure we will keep the commitment we made to place people before profits and create quality products that improve lives and solve unmet medical needs in the market."