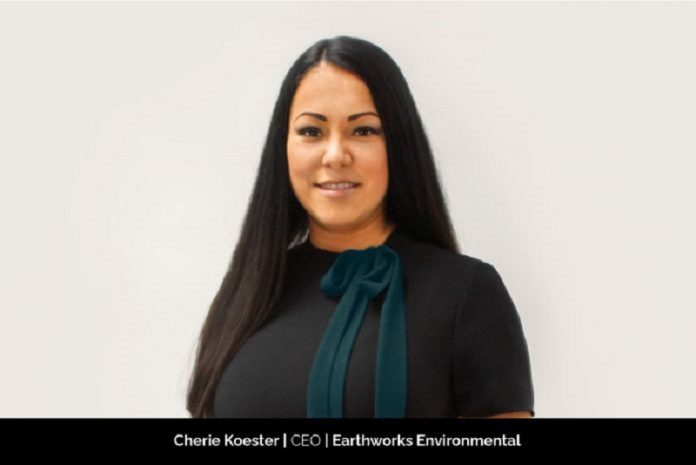 There was a point in time where Cherie Koester used to think success was defined but how many cars, houses, and material things she could buy with money. However, over time she realized success to her is about winning and accomplishing goals. Cherie, CEO of Earthworks Environmental LLC is continually looking for the next competition and how she and her company can be better and win clients because they are simply better than the other options. She describes how easy wins are exciting, but the best feeling is when they must compete against a competitor and fight for a client. The difficult wins are what keeps her motivated to keep fighting and being better both personally and as a company each day.
The Entrepreneurial Journey
After having her third child at the age of 21 and mostly being a single mother, Cherie knew she did not want her children to grow up as she had. Growing up, Cherie's family did not have a lot. She recalls trying to get invited over to friends' houses for dinner or sleepovers so that she could eat. She always knew she wanted to give her children way more. Additionally, she wanted to show them that hard work and perseverance pay off.
Cherie became the type of mother she wanted to be and was home to cook dinner each night, attend school functions and other extracurricular activities, and have family game nights. Although she felt she was there for her children and was the type of mother she desired to be, she did not feel like she was giving them the things she wanted to give them. As her children got older, she saw their friends had nice houses, clothes, and cars. This reminded Cherie of the desire she had to provide her children things she did not have as a child. It was then that she realized she had to figure out a way to not live paycheck-to-paycheck. Cherie's passions in life are her children and cooking, but she was determined to push herself to the brink of exhaustion to provide even more.
At one point in her career, Cherie was an environmental regulator which involved going to construction sites and writing up violations. As a regulator, her job did not include providing input on how to fix the violations. One day, as Cherie was writing up a violation that happened to be for a friend, he asked "why?" She simply replied, "Because you're not in compliance." He recommended to her that she tell him how to avoid violations. Throughout her career path, she saw a large gap between regulating agencies and the regulated community. Her goal was to one day bridge that gap.
After her job as an environmental regulator, she worked for a landscaping company for a short time as Director of Environmental Compliance. She was hired to share her expertise with the team, but they would never take her advice and continuously dismissed her professional opinion. This upset Cherie but at the same time pushed her to take matters into her own hands. She believes that if they would not have treated her so poorly, she probably would have never started Earthworks Environmental. Looking back, she is glad she went through that situation, as it taught her a lot and to this day, she uses it as guidance on how to run her own company. Cherie's employees are hands-on in dealing with customers, so she needs to hear what they are saying, and she values their opinions.
Cherie combined her determination to provide for her children and what she saw missing in the industry to start Earthworks Environmental. All her children are now adults and have moved out, and all of them currently serve in different roles at the company.
Overview of the Company
Earthworks Environmental helps clients stay in compliance when regulators come to their site. They work with the clients to mitigate the communication and are on-site to make sure clients do not receive violations. They do this through their main service, SWPP (stormwater pollution prevention) consulting. In the U.S., it is a federal law to observe SWPP requirements if a project disturbs land greater than one acre. In Arizona, they also do dust consulting, which is similar, but focused on dust. Additionally, they provide safety consulting. Through the consulting, the team at Earthworks Environmental works closely with clients to interpret rules and regulations, and to show them how to follow these rules while remaining within budget. Cherie explains how she loves to receive feedback from clients. She wants to ensure they are receiving enough attention and wants to know what she and her team can do more or less of. The team is fully involved in each project, so it is vital that the consultant assigned to each site has a great relationship with the client and that everybody knows the consultant.
The company has also developed its own electronic record retention platform called ERX that is used by its clients, regulators, and employees of the company. The Earthworks Environmental team goes into the system and enters inspections, telling the client exactly what they see on-site. The information then gets sent to the appropriate people at each site. Clients use the system free of charge during the consulting. ERX manages all documents electronically including electronic maps and all logs such as rain logs and stabilization logs.
Core Values of Earthworks Environmental
Earthworks Environmental does not accept many mistakes and Cherie explains how she expects each person to operate at a ten every day. If any employee feels as if they need to operate at less than a ten, Cherie says they can do that, just not at Earthworks Environmental. To ensure they are operating at the highest level, the company has three core values:
Communication: Cherie describes how communication is number one and how her team is required to communicate at every level from the lowest level employee to the highest level. The more communication, the better. However, they adjust for every client and every job site by considering how the client best likes to be communicated with. Communication can include taking the client out to dinner, emailing, texting, or talking to them on-site. No matter the method, Cherie insists that there must never be a lack of communication.
Accountability: Cherie pushes her team to be accountable for every job site. She wants them to always be proactive and in front of problems. Every person on the team must hold themselves accountable. Compliance managers (inspectors) have the title "manager" because Cherie expects them to manage.
Relationships: Having good relationships with the clients is crucial and part of who they are as a company. Not only do they have good relationships with their clients, but they value the relationships they have with regulatory agencies. They want the regulatory agencies to trust that what they are doing for the client is correct. They desire the regulatory agencies to expect the site to look exceptional once they know that Earthworks Environmental is doing the consulting, because of the good reputation they have in the industry.
Cherie believes that if they have good communication, accountability, and good relationships with the client, there is no reason for the client to fire them from a job assignment.
Cherie's responsibilities in the company include everything. She believes that if something fails, it is her fault and if it is a success, it is her success also. Cherie trusts her employees and describes them as an extension of herself. She sees every success and failure as her own and she is heavily involved in all aspects of the business.
Cherie is a creature of habit, so she follows the same routine each morning. After she gets ready for the day, in-between answering some phone calls and emails and enjoying her morning coffee, she heads to the office if she is in Arizona. Most days she spends in meetings, communicating with leads and operations managers. Cherie is involved in every division and gets updates about everything going on. When she is traveling, she meets with clients at job sites or goes out to lunch or dinner with clients. Due to COVID-19, the face-to-face time with clients is limited but when she does travel, she still goes to the job sites and meets with her local teams.
When thinking about her work/life balance, she describes it as non-existent. With her children grown and moved out of the house, the business is her blood, sweat, and tears. She does not feel the need to have a balance and does not listen to people who try to offer advice on balance, as she is truly enjoying the time she is investing in the business.
Challenges Make you Stronger
Cherie has learned many challenges along her journey and continues to learn. She believes challenges make you stronger. She recalls many times as a company when it appeared as if things may take a turn for the worse and they may not make it. However, any time the company has experienced challenges, they have grown from it. Cherie likes to face challenges head-on. Recently, Cherie experienced another challenging moment that affected both her personal and professional life.
This past Thanksgiving, Cherie's entire family, and office staff fell ill after contracting COVID-19. As most of the family was slowly getting better, her father was not improving and eventually was admitted to the hospital. Cherie had to tend to him, and a lot of her time was taken away from the business. Unfortunately, her father passed away on January 6th, 2021. Although she kept running Earthworks Environmental, one of the divisions did not have as much concentration on it during this difficult time. This resulted in the company losing a client. Cherie was disappointed, as this has been the first client they have ever lost. Cherie has taken this challenging time and the devastation of losing her father, as motivation to keep working harder and she vows to never lose a client again. When asked to describe herself in one word, Cherie responded with "moxie", which seems fitting when observing the determination and perseverance she has when faced with obstacles and difficult times.
Looking Ahead
Cherie's vision is to grow Earthworks Environmental into a household name for developers. Stormwater consulting is not something everybody knows about. However, it is a small world, so developers and anybody within the construction field are familiar with it and they want them all to know that they should go with Earthworks Environmental. She wants the company to be known for having reliable service, long-lasting relationships and keeping clients within budget. Once a client chooses the company, she never wants them to consider anybody else. She desires to have her children take over the business and continue to serve clients.
Cherie plans to be the biggest and best. She wants Earthworks Environmental to be the easy, go-to choice for clients. One day Cherie hopes to bring the passion of her business and cooking together and would like to open a restaurant or a wine and cigar bar. Her dream is to have a place where she can entertain clients in an atmosphere that she enjoys.
Cherie's advice to aspiring businesswomen is to not let anyone tell you that you cannot do it. If you need to keep proving yourself, do not get frustrated, just keep proving yourself. Cherie reflects on how at times she has had to keep proving herself over and over to the same individuals. She admits that it is frustrating but if that is what needs to happen to keep winning, then she will continue to do it. You may find that male counterparts do not have to keep proving themselves like women tend to, and while it may not be fair, keep doing it anyway.