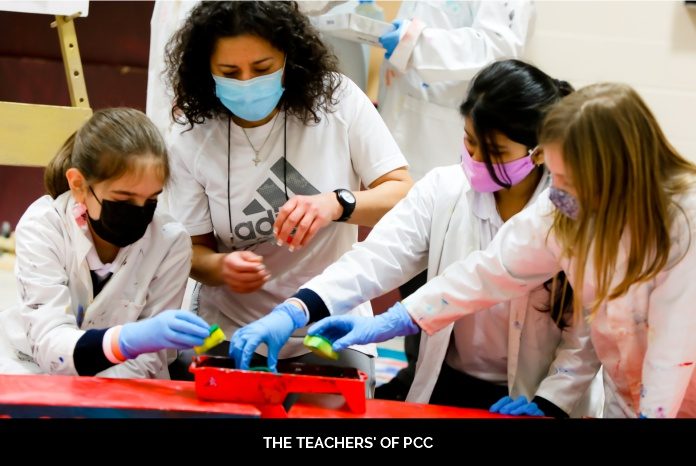 PCC provides innovative, student-based, engaging, online learning while supporting staff in their personal goals.
The staff of PPC cares a lot for the students and considers them members of one family. They feel proud that PCC has grown academically in many ways.
Not only do they see an increase in the number of students every year, due to their excellent academic reputation and students, who are known for joining the top university programs inside and outside Canada, but the school has also become known internationally through its online program offered to students all around the world.
It also makes them proud to see how the school participates in many extracurricular activities and helps the community in many ways, which helps their students grow academically and socially.
The academic growth at PCC is seen through the constant change of curriculum based on the Ontario guide. The school has gained the respect of parents and peers by being thorough and professional in their delivery of the curriculum, as well as the assessment and evaluation process.
The staff of PCC aspires to teach at the highest level, making sure that each teacher has the materials and content for the most beneficial of lessons. They also have teams that are dedicated to finding the best curriculum that both engages and educates students to the fullest degree.
The school has grown from the point where people didn't take them seriously, to having successfully placed all their graduating high school students in renowned post-secondary institutions worldwide. Today, they are highly respected by their peers in the educational field.
How PCC supports teachers and helps them grow
While PCC continues to deliver student-based instructional design to meet the needs of a diverse group of learners, the staff and teachers at PCC have grown through professional development courses which continue to challenge them to approach students and their learning from a 21st century engagement level.
High School Head of Department and Teacher, Katie Wloka-Patterson, has had the opportunity to grow her teaching skills through a number of different courses, as well as stretch her wings in a leadership capacity, as the co-head of high school.
She feels that the opportunity to teach multiple courses at PCC challenged her to be a dynamic teacher who is continually updating her skill set, making connections with current and past courses, and looking for exciting new ways of revamping material to keep lessons and activities fresh.
High School Math Teacher, Dina Fahmy, has been able to adapt to different teaching methods to cope with the different needs of students, and help them do their best to achieve their goals in life. She points out that PCC helps in the growth of teachers with professional development courses where they get to discuss different points and come up with solutions.
At PCC, Dina gained new skills in teaching online courses and got out of her comfort zone from teaching students in a classroom to using technology and interacting with students from different countries and time zones. "I've also increased my social skills by helping in the different events held by the school, which made me closer to my students," she says.
Pascal deSouza, High School Head of Department and Teacher, feels that he has grown personally and professionally, and enjoys his involvement in co-curricular activities, from Student Council, to Yearbook, to school concerts, to organizing retreats, day trips and field trips, end of year trips to Ottawa and Quebec City, and being involved in the Mission trips.
Over the years, he was able to implement integrated learning across disciplines, use literature circles to enhance critical reading, writing skills, and use religion to teach life skills. "This enabled me to help students discover their own gifts and feel confident and good about themselves and their abilities," he notes.
Pascal also appreciates the exposure to fresh thinking in the form of guest speakers and periodic workshops to improve best practices in teaching and leadership.
Middle School teacher, Joana Abdel-Shaheid, credits her experience at PCC for helping her grow and allowing her love for teaching to flourish. She believes that being a teacher is not just a job, but a lifestyle, an occupation that needs both your heart and your mind.
"Over the years, I have found both my strengths and my weaknesses as an educator, and PCC has shown me where I belong. If it wasn't for PCC, I wouldn't have been challenged to try different things," she says.
High School Teacher, Mary Nakhla, credits the support from her family, PCC's management and coworkers, and the school's culture of continuous learning and innovation, for encouraging her to assess her life goals, build new skills and qualities, and complete an MBA with a specialty stream in Global Leadership.
High School Teacher, Caroline Lakah, notes that PCC brings in guest speakers who discuss arising issues in youth and education, and that the online trainings she attended during the lockdown helped her understand the importance of the relationship between the teachers and parents which can have a positive impact on the student performance.
Elementary Teacher, Tammy Capitao, feels she has gained a lot of experience and leadership with the support and push of the Principal, who believes in her and trusts her judgment, which has given her the confidence to become the best educator she can be.
Kindergarten Head of Department and SK Teacher, Charlene Melo, took a leadership course that was offered by PCC. "We go to a teacher's conference every year to develop ourselves as teachers, and to find new ways to deal with children in a solid environment. We are given countless opportunities to develop ourselves through our teaching. Each year brings me new opportunities and new challenges, but the one thing I can say is that I feel I am part of a family that continues to grow. After 20 years of being a part of PCC, it is always with me," she says.
High School Teacher, Wilson Halder, feels that PCC helped him enhance his teaching expertise by giving him an environment and toolset that align with the Ontario curriculum for kinesiology for grade 12 students.
With all the teaching supplies provided by PCC, he's able to foster a learning environment for the 21st century student, so that they succeed in an environment beyond the classroom borders once they graduate.
He feels that coming to PCC allowed him the opportunity to use his leadership, teaching and lesson plan development skills to provide differentiated instruction and ensure students learn in a participatory manner that is engaging, for long term growth.
Elementary French Teacher, Gihane Migalaa, notes that PCC's teachers are always enthusiastic to come to work. "We are engaged in different activities in the school which allows us to get together as a team and develop our leadership skills. We occasionally, participate in different professional development days and workshops," she says.
JK Teacher and Physical Education coordinator, Brenda Biggs, says that she learned more in her first year at PCC than during her entire time at her first school. Two of the workshops stood out for her, one in partnership with a local Autism specialist and Brock University that gave them a Certificate of Completion, and the other on mental health, a very important topic in society today.
"This was refreshing for me because in my post-secondary education I majored in Special Needs children, but it has been so long since I graduated that it was nice to get updated on newer methods and approaches," she says.
The challenge of keeping students engaged through the pandemic
The disengagement of students through the pandemic was the most recent educational challenge that the PCC staff faced. While online learning bridged the learning gap due to absences, and was a necessity over the last two years, many students paid the price, from both a social-emotional level and a hands-on preparation level.
Amidst the pandemic, PCC's collaborative staff came together to develop innovative and engaging methods for driving student engagement of lessons, and unique activities to help them apply their knowledge – both in-person, and from a remote setting as well.
For many staff members, the main challenge was the huge discrepancy in performance of students when they attended regular classes in school versus virtual or online schooling. The biggest challenges were the loss of student-teacher friendships and the lack of motivation, as it was very difficult to keep students engaged during this difficult time.
Many students became disengaged with learning and some even regressed in their learning skills. Their performance dropped and some of them felt lonely, isolated, and had no energy to carry out their assignments.
The staff at PCC understood that the physical presence in classrooms, discussions, and social interactions create empathy, so they compensated for this through synchronous and asynchronous learning tools, which proved to be the best way to create a highly independent level of learning.
They had pre-recorded lessons for students as well as daily Zoom classes. Presentations, debates, and class discussions were carried out during the Zoom calls, so students felt they were part of live classes.
Gihane notes that during COVID, the PCC staff went the extra mile to support the students and ensure their success and well-being. "For French, we created different activities such as the 'French club' where students enjoyed cooking, math games, art work, and crafts," she says.
"I personally tried my best to include fun activities and conversations in order to keep my students happy," says Joana. "Online learning made me a more flexible teacher, as I realized that the students' mental health came before their marks."
Leveraging technology to deliver meaningful learning online
Pascal points out that probably the biggest challenge for the staff while online was in delivering meaningful learning without having the students in front of them, making it difficult to gauge their response and understanding.
"I tried to overcome this in a limited way by creating oral and video recordings of lessons and posting them on EDSBY, and encouraging students to message me their questions," he says. "Using Zoom helped to create some level of interaction, especially when I used PowerPoint presentations and video clips. Still, it was difficult to provoke the same level of engagement and discussion that one gets in the physical classroom."
Creating and administering assessments was another challenge that the staff faced and overcame through online assessments on EDSBY and Moodle. Also, extensive use of open book assessments, research and presentation assignments helped to challenge students to use their thinking and application skills.
"We need to continue to pay more attention to developing students' skills in these areas, and reduce rote learning and memorization, which may serve to increase students' marks, but does little to help improve their critical thinking," says Pascal.
Dina believes that, since students enjoy using their laptops and phones, the use of technology helps increase student engagement, facilitates personalized learning, and helps students build essential skills needed for the 21st century.
"I think that the pandemic has changed the whole dynamics of education and teachers at PCC were able to adapt to that change easily with the support of the administration," she says, noting that interactive sessions were carried out by teachers to engage every student in the class, and the use of technology to facilitate online assessments was also implemented.
Joana believes that innovative ideas and technology must be welcomed in the realm of learning as they allow students to engage and wonder. She feels that giving students the tools to answer their questions on their own provides them with significant learning skills that can be used in and out of the classroom.
"I believe that the learning framework needs to mimic what is happening in the world, as it will provide students with fundamental information and strategies to deal with the real world. As educators we must embrace and welcome the change as it will significantly benefit the students in our classrooms, now and in the future," she says.
Using technology and innovation to boost academic success
At PCC, technology has not only changed the way curriculum is delivered, but it is also responsible for the academic success of many students. Many a student who struggled in a traditional classroom now succeeds because of the benefits of technology.
PCC was able to quickly pivot to modern technological methods of learning, and the addition of the online international school helped academic growth as students can now study at their own pace from the comfort of their home, which teaches them responsibility and time management.
The staff at PCC believes that innovation in education encourages students and teachers to research and explore different ways of looking at problems and solving them.
Creative ways of delivering traditional concepts help immensely in engaging students; for example, creating a Facebook profile of a personality being studied in literature or history; or creating a Twitter challenge to teach opinion writing; or crossing over into other artistic media, such as music and art, to express an opinion about a character or a story.
Innovative ideas and technology in learning and teaching techniques are an essential element of 21st century educators. Using innovative ideas and technology allows educators to creatively think outside of the box to find new ways of presenting material and engaging students.
Finding ways of reaching students using their own ever-changing technological expertise allows them to apply their learning, while continuing to prepare them for an ever-increasing tech-based skill set for their future careers.
Bringing the curriculum to life in the classroom
Mary's challenge was in bringing the content of the curriculum to life in the classroom with the real challenge being to adopt a variety of strategies to cope with sometimes boring lessons. She admits that, while she was reluctant to do things differently, the students' enthusiasm and participation encouraged her to bring more real-life examples to class discussions.
She also found that making of connections and "aha" moments occurred naturally in an atmosphere of joyful learning, and instead of just disseminating new concepts and information to students, she incorporated real-life examples and case studies. This encouraged the students to apply the concepts, ask more questions, and become more engaged.
Mary believes that though most teachers have a deep understanding of their subject areas, and are well trained to deliver content, what matters most nowadays is expertise in soft skills development.
"Instructors should help students to develop the intellectual skills that they need to meet the challenges of an ever-changing world. Students should not only learn the subject content, but should learn communication, presentation, and teamwork skills," she says.
Mary points out the importance of extracurricular activities in learning and teaching techniques, giving the example of the DECA's competitive events program organized by Canada's largest youth business organization.
She observes that it helps students develop confidence, demonstrate leadership, and prepare them for careers in finance, marketing, and entrepreneurship, by simulating real-life business scenarios and testing their academic understanding through business case study competitions.
An educational process that produces thinking individuals
The field of education has seen many changes in content, delivery, and ideology, with the curriculum evolving to include changes in all fields of study, incorporating technology skills, STEM, STEAM, and the importance of the Arts and Humanities which cannot be overstated.
The concepts of Multiple Intelligences and Differentiated Learning have brought about a sea change in education, and opened up most minds to the fact that people possess different intelligences.
Pascal believes that the educational process should produce thinking individuals, not just robots who excel at regurgitating facts, and that creative and critical thinking need to be encouraged.
He points out that the delivery of curriculum has undergone a positive change to a large extent, with most educators using a process of differentiated learning and assessment, appealing to multiple intelligences, rather than rote learning; thereby helping all students to succeed.
Keeping the staff motivated at PCC
Pascal credits his motivation to the support of a Principal whose "crazy" dreams drive them to keep pushing the envelope, and who has always encouraged him to follow his "crazy" ideas and innovate both, inside and outside the classroom; his students who continue to lift him up when he is down, and God's overflowing grace that helps him see a rainbow where others see rain.
What keeps Dina motivated to continue to deliver her best each day is the impact that a teacher can have on their students, teaching them something new every day, and also watching her students grow and achieve their goals in life. "The family environment we have at PCC also always keeps me motivated to do my best," she says.
Joana affirms that her students are what keep her motivated to deliver her best each day. "Witnessing the social and academic achievements of a student is what wakes me up every morning. Knowing that you have the ability to shape the future of the world is a very big responsibility, and therefore it is my duty to do my best each and every day," she says.
Caroline believes that PCC is one big family where you feel at home, because of the constant support you get as a teacher and as a student, and you always have the PCC family beside you during bad and good times.
"The family environment in which I work in is what motivates me to do my best each day. The sense of community and support helps me strive to be better. I know that if I need support in something as simple as needing to leave early to tend to my young son, I will be respected and supported. Or if I have an idea that is different than what is suggested, I know I will be heard and appreciated. This is what motivates me to do my best," she says.
For Wilson, the motivation that keeps him going is seeing the look in his students' eyes as they connect concepts learned in the classroom to the outside world. "It is critical for me to see students adapt and succeed in overcoming their challenges of achieving learning goals, but more importantly developing lifelong learning skills that will equip them to succeed in a world filled with trifle and challenges," he says.