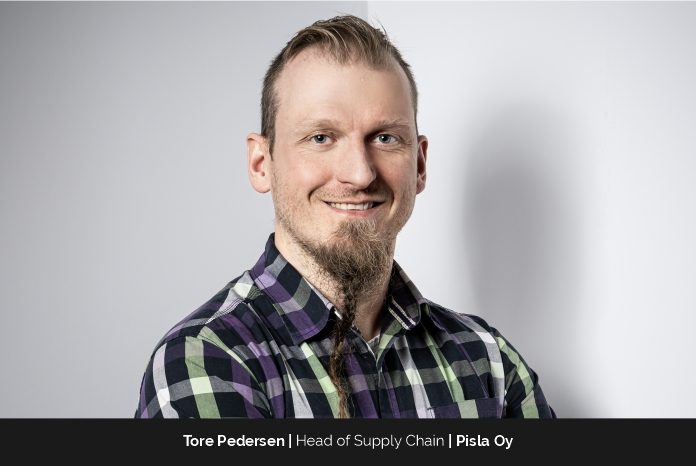 A supply chain is a complex logistics system that consists of facilities that convert raw materials into finished products which are later distributed to end consumers or end customers. Supply chain managers and leaders understand how to plan for customer demand with the use of data. They also understand the need to build great relationships with customers and suppliers to be able to find ways to share data to make a company's supply chain work smoothly.
Tore Pedersen is one such brilliant chain supply leader who has worked hard and climbed the ladder of success on his own terms. Tore works as the head of Head of Supply Chain at Pisla Oy – the market leader in Finland for hardware and fittings and is a wholesaler for nearly every retail chain in Finland. At Pisla, Tore is in charge of the whole supply chain and product development processes and activities.
A brief about Pisla Oy and their core values
Pisla Oy was established in 1976 in Viitasaari, Finland. Through the years Pisla has grown organically and through acquisitions of smaller companies. The biggest and most meaningful acquisition was acquiring the OPA and Muurikka brands famous for Finnish made kitchenware (OPA) and outdoor cooking (Muurikka). Today Pisla has three main business areas – home improvement, outdoor cooking and kitchenware. In 2021, Pisla was acquired by Salix Group in Sweden and through that is part of larger group operating in the whole Nordic area.
Pisla has achieved the market leading position through innovative product design and a high service level for their customers. They, as also their customers, value the locality of products. At Pisla, they have lots of articles which are made, assembled, or designed in Finland. The company aims to provide help and solutions to their end customers' everyday life and home finishing.
Tore Pedersen's life before Pisla Oy
Tore started working in retail when he was 18 years old, so this means he's been working in retail for half of his life. At the time, Tore wasn't too eager to study so he did not finish a degree and just started pursuing his career by doing the best he could.
"I remember my mother saying that it would be difficult to get a good job without proper education, but I was determined to do things my way – do my best and learn as much as I can through experience and the people I work with," Tore recalls.
After a short period at a small grocery store, in 2003, Tore started his first long term employment at Hong Kong Group in Finland – a DIY retail chain with 20+ department stores at the time. He worked there for 12 years, starting as salesperson, then becoming Store Manager and further a group level Product Group Manager which included sourcing and product development – the first step for him in purchasing and supply chain management which he discovered was his "cup of tea".
After 12 years in DIY retail, in 2015 Tore got an opportunity to change to pet retail with a rapidly growing company Musti Group – the market leader in Scandinavia in pet retail. In those 5 and a half years working as Purchasing Manager, team lead for the purchasing operations, included lots of system and infrastructure development in parallel with managing the rapidly growing volumes. The company had its largest investment and development projects in both backend and logistic infrastructure during that time, where Tore had the opportunity to lead the purchasing process development.
"Although the business area was new to me, I feel a learned a lot about supply chain management and development in this period and managed to successfully leave my fingerprint to the new improved processes. The company tripled its turnover during those 5.5 years and managed to push through big global disruptions such as Brexit and the COVID pandemic, so it was a very busy period," says Tore.
At the end of his period working at Musti, in 2021, when all the bigger projects had been completed, Tore felt the need for a new challenge. Suddenly, he got a call from Puuilo Stores, a DIY retail chain with 30+ stores – a company he had spotted earlier as an interesting environment. Tore worked in Puuilo as a Purchasing Manager for less than 2 years working with the purchasing and sourcing of hardware and DIY items. This period was a throwback to the DIY sector, which seemed familiar to him. Because Puuilo was, and still is, a rapidly growing company; it also had a lot of development ahead.
Although Tore enjoyed his time in Puuilo Stores, he felt that he was capable of something more and, out of the blue, he received a call from Pisla, and they started discussions for the position of Head of Supply Chain.
Taking the unusual path to success
Tore has always wanted to prove that a person can pursue their career in their own way, and in his case, this meant skipping the most obvious track through education and just pursuing his goals through hard work, determined to do things better and improve himself every day.
For Tore the biggest challenges he has faced have been set by himself. Due to not having an education he felt that in order to succeed, he needed to work harder, always give his best. Luckily, Tore has always had good support from his foremen who must have seen some potential in him as he managed to gain trust and get additional responsibilities in each of his work environments.
"I've always looked for challenging positions which require growth in both competence and as a person. I always did the best I can," Tore proudly states.
Tore boasts of the one time he received a table sign as a farewell gift which he values, and it motivates him every day. It says, "Mr. Make Shit Happen." He claims that it sets a standard for him to pursue and get things done. "Maybe that gives a picture of my way of working or at least how my co-workers see me. In one word – Straightforward," he says.
Success for Tore Pedersen
Tore believes that one shouldn't measure success only through career achievements as he believes, "there's so much more to life than money or top-notch positions."
What is more important to Tore is that he can be who he is without any pressure to push ahead just to prove his success. Tore defines success as – having a safe and steady life while being able to do what you like most. Most importantly, he thinks the best success is having a high level of self-knowledge that brings a whole lot of serenity to life.
Tore's opinion is that there are different kinds of achievements and different ways to measure those. One is how you succeed in personal relations or as a team leader, another is having a positive and significant impact on long term development processes and of course one being lucrative achievements in business.
"I've had luck and worked hard to succeed in all of the prior, but I would say my best accomplishment is when I have managed to gain the trust as a team leader and improve the whole work society. Another achievement I value is the contribution I've had in some long-term process development projects," states Tore.
Professional responsibilities as Head of Supply Chain
At Pisla they are currently focused on heavy process development, so most of Tore's days are analyzing the current situation and finding ways how to improve supply chain activities. "If you ask my girlfriend about my job, she'd say it's extremely boring, looking through and analyzing reports and working on Excel a lot of the time. To me, it is very fascinating when I find areas to improve by going through the data," he playfully explains.
Tore basically gathers and uses data to spot the areas they need to improve and turns them into actions for his team. Also, based on the findings, he evaluates the role and needed terms of each supplier and tries to negotiate them to better fit the company's needs.
To contribute to the product development and product group strategies, Tore does market research in Finland and in different fairs together with his team and their sales team. Pisla's operative purchasing and sales teams usually have a better understanding of the actual products, and he tries to give them support and help through his vast experience in managing supply chains and in DIY retail.
Today, most of Tore's time goes into process development; due to the competitive nature of the market, they need to find ways to work in more efficient ways. This means that Tore needs to investigate the basic and cross-function processes, map how they are today and find ways to streamline.
Managing work and personal life effectively
In his younger days Tore used to actively play ice hockey and the hobby has carried on until today. He still plays in a veteran team once a week to keep himself in shape. Tore also lives in the countryside in a wood heated house, so there's always some woodwork to be done, which he says is actually a very good way to let his subconscious find solutions to any challenges he's working with. Tore also listens to music a lot and used to be a guitarist and song writer in a death metal band.
"I still occasionally play the guitar, although I should play more," he states.
For his team Tore tries his best to offer the support they need, set achievable goals and stands by his words – being trustworthy.
Do your best in the present for a better future
Tore's goal is to improve Pisla's operations in a way which gives better possibilities to answer to the competitive market and achieve the goals set by their parent company. He also looks forward to making Pisla a better place to work via process development throughout the company.
Tore has always aimed a little higher to have a goal for which he needs to grow as a person and improve his competences. Tore does not have any personal goals set for the long term. He simply wants to do his best every day and that usually leads to good things in the future. At least this has worked well for him so far. This is also the advice Tore has for aspiring leaders – just be the person you are and give your best every day.