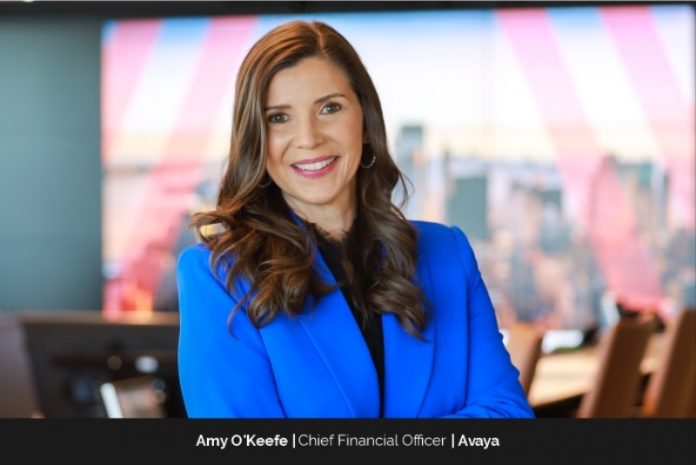 Navigating the financial currents of transformation requires more than just a sharp financial mind. Amy O'Keefe, with her extensive career, stands tall as the Chief Financial Officer of Avaya, a global leader in customer experience solutions. In an era where brands and technologies are continually evolving, Amy believes that Avaya is well positioned to seize the opportunities ahead.
Amy has a profound appreciation for big, iconic brands and is especially attracted to companies poised for transformative growth. She values companies that, bolstered by exceptional talent and a strong balance sheet, are on the cusp of unlocking even greater shareholder value. "It's this potential that made the opportunity with Avaya so compelling for me," she noted. Over the next few years, one of her primary objectives is to ensure that Avaya maximizes its growth potential.
Avaya, An Iconic Brand
Avaya has long been trusted by organizations, including many of the world's largest brands and government agencies, to deliver unmatched customer experiences. Now, as cloud technologies like Artificial Intelligence (AI) bring disruptive new capabilities, these customers require a comprehensive approach to chart their cloud journey, so they are looking for a partner to act as the linchpin for end-to-end solutions that unify their technologies. "Avaya has a full range of products and services to integrate the technologies that enable our customers to deliver an exceptional and innovative experience to their customers."
Avaya's goal is to reimagine the ways people and businesses engage and experience the world through digital communications. Amy is most impressed by the company's commitment to the idea of "innovation without disruption," part of which is offering its customers the opportunity to seamlessly transition to a cloud strategy at their own pace. Unlike vendors that force organizations to make a hard-cut move to pure public cloud solutions, Avaya offers customers the flexibility to enhance customer experiences with new cloud capabilities, while helping them to maximize returns on their existing investments and transition at their desired pace. "You have to know your customer and tailor your strategy to their desired outcomes," Amy says. "Avaya is committed to empowering its customers to succeed through the journey that is right for their business."
Amy believes that Avaya is uniquely positioned. "While a painful process for our employees, stakeholders and customers, Avaya emerged from bankruptcy with a strong balance sheet and long liquidity runway," she points out, adding, "This allows the management team to singularly focus on what is important – delivering value and innovation for our customers.  We think we are well positioned to do that."
Serving as the CFO
As the CFO at Avaya, Amy oversees all aspects of financial reporting, planning, analysis, and capital management. Her key responsibility is to drive shareholder value. For that, she needs to ensure that the business is on the right track financially to do just that. "At a high level, it's pretty simple. You need to set clear financial targets, develop the actions to achieve and measure performance against them – then course correct as needed," she says.
"In today's fast-paced business environment, business leaders need to be able to make fast and informed decisions," Amy says. "And to do that the finance function must deliver reliable and actionable insights with speed. At Avaya, Amy leads a team that enables better, more informed decision-making to respond in a dynamic environment. According to Amy, finance is not the function of "no," but rather "how about this, instead?"
At the heart of any world-class finance function, according to Amy, are great people, repeatable processes, and the systems and automation that drive efficiency and speed. When stepping into Avaya, or any new role, her first move is to assess where the organization is in terms of talent, process, and systems.  From there, priorities to improve and deliver value become clear.
Avaya's business revolves around elevating and optimizing customer experiences. "Our teams are passionate about delivering solutions for our customers that give them a competitive advantage," Amy points out. She believes that when employees find meaning and satisfaction in their roles, it's a win-win: they not only excel in their careers but also become invaluable assets to customers, enabling them to innovate using the proper tools, solutions, and processes that breed success.
In recent months, the company has undertaken a tremendous transformation, including changes to streamline the business. Since she joined, Amy has focused on learning the business and building relationships; she does a lot of listening and absorbing. "It's so important that people feel heard, particularly in a period of so much transition," she says. "It is also critical to align the functional priorities with Avaya's strategic priorities, ensuring that everyone is heading down the path and allocating resources appropriately."
Amy is optimistic about the company's future. She asserts that if it were not promising, she would not have come on board.
Navigating Her Early Career
Amy's journey into the tech industry was not immediate. From the outset, she understood that finance was a versatile discipline, giving her the ability to explore diverse sectors. A significant portion of her career was anchored in consumer products, with a notable stint at Black & Decker. There she was among a handful of female executives in a predominantly male-dominated power tools industry for almost 14 years. Prior to joining Avaya, Amy served as the CFO at WW International (formerly Weight Watchers).
"In the early days, my role as one of the few female executives did make me noticeable, but it didn't define me," she reflects. Throughout her journey, Amy's focus has remained consistent: achieving goals, continuous learning, fostering relationships, building teams, and delivering results. Amy harbors a strong belief that dedication and consistent top-notch performance will inevitably get its due recognition.
"I'm grateful that was the case for me in my career," Amy says. "Maybe I was one of the lucky ones, but I like to think that hard work, results, and conscientiousness are what matter, regardless of gender."
1998 was a pivotal year for Amy as she embraced motherhood. It was less common than to see a woman in a leadership role in male-skewed industries while simultaneously navigating the challenges of pregnancy, such as availing maternity leave or accessing nursing rooms and child care. "Breastfeeding my daughter for a year posed its own set of challenges in the professional realm," Amy notes. However, she soon understood the importance of setting clear boundaries to maintain her work-life equilibrium.
Amy was fortunate to be a part of an understanding team. "Sometimes, it was merely about highlighting certain challenges or considerations that might not have been obvious to them," Amy says. Every time she communicated her needs authentically and confidently, the team worked to help accommodate them. This helped empower her as a female leader, to capitalize on the same opportunities that were provided to her peers. "As I often say, being direct, with a touch of humor, can be key to navigating complex situations while keeping your sanity," Amy says.
Motherhood: Her Greatest Achievement
Amy is a mother to a 25-year-old daughter, Morgan, who recently started her second year of law school. For Amy, Morgan is her greatest achievement. "Raising Morgan, while advancing a career that is so important to me and watching her blossom into this amazing woman – that's my crowning achievement.  I am so proud of her," she says.
With a forward-looking perspective, Amy aspires to be more than just a role model for Morgan. She hopes to continue not only being an inspiration to her daughter but also for young women to chase their ambitions, dream big, and never limit the space they carve for themselves. Amy is confident that her daughter and the next generation of women will build upon the lessons learned from women like her, to create better opportunities for themselves both professionally and personally. "The legacy I aim to leave behind is not just about personal milestones, but about paving pathways for future leaders. The thought of contributing to that larger narrative is what propels me forward," she says.
Education Created Career Opportunities
Education was important to Amy from early on. She did not grow up in a family with means, so she saw education as a vessel that could unlock opportunities and enable her personal growth. That understanding motivated her to excel in academics. "I don't publicize this, but I graduated Summa Cum Laude with an undergraduate degree in accounting – and received the accounting medal for the highest GPA in my major discipline," Amy reveals, a testament to her commitment to education which eventually paved the way for exciting career opportunities.
"I think my journey as a finance leader, especially a female finance leader, has evolved over time," she says. "My career stretches across 30 full and valuable years, and I am still learning and growing."
As a leader, Amy believes in delivering "exceptional results" on the task at hand. She also thinks that growth always involves taking some risk outside of one's comfort zone, and she has done exactly that by joining Avaya.
"With only two months in my new role, I am learning our industry and our products – which is definitely outside of my comfort zone," Amy says. "That truly excites me."
Experience as a Female Executive
For about a decade of her career, she worked for companies that were in some form of financial distress – largely driven by bad balance sheets, i.e., too much debt. "Throughout my career, I've encountered numerous roadblocks, but these challenges fueled my motivation and my growth as a finance leader," Amy reflects. She grew tremendously from the adversity such experiences presented, as a CFO and a leader, pushing her to constantly strive for better.
Accountability is a value Amy holds in high regard. Her team understands that when things go wrong, she will take responsibility and help support them. Conversely, when successes are achieved, she is the first to attribute them to her team's efforts. This stance on credibility has made Amy comfortable with calculated risks, and helped her foster leadership values, such as integrity, transparency, and directness, which she draws upon in tough environments. "In leadership, it is vital to communicate setbacks as transparently as successes, and it is essential to be armed with data and a strategy to navigate those challenges," she says.
One of the reasons that Amy was drawn to Avaya was the company's robust balance sheet and ample liquidity. "I am excited by the opportunity we have, following the business transformation over the past year," she says. "I've joined at a pivotal moment, and together, we're charting a bold path ahead."
Avaya's Roadmap for the Future
Amy firmly believes in Avaya's upward trajectory, emphasizing that the company is focusing on the things that matter to service its customers and continue developing innovative new products.
The company is building on the power of its extraordinary range of assets, including its iconic brand, vast and devoted global base of customers, an expanding partner ecosystem, large-scale communications deployments with the world's largest companies and government agencies, and a dedicated team of professionals. The company is strategically investing to deliver customer-centric solutions, which it hopes will exceed expectations and outpace the market in delivering next-generation capabilities.
Avaya continues to take an "outside-in" approach to support customers and what they need on their journeys to enable their innovation without disruption. Its product roadmap and investments, therefore, are designed to deliver solutions that meet customers where they are in their transformation, enabling them to build on top of existing investments while charting a path to the cloud.
"One product central to this vision and our North Star of customer experience, is our significant investment in the Avaya Experience Platform," Amy informs. "The team has already delivered roughly 400 new product features this year, helping organizations to enhance their customer experience capabilities across communications channels." The company has also introduced Avaya Enterprise Cloud, a dedicated instance of Avaya's core contact center, collaboration, and unified communications software solutions for large enterprises.
"Avaya offers the full package," Amy says. Avaya's customer-focused approach, coupled with our broad partner ecosystem, ensures Avaya is poised to deliver the innovative technologies customers need, with world-class support, hardware, and professional services. "The result is holistic solutions that enable organizations to drive their business momentum by creating unmatched customer and employee experiences."
Redefining Success
Amy is successful in every sense of the word. Even though she is a finance leader, she does not define success in terms of money, nor does she define it in terms of position or fame. "For me, success isn't just about the destination but also the journey," she expresses. "Of course, I'm fiercely competitive and love to come out on top, but it's the way in which you achieve success that truly matters." In her view, the true mark of success is the legacy one leaves behind, influencing not just the metrics but also the people who contribute to those achievements.
Amy believes that genuine leaders embody values of integrity, transparency, and hard work. They earn trust with their team, fostering a safe environment where everyone feels valued and heard. "Exceptional leadership means setting aside ego, letting the team shine, and recognizing that collective success stems from individual contributions" she says. "I believe that winning teams create winning results. That is success to me."
Drawing inspiration often attributed to Winston Churchill, she shares, "'Success is not final, failure is not fatal: it is the courage to continue that counts.' This sentiment truly captures my approach to success."