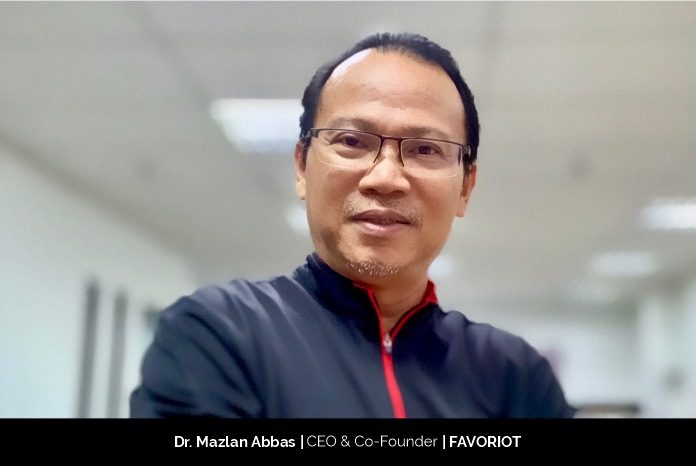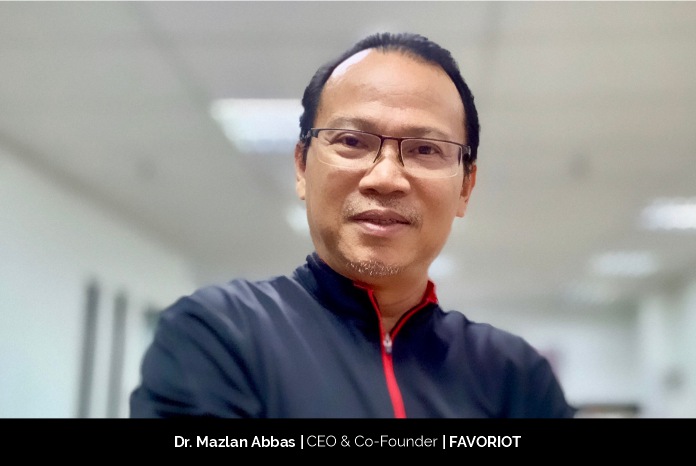 The Internet of Things (IoT) is the modern tech advancement that has the ability to change the traditional way of living into a high tech life style. It shows the capability to narrow the line between fiction and reality. Dr. Mazlan Abbas, a veteran tech expert, considers IoT as an opportunity to enhance the lifestyle of people by providing innovative IoT solutions and services. He is the Founder and CEO of FAVORIOT, a Malaysian IoT Start-up that aims to "IoTise" every business.
Inception Story of FAVORIOT
What interests Dr. Mazlan's towards the IoT is the technology that enables machines to communicate; as early as in Year 2000. In the early days, during his working stint in a telco, the team made Vending machine kiosks being controlled only via an SMS command. However, the inspiration behind the foundation of FAVORIOT is Dr. Mazlan's business trip in 2016 to Silicon Valley whilst he visited many big companies. These companies started with only a humble beginning, but they strived to become world leaders in solving many real-world problems. This inspired him to think big and made him believe that anything is possible if there is focus and passion about it.
A Tech Proficient
Most of his life Dr. Mazlan is surrounded by technology. In his journey he has been an academician teaching telecommunications courses for 10 years, working in two telecommunications companies with a total of 16 years and as a Senior Director for Wireless Technology R&D Division of a Government agency for 8 years. He had been regarded as number 20th in "100 Top IoT Thought Leaders" listed by Onalytics Report in 2014 and led FAVORIOT to achieve "Malaysia Best IoT Startup" from Asean Rice Bowl Award in 2019.
Roles and Responsibilities as a CEO
As a CEO Dr. Mazlan's major role at FAVORIOT is to be create a brand for FAVORIOT to transform it to the leading IoT company in the country. He believes that the company's brand presence should be seen and felt in all industries including the academic and government sector. As an IoT thought leader, this will be key factor to attract potential partners and business opportunities. Internally, he is responsible to define the company's products and services which will challenge the staffs to create new and innovative things that would make them proud because their efforts can solve the market problems. As per his point of view, the employees are the key in FAVORIOT as they are the ones that bring the product to life.
Changing Challenges into Opportunity
Challenges are part of the journey. Before FAVORIOT, Dr. Mazlan's has worked in bigger corporates that have big budget and resources. Also, bigger organizations tend to be very process oriented due to many stakeholders. In a Start-up, the situation is different and there is an advantage to go agile and test the market very fast. Dr. Mazlan says "when we faced roadblocks, such as making decisions, it can be very fast rather than to take weeks or months to finalize them. Thus, when faced with the changing market situation especially during Covid-19, whereby one of the markets that we are targeting (Travel and Tourism) was being hit very hard, we quickly pivot our product to aim for a different market segment."
Dr. Mazlan believes that understanding the IoT industry ecosystem and their players will help the company in engaging more partners that can help provide a complete and customized solution for its customers in various sectors. It will also help the company to find new business opportunities.
Comprehensive Solution Offerings
FAVORIOT offers 3 core products and services which are-
Favoriot IoT platform – An IoT platform-as-a-service that can easily connects IoT devices and aggregate data and derives insights, without worry about hosting and storing the data.
Favorsense – Crowdsensing Management System that builds better and smarter communities and cities by implementing a systematic approach for issues resolution.
Dscover – An application that helps to manage and monitor family member's daily lives by sharing each other's activities, moments, plans, things to do and also their whereabouts.
Helping through Teaching and Sharing
In the early days, the IoT industry was quite fragmented, and solutions are mainly dominated by Start-ups. But as the awareness of IoT benefits increases and market demand hunger for transformation, the big companies enter the market and this help the ecosystem to spur. But talents have always been lacking and unable to support the industry. IoT technology seems to be new to many people and the University need to produce graduates that are IoT-ready.  Thus, being an Industry Advisory panel to many Universities, Dr. Mazlan began to introduce new IoT courses and his Favoriot IoT platform helped to support the students to quickly learn and build IoT projects. Today, the platform has been used by more than 4300 IoT developers in 109 countries to rapidly build, create and innovate their own IoT solutions.
Ethics and Integrity are Essential Part of the Business
Dr. Mazlan believes that success in life is all about well-connected people and things. The team is working at FAVORIOT with the core desire to enhance the quality-of-life and giving kindness to the people. That's the main reason the word "FAVOR" in the company's name which is also means "kindness".
Dr. Mazlan asserts "Our core values are that we believe in treating our customers with respect." The company grows through creativity, invention and innovation. At FAVORIOT,   the people integrates honesty, integrity, openness, reliability and business ethics into all aspects of the company's business functioning and solutions offering.
Improving with Adding Knowledge and Skills  
Networking and participating in various events, exhibitions and conferences are keys to understand the latest trends and competitors. According to Dr. Mazlan, at FAVORIOT, the team has a very close relationship with the Universities which keeps it knowledge abreast.
Following Disciplined Life Style 
Dr. Mazlan's way of managing work life balance is having discipline to focus on personal and family life during weekends and holidays. His daily routine starts with waking up before 6.00 am and reaching the office usually by 7.00am. Most of the time, he listens business, technology or marketing Podcasts while driving to the office or home. In week days, his routine follows having meetings with customers or partners at the office or their premises. Meeting with staffs is always being in the morning to discuss the project progress and resolve any issues. Also, Dr. Mazlan uses his free and quiet time to writing articles and post to his blog or creating videos and podcasts related to IoT as part of knowledge sharing to the general public.
Visioning to Make FAVORIOT More Accessible 
The merging of IoT and Artificial Intelligence (AI) is inevitable. Dr. Mazlan says "as we collect more sensor data, our customer requires a Machine Learning engine to help them to derive a better insight." He further adds Intelligent Analytics Engine should be able to support as many domains as possible and various industry. In the next few years, he would like to see FAVORIOT to expand its IoT developer to a bigger community from overseas. Currently, its overseas registered users are about 20% which is expected to increase gradually.