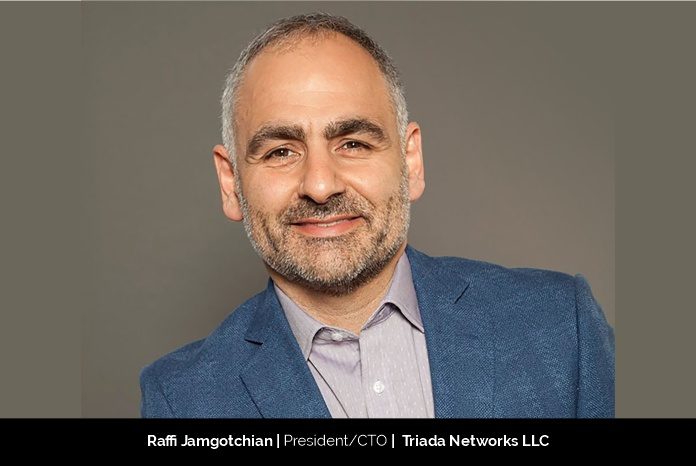 Small businesses in the financial sector face a growing threat from cyber-attacks that cover a wide range of channels. Cyber-attacks are a modern world challenge for small Fintechs and other financial services organizations that harm both credibility and integrity of the business. For attackers, small businesses are easy targets. It occurs primarily due to insufficient funds for the IT infrastructure or security framework of the business that is not as strong as required. As cyber-attacks are more likely to happen with any organization despite its size, it must be taken as one of the high priorities from the start of the business. With all the advancements and digital disrupting techs, this is high time for businesses to acknowledge cybersecurity as a significant element for business growth and not just considering it as an afterthought.
Raffi Jamgotchian, President and CTO of Triada Networks, understands the potential effects of cyber-breach and believes having cyber-security is essential to protect the business that must be improved over time. Triada Networks started in 2008 to help small investment firms control and harness their technology and reduce cyber risk. The company uses pragmatic security practices and an ever-evolving framework, which is the primary reason behind its apparent growth.
At Triada Networks, learning is part of its culture. The team at the company, including Raffi, is part of a greater community of people. He says, "The technology space, especially in the small business world, is very giving. I believe the more we give, the more we get, and it has panned out."
Understanding Client's Requirement
The cybersecurity space is one of the fastest-growing competitive sectors where any new advancement and even a new threat can push the competition a step ahead. Raffi reveals evolution is part of Triada Networks' process; it's baked in. The team is constantly re-evaluating the market to see if they can help by providing better security solutions without slowing their clients down. The critical part is to provide comprehensive solutions to understand the businesses the clients are working on. The company states, "Because we focus primarily on one vertical, we can converse with them and understand where their risks are."
Stepping into the Industry
One can say the only thing that is certain in the corporate world is uncertainties. So, when the market crashed in 2008 and new funds were starting up, Raffi saw an opportunity and took a shot to create something. He started in cybersecurity as part of his work at an investment firm. He says, "We were getting online to the Internet and needed to build out firewalls to protect the environment. At the time, these were all done from scratch. It wasn't something you could order and install." But, as per Raffi, the actual moment was when the Code Red virus popped up and started to spread. He asserts, "We were all scrambling trying to contain it. The situation fascinated me. Trying to figure out how the malware worked, how to stop it, and the motivations of people that would write it."
Challenges and Success
Raffi had received an MBA while he was working at an investment firm. During that period, he wasn't prepared to be a business owner. He recalled the time starting as a business owner and how he had made many mistakes along the way. But every mistake comes with learning. For example, Raffi says, "We learned how to hone our finances, and as we developed relationships with our peers, we got better control of our numbers."
Raffi's vision to strengthen the financial sector with advanced cybersecurity defense has come true in the form of Triada Networks. He asserts, "Success is a state of mind. It's about being able to enjoy life while enjoying the work you do. Being able to provide small business owners peace of mind gives us meaning." 
Ensuring the Promises get Fulfilled.
At the company, Raffi sees himself responsible for two primary roles. The first one is leading his team to the company's vision, and the second one is ensuring that his team has the tools they need to do the best job they can for the clients. Except for this, everything else is secondary. He further says that people deserve Cybersecurity and IT without compromise. At Triada Networks, the team knows the clients put their trust in the company, and the team has to keep on to that trust with humility. The team makes sure that clients will always have an honest answer to their questions without pretentiousness. 
Small Breaks for Self-Improvement
To ensure that everyone gets aligned with the company's vision and feels motivated, Raffi has to tell his team to dial it back sometimes. He opines, "There is always some work to be done, but sometimes you need to take a rest. I have to tell this to myself this sometimes too." From his own experiences and practices, he shares that the more gaps and quiet time he puts into the schedule, the better ideas come out. He further adds, "We have our days where things get tough. But we all pull together on our Teams chat, and we throw jokes and memes around to keep the levity up."
Capturing the US Market
There is exponential demand for Cybersecurity and IT services. With its years of experience and expertise, Triada Networks is focusing on providing comprehensive solutions to its clients and visioning to do the same in the future. The company states, "We aren't planning to build an empire. We do have clients that have overseas team members, but the nature of our work is wrapped up into the US regulatory market, so for now, we'll stay here." This statement clears up the company's expansion plans for the future and appears expansion across the US is certainly in the cards.