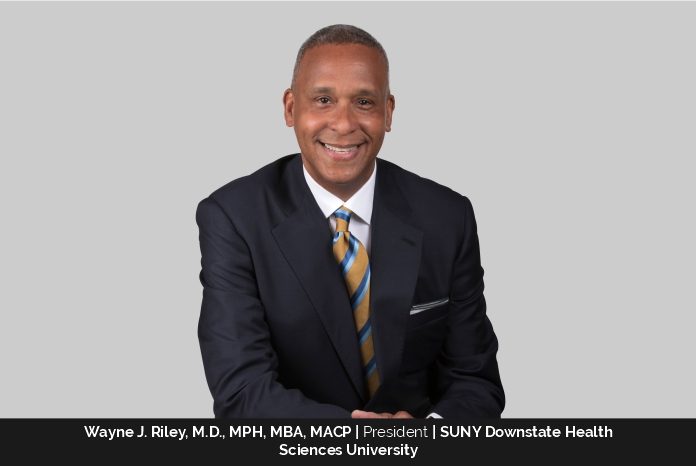 Wayne J. Riley, M.D., has an aura of serenity, wisdom, and experience. He is persistent, gritty, resolute, and he loves to engage with others. Behind his composed veneer, there is a steely determination to serve the people to the very best of his ability. He is also an exemplary leader who has led some of the most complicated organizations and improved their effectiveness, organizational strengths, ability to change peoples' lives and reach into the community. Now, as the President of SUNY Downstate Health Sciences University, (Downstate) Dr. Riley leverages his leadership talents, gifts, and acumen to make the University a better place.
The son of a physician, Dr. Riley worked for the government for five years. At the age of 26, he, however, decided to quit his job as the executive assistant to the Mayor of New Orleans – his hometown – though he loved working for the government. He wanted to continue his education in healthcare. So, five years after graduating from college, he did extra course work, took the MCATs, and went back to school full-time. It was a huge risk to leave a career in government and pursue a career in healthcare, but Dr. Riley was willing to undertake the arduous journey. He saw it as a "sacrifice" to make his dream of becoming a good physician dedicated to serving communities a reality.
Risky and Gutsy Move
Dr. Riley describes his decision to walk away from a "promising career in government and politics" as a "risky" and "gutsy move." He, however, has no regrets about that. If he had not made that decision at the time, today, he would have probably heaved a sigh of regret over a path not taken. "At the time, I strongly felt that I didn't want to look back 20 years down the road and say, 'I wish I had pursued getting back into health care. I could have gone to medical school – should have done that," Dr. Riley says. "That was a big motivating factor for me to not look back years later and say, 'I should have gone back and got those degrees, should have taken the MCATs and applied to medical schools."
That decision in his twenties led to the opening of multiple doors for Dr. Riley, including the door of academia. He now tells youngsters that they should live their professional lives without having to say too many times, "I wish, I could, or should have." He also does not want them to live their lives by not trying things that are considered difficult.
Selfless Attitude to Serve Others
Dr. Riley, who is also the Chairman of the Board of the New York Academy of Medicine, firmly believes that healthcare is people's business. It is about serving others and making a difference in their lives. He has been motivated to serve others since his childhood because of his father, who was a "tremendous" servant leader and a great influence on him. His father came from a very humble blue-collar background in New Orleans. And Dr. Riley says that education was his father's ticket to create a great life for his wife and children. "He was a brilliant, very humble, and accomplished physician," he says. "But he never forgot his humble circumstances, and he was always willing to help people."
Dr. Riley remembers that in the 1970s, he sometimes tagged along with his father on house calls. "When he went inside houses to check on patients, I could see how much respect they had for him as a physician and person," Dr. Riley says. "I believe that is where my service ethics started." And that got reinforced during the course of his educational journey. His Catholic All-Boys High School in New Orleans would often highlight that they should use their God-given gifts to help others. He continued to be motivated to serve others while studying at Yale University, Morehouse School of Medicine, Tulane University School of Public Health and Tropical Medicine, and Rice University's Jesse H. Jones Graduate School of Business. "I learned that pursuing degrees is not just for oneself; it is to make a difference in the lives of people in your profession, in the community, and in the world," Dr. Riley says. He does not want healthcare to lose its humanity or allow technologies to dominate it.
In June of 2021, the Arnold P. Gold Foundation, on whose board he also sits, awarded its National Humanism in Medicine Medal to Dr. Riley — Dr. Anthony Fauci and Dr. Eric Topol were the other two recipients of the award. The foundation gave Dr. Riley the award in recognition of his "exceptional medical and business expertise and heartfelt testimony that have bent organizational and personal trajectories toward health equity and social justice." Dr. Riley says that he cherishes this award the most.
Journey with SUNY Downstate Health Sciences University 
In April of 2017, Dr. Riley began his journey with Downstate as its 17th president. Before joining this academic medical center in Brooklyn, he was a clinical professor of Medicine and adjunct professor of Health Policy at the Vanderbilt University School of Medicine in Nashville, Tennessee, and adjunct professor of Management at Vanderbilt's Owen Graduate School of Management. Before then, Dr. Riley was the 10th president, chief executive officer, and professor of Medicine at Meharry Medical College in Nashville.
At Downstate, Dr. Riley leads an organization of 5000 employees, more than 2000 students, and a billion-dollar budget. The University, he says, is a storied, venerable institution in the largest, most diverse, borough in New York City, and it is the only academic health sciences center in Brooklyn. At Downstate, people train to become physicians, nurses, physical therapists, occasional therapists, diagnostic ultra-sonographers, medical informaticists, and physician assistants. Dr. Riley says, "It has a wonderful range of academic programs that directly contribute to the workforce of New York City, New York State, the country, and globally." He also highlights that Downstate's safety net teaching hospital, University Hospital of Brooklyn, cares for many patients who have Medicaid or are uninsured. "We serve a community that has limited means, not just in terms of economics, but also in terms of health insurance or restricted health insurance options."
Dr. Riley agreed to join Downstate because he found the opportunity to lead a "very storied" and a "very impactful" organization attractive. He also says that it had its challenges, both financially and reputationally. "I saw Downstate as a wonderful opportunity to serve. I have always used my leadership and managerial expertise to be of service in academia and in healthcare," Dr. Riley says.
Vision for Downstate
Dr. Riley does not want Downstate to rest on its laurels. He points out that some of the big, storied, venerable organizations often become complacent, and downstate has to guard against that kind of relative complacency. Dr. Riley often tells others while articulating his vision, "We are very proud of what has happened in the past, but we have to keep working to create a brighter future for Downstate and the institution in New York City."
Dr. Riley and his administrative team have a big plan to reinvigorate the physical structure of Downstate. "People usually do not think that an organization is making progress unless they can see it, touch it, or sit in it," Dr. Riley says, adding that they have done a number of capital investment projects at the University that stretch from the hospital to the teaching and learning environment. Dr. Riley also says that downstate has bigger plans for its clinical enterprise to develop more attractive ambulatory care settings for their patients. As a lot of outpatient care has adopted ambulatory type settings, the investment in the clinical enterprise will help them adapt to the new reality. "We want to be very consumer responsive, too," Dr. Riley says. "We also try to be more patient-consumer friendly."
There are also plans to use technology more effectively. Dr. Riley says they want more digital technologies, allowing patients to check their appointments and lab results online. "We are already using technology, but we need to continue to enhance that as we go forward," he adds.
A Good Leader Thinks about Organization's Future
Good leaders, Dr. Riley says, think about organizations not so much for today or tomorrow, but five, ten, fifteen down the line. They think about decisions and programs they can undertake today to position their organizations for a strong future. Dr. Riley adds that the key task of leadership is not only to provide the vision but also to put the pieces in place to realize that – even if they are not there to see it ultimately. Laying the foundation and the bridge for a new era is an important responsibility," Dr. Riley says, adding, "I take it seriously."
For Dr. Riley, success means trying to energize and coach people to attain a goal for an organization that serves people. He likes to tap into peoples' missions and sense of purpose, particularly in healthcare, as they enter with some imagination that they want to serve and help people. "Then when you overlay leading a healthcare organization or academic health sciences center, it is really to tap into that whole service of ethics that drove us all into healthcare," Dr. Riley says. "So, my task as a leader is to try to energize, to reawaken, and to call upon 'better angels' to move an organization involved in taking care of people."
Favorite Day Is Graduation
One of Dr. Riley's favorite days is graduation. "When you sit up on stage, you see those young men and women walk across the stage to pick up their hard-earned degrees as a physician, nurse, physical or occupational therapist," Dr. Riley says. "You know how impactful these improvements would be, not only to themselves but also to their families.
At every graduation, Dr. Riley watches and marvels at the young men and women who are full of emotions. He leaves a message with many of the students as they shake his hand., "Look, enjoy this moment. Take a mental snapshot of your graduation. This is the feeling that you can enjoy the rest of your life, the wonderful moment of being up on the stage and getting your degree."
On this "finest" day of the year, Dr. Riley also takes great satisfaction and gratification in learning about the achievements, the accomplishments, the contributions of those he has taught, trained, and led during his various roles at four institutions.
Miles to Go Before I Sleep
A father of two daughters, Dr. Riley wants to be a good role model to them. He also wants to be a good doctor and a good administrator. And he wants to be of service to kindred organizations such as the New York Academy of Medicine. Even after more than 25 years in healthcare as a physician and an administrator, Dr. Riley believes he still has a lot of contributions to make. "I've miles to go before I sleep," he quotes Robert Frost's poem "Stopping by Woods on a Snowy Evening" to make the point.
Dr. Riley looks forward to continuing his work to serving, making and impact the work being done at Downstate. He also wants to contribute to policymaking and to new approaches to improving higher education. Dr. Riley loves everything he does, and that reflects in his exceptional and inspirational leadership.
"From the moment I put my feet down at four in the morning, I enjoy every day of my life," he says. It is a wonderful privilege to be a physician, to be in healthcare, and to be the president of a university. I do not take that for granted. I feel blessed and fortunate to have the wonderful life that I do."