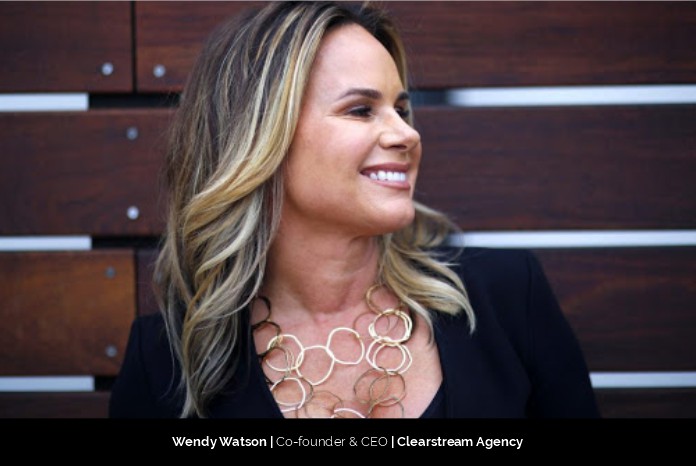 Powerful leader with a positive approach backed by a vast industry knowledge is a rare find. With more than two decades of experience creating brand campaigns that spark cultural conversation, drive consumer engagement and positively impact the bottomline, Wendy Watson is that rare leader. Wendy founded Clearstream Agency in 2015, and her fast-growing firm has been recognized for its innovative and pioneering work in the area of artificial intelligence. One of the leading companies in its field today, Wendy has acquired a remarkable position in the industry that is an inspiration for many young entrepreneurs who are driven by a passion.
The Beginning
Having spent more than two decades creating award-winning campaigns, Wendy firmly believes in the power of a great idea and its ability to transform.  During her years in leadership at one of the top US agencies, she was inspired to rethink the traditional agency model with the creation of Clearstream, replacing the approach to professional service with the successful 'Hollywood model' of business, what Hollywood can teach us about the future of work. This resulted in better quality work by curated strategic account teams, higher client satisfaction levels and less turnover.
Founding a new company is accompanied by a sea of setbacks. Oftentimes the company you build will inevitably be about 10,000% different than the original idea you began with. In her professional career Wendy learned that successful entrepreneurs are Darwinian, in that they adapt to the changing market conditions or die. She is a leader who was prepared for challenges and setbacks as a part of her entrepreneurial journey. She believed that in any business one must expect to stumble and embrace the process; every company changes, but it is mostly how you adapt to that change and those micro failures along the way that determines success. You must be willing (and prepared) to fail and always learn from your mistakes. With this grounded and optimistic approach, Wendy paved her success path, learning from the lessons of life which led to the founding of one of the leading companies today.
Clearstream Services
Clearstream (www.clearstreamagency.com) is an award-winning boutique agency focused on developing comprehensive communications strategies that build brands across media. The firm is privately held and headquartered in Los Angeles, with teams in New York, Miami and Dallas. Clearstream's results-driven campaigns that have been recognized by numerous press and marketing organizations for its strategic communications that drive conversation and build brands through PR, advertising and digital platforms. Clearstream has been the recipient of the 'Game Changers Award' by Finance Monthly for its innovative work in Artificial Intelligence and was recently named one of 2019's "50 Best Companies to Watch 2019" by Silicon Review. Clearstream clients include innovative startups, established brands and Fortune 500 companies.
The Envisioned Leader
Prior to founding Clearstream Agency, Wendy spent 18 years working at global Omnicom PR firm, Porter Novelli, where she served as Executive Vice President. She worked in both their east and west coast offices, and literally 'grew up' at the firm, rising through the ranks and eventually being named the youngest SVP in the company's history. She was fortunate to have clients across three continents, working with global companies based in Asia, Europe, in addition to North America. In fact, some of those clients followed her to Clearstream and they continue to work with them today.
Wendy Watson, CEO & Founder, is an award-winning agency executive, a patent holder, a repeat guest lecturer at UCLA Anderson School of Business. She has been recognized as an "Inspiring Women in Tech 2019" and a 'Game Changer' by Financial Monthly, honored as one of CEO Today's "Business Women of the Year 2019" and named one of PRWeek's "40 under 40 Stars of PR." Throughout her career, she has directed initiatives for the world's most well-known companies including: Disney, Hewlett Packard, Marriott, Mercedes-Benz, MGM, Procter & Gamble, Qualcomm and Verizon.
The Strategy of Success
Clearstream has been quite fortunate, as their agency has seen double-digit, year-over-year growth since its inception four short years ago. Their growth strategy is simple: do the very best work you can for all clients, with the commitment to under promise and over deliver. The result is that the clients stick around and oftentimes evangelize Clearstream work to others.  Their agency roster is comprised of companies and clients they have worked with for years, some for decades.
Wendy believes every organization, like every individual, is defined by core values. There needs to be a higher calling to remain truly motivated and to obtain true success. Although the Clearstream client roster is diverse, the common denominator is that the agency aims to make a difference – to do its part in bettering humanity. Whether through publicizing life-changing work by non-profits, launching an innovative App that improves communities or working with world-renown educational institutions, their mission is to educate and empower. Wendy is inspired by the Rumi quote 'Let the beauty of what you love be what you do.' "Success is never guaranteed, but failure is guaranteed if you and your team do not have an emotional investment in the company that you are building," states Wendy.
A Futuristic Approach
The tagline of the company is 'Ahead of the Current'. They are proud of going against the stream and are inspired by their client base of disruptors and emerging leaders. Clearstream's early work in artificial intelligence, well before the AI 'Goldrush' hit, has helped them to stake their claim in that space and has brought them several innovative clients that are changing the world. They have found that their bottom-line approach to strategic communications has made the company attractive to clients across many industries, including tech, healthcare, hospitality and nonprofit.
The funding and support of female-owned businesses continues to be a challenge they face as a society, particularly in the startup and tech world. Data depicts there has never been a better time to be a female founder, for example, women are starting 1,821 companies in the US per day (American Express's 2018 study) and women-owned companies reached $3.1 trillion in revenues and created 2.2M jobs last year, BUT the $2.2 billion in venture capital raised to female founders still only accounts for a modest 2.2 percent of total venture capital investment. Women are still under-represented although they control the global consumer economy with an estimated $40 trillion in spending annually. How do we overcome these statistics? Clearstream tries to do its part through women supporting other women: referring and aligning with other female-owned businesses, employing working moms and creating jobs that allow for flexibility in the workplace.
Clearstream Agency is the successful result of a powerful woman who did not give in to failures but made it her strength to take the next step. Wendy is a powerful woman who has led her company and the associated employees to success. She has not only achieved success but has left trails of stories that positively impact and motivate every individual who has a dream born out of passion.