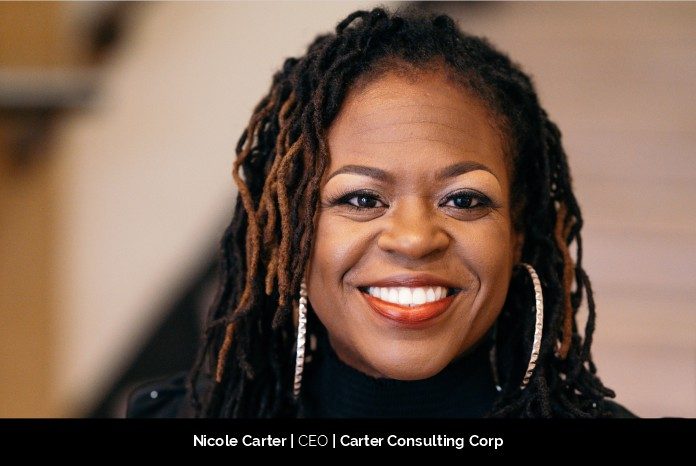 Very few people find their fulfillment in helping others. Some are enthusiastically passionate that they feel honored by assisting those most disenfranchised and marking their presence in the universal sector. Nicole Carter is one such leader who finds this as her prime source of motivation. She is quite passionate about confronting inequalities and is motivated to move to the forefront that all should enjoy equal access to opportunity.
Ms. Carter founded Carter Consulting Corp. to support non-profits, government entities and faith-based organizations to do just that. She leads the company to offer technical assistance, grant writing, capacity building, resource development, and community training.  She is also the founder and Executive Director of the nationally renowned 502 (c) (3) and federally funded The Institute CYFS.
Taking the onus at Carter Consulting, Corp.
Being the firstborn daughter of a pastor and getting trained by her grant-writing father and RN mom, servicing the community is hardwired in her heart and brain. As a student from Alabama A&M and regular community volunteer, Nicole understands comprehensively the needs of the minority community and the path to sustain grassroots agencies and community stakeholders who share her vision.
Since inception, Nicole has burnt the midnight oil leading the way to pursue inclusive, equitable, and sustainable growth, ensuring a balance among economic, social, and environmental dimensions of sustainable development. Ms. Carter works with full dedication and passion for helping others, which has proven to allow her to gain the necessary experience in leadership skills.
Changing lives with Carter Consulting, Corp.
As a federally and state recognized Women Owned Minority Business with SBA 8(a) and HUBZone certification, Carter Consulting, Corp is committed to excellence and creating innovative and flexible solutions for community clients and the minority individuals they serve. Carter Consulting excels at grant writing, bidding, program compliance and grant/bid management. From planning and plotting to execution, their team offers the best and most appropriate tactics to the community.
Carter Consulting, Corp is led under the vision of proud owner and CEO Nicole Carter, SHM. Being an excellent business mentor and a passionate leader, she aims at aiding other entities to succeed and thrive in the corporate/community market.
Nicole specializes in organizational details.  Specifically, fund identification, grant-writing, contract bidding, program implementation, building capacity, organizational development, compliance and monitoring/evaluation. Ms. Carter's 22 years of experience has allowed her to steer a clear path to Carter Consulting, Corps vison and mission.
Nicole is quite passionate about creating projects that will make an actual difference to the community and the people living in them. She has served as project director for HUD, DHHS, Dept of Commerce, Dept of Education, and a number of additional Federal and State Programs nationally. She has also worked with the State of Tennessee's Department of Military in providing compliance on Federal Contracts and serves as peer chairperson and peer reviewer for a number of federal and state grant approvals.  Moreover, she has played a key role in implementing several essential programs for social service agencies nationwide; from California to Mississippi.
Under the leadership of Nicole, Carter Consulting, Corp offers a wide range of services to its clientele. Carter Consulting aims to improve efficiency of the project implementation by controlling different aspects such as: budgets, personnel management, training, development options, contract compliance and work scope. No matter the odds, the team never fails to offer the best quality and price in services.
Carter Consulting, Corp provides grant services globally. Typical services start with identifying funding options that suit the needs of the clients or the community involved and proposal/contract development.
Being passionate to ensure social equity, Nicole leads the team to implement a Nonprofit Technical Assistance Program. The vision behind this program is to aid community organizations to grow and provide better sustainable and high-quality support services and resources.
In this program, Carter Consulting will visit the client's site and conduct an analysis on their design and implementation strategies covering all aspects including:  Incorporation and Tax-Exemption, Board Development, Funding Sources, Budgeting, Networking, Community Collaborations, Staffing & Volunteers, Capital Campaigns & Fund-Raising, Technology & Social Media, Event Planning, Program Implementation and Rural Access.
Nicole also developed the "Non-profit and Federal Funding" Workshop and created numerous small businesses to create amazing opportunities for others to thrive in the corporate sector. With a national certification from NAHRO as a Section 8 Housing Specialist, she has offered different training programs with HUD and several Federal and State Departments.
Road to success
With a massive pool of experience, skills, and knowledge by her side, Nicole has led her expert team at Carter Consulting, Corp. to serve a plethora of clients within the country and Internationally to secured more than 50 Million dollars, in the past year.
Carter Consulting, Corp has secured nearly 10 million dollars in Local, State, and Federal funding in 2020. Moreover, she has established more than 32 grassroots/community-based organizations and assisted in the initiation of more than 50 Housing and Economic Development programs, including education and employment, crisis intervention, job training, counseling, emergency food assistance, recreational, housing and rehab, elderly, healthcare, domestic violence, family development programs, and whatnot.
In 2019, Nicole led the company to own the first minority hemp farm in Tennessee and acquire three buildings for rental property in Alabama.
A strong network of corporate relations, smart formulation of strategies, well-planned collaboration with the community, and critical planning and plotting allowed the company to acquire a $500,000 apartment complex with $375,000 cash.
Nicole whole heartedly believes that by collaborating with community stakeholders, local and federal government, she can fulfill the needs of those most affected by the social and economic gaps of empowerment.
Future roadmap for Carter Consulting, Corp.
The corporate sector is ruthless, so Nicole adds that it is vital to cement their position in the industry and mark their presence in the market.
Nicole believes that by standing together with the company, they can achieve new heights and help tons of other people around them. The team aims at developing more housing units and securing federal and state contracts in administrative services.