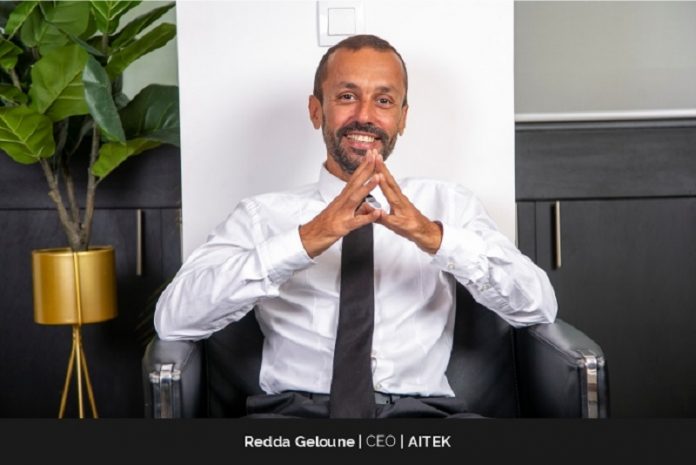 Every once in a while, a business leader emerges who is determined to change his country as well as his continent's industrial landscape for the better. Redda Ben Geloune, Founder and CEO of AITEK, is that leader. He has dedicated his life to making Africa a better place to live and IT powerhouse.
Redda is an enthusiast and positive dreamer, and he can be aptly described using the Finnish concept Sisu, which means stoic determination, tenacity of purpose, grit, bravery, resilience, and hardiness. All these attributes are very much visible in his single-minded dedication to bringing real and lasting change to the African continent.
Along with being at the helm of AITEK, Redda is also the co-academic director of Challenge + Africa, an HEC Paris program helping entrepreneurs to build winning companies. He is a doctoral student (Phd) at Case Western Reserve University as well. He is a research fellow with the Fowler Center for Business as an Agent of World Benefit. Redda says that his focus is on understanding how Artificial Intelligence can help organizations build high-performance teams, leveraging psychological and cognitive factors.
Redda's entrepreneurial success story is incredible. It is an inspiration to many aspiring leaders in Africa. From Redda's point of view, however, successful leaders are those who can nurture other successful leaders, sharing the same values and vision within their own team. He believes such leaders will nurture other leaders, keeping the company culture alive while growing and taking care of all stakeholders.
During the last 20 years, he had the chance to be surrounded by amazing individuals who grew with the company keeping the bonding and the culture. Mehdy Sahly, Ahmed Touré, Stéphane Blé and Marie Perrot are one of those and have joined AITEK at the beginning. They are now themselves nurturing the new generation of AITEK's leaders. Redda has perfectly acknowledge that nothing would have been possible without their commitment and passion to make it happen.
Redda's views on leaders also align with what American football coach Vince Lombardi said about leaders in this quote, "Leaders are made, they are not born. They are made by hard effort, which is the price which all of us must pay to achieve any goal that is worthwhile."
Returning Home to be a Harbinger of Change
Born and raised in Ivory Coast, Redda holds an engineering degree from the National Graduate School of Engineering and Research Center (ENSICAEN), a public engineering school in Caen, France. He is also an alumnus of HEC Paris (eMBA) and Harvard Business School (OPM50).
After his graduation, Redda decided to return home instead of exploring opportunities in Europe. He was eager to give back to his community as well as wanted to make a significant contribution to the nascent IT industry in Africa. His goal was to see his African continent change for the better. Redda founded AITEK in 2004, with a firm belief that the African IT industry should be managed by Africa for Africa.
Africa has resources, talent, and huge opportunities but lack of leadership and weak institutions, Redda points out, adding, that is why he decided that the best way he could contribute was by investing in the IT & Service Industry.
The African continent has missed three industrial revolutions. Redda does not want it to miss the digital revolution as well. "This digital revolution represents a tremendous opportunity to leapfrog the gap between Africa and other continents, and this is exactly what we intend to do," he says.
Leader in Africa's IT Industry
AITEK is a leading value-added IT distributor in Africa. Almost two decades ago, it started with four people, and now, it has about 100 employees working in seven countries, Ivory Coast, Sénégal, Burkina Faso, Mali, Togo, Dubai, and France. Next month, AITEK will open a new subsidiary in Morroco to improve its local footprint in north Africa.
The company is currently the official distributor of 18 prominent international brands in the IT industry, including Microsoft, HP, Dell, Asus, Lenovo, Epson, Canon, APC, Symantec, Sophos, Acronis, Veritas, Norton, Kaspersky, and others. And it has around 2000 active resellers in over 20 countries. Redda points out that theirs is a 100 percent indirect distribution model.
At its early stages, AITEK has understood the importance of digital transformation and in 2018 it has entered the digital economy to meet the growing consumer needs. AITEK provides partners with innovative tools to grow their business such as an intelligent, white-labeled digital platform, which enables customers to shop, order, and manage products and services across software, hardware, and cloud solutions.
AITEK positively impacts the African continent by helping its partners build winning companies, and its unique local approach has enabled it to build a strong brand within both reseller and end-user markets. Teamwork, positivity, value innovation, integrity, and responsibility are the company's five core values.
"Our mission is to be the link between our resellers and the brands we represent by adding value to everything that we do," Redda says. "We focus on helping our partners grow and steadily increase their margins by constantly being aware of market fluctuations." AITEK is clear that it will always favor a local approach in all its investments.
Over the years, AITEK has received many recognitions within the industry. Some awards received by the company include: Most Promising African Partner, Kaspersky Partner Conference, Dubai, UAE in 2009; EEMEA Brand Loyalty and Outstanding Performance, Kaspersky Partner Conference, Cannes, France in 2010; Special Award of the Year, Most Focused Partner of the Year, Kaspersky Emerging Markets, Cape town, South Africa in 2012; HP Inc. Special Distribution Award in 2017; Best Performance Award, Office & Consumables, Canon Partner conference in 2018; Special Recognition Award at Canon Partner conference in 2019. In 2022, the company was recognized as Microsoft's Star Achiever Distributor for the third quarter and fourth quarter; and Kaspersky Best Distributor for the Southern Europe Region.
Redefining Information Technology & Services industry
Redda says that they are making a significant contribution to redefining the IT industry in Africa. They are doing that by investing locally in all countries where they are operating, giving the best-in-class solutions, available in the market, to their partners, and helping them grow winning companies and thus creating value for all stakeholders.
"At the industry level, we help vendors and editors to better understand the specificities of our continent, which is the region where they must invest to grow," Redda says. "Africa is the continent where there are big growth opportunities, with a market estimated to be $250 billion and a populace whose median age is 19.7 years."
Encouraging Innovative Ideas in the Company
AITEK values innovation. Redda and his team firmly believe that innovation should be at the heart of their business. He quotes Charles Darwin to stress that: "It is not the strongest of the species that survive, nor the most intelligent, but the one more responsive to change."
In AITEK, everyone really works hard to innovate. Innovation, however, does not happen in a vacuum. They take into consideration all types of trends, analyze them, and share them with resellers. "This is even more important that we are operating in a continent where a lot must be done and where the population is very young, with a median age of 19.7 years," says Redda. "This young population expects innovation and a new way of doing business."
Balance and Motivation
Redda is an ambitious leader. He has plenty of ambition for his company, which is why he struggles to maintain a work-life balance. Redda, who is a father to two daughters, Wafa and Kahina, acknowledges that he is still unable to strike a good work-life balance. He says that people need to determine what they want in life, and then share their time accordingly. "It is almost impossible to achieve extraordinary results while sharing your time equally between professional and personal," he adds. Outside of work, he is passionate about obstacle course racing.
Redda and his team are highly motivated individuals. He says that they keep themselves motivated due many reasons. "First, we have a real purpose, and we all feel that our work can make a real positive impact around us," Redda adds. "Secondly, we are a very ambitious team who always tries to do better than our predecessors."
Challenges Lead to Extraordinary Results
Like most inspirational leaders, Redda, too, believes that challenges make one stronger. He is also of the view that extraordinary results stem from challenges and everyone can do things if they are easy. And his favorite Japanese proverb "Fall down seven times, stand up eight" perfectly sums up his attitude toward setbacks.
Over the years, challenges have offered him, his team, and the company some of the best opportunities to grow. "It is very important to look at those challenges, confronting you with the facts, even when they are brutal," Redda says. "While addressing the problem, you still need to remain positive, keeping in mind that the good will prevail at the end as you are working on it."
Vision and Plans for the Future
Under Redda's inspirational leadership, AITEK aims to solve Africa's challenges by leveraging technologies. "AITEK will be recognized by its partners as a key local player in IT distribution and related solutions in Africa," he says. From Redda and his team's perspective, a flourishing IT industry in the continent can help them achieve that. They believe it will lead to building winning companies capable of creating jobs and paying taxes, which governments across Africa can use to build roads, schools, universities, and other public amenities. As the CEO, Redda's role is to help his team achieve their vision by strategizing well, implementing, and executing the plan.
Redda and his team are also working on an IPO. Redda says that the goal is to scale up so that they can build the first IT Group that operates locally in all countries of Africa. Currently, AITEK is an industry leader in sub-Saharan Africa. Redda points out that they plan to expand their footprint in North, East, and South regions of Africa through M&A.
Dream Big and Execute the Plan
As a business leader, Redda tells his peers in Africa that they need to work together to change the current paradigm and ensure that the continent becomes the world economic engine. His advice to them is that they first have to conquer the markets of their own countries and then make their presence felt across the African continent, and after that, they must make the move to impact the world.
Redda points out that one of the principles of the digital revolution is that there are no frontiers. "So, we need to be ambitious," he adds. The purpose of their fight should be to make Africa a better place to live for their children, Redda says. One of the insightful ways to do that is by building winning companies. "Let's dream big and execute the plan," he adds. "Let's make it Epic!"