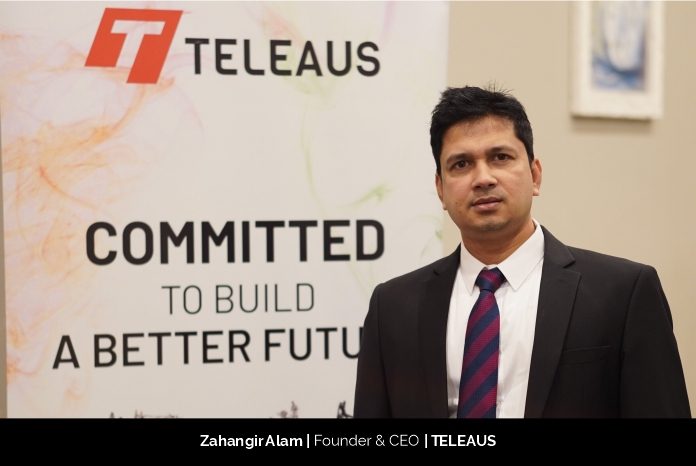 Having a never-give-up attitude, Zahangir Alam, Founder, and CEO of TELEAUS, is leading the company with innovative IT and telecommunication solutions. Backing up his strong determination, he is all set to mark a dent in the corporate market and spread the roots of the company.
Climbing the ladder of success         
From a very young age, Zahangir wanted to become an entrepreneur and a philanthropist. He was highly inspired by Elon Musk and took him as his role model.
He completed his B.Sc. Engineering in Computer Science & Engineering (CSE) from the Rajshahi University of Engineering & Technology in 2004. In the same year, he stepped into the corporate world as Network Engineer with Motorola Solutions.
While working there, he obtained a Graduate Certificate in Business from Victoria University to expand his academic horizons.
With the dream to become a successful entrepreneur, he backed up his interest in the communication and technology field and marked the advent of TELEAUS. Corporate business practice and coculture are essential in setting up a business with a big vision that he gained through his career life from multinational companies such as NEC, Ericsson and, nbn.
He adds, "My journey taught me that you have to gather enough courage to start your own. You have to invest in the people that matter to your business. You can't give up at any stage. The ups and downs will come but won't stay long if you stay tight."
He kept on fueling the growth of the company and even took the onus of different roles with other leading companies to gain valuable experience and add more skills to his armory.
Tackling the challenges with strong determination
Zahangir came from a non-English speaking country, so settling into a new environment while fueling the company's growth initially was not easy. He states, "I always had the desire and passion for building a technology company of my own, but the journey was a roller coaster ride. It didn't take me long to understand the harsh reality. It is easy to dream big but to make it real, sometimes you have to do the impossible."
The main obstacles in his path were understanding the client's erratic commitments and explaining to them the company's vision and mission.
However, with a strong drive to chase his dreams, Zahangir needled through all the challenges and came out victorious. He expresses, "I turned my business into a win-win business model. My company aims to bring together people from all walks of life through technology services. It is taking technology to a new height. I think this determination and hard work of mine and the team took me to the place where I am today."
Creating innovative solutions at TELEAUS
Zahangir states, "We offer multi technologies Design, Construction & Consultancy services, Engineering Field Services, Telecommunications Engineering, business solutions and services including Engineering Project Consultancy, Complete Business Solutions, business software development, Spatial Data Engineering, Geospatial Engineering, Professional Services, Vendor Partnership, Business Process Outsources (BPO) through its unique delivery model for clients."
TELEAUS operates with telecommunication technologies, and they have five product lines running in the business, namely, Network Planning and Designing, Field Engineering Services, Network Construction, Business Innovation Services, Business Process Outsourcing.
The company has strong experience in designing a variety of cable and wireless network infrastructure, including Fiber, IEN/NGN, Wideband, Wireless, and Mobile Networks.
He states, "TELEAUS Geospatial engineering team is highly capable of Spatial OSP and ISP modeling and producing high-quality Construction and As-built documentation."
TELEAUS's expert engineers use sophisticated Physical Network Inventory (PNI) tools to build and manage network assets. PNI system provides a CAD-based platform to design fiber, HFC, and twisted-pair communications networks.
The company's field engineering services bring together specialists in network survey, activation, network commissioning and integration, and Troubleshooting in Fiber, HFC Wireless, and Mobile network domain.
The business innovation services provide IT solutions with the use of machine learning, artificial intelligence, and cloud services.
Keeping the pace with evolving industry
Technology is evolving very fast, and the telecommunication industry saw remarkable transformations over the years. It created a whole new era of network experience. From Generation to Generation, it is just leaving its mark. These progressions separate the dividers between communications, technology, and entertainment.
Another significant change in the telecommunication industry is the advent of AI and ML. Both these technologies are now used to enhance the security aspect of the network and the business.
Moreover, the AI/ML process enhances the company's customer service and loyalty through virtual assistants and chatbots.
TELEAUS is contributing and influencing the communications technology sector in its unique way.
Zahangir mentions, "Our teams provide the most standard 5G Design & Construction, Consultation and upgrade Services, ODM design, FTTC deployment, and more in the market. One of the most proactive chatbot systems, Anfactor, is changing the customer experience with its business effective real-time insight data analysis method."
Growing the company by taking the onus of the CEO role
Zahangir has a hunger for success, and it drives him to take the company to the next level and beyond. His company saw a 500% equivalent growth over the past three years with 145+ employees and 50+ sub contractors. Even though it is a significant milestone to achieve, he has no intention to stop.
He knows the value of a solid team and constantly motivates them by reminding them of the company's vision. He gets inspiration from the quote of Elon Musk that states, "People work better when they know what the goal is and why. It is important that people look forward to coming to work in the morning and enjoy working."
Being an experienced leader, he expresses that young aspiring entrepreneurs should always believe in their instincts. They should dream big and back up their capabilities to achieve that. While going through that process, they should never settle for less. He comments, "Do what you love to do and never give up. There is no shortcut to success. Learn through failure and challenges."
Balancing the professional and personal front
Zahangir believes family plays a crucial role in your success. It gives you the mental peace and strength that you need the most in a business.
While he makes ample time for the family, he very well knows when to spearhead some aspects of the company to boost its growth.
Prospects of the company
Zahangir aims to mark a unique presence in the market with TELEAUS. He aims to make TELEAUS the most innovative global enterprise that develops technology solutions and services to connect people.
He wants to help customers to achieve their business objectives by providing innovative, best-in-class IT services, telecommunications consulting, and business solutions, make it a pleasure for all stakeholders to work with them, and build successful long-term win-win business relationships.
He believes reliability, innovation, excellence, leadership, and learning and sharing are the crucial core values that structure the path to success.
He states, "I am trying to sustain and expand this growth. Currently, TELEAUS successfully conducts business in significant marketplaces like Australia, New Zealand, Canada, the USA, and Bangladesh. For me, it is the start of something extraordinary, but I want to take a long walk. I believe the mark of TELEAUS will be in more countries soon if we keep working like this."