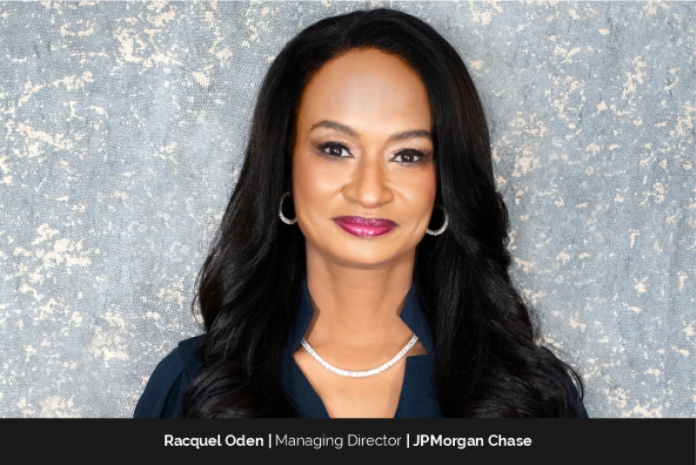 "Success is doing what I love while making a positive impact," says Racquel Oden, Managing Director and Head of Network Expansion, at JPMorgan Chase & Co., one of the oldest financial institutions in the United States, with a history dating back over 200 years.
Racquel started her career in investment banking as an equity trader at Morgan Stanley. She then spent more than 10 years at UBS in various senior roles, including Head of Global Product Internal Sales, Head of Client Experience for Banking, and Head of Merger & Acquisition Integration.
Before joining Chase, Racquel spent eight years in several leadership roles at Merrill Lynch. She was the Head of Advisor Strategy and Development, and later the Market Executive of the flagship New York Fifth Avenue Market, the firm's largest market.
In 2018, Racquel saw an opportunity to be a part of something great at Chase – innovating for customers and putting their experience first. She joined as the Northeast Division Director leading the branch teams for the Consumer Banking and Wealth Management businesses in the Northeast Division, serving 4.9 million customers in the New York tri-state area.
In her current role as Head of Network Expansion, Racquel leads Chase's branch expansion into 25 new states, and the Consumer Bank's growth strategy for all markets across the country.
Innovating for customers and putting their experience first
Chase is the U.S. consumer and commercial banking business of JPMorgan Chase, serving tens of millions of people and five million small businesses with a broad range of financial services.
These include personal banking, credit cards, mortgages, auto financing, investment advice, small business loans, and payment processing. Chase has more than 4,700 branches across the country and is the first and only bank to have branches in all lower 48 states.
Boosting financial health and inclusion in communities that need it most
Racquel's team is also responsible for developing and sustaining Community and Business Development initiatives to drive economic transformation in the expansion markets. Her vision is to expand access to banking for all and boost financial health and inclusion in communities that need it most.
"We're focused on expanding access to banking beyond urban areas. By opening branches in communities that are underbanked and underserved, we're sending an important signal to the residents – you matter, and we're here to serve you," she states.
Racquel notes that Chase is making sure that anyone who walks into any of its branches has access to tools and resources to help them manage their money at any point in their financial journey. The goal is to meet customers where they are and give the tailored products and services that help them make the most of their money.
"Everything we do is anchored on financial health and giving people the tools and services that help them get on a path to financial health and resilience," she declares.
Success is when passion meets purpose
Racquel believes that success is when passion meets purpose. She notes that each of us has at least one thing that we're passionate about, and most of us would like to spend our lives doing things that matter and make life better for ourselves and the people around us.
"I can pursue a passion and be really good at it. But, unless that pursuit is directly connected to an outcome that I truly care about, I don't count that as success. Success is doing what I love while making a positive impact," she states.
Racquel notes that her journey, which started on Wall Street, has not been an easy one.
"When I first started, I was often the only woman, and even more often, the only Black woman in many of the rooms where important decisions were being made. Some of that has changed over the past two decades, but much work remains to be done in advancing equity in the workplace. It's been great to see that progress – to see more women of all backgrounds and walks of life working in the industry, and ascending into leadership positions," she says.
As a leader, Racquel's goal is to open more doors for more people by empowering her team to excel in their roles, finding developmental opportunities for them to continue to grow, or mentoring younger professionals as they navigate the corporate world.
She points out that limiting beliefs can be a roadblock. Sometimes people have the notion that if you excel in one area, you cannot excel in others, and that could be a limiting belief.
"I've learned the valuable lesson that you can't leave it to others to define you or decide what's right for you. Knowing my brand, being conscious of that, and owning my narrative is what has helped me overcome roadblocks," she maintains.
Through it all, Racquel notes that her journey has been an incredibly enriching one. "I've always embraced risk and have been open to new opportunities to lead and serve. That approach has provided me with the ability to expand my skill set and help drive meaningful outcomes for companies for which I've worked. I've grown the most when I've stepped out of my comfort zone," she observes.
Defining herself as 'intentional', Racquel believes in being purpose-driven in everything she does. No two days are alike for her, and that's another reason why she loves her job. A typical day may include several different meetings about how they are running the business or how they can support their employees to take care of their clients' needs.
On some days, Racquel travels to visit their branch teams across the country to get to know their people and hear about how they can continue to support them. On other days, she gets together with her teams to celebrate their success and other important moments for their customers, and their communities.
She notes that work is a necessary part of life, and to achieve fulfillment, we need to focus on what maximizes joy for us. "For me, fundamental to this is taking care of my body and my mind, and making time for my loved ones and my community. Adjusting where I need to, allows me to be the best version of myself, so I can focus on my purpose and how I can make a positive difference," she insists.
Racquel emphasizes that, among her many achievements as a leader, being a working mother is at the top of her list.
"I've been blessed to have a fulfilling career and at the same time be able to raise a soon-to-be-college-graduate daughter together with my husband. Balancing parenting responsibilities and professional obligations is not always a walk in the park, but I've persisted and relied on my support system to do well in both areas. Hopefully, my daughter seeing me navigate work and parenting will give her an appreciation of the reality that many women have faced," she remarks.
Racquel leaves us with these inspiring words of wisdom for aspiring businesswomen: Lead with empathy, build partnerships, and earn the trust of the people you lead and serve.