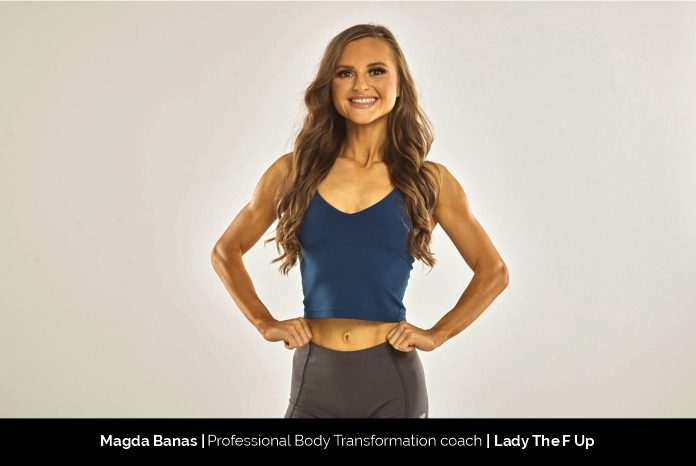 "Every client is different, and to sustain their results, they will require a different approach" 
Magda Banas was active every day of the week until she went to university as a competitive dancer, gymnast, and Taekwondo participant. Her parents were both healthy and active, and she grew up in a health-conscious family. She says "Food was just food, not good or bad. Bodies were just bodies, not fat or skinny. There were no comments about weight, mine or anyone else's. No pressure to look a certain way. "
Magda understood as she grew older that the most successful dancers were not small or fat. To put it another way, they didn't look like her. She was insecure, but she didn't mind how she seemed since she liked the exercise and what it was teaching her. She states, "I never compared myself to others and refused to let it stop me from being the best athlete I could be."
Determination for Improvement   
Magda concentrated on her undergraduate studies when her father died. She began to question who she had become when she had ignored her health, diet, and physical exercise, which she had previously valued highly. She says, "I failed to create a growth mentality for my health and fitness. I lacked motivation and was dissatisfied. I wanted something that would improve my mentality while also changing my physique, so I decided to undertake a long-term lifestyle shift."
She further adds, "I've always been the type of person to jump in with both feet when I want something, and I don't stop until I get it."
Taking control of her health and fitness had shown Magda how much she had the potential to change things in her life; to become happier, to find meaning and purpose, to make a difference.In the process of working on herself, Magda influenced family, friends, and people who she saw at the gym to change their lifestyle.
Now working as a body transformation coach for "Lady The F Up", Magda has the opportunity to assist her clients in amazing mind and body transformations. She says, "We are specialists in women's fitness coaching and are dedicated to empowering women to be the best version of them. While changing their body composition is the primary focus, altering their mindset so that they can succeed in other areas of their life is what sets Lady The F Up apart from the rest of the fitness industry."
The Route to Transformation
Magda assists her clients in becoming the greatest version of themselves by identifying and overcoming any barriers to their mental and physical growth. She asserts, "You need a growth mindset to see an amazing transformation." She further adds, "No matter where you're starting from, you can improve. Of course, the appropriate training & nutrition are important tools for an individual to see an amazing transformation, but a growth mindset is the pre-requisite to success."
"You must prioritise yourself in order to become the best version of yourself. It will be impossible for you to be there for my family, both psychologically and physically, if you disregard your health. As you walk through the process of concentrating more on your own health, you'll see that your behaviours start to benefit others around you. Taking time to grow as a person can help to stabilise your mood, give you more energy, and enhance your overall quality of life."
Magda teaches clients how to be consistent in order to reach their ideal figure. She is explicitly stating that making regular changes to their programme will result in the desired outcomes. People might be consistently in the wrong way before working with her, believing they are following the required procedures to accomplish a goal but really leading them in the other direction. She suggests, "Take fad diets. For example, if you can't sustain the diet for the rest of your life, then that isn't the correct approach to your goals. You need a detailed plan to ensure you're doing the correct things to reach your goals, so your consistency doesn't just go to waste."
'Online Coaching'
According to Magda, online fitness coaching entails the coach assessing the client's physique and lifestyle on a regular basis in order to adjust the client's programme to suit their body at various stages while the customer works toward their goal of reducing weight and developing muscle. The customer receives ongoing and constant help from anywhere in the world. When someone has a certain goal in mind, it's critical that their programming adapts to their changing bodies so that they never reach a plateau. The customer is kept accountable for the workouts and dietary programmes required to get in shape 24 hours a day, seven days a week.
Magda monitors every single workout his clients do, every single meal they consume, and every habit they've established that's required for their success. She says, "If a client needs help at any point in the process, they can reach out to me at any time."