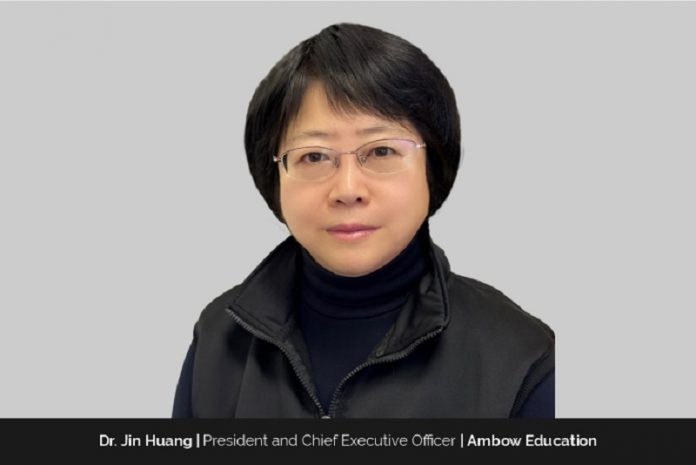 Dr. Jin Huang is the President and Chief Executive Officer of Ambow Education, a leading provider of innovative educational technology for hybrid learning and development.
Under its new HybriU brand, Ambow offers university programs and technology solutions that enable hybrid learning, instant translation, and simultaneous content creation. She has served as a member of Ambow's board of directors since its inception in August 2000 and has more than 20 years of academic and industry experience in Silicon Valley.
Dr. Huang holds bachelor's and master's degrees in computer science and a Ph.D. in electronic engineering from the University of Electronic Science & Technology of China (UESTC). From 1990 to 1993, she was engaged in a joint training Ph.D. program between China and the US and completed her Ph.D. dissertation at the University of California, Berkeley.
Transforming Lives through the Power of Education
Dr. Huang's professional career began when she joined a software startup in Silicon Valley immediately after finishing her dissertation in computer-aided design. She went on to serve as a founding engineer at Avant! where she was responsible for product design and engineering management.
Dr. Huang founded Ambow in 2000 and subsequently grew the company to 10,000 employees in 10 years. During its 22-year history, Ambow has enabled millions of students across the world to receive high-quality educational services.
After divesting from its overseas assets at the end of 2022, the company will now focus exclusively on US colleges and universities. Its mission is to provide industry-leading hybrid education to create a better curriculum, reach significantly more students, and improve operational efficiencies.
Ambow intends to offer its HybriU-branded software and hardware for use with both credit and audit students. Dr. Huang believes that these technologies will allow leading educational institutions to reach a much broader range of credit and audit students and create high-level, simultaneous curricula. These institutions can then catalog and offer this content for sale online.
As part of its US growth strategy, Ambow intends to partner with smaller, career-oriented colleges that offer programs in fields such as IT, nursing, and design. Over the past few years, many of these schools have seen their enrollment decline significantly, which of course has impacted their bottom line.
Fortunately, HybriU will allow smaller schools to reach both US and international students at once. As such, Dr, Huang anticipates that HybriU will allow these schools to improve their bottom line dramatically. Currently, the career-oriented colleges that Ambow owns and operates serve as a model for the types of institutions that the company intends to target.
Leveraging AI and Technology to Enrich Education
Dr. Huang has chosen to focus on US colleges and universities because she believes that these institutions face five critical challenges that Ambow can help solve:
Challenge 1: Domestic enrollment continues to decline, due in part to high student costs and anticipated levels of debt.
Ambow solutions:
Smart classrooms: Ambow's integrated HybriU software/hardware solution converts a traditional classroom into a hybrid of offline and online instruction. The platform supports authorized users worldwide as credited, interactive students, or audit students. It also provides instant AI translation in English, Mandarin, French, and other languages. These features can help colleges and universities dramatically increase their enrollment, which will of course increase their revenue.
Smart labs: Similar to smart classrooms, this portable version of the HybriU platform enables lab instructors to move among different groups of students. In addition, it allows authorized users worldwide to participate in labs as audit students.
Branch campus solutions: The HybriU platform also enables multi-site teaching and interaction, allowing students from across the world to join classes, either live or through cataloged content.
Challenge 2: Innovative educational environments need significant amounts of technical investment that small colleges cannot afford.
Ambow solutions:
Scalable, affordable technology: While developing proprietary educational software and hardware may be cost-prohibitive for many colleges and universities, HybriU offers a scalable, affordable solution that can upgrade an institution's technical tools within a short period.
IT services: In addition, HybriU provides a SaaS-based right-fit solution for small colleges and universities to help improve their operational efficiency.
Challenge 3: Educational programs need to be technically upgraded and follow dynamic changes in the industry, such as the shift to remote learning and the need to attract more out-of-state and international students.
Ambow solutions:
As discussed, HybriU can help colleges and universities create smart classrooms and labs, as well as simultaneous, multi-site instruction at an affordable cost. In addition, its instant translation feature allows colleges and universities to open their classes to hundreds of millions of students across the world.
Challenge 4: Qualified, technically savvy professors and graduate student instructors are difficult to attract and retain.
Ambow solutions:
Cutting-edge technology and simultaneous content creation: By providing professors and graduate student instructors with cutting-edge technical tools, HybriU allows these professionals to maximize their teaching abilities and offer their students the best possible learning experience. In addition, HybriU's ability to simultaneously create cataloged content means that professors and graduate student instructors can use real-time lectures or labs to generate a permanent curriculum. As mentioned, colleges and universities can then offer this content on the open market.
Challenge 5: Automation has catalyzed the loss of traditional jobs, requiring colleges and universities to prepare students for new career opportunities.
Ambow solutions:
Enable career-oriented programs: HybriU's ability to work effectively with both large and small schools means that Ambow can help these institutions prepare students for 21st-century careers. From healthcare to software coding, Ambow can help colleges and universities offer very specific career-oriented training that may only be available at a limited number of schools.
Dr. Huang explains that. "For students, we provide a cloud-based learning engine to accommodate their unique learning objectives and enrich their educational experience."
A Unique Business Model
In developing HybriU, Ambow has created a unique business model: the Hybrid Professional Manager (HPM), which seamlessly blends online and offline education. Importantly, Ambow is currently the only company offering this unique set of tools—a truly distinctive value proposition.
Dr. Huang believes that the HPM model has already begun to replace the standard university Online Professional Manager (OPM) model, facilitated in part by the effects of the COVID-19 pandemic. In Dr. Huang's view, remote learning is here to stay, offering colleges and universities an excellent opportunity to expand their reach and enrollment.
Borderless Education
Dr. Huang is an advocate of what he refers to as borderless education, or the idea that a single institution can theoretically offer programs to students anywhere in the world, and in multiple languages at once.
As such, HybriU can dramatically decrease barriers to entry for both US and international students while also breaking down barriers between academia and industry. This in turn can help produce a better-prepared US and global workforce.
"My technological background helps me to envision the future of education. I believe that in the future education shouldn't have boundaries, meaning there should be no boundaries between online and offline, no boundaries between languages and regions, no boundaries between academics and industry," states Dr. Huang.
Based on her decades of experience, Dr. Huang believes that technology will inevitably bring profound changes to education. Big data and AI make borderless education possible so that everyone will potentially have a set of customized learning programs, making the educational process faster, more effective, and multi-dimensional. The development of network technology and meta-universe ecology will also open up a new educational scene with an unlimited imagination.
A Long History of Success
Ambow's current US focus is based on a long history of success. Dr. Huang notes that Ambow has been setting educational standards for more than 20 years. For example, Ambow founded the China Distance Education Standardization Committee and formed the basis for China's software engineering discipline, as well as its first software college.
It also developed China's first IT training system, which has been applied to hundreds of universities throughout the country. In 2003, Ambow began to apply artificial intelligence to online education, and in 2010, the company was listed on the NYSE.
"When I founded Ambow 22 years ago, I had the vision to leverage technology to help create better educational outcomes. This is what we have always intended to do. We have more than 100 US and Chinese patents granted as an example of our investments in technology and innovation," Dr. Huang explains.
In 2014, Dr. Huang received the "10 Best Chairman Year 2014" award from the Star China Chairman Society in recognition of her excellent corporate leadership. Dr. Huang notes that while the award was a public acknowledgment of her leadership skills, her most important recognition came from an unexpected encounter. As she recounts, around 15 years ago, one day an older couple who took the overnight train from Shandong was waiting in front of her office.
When they spoke to her, they presented her with homemade dumplings as an offer of appreciation to the company. Ambow had helped their son, who could not find a job for nine months after graduating from university, improve his skills through career training, eventually allowing him to find a decent job.
"I still remember how that moment touched me, and it drives me today. I can't eat dumplings without reflecting on that conversation," Dr. Huang remembers.
Commitment to Leadership
Dr. Huang's primary management responsibilities at Ambow are to formulate the company's business strategy, build a strong executive team, and shape the company's culture. This culture is based on five key principles: success, integrity, cooperation, innovation, and happiness. The company preaches its corporate culture at all internal staff meetings and incorporates these values into all its management systems and evaluations.
"With leadership success comes a trickledown effect, ensuring that every employee takes part in the success of our students. We carefully analyze the management or cultural reasons behind each operational challenge, so that every potential roadblock becomes our ladder to the future," explains Dr. Huang. "Furthermore, success is a phased concept. Our company's learning process is ongoing, and with newfound knowledge, we can optimize our goals for the even greater good."
From an internal standpoint, Ambow has implanted the gene of innovation into R&D, user services, marketing, and other aspects of the company so that every employee is empowered to bring innovation to their work.
A Lifelong Passion for Education
Dr. Huang's definition of success is helping every student achieve their highest potential for a successful career. She notes that every Ambow student is unique and has different educational needs. Accordingly, Ambow encourages students to reflect on their own goals, not those of others.
"My greatest happiness comes from helping people and collectively helping society to be better. I work hard to bring a positive mindset and empower individuals to achieve a common objective," Dr. Huang says.
Dr. Huang believes that while her work is never done (because there are always more technologies to develop to help create a better society), it's easy to feel devotion and enjoyment toward your work when you truly love what you do.
"Education is in my blood. My parents are teachers, and I grew up in an educational environment. Before founding Ambow, I was a technology engineer with a dream of leveraging technology to help students achieve better educational outcomes. I believe that in the context of education, everyone is equal," she says.
Dr. Huang's goal for the future is to create a borderless education ecosystem that will help more people upskill and reskill to help them find better jobs. This in turn will help academia and industry attract and retain better-qualified talent. "Without dreams, you stop living at 25; with a dream, you are forever young," she says.